Hello again everyone.  Thanks for coming back for another week of my Thinking Thin series.  Writing these blog posts about my weight loss struggles are so helpful for me, and I really hope they are of benefit to you too.  I firmly believe there isn't a quick fix to losing weight or dieting, and the only real success comes from tackling the emotional issues within.  This is what really gives you long term success.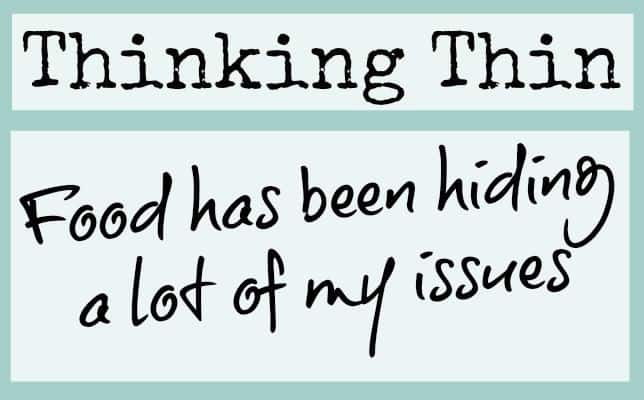 Thinking Thin Strategies
I have talked a lot about strategies that I think will help everyone in their weight loss journey so far in this series.  I still believe that giving up caffeine has had the biggest impact in keeping my eating habits under control.  I'd love to know if this is something you have tried and if it's worked for you?
Understanding the compound theory is another idea that I think will help people to lose weight, but all this is very general stuff.  I've not really delved within myself to look at the emotional challenges I'm facing at the moment.
What Are My Eating Issues
I suspect they have come to the surface over these last few weeks as I have not been comfort eating for a couple of month's now.  This is allowing me to process some of the challenges I've faced over the last couple of years.  I know that eating has been a way of burying these issues, and avoiding dealing with them.  I feel I'm at a fork in the road, and this is a real test as to whether my theory about weight loss is actually going to work.
While my thoughts are dwelling on issues that have caused me great upset and pain over the last few years, it feels like a bit of a sink or swim moment on this journey.  If I had of felt like this in the past, I would have reached for copious amounts of cake and chocolate, without a shadow of a doubt.  I scrapped the surface a few weeks back in my 'I'm going to eat worm's' post, and there is clearly more here I need to look at.
Repairing My Confidence
When I fell pregnant with my last child, from about 6 weeks onwards I became an emotional wreck.  I think it's safe to say I experienced a form of pre-natal depression for the duration of my pregnancy and when my daughter was born.
At the same time, a life long friend of mine decided that she could no longer be in my life.  All I really know about her reasons is that I chose not to tell her I was going to be trying for another baby.  We had been friends for 20 years, and it was quite a blow if I'm honest.  It was complicated by the fact that she worked for me too.
I was also struggling more than I realised with returning to work after maternity leave with my older daughter.  The work place had changed a lot, and I became very isolated very quickly.  It really was a horrible time.  I had no support network or friend to talk to in the workplace.
Needless to say, all these issues compounded with the physical toll my pregnancy was having on me, I ended up being signed off sick until my maternity leave started.  The whole situation has effected my confidence considerably, and I'm still getting over all these events as there were such significant life changes in the mix.  There was also a lot of hurt, and far too many lose ends to mention.
I never did find out why my friend dumped me, but I'm guessing it had something to do with her being single and childless.  Sadly, the green eyed monster changes people and brings out the very worst in them.
These events have been filling my thoughts far too much recently, and I've been working really hard on getting to a place where I can let go of what happened.  I need to change how I feel about all of this, so I can move on.
Moving Forward
Friendships do change when you are at different stages in life, and that's OK.  Some friendships aren't positive for us.  I am guilty of letting other people influence me, and this person was able to do this.  Now I'm free of this relationship so many things have changed, I rarely drink, and binge drinking has become a thing of the past for example.
I enjoy much more time with my family as I don't have a single friend to cater for anymore.  I have embarked on a journey of working for myself, and left behind a career that quite frankly I'd fell out of love with and I get to work around my family.  My son will be off in a year to university, and I don't want to miss the girls growing up.  This way I can be there for everyone, and we have had so many amazing experiences this summer, that quite frankly we would never of had if I'd of returned to the 9-5 routine.
I have spoken at conferences, and achieved some great things with my blog.  Who'd of thought I would be the face of the Barclays Lifeskills Diary Of A Parent campaign this time last year.  I've featured on the television, and speak about parenting issues on the radio regularly.  I've achieved a lot, but sometimes it's difficult to remember that, over the negative things that have happened.
Just writing it all down, and sharing it with you all has been a helpful exercise.  Getting our thoughts out of our head, and in a post or on paper can be cathartic in itself.  I need to move from the point where knowing that all the changes in my life have been for the better, to actually believing it.  That takes time, and will come as I keep talking to the demons in my head that say 'cake will make it better'.  Cake will not make it better, it will just make me fat!
The people I need in my life are right here, and support me.  My husband and my family I amazing, and I have some great friends on and off line.  I do not need or want people in my life who aren't happy for me.  I just wish I'd have realised this sooner.  I could have saved myself a lot of heart ache and tears.  All things happen for a reason, and I have to keep moving forward, with all parts of my journey, including losing weight.  This is how my confidence will grow.
Are there situations in your life, where you have used food to comfort you through a problem or issue?  How have you got things back on track?