Right guys, you gotta help me out here.  I've been having some really crazy thoughts recently.  Some of my friends have been showing off their gorgeous newborn babies, and oh my word, it's making me feel broody.  It's completely insane, as rationally the thought of going throw another pregnancy is just too much like hard work.  Having a 3 year old and a 1 year old is also hard work, but it is getting easier.  Throwing another baby into the mix would just be ludicrous.
If you were reading this blog during my last pregnancy, you'll know I had a pretty hard time.  I suffered from pelvic girdle pain from really early on, and to get straight to the point I became an emotional wreck pretty much from the word go.   I went overdue, which was pretty much like daily torture and I ended up being induced early due to the physical and emotional strain it was putting me under.  Gosh, I'm starting to feel less broody already! However, if I'm honest, I could have probably done with seeing a more professional obstetrician. For example, my cousin in Australia dealt with Dr Malcolm Godfrey and couldn't praise him highly enough. The service was fantastic and he was always their to give advice. This is one tip I would definitely recommend you to take on, get in contact with a pregnancy specific doctor or obstetrician.
All of this has made me think a lot about the reality of being pregnant, and how tough it can be on us women.  Granted not everyone suffers with a huge amount of pregnancy related symptoms.   Some ladies breeze through the process, but some of us don't, especially if your a bit older and carrying a little extra weight like me.
For those women who don't bloom during the nine months of carrying a child, this is what pregnancy really looks like.
The Reality Of Pregnancy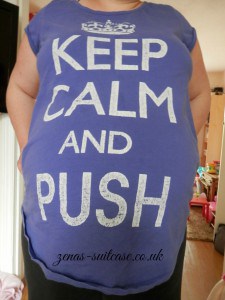 No matter how hard I tried to be careful, I always end up spilling my dinner down my bump.  Towards the end I avoided sauces and gravy as food stains just aren't a good look.  There just wasn't a serviette big enough to cover this bump and save me from some embarrassing food situations.
Taking around 10 minutes to get out of the car/the chair/ the bed. Delete as appropriate!  Getting up and down became a constant physical challenge in the last couple of months of my pregnancy.  My husband had to provide me with physical assistance most of the time to haul me out of the chair.  It's just not dignified!  I felt like an old lady.
When I got out of said car, chair or bed, I was then left with the prospect of waddling like a duck to my destination.  It also took me as long as a duck to get there.  My husband refused to go to the supermarket with me in the end because I'd take so long to get round.  In the end I didn't get round at all.  I'd manage about 2 aisles if I was lucky.
[bctt tweet="#Pregnancy: My Husband Refused To Go To The Supermarket With Me!"]
Gaviscon becomes a dietary supplement during pregnancy.  No matter what I ate or drank, in the end everything triggered the most unbearable heartburn.  It liked to attack just when I was trying to get to sleep, and I'd left it down stairs. See points 2 and 3.
It's a good job I forget what it was like being able to move and walk normally while I was pregnant, as I think this is why it wasn't so frustrating not being able to put my own shoes and socks on.  My husband frequently had to zip my boots up, and take them off again. It must be love, mustn't it?
Constantly having to go for a pee  became a bit tiresome, mainly because of points 2 and 3.  It wouldn't be so bad if it was just in the day, but waking up through the night just to empty my bladder because the baby had decided to jump on it became a little frustrating.  No matter how hard I tried to ignore it and go back to sleep, it's just wasn't going away. My big pregnant bump had to roll outta bed and make it's way to the bathroom, for the tiniest wee. Sparrow bladder didn't come into it!
I lost count of the amount of times I'd drop something on the floor, and not be able to pick it up again.  I don't know what it is about pregnancy but it seems to make me really clumsy.  It would always happen to me in a shop too, and I'd have to stop an assistant and ask rather pathetically if they wouldn't mind picking up the item for me. Sometimes, I would just leg it as fast as my pregnant bump would take me and pretend it wasn't me.  I think they always knew though.
Getting to the last few weeks of pregnancy and realising that only one pair of pyjamas, one outfit and a pair of flip flops fitted me.  There was no going out and buying more maternity clothes because it's just wasn't worth it, so I'd spend my time alternating between a pyjama day and getting out of the house for a walk in the hope it will start labour off.
I can't discuss the reality of pregnancy without mentioning how much everything swells up.  My feet doubled in size, and so did my legs in my last pregnancy.  It didn't matter how much I put my feet up, the water never went down that much.  What they don't tell you is when baby is born, that water has to come out somehow.  It's either sweat, or peeing like a horse.  For me it was the latter.  If I hadn't spent enough time on the toilet already!  I was hoping to get a break from my bladder 🙂
Despite going through all this we have the most gorgeous girls, and I wouldn't change any of it.  Would I put myself through it again.  Sadly not, my baby making days are officially over so I hope these broody feeling pass sooner rather than later.