I love my MacBook Pro.  If you follow me on social media or know me personally you'll know this was a big investment for me.  Seeing as I was going to be working on my blog more and more and want to develop a freelance career in social media management it seemed like a pretty wise investment from the off.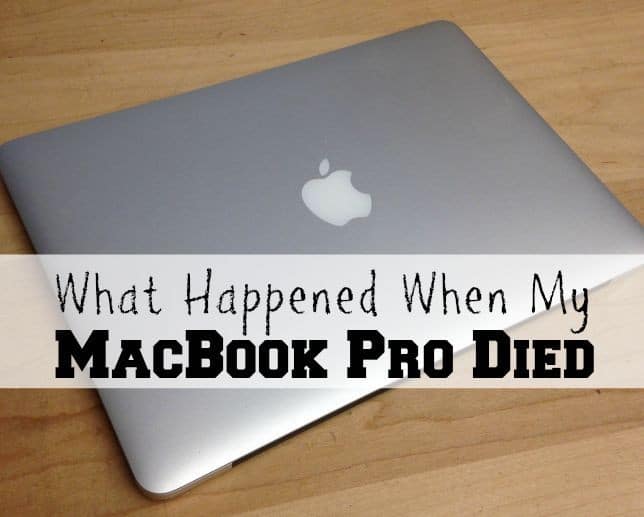 I fell in love with the MacBook Pro when my husband bought his home from work.  It was such a powerful machine for working on the internet, it left my old laptop for dust.  I knew I needed to have one of my very own, and when the opportunity arose I bought one directly from the Apple online.  My husband thought this was the best approach to make the warranty and any repairs as simple as possible.
MacBook Pro Made My Life So Easy
For someone who spends so much time on social media, editing photos and writing blog posts my MacBook Pro has helped my plough through my never ending to do list far quicker than I was able too on my laptop.
So, when I was beavering away this week on some post or other, I had to break to go and do some of that housework stuff that gets in the way of everything.  The MacBook Pro was doing just fine, living up to normal expectations.  There was no reason to suspect anything was wrong or that something terminal was about to happen.
When I returned to the MacBook to pick up where I'd left off, the screen was blank.  Nothing would bring it back to life.  I rang my husband for some pearls of wisdom, but he had nothing to offer other than 'I think it's broke!'.  I think I'd figured that much out for myself.
Time To Ring Apple Support
By the time my husband got home I was already on the phone to Apple Customer Support. A very lovely chap understood my current distress and went though a series of keyboard combinations to see if we could get it working again.
By this stage I was having a panic attack, but I was told I could take my MacBook Pro into the Apple Store in Leicester and they would take a look at it.  At that point I put the MacBook Pro away, hoping a rest might help and pulled out my clunky old laptop to continue with my work.
My husband took my sorry tale to his office.  He is Head of Software Engineering (aka Head Geek) at a web company and my story was the highlight of his day.  Someone said, 'I love the Apple Store, they fix s***'.  With these words, I felt confident my issues would be resolved when I turned up at the Genius Bar.  What a great name, hey?  You gotta have faith when your going to the Genius Bar!
Going To The Apple Store
I was quite excited about going to the Apple Store in Leicester.  I packed up my MacBook Pro and power lead and gave myself plenty of time incase I struggled to find it.  I need not have worried.  The is no mistaking the Apple logo is there.
I took my seat at the Genius Bar and waited for my time slot.  Lots of people where coming into the store with one problem or another, and leaving very happy again.  I thought that will be me in half an hour!  Well, sadly it wasn't quite as straight forward as that.
Adrian took a look at my machine and I explained to him what had happened prior to it not working.  He went through a series of procedures, and I literally thought he was going to be taking it's pulse any minute.
The problem wasn't immediately obvious so he whisked it off upstairs to take a look.  When he came back, the news wasn't great.  The MacBook had not died because of a hardware fault.  Technically, it was not covered by the warranty.
At this point my heart sank.  When he showed me the worst case scenario for the repair bill, I nearly fell of my Genius Bar stool.  I was lucky I found one tissue floating round the bottom of my bag because at that point I needed it.  Poor Adrian, he didn't think he would be faced with a blubbing parent blogger at 10am on a Friday morning.
Great Customer Service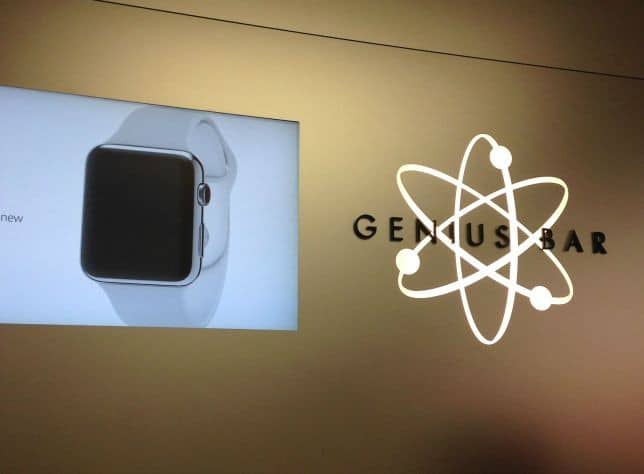 We had a chat about the issue, and I explained I genuinely had no idea how it had broken.  I have been so careful with my MacBook Pro, all I can say is I was very unlucky.  Some liquid had got into the machine and corroded some of the parts stopping the signal being transported to the monitor.  I have no idea how this happened, and have been racking my brains since.  I guess having a 3 year old and a 1 year old could have been a factor in the equation.
We looked at possible solutions and the repair bill was looking pretty hefty.  At one point I considered just buying a new one.  Adrian explained everything to me and I knew exactly what needed to be done and I decided to book the machine in for the repair.  He was able to get it resolved on the same day, which was awesome.  Leicester isn't far from Nottingham, but it would still have been inconvenient having to go back and collect it.
I did a bit of window shopping and grabbed a coffee while I waited for my machine to be fixed.  2 hours before it was due to be ready, I was emailed to confirm my MacBook Pro was repaired and I could collect it.  Happy days!
My machine was as good as new when I collected it.  Like nothing had gone wrong at all.  There was no sending it off via courier waiting weeks for a diagnosis and repair or replacement machine.  The staff were amazing and helpful, and not to mention very friendly.
I came away a very happy Apple customer indeed, which is fab seeing as a few other bloggers bought their machine of the back of me saying how brilliant the MacBook Pro is.  Now I can tell them Apple's after sales service is second to none too.  If I was ever in any doubt about the investment I made in buying the MacBook Pro, today crystallised for me that it was worth every penny.  Thanks again to Adrian at Apple Store Highcross Leicester, and the lovely technicians that made my machine work again.  This blog post is just for you