We are huge fans of Innocent Smoothies, I love them, the kids love them and even Daddy has been known to have the odd one or two.  We heard that there was going to be an Innocent Fruit and Veg Fest at their very prestigious Fruit Towers and decided to head on down to London to find out what all the fun was about.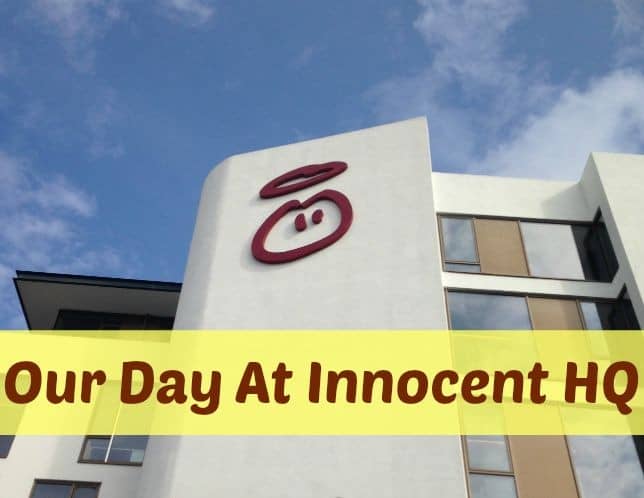 Princess and I were up really early, in fact about an hour earlier than we needed to be as 3 year olds get very excited about heading of for an adventure with Mummy on a train.  There was no fear of being late for the 7.10am from Nottingham to London St Pancras, and I know all the businessmen were delighted that a small person was going to be joining them on there work commute.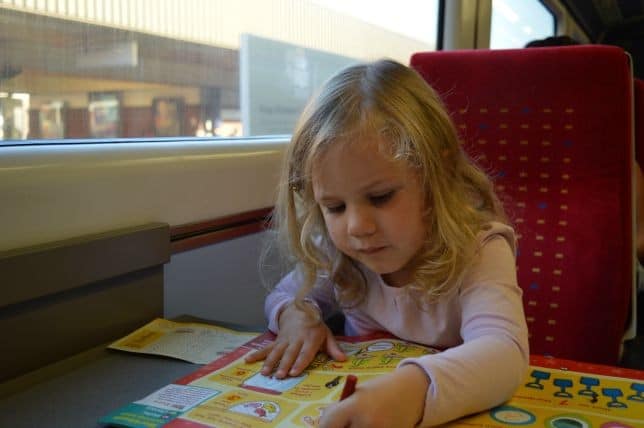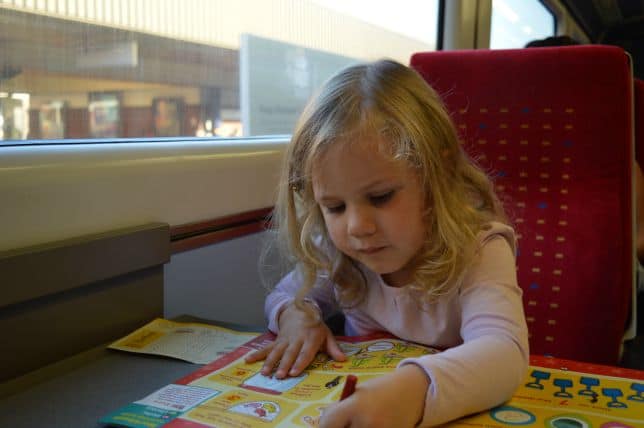 Princess got stuck right into her Cbeebies Magazine right after her jam sandwich breakfast, and we did activities all the way to London.  It was a real treat to get this time with her, without the 1 year old trying to get involved with proceedings.
Filled with lots of questions, like 'Is London new Mummy?' Princess was feeling really enthusiastic about her pending adventure.  We jumped on the tube and headed to Ladbroke Grove where we were soon to arrive at Fruit Towers.
I must admit I never quite know how Princess is going to be at these events.  Sometimes she can be shy and overwhelmed and other times she gets stuck right in.  I needn't have worried though, as this was one of those times when she just wanted to explore and play.  Fruit Towers has what I can only describe as a great vibe.  It's relaxed, friendly and a great space to bring a load of kids together to have a lot of healthy fun.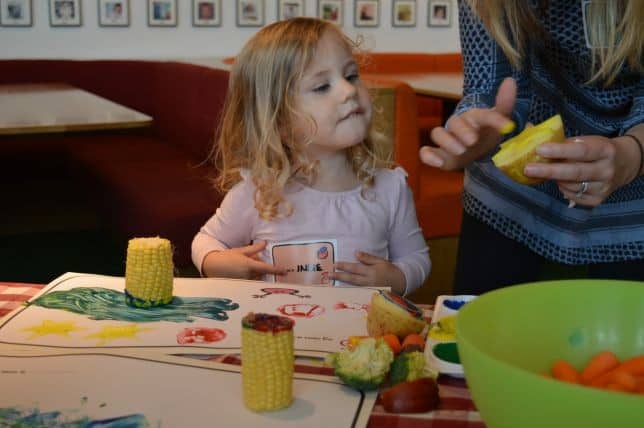 There were people on hand to help with some vegetable printing.  Painting is always such a big hit isn't it?  She also made faces with peppers, cucumbers, carrots and lots more fun colourful veg.  Princess made alien faces, and this was a really popular table with all the kids.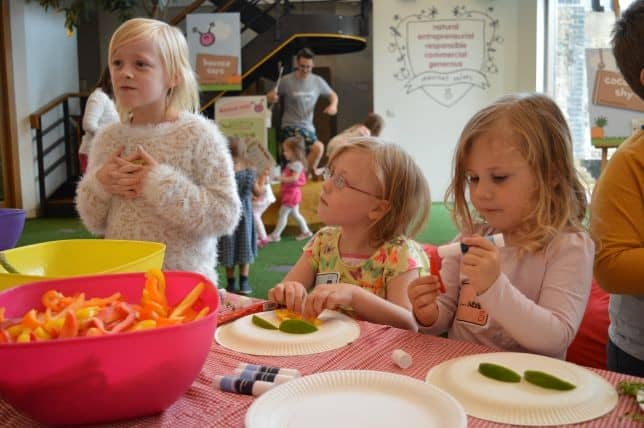 It was lovely to watch her have so much fun, with something as simple as fruit and veg.  Kids learn so much through play, and when it comes to food it's not just about how it tastes, it's about the texture, how it smells and the bright colours too.  It was a lovely way of getting them to enjoy all the healthy things children need in their diet in a different way.
Now, the biggest hit of all wasn't the painting, or the face making but in fact it was the coconut shy.  The kids kept this activity busy all morning, and poor Kevin was forever picking up coconuts for these children just to knock them down again.  Give children a target, and something to throw at it and it will keep them busy for hours.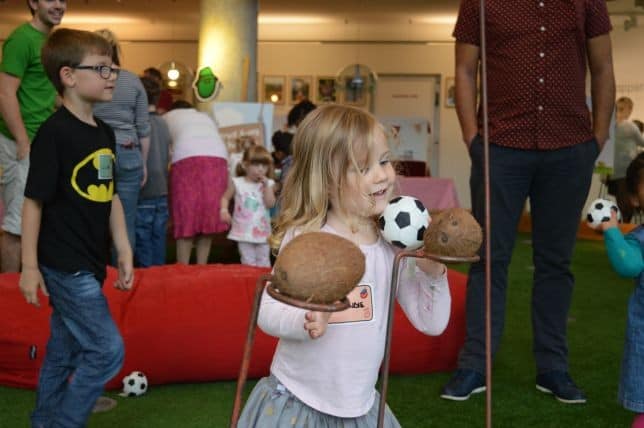 Not only did we have a lot of fun at Innocent HQ, but we also got some great tips on how to encourage children to be healthy and eat more fruit and vegetables.  I'm always thinking about what my children are eating, and whether they are getting their quota of 5 portions a day.  I don't think we manage it every single day, but the point is it's something we are always conscious of trying to improve.  Here's some of the advice we'll be trying out to help us hit the mark more often.
Tips To Encourage Children To Eat More Fruit And Vegetables
Include some fruit or veg at every meal, and offer it at snack time too.
Use 'in season' fruit and veg as these are often cheaper.
Make sure your children see you eating fruit and veg too, this is something we aren't great at to be honest.  I'm not great with fruit, and Daddy isn't a huge fan of vegetables either!
Make fruit and vegetables fun by making them into faces on pizzas or making them into scenes.
Get your kids involved in the weekly shop, if they pick a few things they are more likely to try them.  You never know, you might end up trying something new too.
Grow some fruit and veg of your own, kids get really excited about eating something they've helped grow themselves.
Add loads of vegetables to things like pastas sauce, curry or stews.  This will make them taste great.
There's also Innocent's new fruit and veg smoothies too, to get a quick healthy hit.  There's strawberries, apples and beetroot or zingy pineapples, apples and carrots to choose from, both utterly delicious in Princess's book!  Here's some thoughts on the new fruit & veg smoothies for kids straight from Fruit Towers:
Things you might like to know about our new fruit & veg smoothies for kids
They are a naturally delicious way to get a portion of fruit and veg into your little ones
Each smoothie contains one of their 5-a-day
With a wide variety of ingredients such as beetroot, carrots, apples and pumpkin, they're a great way to enjoy lots of different fruits and veg
Crammed full of 100% pure crushed fruit and veg
We're the only kids fruit & veg smoothies on the market and available from all good supermarkets
Perfect for lunchboxes