That's it, summer is well and truly over folks.  Once the last bank holiday has passed, autumn starts to creep in doesn't it?  The mornings are crisp and fresh, the leaves start to turn brown and the nights are noticeably darker.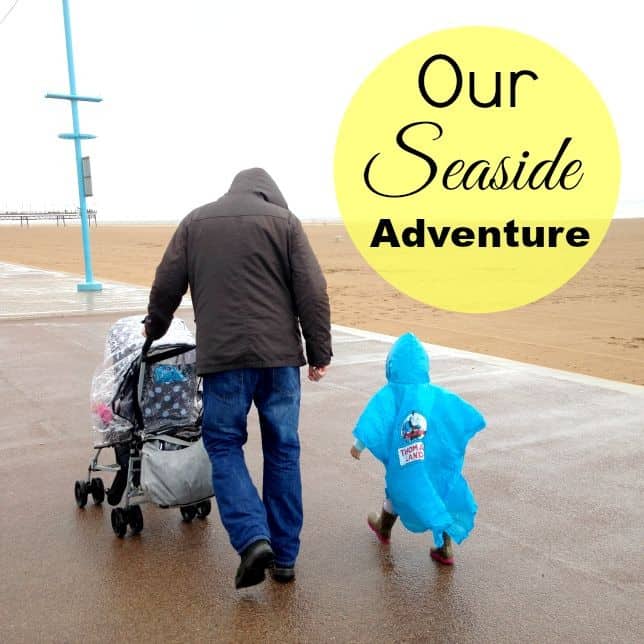 We were not going to let this change of seasons go by without one last summer adventure.  I've been going on about going to the beach with the kids for what feels like forever.  Being in Nottingham, the sea is a good 2 hours away and we are always put off these long drives by the thought of the kids napping on the way home and not making their usual bedtime routine.
Despite this very real and dangerous threat, my husband made the decision that we would be going to the seaside for the day over the bank holiday.  This in itself was a monumental occasion as he isn't what I'd call the decision maker in the family.  With his new found decisiveness who was I to disagree and despite a late start we headed to the kiss me quick town of Skegness for the day.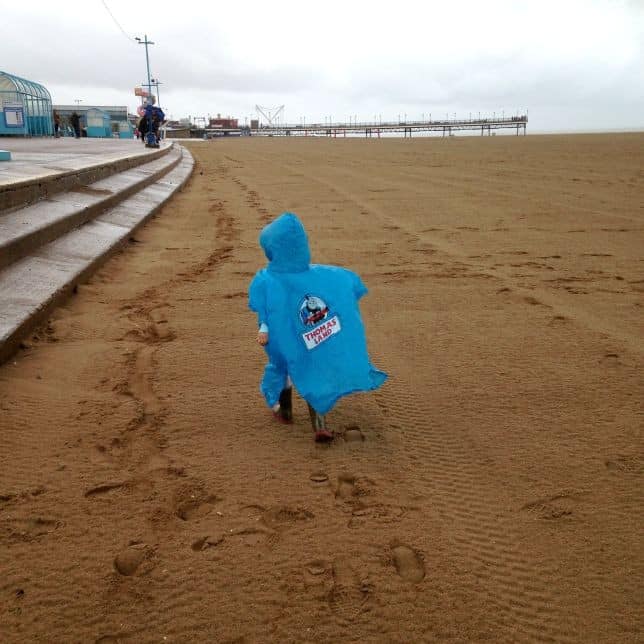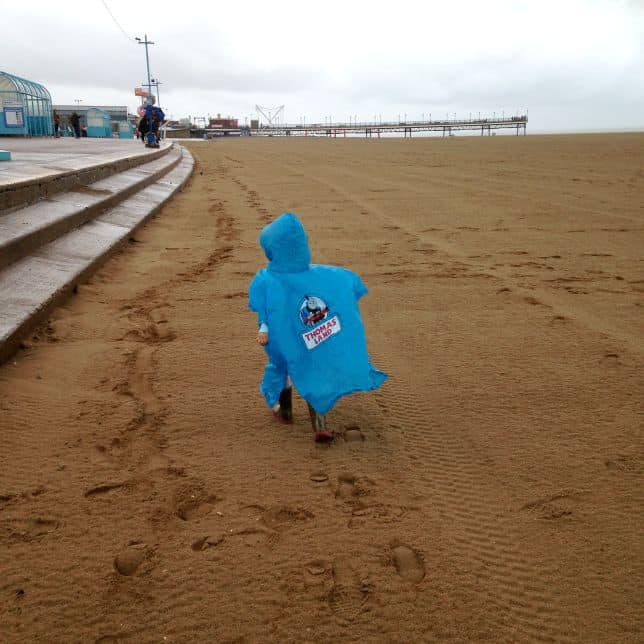 Now, it was hammering it down with rain, with no sign of it clearing up anytime soon but we were not going to be deterred.  We had ponchos and wellies, so the beach is where we were headed.  Rain does not stop play in this house!
We had a few navigation issues, in that we (when I say we, I mean my husband) picked some random Skegness address for satnav to get us to our destination.  When we got near by, satnav and the road signs were at odds.  Who do you listen to in these situations.  Well, with hindsight, I'd say stick with the signs but instead we listened to satnav and ended up on some track that hadn't seen a highway maintenance engineer in about 50 years.  It was a little bumpy in parts, and I was hoping a well maintained road was soon on the horizon.
We did eventually make it to the sea front, and it was still raining.  It was OK though, we were prepared!  We headed of down to the beach, and Princess thought she was on holiday.  It was really cute to watch her run through the sand.  Needless to say we had the beach pretty much to ourselves, and the sea air definitely blew a few cobwebs away.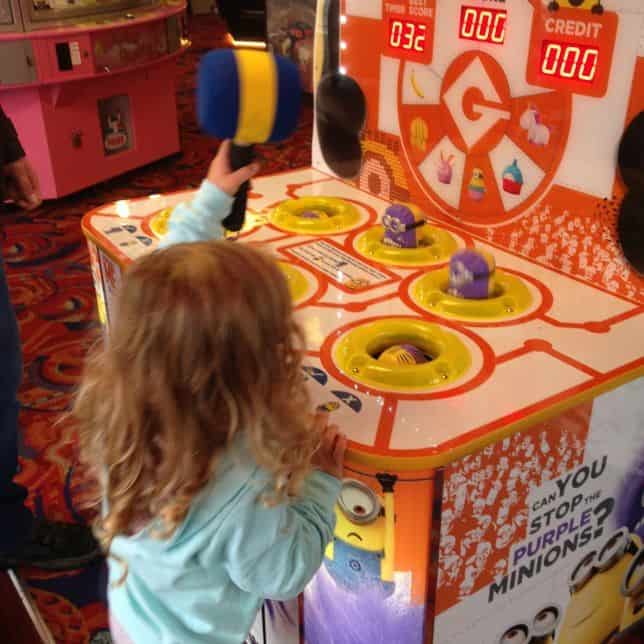 After a short walk down the beach we hit the arcades.  Daddy was overcome with feelings of his long lost youth, and wanted to take a trip down memory lane.  Of course the kids loved it, all the flashing lights and ride on cars.  What wasn't there to love.  These places aren't cheap though are they?  You can spend a pretty penny in the arcades, and I'm sure it's not far of the cost of foreign holiday by the time you've finished.  I was glad we were only there for the day.
We found a restaurant that boasted a traditional fish and chip house special.  It seemed pretty popular, so we headed in to give them a try.  The chips were spot on, and the fish was as if it had just come out of the sea.  It was a real treat, and worth every penny.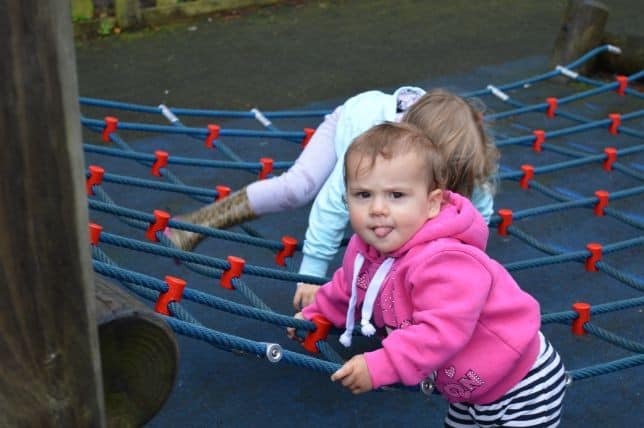 We headed to the park to give the kids a bit of a chance to play, and would you believe the rain stopped.  We headed back down to the beach to kick up a bit more sand and I was surprised and how lovely Skegness beach was.
On a warm summer's day, I can imagine that it was a lovely place to hang out with the family.  Unfortunately this wasn't a warm summer's day.  We took a quick walk along the pier to admire the wind farm out at sea, but Princess wanted to get back to the sand.  That was the fun bit after all.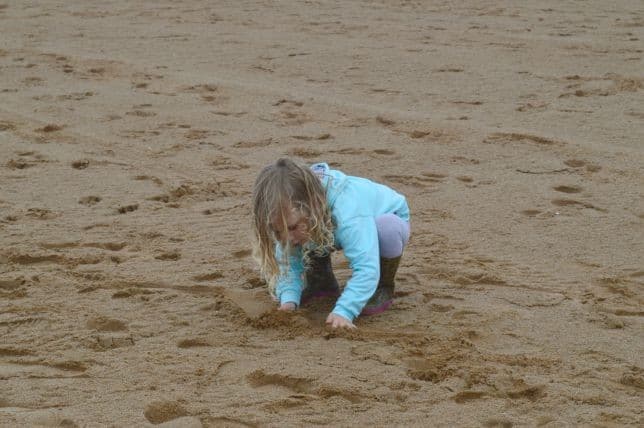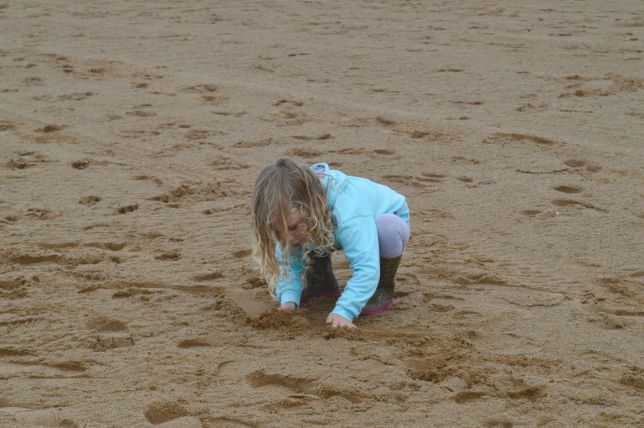 It was a flying visit to Skegness, and I've got to be honest when I say it was about 14 years ago when I last went.  I hadn't remembered it having so much there at all, you could easily while away a day with the family here if you don't mind cheesy seaside towns.  I just wish we'd of had better weather.  Die hard British tourists still paid good money to enjoy the log flume though!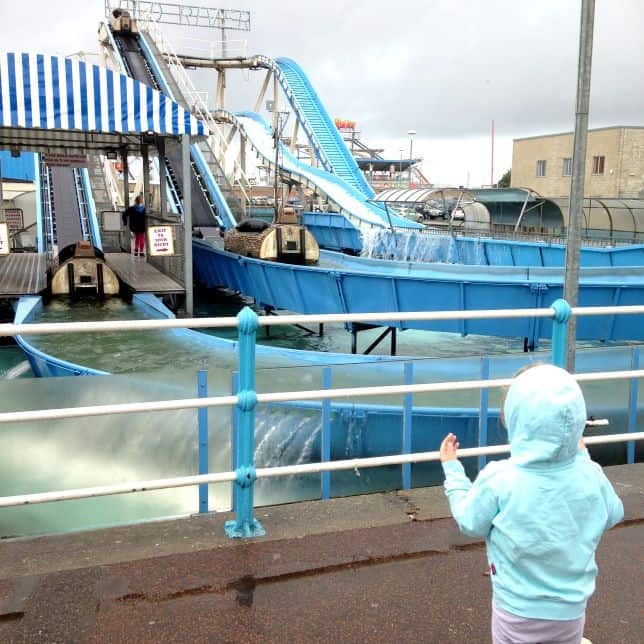 The kids loved our flying visit, and Daddy did too.  I'm glad he was decisive about our day out, as I was erring on the side of giving it a miss due to the bad weather.  That's such a lame excuse though isn't it.  After all, what's the worse that's going to happen?  Getting a bit wet never hurt anyone did it?
We made the most of our last bank holiday, packing in a trip to Drayton Manor Theme Park too, which is always a big hit with the girls.  It feels like we gave the summer a proper send off , and now it's time to think about bonfires and pumpkins as we go rushing towards Christmas at full pelt.
How have you said good bye to the summer?  Did you have a fun packed August bank holiday?