Balabalboomboom! This week it has all been about Messy Monster, Zoe and Felix.  If you don't know who I'm talking about, then you haven't been to Okido yet!  Messy Goes To Okido joined the CBeebies line up this week, and we are completely hooked.  My daughter has watched it over, and over and over again.  We definitely understand the concept of gravity, inside and out 🙂
What Is Messy Goes To Okido?
Well, it's not like anything I've seen on CBeebies to be honest.  It's a fun, comedy science cartoon that takes children on a really cool adventure with their new friends to find out the answers to everything they could ever want to know.
Messy is a cute friendly monster who wants to learn about all kinds of things and has so many questions about the world around him. A bit like my 3 year old does at the moment!  I will be going to Messy Monster for all those 'why' questions that are being thrown at me on a daily.
It takes concepts like travel, gravity, healthy eating, germs and all the gooey stuff kids want to know about and gives them answers they can relate to and understand.  It's definitely worth a watch!
Okido Magazine
We've also been looking at the Okido magazine that goes with the new show.  I love children's magazines as they really help develop my daughter's learning and understanding of the world ready for her starting school next year.  The Okido magazine is great, and brings science and art together to help preschoolers start to enjoy these cool subjects.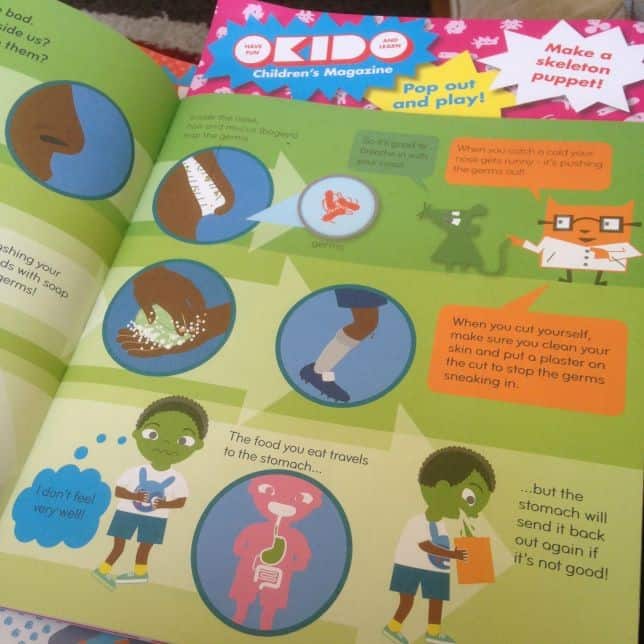 Each magazine focuses on a particular topic, for example being healthy or friends.  Through all the stories, cartoons and activities each edition explores that topic on lots of different levels.  This really helps children get a better understanding of it, how it effects them and what they can do to stay healthy or be a better friend.
Our favourite part is the poem.  They are really fun, and easy for children to follow and have some lovely illustrations, even when they talk about poo!
There are lots of ideas for you to sit with your children and get them to think about the topics being discussed on the Okido magazine.  Children are learning lots about relationships from a young age, so talking to them about what they think a good friend is will be really helpful for them as they start start preschool and go to school.
If you haven't seen Messy Goes To Okido yet, he is on CBeebies every day at 4.20pm or you can watch him on catch up as many times as you like!  If you love the cartoon, carry on the fun with the Okido magazine, which is aimed at children aged 3 – 8 years old.  It costs £4 per issue or you can get a subscription for £24 per year.
We were sent copies of the Okido magazine in exchange for this post