This weekend my 3 year old has been putting the Decathlon Oxelo B1 Scooter through it's paces.  She has been very excited about the scooter review since Mummy built it for her in the week.  It's been having plenty of test drives around the living room, to get ready for hitting the outdoor course.  Kids just love scooters don't they?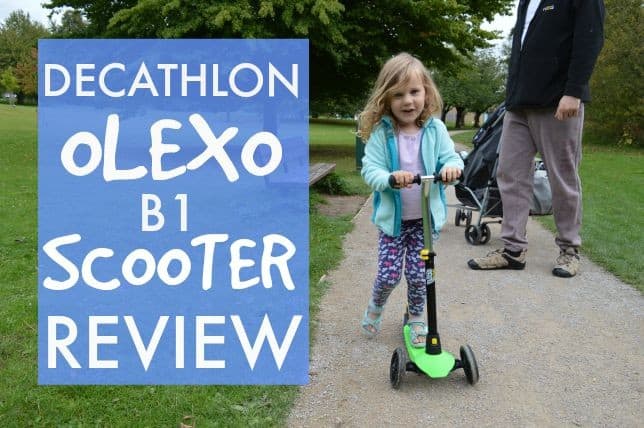 The first thing to note is that Mummy put it together, and it was really easy to do.  It was simply a case of screwing the scooter shell to the chassis (hark at me sounding all technical!) and securing the handle bars in place.  Simple!
The handle bars are adjustable too and have 2 different settings, so it will be perfect for any child from 2 years up to at least 4.  My daughter is 3 1/2 years old, and she is very tall for her age.  The scooter handle is set to the highest point for her, but she will be using it for a good while.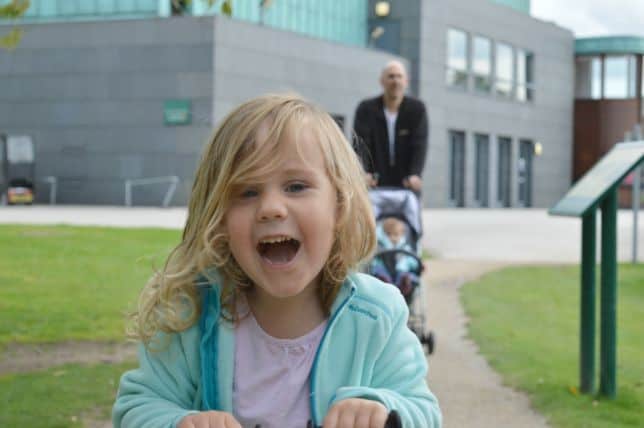 We went to one of our favourite places in Nottingham so that Princess could try the scooter out.  We really enjoy visiting Lakeside and Highfields Park in Nottingham, because it has a lovely walk around the lakes and you often see people running, cycling or riding on their scooters getting some fresh air and exercise.
The great thing about this scooter is that the handle bars turn making it really easy for a child to steer.  We've tried other scooters for my daughter that require her to lean to turn corners and manoeuvre it, and to be honest she doesn't get on quite so well with those.  It's not a concept she easily grasps at her age, where as turning and pointing the handlebars in the direction she wants to go makes a lot more sense to her at the moment.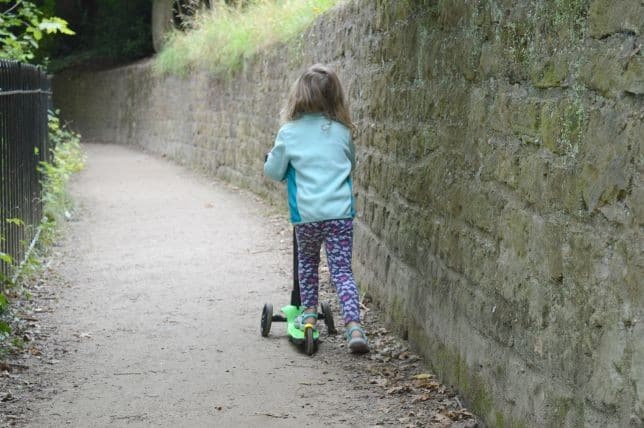 There are lots of different paths around Lakeside, and Princess didn't have any trouble using the scooter around any of them.  She was really stable on it, and was soon very confident in using her new scooter to steam roller ahead of Mum and Dad while we were on our walk.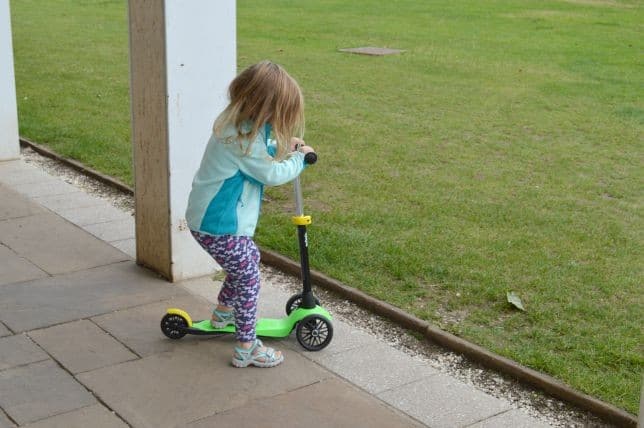 Our daughter really enjoyed the scooter review, and found all aspects of using it really simple, even down to breaking and stopping.  I felt really confident about her being able to use it too, as I could see she was stable and could negotiate any obstacles she was likely to meet.
The Decathlon Oxelo B1 scooter is customisable as well, and the scooter shell is available in 5 different colours.  The scooter chassis is £22.99 and the shell is bought seperately and costs £2.99.  The total price for the scooter is less than £26.00 which I think is great value for money for the use and fun a child will get out of it.
We have got on really well with the Oxelo B1 Scooter from Decathlon for this review and would happily recommend this product to friends or family who were looking to buy a scooter for their preschooler as a birthday or christmas present.
We were provided with a complimentary Oxelo B1 Scooter chassis and shell in exchange for this scooter review by all thoughts and opinions are our own.