Thanks for joining me for another week of Thinking Thin.  If you missed last week's post, you can catch up with my thoughts on thinking about food here.  I'm still feeling in tune with what my body needs, and generally speaking it has been a good week.  There has been the odd slip up due to being to busy to being organised to eat properly, but it didn't throw me of the wagon.  That's always a win, right?
I feel like I've been processing a lot these last few weeks about why I carry extra weight.  My weight has been something I hide behind and something I can blame for things, instead of owning what the real cause of an issue might be.  I hope I'm making sense here, please stay with me.  I promise all will become clear.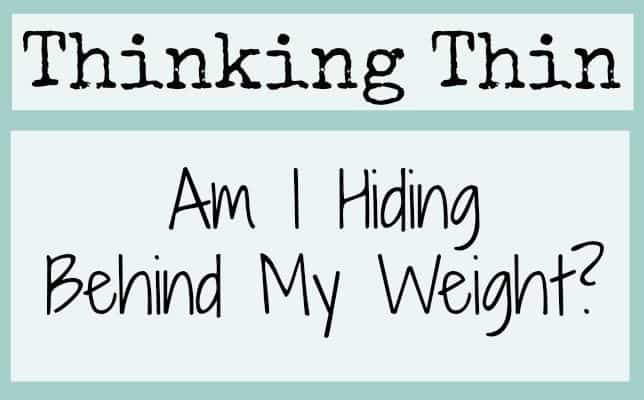 Is Being Over Weight Safe?
At points in my life I've used the fact that I am over weight to explain why I've been single or why I haven't done well at something.  But I am responsible for being over weight in the first place, no one forced me to over eat or gain weight.  It's like putting up a barrier up between myself and the rest of the world and staying in my little comfort zone.
I don't think that being over weight was the reason I was single for so long, or why I may have failed at things.  I think that being over weight was a way of protecting myself from being hurt in a relationship or from not doing well at something.  It stopped me pushing myself out of my comfort zone and taking risks in relationships, with work or in any other area of my life.
I struggle with failing and rejection.  I think a lot of us do, don't we?  They are my two biggest achilles heals, and I find the emotions that come with them quite overwhelming.   Over the years I've used being overweight to avoid being in situations that I might fail at or exposing myself to possible rejection.  It feels like a huge stumbling block for me at the moment with embarking on a new venture with my blog and a freelance career.
Is Being Fat Holding Me Back?
My life has changed such a lot in the last few years, I've left behind a well established career, I've had 2 children and I got married.  There has been a lot for me to get used to, and at points I have felt like I have failed in my previous job and in some of my relationships.
Failing is such a negative word isn't it?  I need to change how I look at these things.  I have started to realise that I am very lucky to have been given the chance to start a fresh, doing something that I love and that will work around my family.  With that comes some element of risk, but I am lucky in that the bills will be paid and the kids will be fed whatever happens.
I know what I need to do to get started on my new ventures, but am I scared I might fail.   I also have a crazy notion in my head that fat people aren't successful.  I know, it's ridiculous isn't it!  So instead of trying and making an action plan, setting up new websites, building a portfolio of work and making contacts I feel held back by something.  This crazy notion that fat people don't succeed.  What if I wasn't fat?  What would I blame then?  I'd have to take responsibility for not organising my time, making a plan and prioritising the key tasks I need to do to achieve my dream.
I have many skills and abilities and have been very successful in my life at dealing with a difficult upbringing, raising some amazing children and doing well while I was in my job.  I have not failed at any of these things, I've just changed path.  I've taken the biggest step out of my comfort zone and let behind the security and stability being an employee gave me.  Now, I need to let go of the idea that I might fail, and just try.  Things might not fall into place straight away, but learning is the key to progress.  Mistakes are OK as long as we take something from them.  I need to stop being afraid, stop using my weight as an excuse and start my new life free of these barriers to my future success.
I will not let my weight hold me back, or use it as an excuse any longer.  I will not use it as an excuse not to make an effort with my appearance, or not to do great things with my blog.  I am going to stop using it as an excuse for all these things, and stop being afraid.  Sometimes our emotions come from our past and legacies we no longer require.  From a time when we needed to survive or protect ourselves, and these legacies can be difficult to let go off.  I fear that if I don't though they will hold me back, and that would be the real failure.
Is being over weight holding you back?  Is it something you hind behind?