Great Yarmouth has plenty of things to do all year round with a great programme of events including theatre shows and racing.  This is such an important factor when deciding where to take the family on holiday.  If you're anything like us, we like having lots of things to do, interesting places to visit and plenty to see when we are taking a family break.  I visited Great Yarmouth every year when I was a child, so it's a place I can't wait to share with my family now I have children.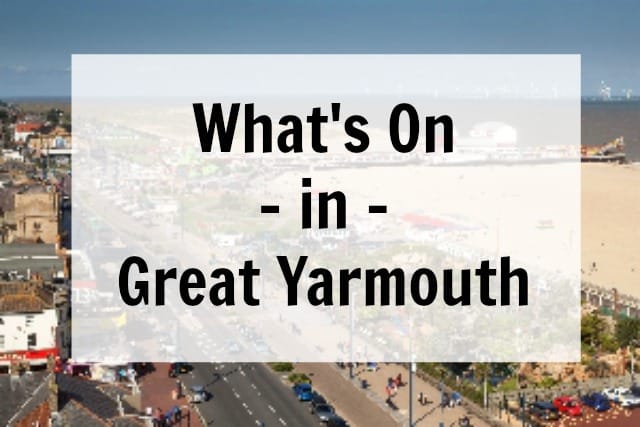 Great Yarmouth In 2016
If you're already thinking about your next short break or holiday to Great Yarmouth in 2016, you'll need to know what's happening during the year. This will help you book the best dates for your stay.
The Great Yarmouth Beer & Cider Festival gets the festival season off to a flying start in May and the Great Yarmouth Arts Festival takes place in June.
Great Yarmouth is a maritime borough and several of their lifeboat stations have festivals and fêtes during the holiday season. September is the main festival month, featuring the Festival of Bowls, the Great Yarmouth Maritime Festival, the Out There International Festival of Street Arts and Circus as well as the Eastern Festival of Racing.  If these don't take your fancy, why not look into Great Yarmouth's Heritage Open Days, they are always a big hit with active families.
If you fancy something a little different, why not plan to join a guided heritage walk, which run from from May to October – you'll look at Great Yarmouth in a completely different  light after this unique holiday activity.
It's worth planning to visit Great Yarmouth to join in with one of the fantastic festivals, it will make for a very memorable holiday.  While your in the area why not stop by one of the Great Yarmouth shows at Gorleston Pavilion Theatre, the Hippodrome, St. George's Theatre or Britannia Pier Theatre. There's no shortage of big events happening throughout the year either, there's always something going on and there is definitely something for everyone.  You'll be spoilt for choice.
Great Yarmouth In Winter
Even in winter there are still loads of attractions open, but if you're planning your next holiday check out the things to do page for all sorts of ideas on things to do in Great Yarmouth, whatever the weather.
If it's the thrill of the chase you need, greyhound racing and stock car racing operate all year-round, with the Great Yarmouth's popular flat horse racing season at Great Yarmouth race course starting in April. If you enjoy concerts and shows check out what's on in the Great Yarmouth theatres and don't forget the Summer Sunday Afternoons programme of music at Gorleston Bandstand.  These are perfect for family picnics!
Win A Holiday in Great Yarmouth
If you think Great Yarmouth sounds like the kind of place you would like to visit, then there is a competition being run by Greater Yarmouth Tourism that might be right up your street. How does a 7 night holiday for up to eight people with NO restrictions on dates in 2016, staying at Haven Seashore with lots of attraction passes included sound to you?  If you'd like to enter follow the link below and submit your entry to win this amazing holiday in Great Yarmouth
This is a collaborative post