Small changes to your family room can create a welcoming space that looks great without breaking the bank. If you're planning to redecorate, here are 6 essential tips to keep you on budget.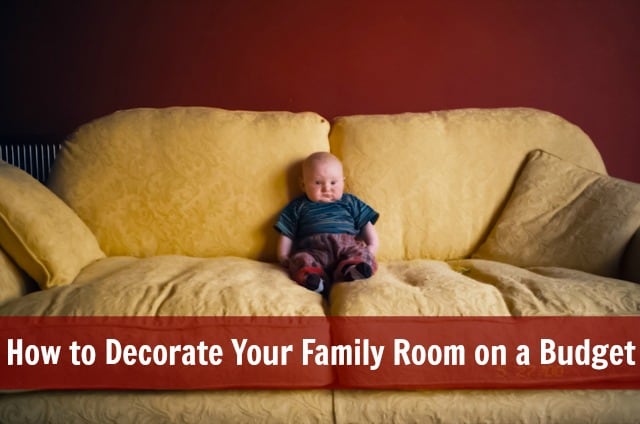 Remove any clutter
A great starting point is to give yourself a clean canvas by removing any unnecessary clutter or furniture that no longer serves a purpose. Ask a friend to help move existing furniture in different groupings. You may find a new set up that not only looks visually appealing but also adds more space.
Get painting
This is a low cost and easy technique to completely transform your lounge from a dull space to a vibrant, chill out den. Using a different or bold colour on one wall is good way to create a unique feature. Alternatively, opt for a deep shade across the entire room for a cosy and warming look. You can also update tired furniture and flooring with lighter shades of paint.
Set the mood
Creating a cosy and relaxed ambience is easy with the right lighting. Visit some second hand stores and you could find a bargain lampshade or unique light fixture. This can give your lounge that distinct look and makes for a great talking piece. For a more refined approach, try purchasing matching lampshades and placing them either side of your couch.
Add some comfort
Purchasing a new sofa can be a costly investment so why not revive your old furniture instead. Cushions are an affordable way to add colour to your room whilst making the space more inviting. You can also add decorating touches yourself, sewing on tassels and vintage buttons for a personalised touch.
DIY you artwork
Flea markets are a great place to find vintage pieces from one of a kind clocks to art prints and old frames. You can always add a lick of paint to tired looking antiques and showcase them on the wall or bookshelf. Repurposing standard items bought at low cost from a supermarket can also be a good way to get that rustic DIY look.
Be unique
Add personalized items which reflect your family's character and individual tastes. This may include a photo collage of family holidays or a bookshelf full of your favourite novels. Hand crafted keepsakes are also great such as chunky wooden alphabet signs spelling your family's surname.
Follow these simple steps and start creating a beautiful room that the whole family can enjoy. These budget friendly ideas mean more money in your pocket for a rainy day.
Image by Andy Hay used under Creative Commons License.
This is a collaborative post