Hey Duggee is also on my daughter's list of favourite CBeebies shows.  She's such a huge animal lover, Hey Duggee and the rest of the characters really appeal to her.  If you've not caught up with this show yet, Hey Duggee is all about the Squirrel club and is aimed at preschoolers.  It's similar to an after school club, and reminds me a lot of cubs or brownies.  The Squirrels have to learn skills and solve problems and in return they earn a Hey Duggee badge.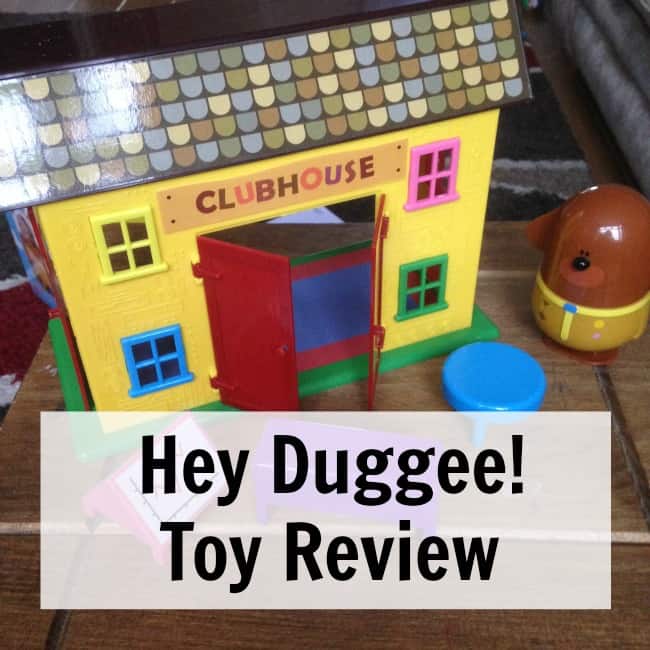 Hey Duggee Woof Woof Duggee Soft Toy
The Hey Duggee Woof Woof Duggee soft toy is one of the cutest things I've ever seen.  He is so soft and squishy I think he is literally going to get the stuffing hugged out of him.  He is just perfect for my daughter to snuggle up on the sofa and cuddle up with for a 'Duggee Hug'.  The only problem I can see with him, is that her younger sister is going to take a real shine to him too!
You pat his head, and he makes the famous Hey Duggee Woof Woof sound which I have heard a few times now.  There are also badges on his tummy that recreate music and phrases from the show.  They include the voice from the show, Alexander Armstrong, asking for a 'Duggee Hug' which has been a huge hit in this house.  There are also a couple of Hey Duggee badges which have been proudly worn at every available opportunity!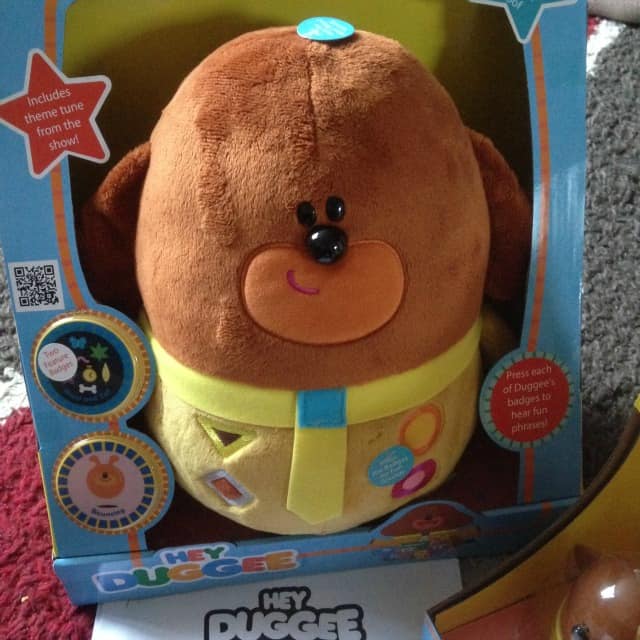 He's a really lovely character toy, and a lovely comforter for any Hey Duggee fan.  He will be a favourite friend with my daughter for as long as she continues to enjoy the show.  Hey Duggee Woof Woof Duggee soft toy is definitely a good Christmas present idea for a child aged between 2 and 5.
Hey Duggee: Squirrel Club Playset
We've also been road testing the Hey Duggee Squirrel Club Playset.  My daughter is 3 years old, and is really enjoying imaginative role play at the minute.  She loves toys where she can create her own scenes and stories, and it's a joy to hear her imagination run free.
The Hey Duggee Squirrel Club Playset comes with a easel, table chest, work desk and Duggee figurine.  It's a great set to add extra characters to as well.  It's colourful, and true to the Squirrel Club that your little ones see in the Hey Duggee Show.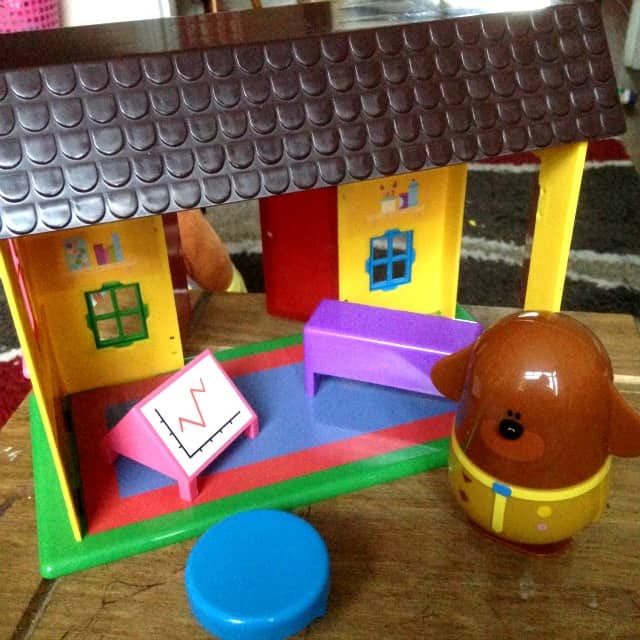 This is another winner as far as my daughter and I are concerned and we will definitely be adding to our Hey Duggee toy collection at Christmas.
The Hey Duggee Woof Woof Duggee soft toy and the Hey Duggee Squirrel Club Playset from Golden Bear Toys are available online or at most major toy outlets.  We received the Hey Duggee toys in exchange for this post, but all thoughts and opinions are our own.