Well here it is, your 18th birthday is finally here. You are officially an adult! Where have all the years gone. If it wasn't bad enough last birthday, this is definitely an emotional one for your old Mum.
You should have seen me holding back the tears in Asda as I was buying the birthday candles to put on your cake. I was quite overcome with emotion, only to find when I got home that I'd already bought the candles a few weeks earlier. That's my old age catching up me. You'll understand one day.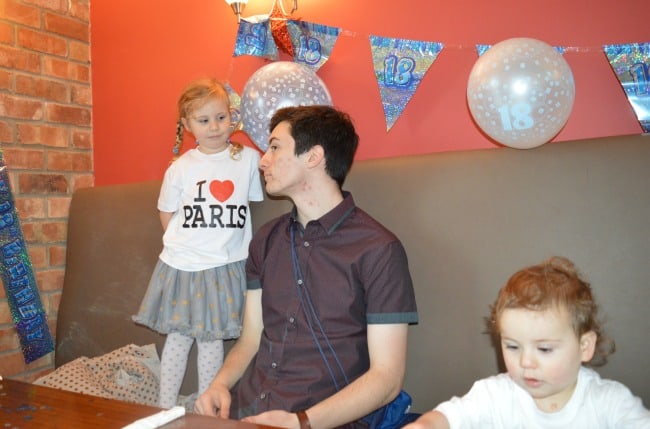 Well, what a year you've had. I am so unbelievably proud of you and what you have achieved. I know I put my foot in it when you got your exam results and I hope you know how sorry I am about that. You have achieved and will achieve far better grades than I ever did. I just want the very best for you, and want you to get the results you deserve.
You are an incredibly talented young man, and yes of course I am a bit bias. But please play a few less games on your PC and do a little more studying until your A levels are over. Those A*s are well within your reach.
I know you are going to do well no matter what you do. You will do well next year and I know I'll be dropping you off at a university and shedding more tears as you spread your wings and fly the nest. I'll be blubbing like a baby when that day finally arrives.
You have grown into quite the young man, that we are all so proud of. You are such a fantastic big brother to your little sisters and we are all going to miss you so much when you go off into the big wide world. Of course, if you wanted to stick around, you really don't have to go anywhere if you don't want to 😉
I'm so pleased you have kept with your job, I think it's teaching you things about the big wide world of vegetable stacking. You've been with your girlfriend for a year too, even though that's not the official date. You make such a great couple and she brings out the very best in you. It's lovely to see you so happy, and I think she will be in your life for a long time yet. She's got used to your crazy family, and she's even survived a weekend at Granny's so she's got to be a keeper I reckon. It almost fills my eyes with happy tears to think of the time, years from now, when you'll be browsing around for the best engagement rings in Denver to get a thoughtful proposal for your future wife…I know, I know, I'm getting ahead of myself! But you only have my motherly instincts to blame for that.
I think I have to be one of the luckiest Mum's around. You are so sensible and driven you really give me nothing to worry about. I worry, just for the sake of it, because that's what us Mothers do, but with you there really is no need. Please keep that wise head you have on your shoulders and keep that focus you have on working towards your future as I know the path ahead is incredibly bright for you.
No matter where you go, or what you do with your life, don't ever forget that I will always be here for you. There will be some curve balls thrown your way when you get out in the big bad world, and please don't forget you can talk to me. I know you don't like to, but you never know, I might just have a few pearls of wisdom that will help you make sense of the world when it's not being so kind to you.
From here on in I know I'm literally going to watch you fly. I can't wait to celebrate your successes with you. Before you know it, there will be a graduation ceremony, and your first proper job. There will be no stopping you after that.
I know you will walk into a fantastic opportunity, and I hope you feel that the world is your oyster. Please know that anything is possible, with a little hard work and effort behind you, you can have anything you want. Just don't forget to come back home sometimes, Skype every now and then and maybe let me come and visit you. I will try not to be too embarrassing, but you know I struggle with that part of motherhood don't you?
So here's to the next 18 years. I can't wait to see what they bring you.
Love Mum x