We've just got home from a very magical afternoon at Nottingham Lakeside Arts Djanogly Theatre caching up with their latest big adventure, Neverland.  The kids are busy making pictures and I've taken straight to the blog to tell you about this fantastic Christmas panto currently showing in Nottingham.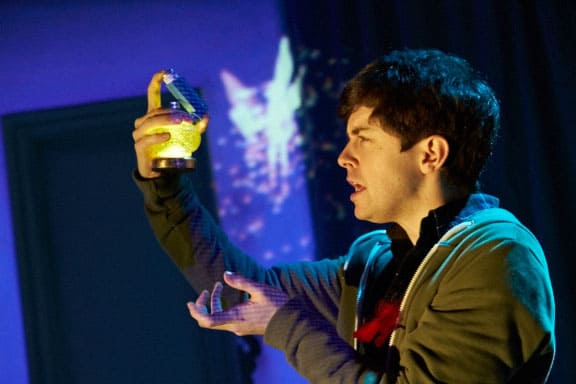 From the very outset it was clear this was going to be a wonderful adaptation of the famous story by J.M.Barrie.  The production was brought right up to date with some fantastic writing and composition by Julian Butler and excellent direction from Martin Berry.
A Modern Neverland
Wendy turns up at her Dad's for her fortnightly visit, and is a little disappointed with what she finds.  Enter Peter, trying to flee the reality of growing up and desperate to stay in Neverland forever they embark on the most magical story of friendship and adventure to defeat the evil Captain Hook.
The cast of Neverland are absolutely exceptional.  Bethan Nash as Wendy has the most enchanting voice, as she takes us on this magical journey of mystery and make believe.  Andrew Linnie is a rather impressive Peter Pan and Robin Simpson plays James Darling and his dark alter ego Hook with excellent vigour.  Watch out for some very impressive casting to the Lost Boys too, they are perfect for the role of defeating Captain Hook.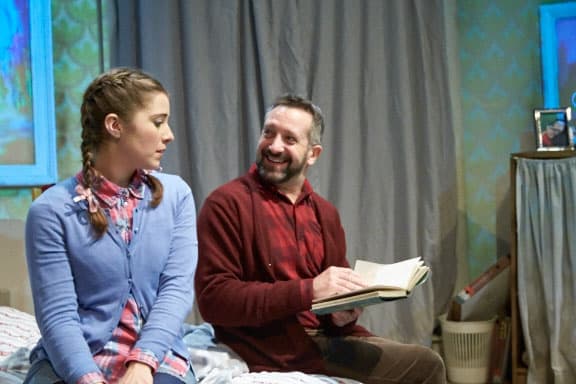 My daughters where transfixed from the instant Tinker Bell entered the theatre to the moment Wendy got back home because of the wonderful songs, excellent story telling and perfectly paced plot.  If you are looking for an entertaining panto in Nottingham with less 'oh no you didn't' and more action, we as a family can strongly recommend popping along to Nottingham Lakeside Arts to see Neverland.  Even Daddy was impressed, and he's a pretty tough nut to crack.  Neverland really does appeal to the whole family.
Get Your Tickets Now
Tickets start at just £8.50, making this one of the best value performances you'll see all year.  The ticket price really does not reflect the quality of the production in the slightest as this really is a gold star performance from Nottingham Lakeside Arts.  Neverland is showing on various dates up until 31st December.
We received complimentary tickets to see Neverland at Nottingham Lakeside Arts Djanogly theatre, but all thoughts and opinions are our own.