I received a very warm welcome when I arrived at Amba Hotel Marble Arch hotel, which always bodes well for a pleasant stay I think.  Getting off on the right foot sets the tone for the experience that awaits.  Alexandra checked me in without any fuss and showed me to my room once we had dispensed with all the formalities.  I thought this was a lovely touch and gave me chance to find out a little bit more about the hotel.
While we were en route to my room she explained that I would have access to the Executive Lounge during my stay, but more on that later.  She also shared with me that the hotel had around 700 rooms and had only been open in its current guise since November.  Being new to the Amba Hotels portfolio I was keen to see how things would pan out during my stay.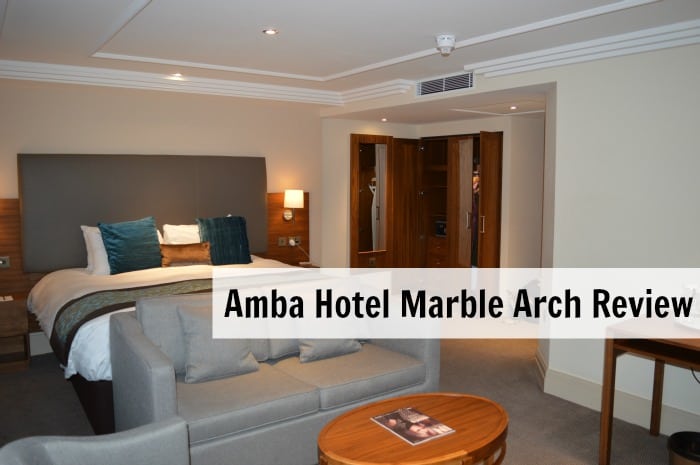 Amba Hotel Marble Arch Review
The Amba Hotel Marble Arch is perfectly located for a visit to central London.  Its a short walk from Marble Arch tube station on Oxford Street, and in contrast is great for access to the beautiful Hyde Park.  With London's most exciting shopping experience at your fingertips, this hotel is the perfect choice for staying in London at Christmas.
The Executive Room was a delight to stay in.  The king size bed was comfortable and inviting.  It was perfectly dressed with white linen and a splash of colour in the pillows and throw.  Over all, the decor of the room was bright and sophisticated, just what I would expect from Amba Hotels.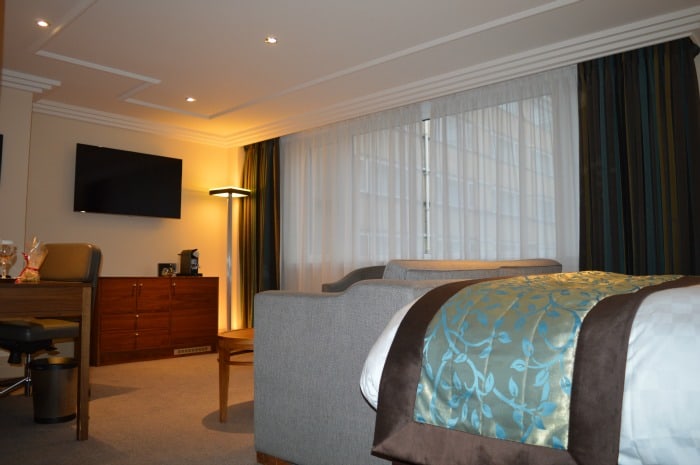 I was greeted with a bottle of Sauvignon Blanc on ice and the most gorgeous mini mince pies.  The mini bar was perfectly stocked and a espresso machine was provided.  Sadly, it didn't seem to work that well for me, but I fear it might have been down to user error on this occasion.
There was also a iPad, as well as smart TV, desk and a sofa and armchair.  If I was to make one criticism it would be that I didn't find the sofa too comfortable.  It was a little on the hard side, and would have benefited from some extra cushions.
The desk was perfect for me to get some work done during my stay, and I really do have to compliment Amba Hotel Marble Arch on the speed of its wifi.  I had no issues at all with the connection and had great access to the internet.  I was also impressed with the number of sockets and USB ports provided.  This had been very well thought out by the hotel, and I had no issues about plugging in devices, phones or indeed the hairdryer.
The Bathroom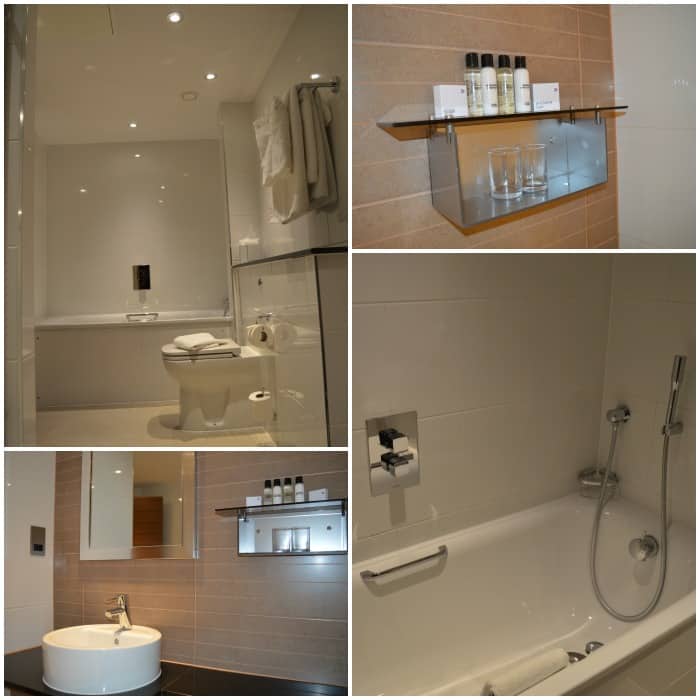 The bathroom was splendid.  Fully tiled with a walk in shower, bath and  complimentary toiletries,  it was the perfect place to freshen up and unwind.  It was incredibly clean and well presented.  The towels were large and fluffy, just as they should be in a luxury hotel.
The taps and shower head were in the perfect position for using with the bath, and the walk in rain shower was a great morning wake up call.  There were robes and slippers provided for guests use also, allowing for a very relaxing experience all round.
The Executive Lounge
While staying in the Executive King Room at Amba Hotel Marble Arch I was also granted access to the Executive Lounge.  I popped in for afternoon tea before heading out for my date at the London Eye, and it was the perfect place to gather my thoughts before the evening ahead.
Breakfast, afternoon tea and canapes are available throughout the course of the day along with tea and coffee, soft drinks and alcoholic beverages.  It has a lovely ambience, and it the perfect place for reading or relaxing before heading out for a busy day.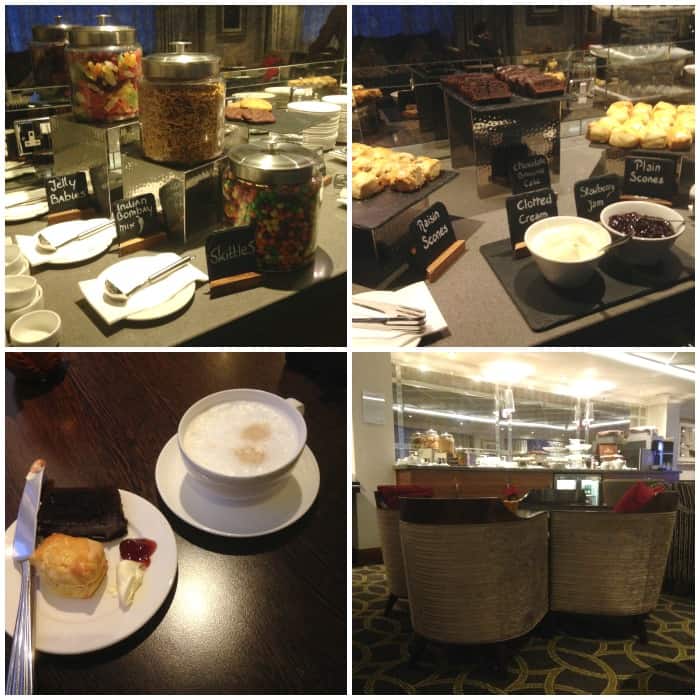 I sampled some of the cakes and scones, along side a much needed latte.  They were all very nice and set me up perfectly for heading out into a somewhat wet London evening.
The Breakfast
After a relaxing nights sleep I headed to The Grill for my breakfast.  I was thoroughly looked after from the moment I arrived in the restaurant.  I was shown a seat and a pot of coffee was presented to the table in minutes.
The breakfast was  excellent quality for a buffet, and I really enjoyed it.  There was also a menu and omelettes were available fresh to order.  There was also the usual selection of continental cereals, fruits etc for those who enjoy something a little lighter at the start of the day.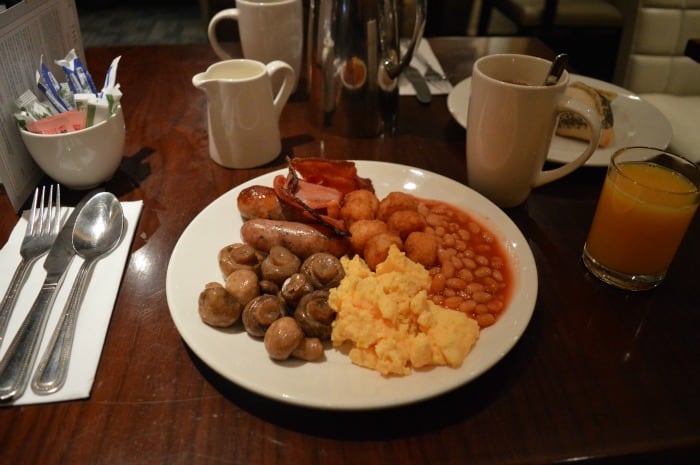 The service in The Grill was excellent, the staff were really friendly and keen to make sure I didn't want for anything.  I felt like a valued guest here, and for the entire duration of my stay at Amba Hotel Marble Arch.
Final Thoughts
I had an excellent experience at the Amba Hotel Marble Arch and would have no issues recommending it to anyone seeking a luxury hotel in London.  The room and service were exceptional.
From the outside this 60's style Art Deco building isn't the prettiest, and my view over the air-conditioning units could have been better, but that being said, what it lacks on the outside, the Amba Hotel Marble Arch more than makes up for on the inside with atmosphere and presentation.
It's a friendly and relaxed hotel, and I was a little sad to leave.  I enjoyed the time I had staying there and enjoying some childfree time. I would definitely consider staying at this hotel again, or at another Amba Hotel based on this experience.
Prices start from £169 including breakfast.
I was provided with a complimentary stay in the Executive King Room at Amba Hotel Marble Arch in exchange for this review but all thoughts and opinions are my own.