We love eating out as a family. It's great having a break from the cooking and when you've got small children like us, it's nice to have someone else clear up after them. At this point it's probably wise for me to apologise for the scene of devastation my kids leave behind at  all the restaurants we have been to we've been to. In their defence they are 3 and 19 months old. If it helps, they do exactly the same thing at home!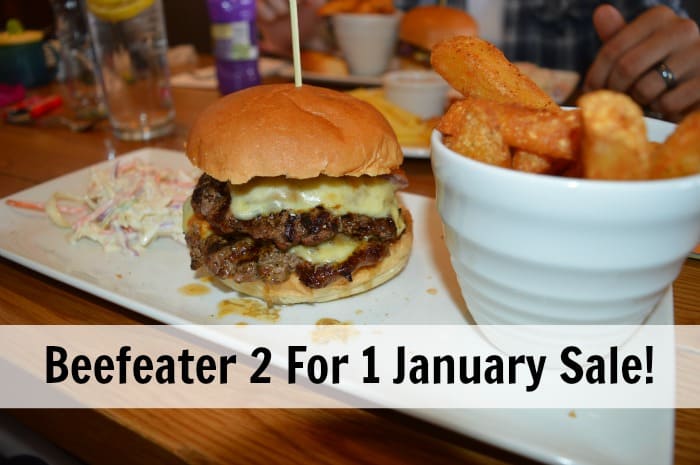 January can be a really affordable time to eat out as a family and if you keep your eye out there are some excellent offers at this time of year.
We've eaten at Beefeater a few times now, and we will definitely be making the most of their January sale.  Pop over to their website and grab your voucher before it's too late!
Between Saturday 2nd January and Monday 11th January you can get 2 for 1 on adult main meals as long as a minimum of 2 adults are dining. The offer can be used for up to 6 adults too!  So if you've been hitting the January sales and need to refuel, Beefeater is your best option.
With the children's menu starting at £4.49 also there's no reason why you can't go out as a family this month and still save money.  So, steak anyone?  Don't forget their refillable chips, they are awesome!
Here's our previous Beefeater restaurant reviews:
Summer Fun At Beefeater
Millers Barn Beefeater Restaurant Review
Beefeater Restaurant Review
Other terms and conditions apply to this 2 for 1 voucher offer. Please refer to the website or restaurant for details.
Keep an eye on the blog for future reviews of Beefeater, I have a feeling we will be going there very soon.  If you take the family I'd love to hear how you get on.