Going travelling is a perfect excuse to go shopping, update your wardrobe and planning takes all the stress out of what to pack.  With my visit to New York just over a month away I'm thinking about what to pack for my city break.  I need some practical, comfortable clothes to travel with that will look great.  Here's some great finds I thought you'd love too, no matter where you are travelling to this year.
My New York Wardrobe Essentials
My suitcase won't be going anywhere without a cool little black dress from M & M Direct.  I want something classic that will look great in the evening, but will also work with skinny jeans and pumps in the day.  This dress looks light and easy to pack too.  The short sleeve dress with velvet collar and trim from Only will look great both day or night with the right accessories.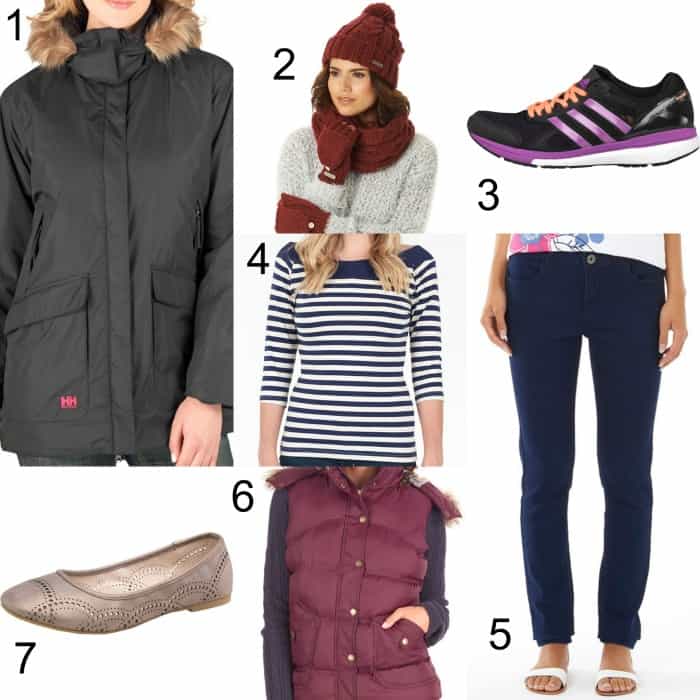 Now our trip is in February so we have to be prepared for the colder weather.  New York is a great place to visit in winter, but there is definitely a chill in the air this time of year.  The daytime is going to be about seeing as many of the sights as possible so I'm staying practical with this fab Helly Hansen Aiken Parka Jacket (1).  It's light weight so perfect for travelling, but also padded to keep out the winter chill.
This jacket will look amazing with the Firetrap hat, scarf and gloves (2) when I hit the ice skating rink in Central Park .  When I say hit, I do of course mean literally as I provide teen with a big laugh falling on my bottom on Wolfman Rink.  Hey, at least I will look good!
What To Pack For Walking In New York
The best way to see a city is by walking, and New York is one of the easiest places to navigate by foot with its grid system.  So when I'm thinking about what to pack, I'm keeping my footwear practical and going for some super comfy trainers (3) in the day time and these cute pewter pumps from Lotus for night time (7).  They will both save my feet from any discomfort and look great.  I'm just too old to put my feet through uncomfortable shoes, and it's important to be pain free while travelling.

Wearing a gillet (6) over a top with some stripped detail (4) is a great casual day look and a dark pair of stretch skinny jeans (5) brings the look together with maximum comfort too.  I think I might be all sorted for our trip to the Big Apple, I've just got to think about what to pack for teens' New York wardrobe now.
This is a big trip for us.  It's our first long haul flight, and it may also be the last time we take a trip together as Mother & Son.   He is growing up and talking about the places he wants to take his girlfriend these days, so the family holiday might be a thing of the past.  I want us both to be comfortable and to look great for all those amazing photographs I'm going to be taking.
Have you got any tips about what to pack for a city break?
Collaborative post