Sid's Show came to Derby's Guildhall Theatre for half term and the girls and I were lucky enough to be invited along.  We are all huge fans of Sid Sloane in the CBeebies show Let's Play and couldn't wait to pop along and see him live on stage.  It was lovely to have a fun activity to look forward to with the children, as all their usual playgroups and sessions come to a grinding halt in the school holidays.  It also turned out to be on a pretty wet day in Derby, so were were looking forward to being cheered up!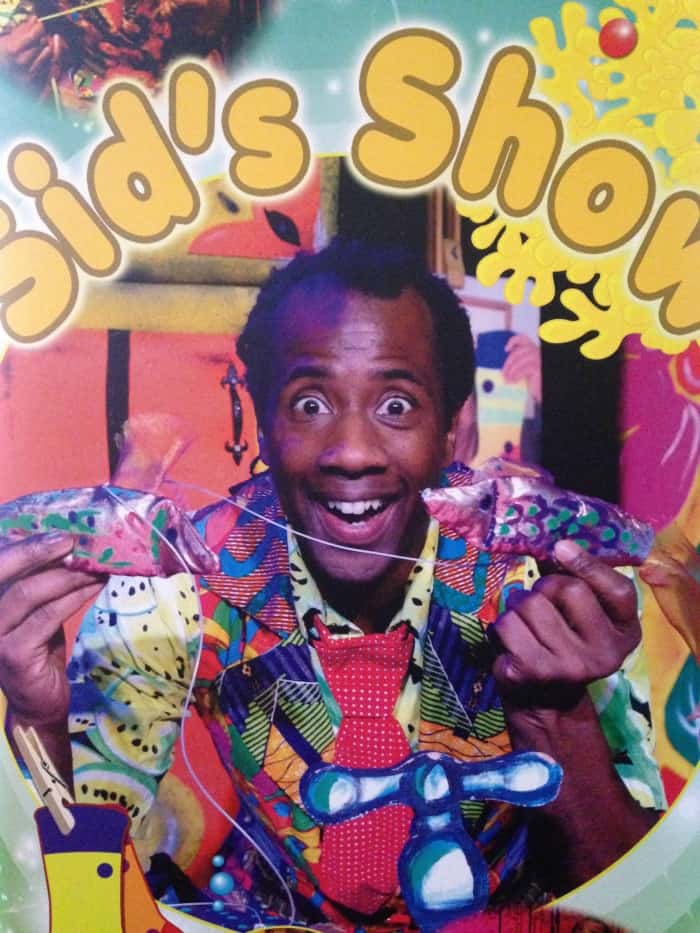 We took to our seats to enjoy the excited young audience who were waiting for Sid's Show to begin.  The stage was bright and colourful, just how kids like it!  Princess and I talked about what the stage looked like and which was her favourite bit.  She loved all the colourful streamers hanging from the stage, and she was excited to see what they were for.
Her younger sister could not take her eyes of the main stage.  She was very keen for something to happen, and would not sit down, not even on my knee in case she missed something!
With everyone in the theatre, Sid made an equally colourful impression as he jumped onto the stage.  The girls, and all the other children in the theatre, were really excited to see their favourite CBeebies star.
Sid was really fun to watch.  He is full of energy and clearly cares a great deal about giving young children a fun experience they are going to remember.  He kept the girls attention for the whole 90 minute show as they were taken on an imaginative journey to find Sid's favourite socks.
Sid hunted every where!  He went in his submarine looking deep under the sea, but his socks weren't there.  He stopped off on a Caribbean island, but his socks weren't there.  He was invited to the planet Knit-1 by the friendly alien, who taught Sid, and all the children in the audience how to knit.  Princess and Little Pudding loved joining in with this part of the show, and did their very best knitting hands.
Overall, we really loved Sid's Show.  It was fun and lively from beginning to end.  Sid was the perfect professional children's entertainer, and we would definitely go and see Sid's Show again if it passes near us.  Sid was also very happy to have photos and sign autographs after the show which I thought was a lovely touch.  Lots of children queued to say hello to him.  Sadly we had to leave as Little Pudding doesn't quite understand the meaning of waiting as she is only 21 months old, but there is always next year.
For more information about Sid's Show and where to get tickets click here.
We were given complimentary tickets to see Sid's Show in exchange for our honest review, but all thoughts and opinions are our own.