I got really excited when Funkit World got in touch with me and asked if we would take a look at their new range of beach toys.  It was perfect timing for us as we were just about to head to Fuengirola for a short break so a new bucket and spade was going to come in really handy.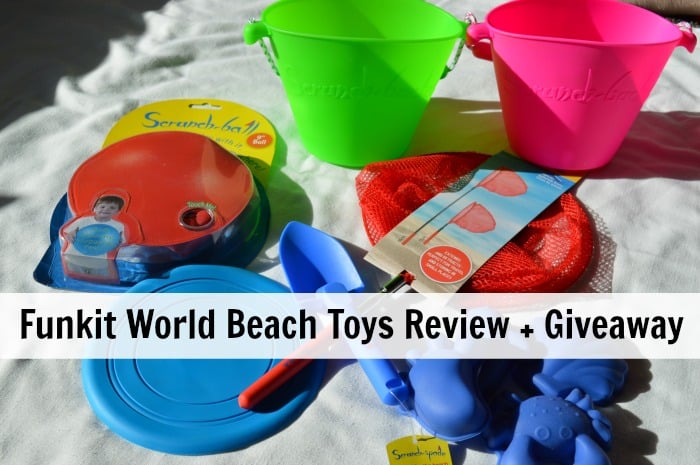 I know what you are thinking.  Why on earth would I get so excited about a new bucket and spade.  Well one of my holiday bugbears is that it is impossible to fit a standard bucket and spade, along with the rest of the beach toys into a holiday suitcase.
I've lost count of the number of buckets and spades that I have bought on holiday and then have had to either bin them or donate to another child (of course this isn't such a bad option) before we head home.  There is apart of me that feels that this is a real waste and not great for the environment either.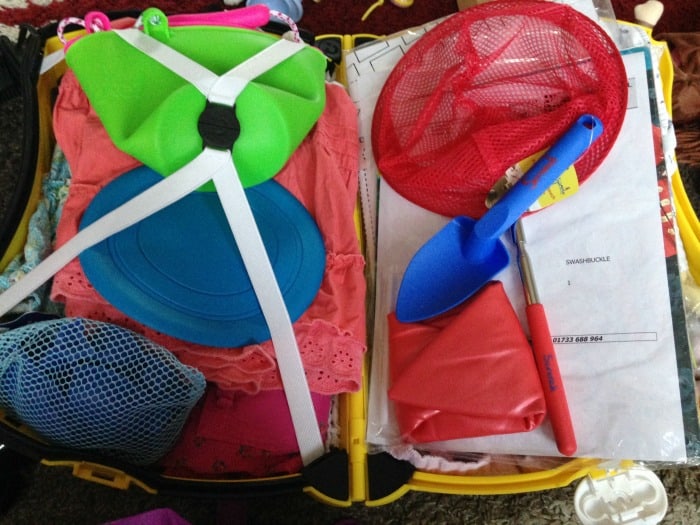 Scrunch beach toys do exactly that though.  They scrunch so they will fit easily into a suitcase or bag for going on holiday or for days out.  This felt like a complete revolution in the beach toys area to me.  Fancy having a scrunch-net that fits into a carry on size piece of hand luggage and transports easily.  Well I was impressed.  These little things make a big difference when you are travelling with children.
Funkit World Scrunch Beach Toys Review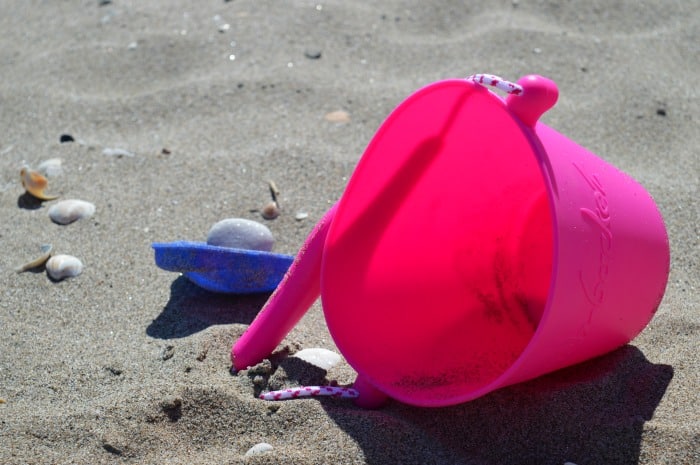 The real test of course, was going to be would they keep my daughter happy whilst playing on the beach after flying all the way to the Costa Del Sol.  The answer to that is an almighty yes.  The Funkit World Scrunch beach toys were a big hit with my daughter.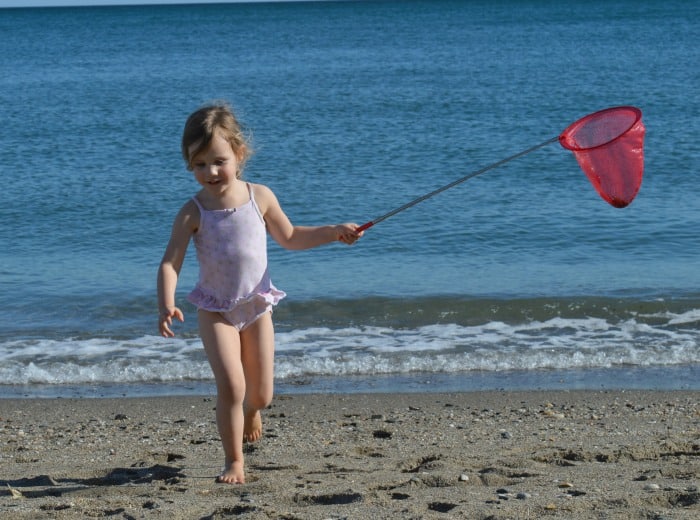 The scrunch net was a big hit on and off the beach.  It's telescopic handle is brilliant so it can extend to the standard size for beach and outdoor play.  This would be perfect for rock pooling in Scotland for example.  It seems sturdy and didn't mind being bashed around in the sea by an over enthusiastic 3 year old.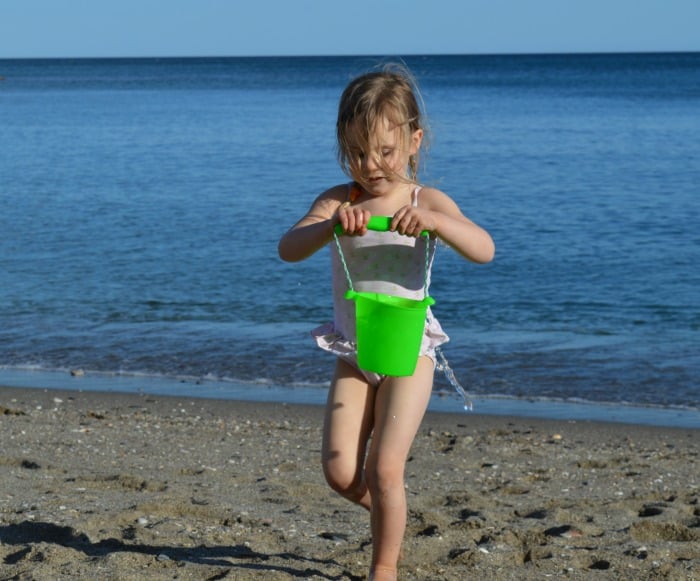 The buckets were a bit hit too.  They were great for playing with the sand or ferrying supplies of water from the sea.  Being bright and colourful they were easy to spot and didn't get lost.  The handle was great for my daughter too.  It's made from silicon like the bucket so it's nice and comfortable to hold whilst running up the beach.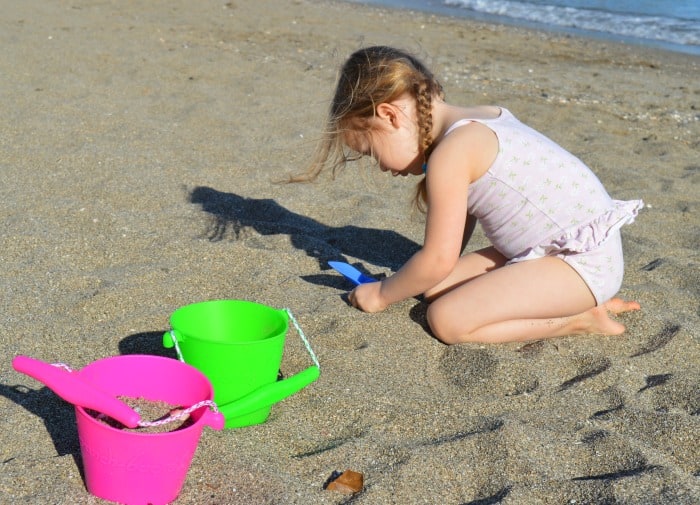 The spade doesn't scrunch, but then it doesn't have to.  It's a nice design so it easily fits into a case and it's also great for playing with too.  It's fairly small, but my daughter seemed to manage to fill her buckets with sand perfectly well with it.  Of course it was put to a spot of hole digging too.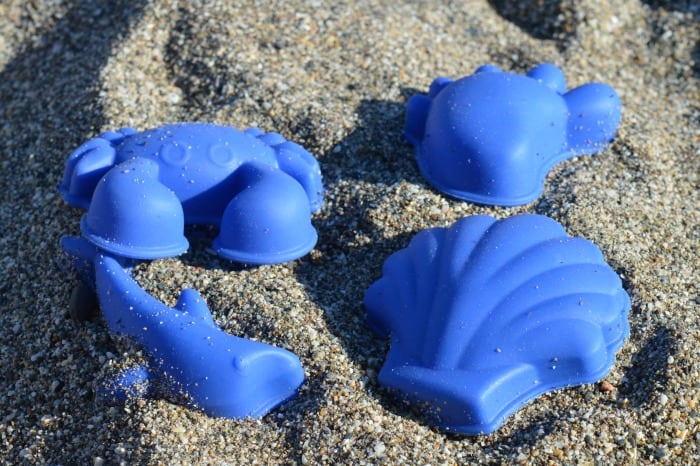 The scrunch moulds are super cute.  They come as a pack of 4, including a crab, shell, fish and a footprint.  They are also made from silicon so they scrunch into luggage or travel bags easily.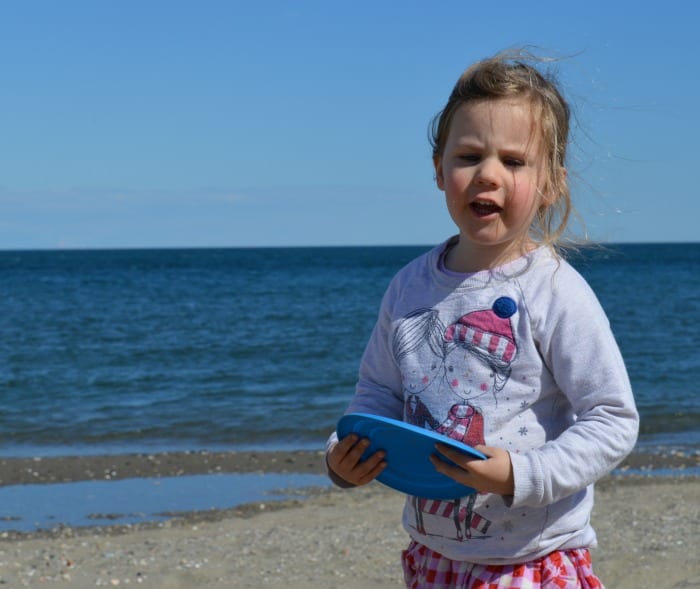 One of our favourite toys from Funkit World had to be the frisbee.  It's small and made from silicon, but it's a really nifty little thing.  My daughter and I had a lot of fun playing with it on the beach.  It was easy for her to master because it was small.  I can see this being used a lot especially on holiday or for camping.
Sadly the frisbee doesn't look like it will be available in the UK, but if you spot it when you are on holiday abroad I can definitley recommend picking one up.  It won't take up any room in your case and you'll have a lot of fun with it.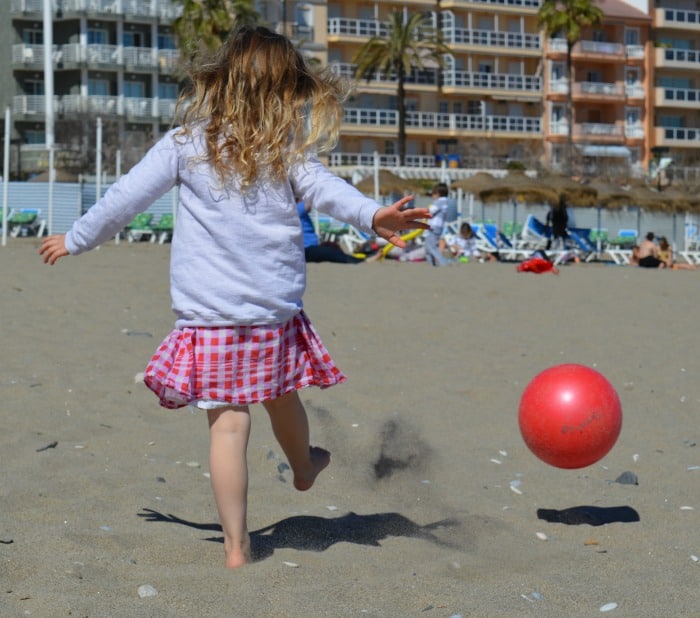 The scrunch ball was a lot of fun as well.  It's super easy to inflate with the plastic straw it comes with.  It's also easy to deflate again for carrying around in a beach bag.  It's a great texture, perfect for children who are learning to play catch as it has a slight grip to it.  It also inflates big enough for a good game of football or hand ball.  It would make a great addition to anyone's summer toy collection.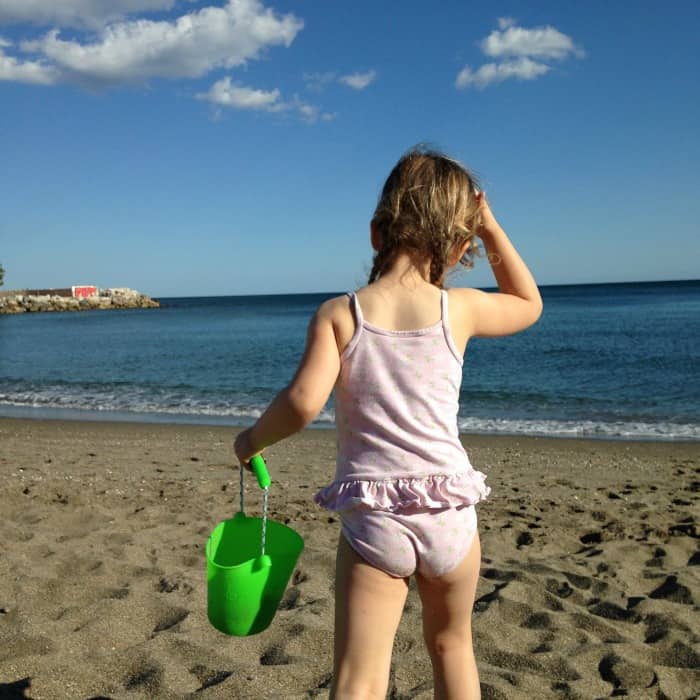 We loved the Funkit World Scrunch Beach Toys.  They were great for playing with on the beach.  They fitted into the suitcase perfectly and they were also easy to transport while we were on holiday.  They came out with us every day in my tote bag and were ready for beach play when ever we wanted them.
Beach Toys Set Giveaway 
I am also delighted to announce that the lovely people at Funkit World are offering Zena's Suitcase readers the chance to win their very own set of Scrunch Beach Toys including the Scrunch bucket, spade, sand moulds, scrunch ball and scrunch net.  This prize will make a perfect addition to your summer holidays and adventures and I'm wishing everyone the best of luck who enters.
All you need to do is complete the rafflecopter below to get you hands on these fantastic beach toys.
We were provided with the beach toys in exchange for our honest review but all thoughts and opinions are our own.