The Treasure Island Floating Activity Set sounded like a great toy for us to review.  My daughters love to play in the bath.  It's a part of their daily routine that has really helped with their sibling bonding.  We have the usual bath toys in our house, but I'm always keen to try out something new.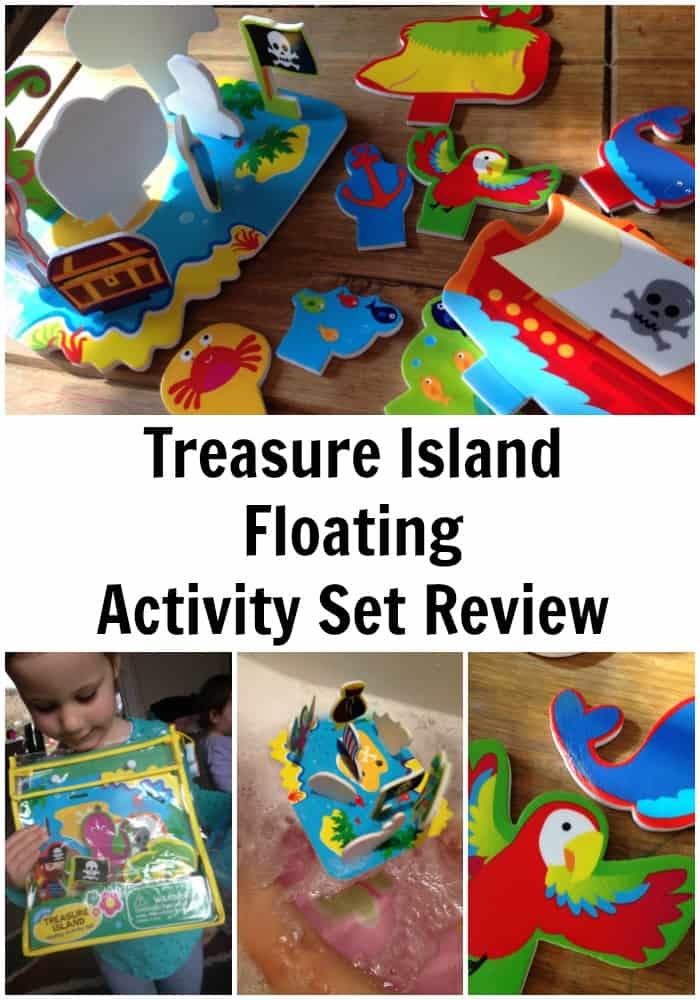 My daughters love pirates which is largely down to their love of the CBeebies show Swashbuckle.  They also really enjoy role play activities and love crafts that feature making maps and other pirate related things.  I thought the Treasure Island Floating Activity Set would also go down well.
We gave it to my daughter for her 4th birthday which happened this week, and she was really keen to get it in the bath and see what it was like.  We had a dry run if you like so she could see how to use it before it floated around in the bath.
Treasure Island Floating Activity Set Review 
To be honest I was a little disappointed with the toy when we got it out of the packet.  The island and all the foam pirate features that you can attach to it only had a picture on one side.  It looked a little unfinished and as it was a 3D toy it didn't make sense that the treasure chest for example was only painted on one side.
A few of the parts were slightly poor quality too and the picture hadn't printed very well onto the foam pieces which was a shame.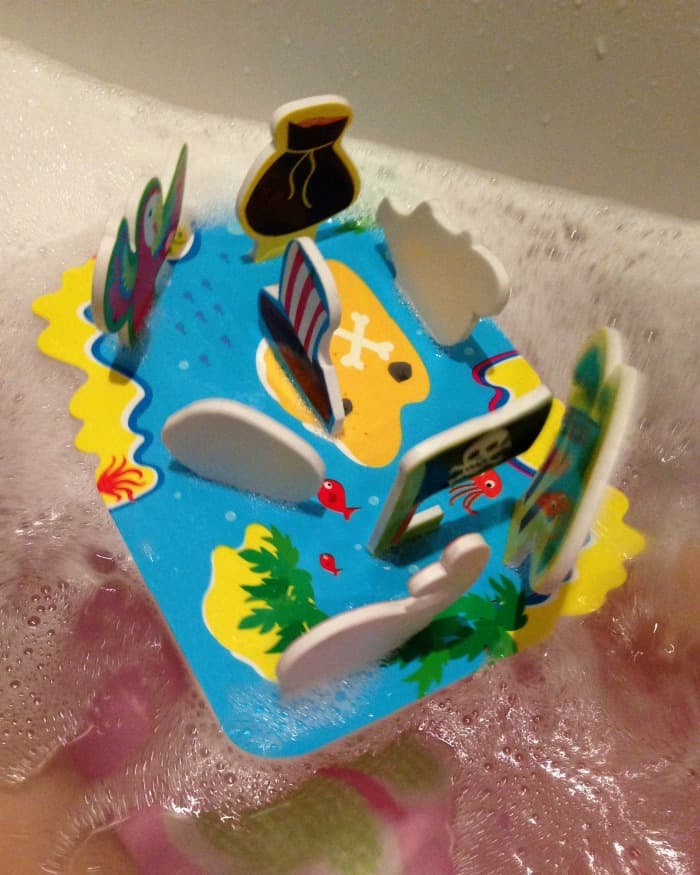 When it came to the Treasure Island Floating Activity Set being played with in the bath, my daughter did enjoy creating different scenes with it and it brought a fun imaginative aspect to bath time.
It floats well and there are lots of pieces to add to the floating treasure island so I don't think we will be getting bored of it anytime soon.
For me, the Treasure Island Floating Activity Set is a great idea but could do with a few improvements.  I would recommend that the pictures are printed on both sides of the island and the pieces.  It would be great to see two different pictures on the island to increase the number of combinations you can have.  It also looks like the quality of the printing needs to be checked a little more throughly.
My daughters definitely enjoyed using the toy, and I think it will feature in our bath time routine a lot but it in order to be a great toy a few changes are needed.
We were provided with the Treasure Island Floating Activity Set by Meadow Kids in exchange for our honest review but all thoughts and opinions are our own.