Kidz Drama is a brand new initiative from Adrian Cory that allows family and friends to enjoy the fun of theatre in their own homes for parties, special occasions or just for fun.  Adrian used to write plays for his family when they were on holiday as a fun way of keeping the children entertained.  It dawned on him that this could be something that lots of families could enjoy, and I have to admit I was very quick to agree with him.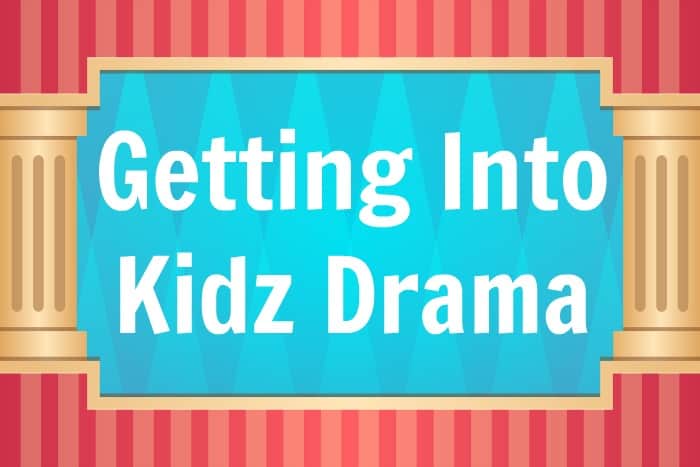 As a blogger I really love being able to support small businesses like Adrian's, especially when I think they have hit on a really cool idea for children.
If you follow my blog regularly you will know that I love the theatre, and it's something that I regularly share with my children.  I really hope they go on to enjoy performing one day, if only for fun.  As a child I used to love putting on shows and making up plays with my friends.  I also really enjoyed studying drama at school above the other creative arts.

What Do We Like About Kidz Drama? 
Drama can play a huge part in a child's development and help them to explore their emotions in a safe and fun way, grow their confidence and help them to develop a sense of creativity.  At the top of the list though it's fun, and that's what Kidz Drama is all about.
Kidz Drama has a range plays available to appeal to a variety of children from the age of 7 upwards.  They are familiar titles, but the stories have a twist.  You can choose from Princess and the Pea, The Case of the Missing Pyjama Case or Harry Putter and the Mystical Pasty to name but a few.
The pack introduces children to the process of putting on their own production.  They can create sets for their show.  There is time for rehearsal so everyone can get to know their lines and the characters.   Then of course t's the final performance which lasts around 20-30 minutes.

The set contains templates for party invitations so that you can cast your guests in advance and get them excited about what's in store.  You could ask them to think about their costume and how they might play their character before they arrive to help set the scene and create a buzz around the party.
I think Kidz Drama is an excellent idea and I know lots of parents that this will appeal too. I also think it will appeal to lots of children too.  It certainly appeals to the child in me! Kidz Drama kits are available online for £6.99, which I think is great value for money considering the fun and enjoyment a everyone is going to get out of it.
Kidz Drama Giveaway
Because I am so keen to spread the word about Kidz Drama I have been able to get my hands on 3 packs to giveaway to my lucky readers.  If Kidz Drama sounds like something you would like to try then this is the competition for you.  It always helps a small family business like Kidz Drama if people who enter competitions like this would say hello on Twitter and pop over to their Facebook page.  I really do hope you will show your support and good luck to those who enter.