Trunki are one of our very favourite kids travel brands and when they heard about my trip to New York they asked if they could send me their latest ride on suitcase to review.  He's a yellow New York cab called Tony The Taxi and he is just fab.  I debated taking him with me to New York but decided that I would just look silly trying to ride him around JFK airport.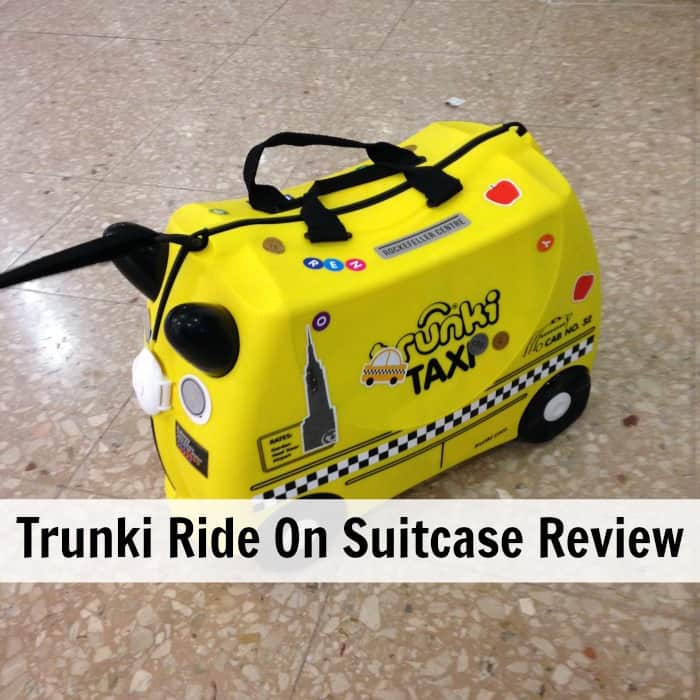 Instead I used Tony The Taxi in a fun travel game with my daughter as she wasn't going to be joining us on our trip to New York.  She loved thinking about all the things she would pack for a trip to a big city.  If you have a young traveller in the family, it's definitely a good  rainy day activity to play with them.  Tony The Taxi comes with some really cool stickers as well, which are great for playing this kind of travel game.
Our First Trip With The Trunki Ride On Suitcase
Our new Trunki ride on suitcase made his first travel debut when my daughter and I went to Funegirola together for a short break.  This was the second holiday my daughter and I had taken together, and we were both really looking forward to our mother & daughter trip.
Having a Trunki ride on suitcase made the journey so much easier.  Firstly, I was able to pack all of her clothes in it for the 5 day trip which was perfect.  We used her Trunki paddlepak for extra toys and books and between the rucksack and her suitcase we had everything she needed covered.
Great Design
It's also a sturdy design with a good lock system to keep the suitcase secure.  There was no point during our trip where I felt that things were going to fall out or it wasn't going to take my daughter's weight.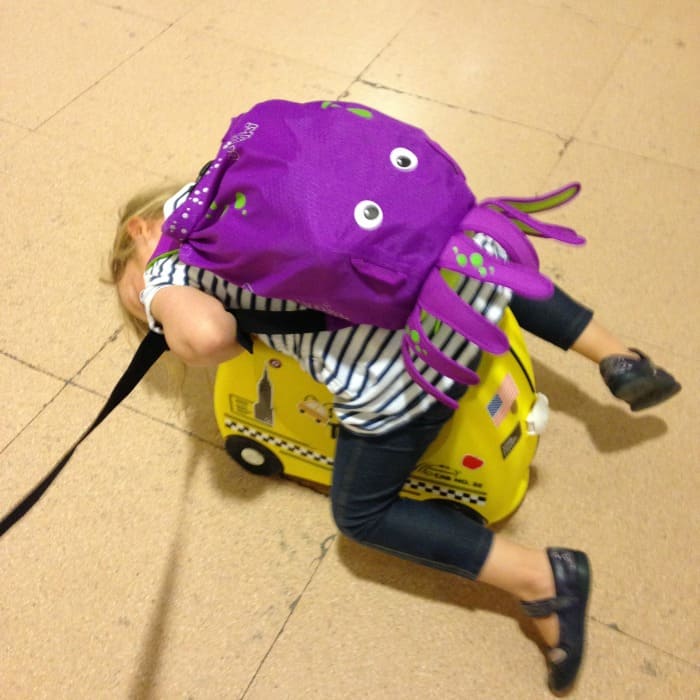 Our Trunki ride on suitcase really came into it's own when it got to the airport.  My daughter loved riding around on it and it kept her mind of the fact we were just hanging around the airport.
Made Travelling With A Child So Much Easier 
It really helped me out too as a parent travelling on my own with a child.  With my own suitcase and bags to navigate, being able to pull my daughter along with her suitcase made life so much easier.
When my daughter gets bored, she likes to ask to be picked up and it can be quite hard explaining to her that she has to walk.  On our last trip to Nerja I took a pushchair for her so that we could avoid these moments, but as she's now 4 it's not something I want to keep encouraging.  A ride on suitcase seemed like a great compromise.
The trunki ride on suitcase tends to move in a straight line as the wheels do not pivot or move.  I'm not sure it would be helpful if they did as the last thing you need in an airport is a child deciding they are going in a different direction while you are navigating through the other travellers at the airport.  Once we'd got a rhythm going my daughter realised when she had to use the handles to steer the trunki in the correct direction and it was fine.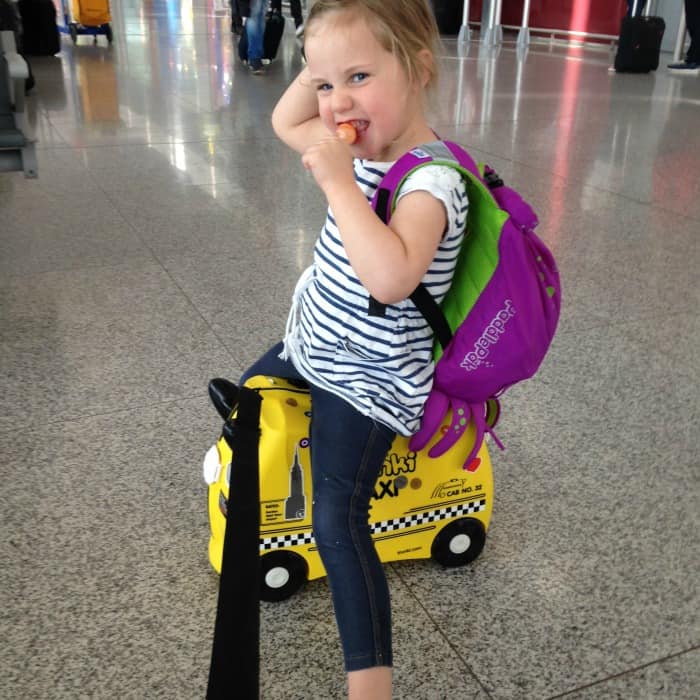 Everyone commented on her suitcase and how handy it was.  We had a little boy come over and just stare longingly at Tony The Taxi and his grandparent had to prise him away promising to talk to his Mummy about getting one.
If you travel with small children, I really can't recommend investing in a Trunki ride on suitcase enough.  It was perfect for our trip to Fuengirola and will come in very handy when we go to Costa Dorada in May.  The only problem we are going to have on that holiday is having 2 children and 1 ride on suitcase.  I have a really bad feeling about how that is going to work out.
We were provided with a Trunki Ride On Suitcase in exchange for this review but all thoughts and opinions are our own.