We are always looking for fun ways to support Princess's learning and it looks like Paw Patrol has come to the rescue with their latest magazine.  We were recently sent the new Paw Patrol magazine to review, and Princess is getting quite confident at letting you guys know herself what she thinks of it.  You can catch up with her latest video in just a minute.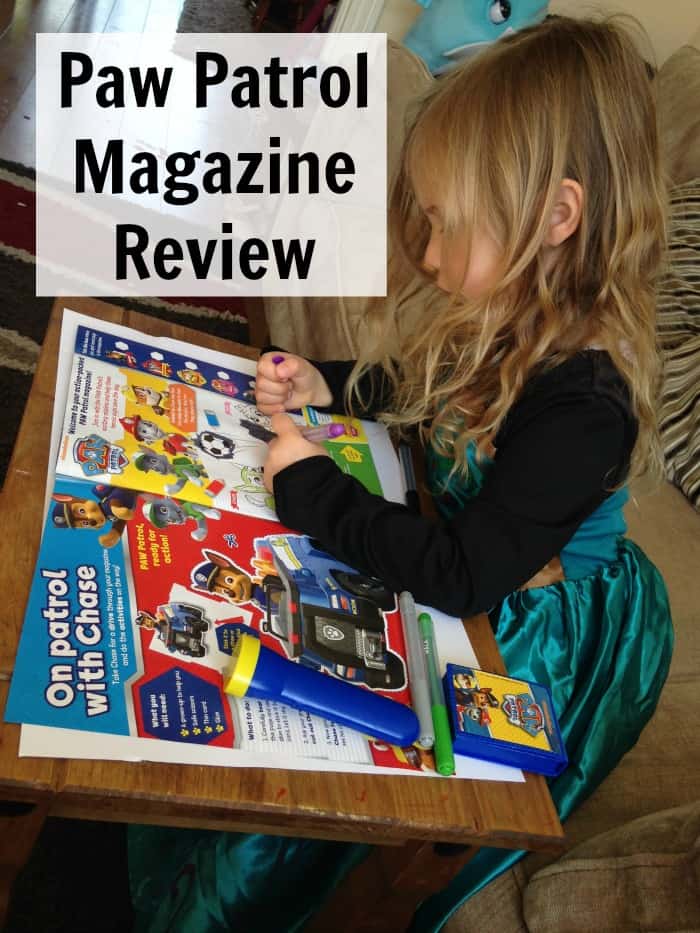 A magazine is always going to be a big hit when it comes with a stash of toys.  Princess enjoyed the Paw Patrol set that arrived with the magazine, but wasn't going to be fooled anytime soon by the pretend torch.  Maybe that just needed a few more features to make it realistic, like a switch and a light effect.  She was more than happy to wear her Chase hat but where torches are involved her expectations are quite high.
Paw Patrol Magazine Activities 
The highlight of the magazine were the cool Paw Patrol related activities throughout.  There was a great variety of letter based, mathematical and fun things to do in the magazine which held Princess's attention.  One of the writing activities, for instance, was to spell out the word STAR by following the dots.  She was able to draw all the letters and learn the word, which gave her a great sense of achievement.
Having early learning activities like this dispersed throughout the magazine along side colouring and sticker pages makes the learning really fun.  Children like Princess don't even realise they are learning, especially when they are enjoying their favourite Paw Patrol characters.
As well as fun and learning activities the Paw Patrol magazine also contains fun stories about the cool characters.  I really appreciated the addition of a Paw Patrol story in the magazine as this isn't something we would normally read.  It made for a pleasant change at bedtime, but Princess will tell you herself where she really likes to read magazine stories.
Our only criticism of the magazine was there wasn't enough stickers.  My daughter loves stickers and the more she can get her hands on the better.  The Paw Patrol magazine comes with around 20 stickers, and some were quite big.  We would like to see more stickers, even if they were smaller.
On the whole Princess enjoyed the magazine and it kept her busy for about an hour.  This could provide any busy parent with a significant window of opportunity to get any number of household chores done or even read a magazine of their own.
We were provided with a Paw Patrol Magazine for the purposes of this review and compensated for the time involved in creating this post and video.  All thoughts and opinions are our own.