New York and I have some unfinished business.  If you are a regular reader of my blog you will know that my teen son and I visited New York back in February.  It was amazing, we had such a great time together and created some amazing memories in the Big Apple.  It was particularly special for us as it could well be the last holiday I take with my son.  I hope it isn't, but as an adult he is very clear what he wants from a holiday and it's not always the same things as his little sisters.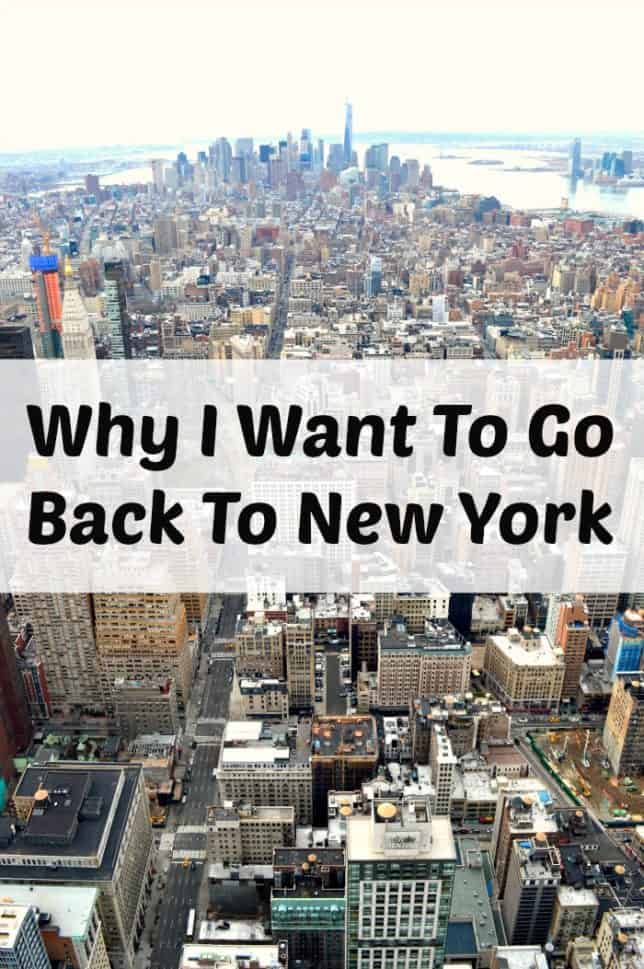 During our visit to the city, I knew that it was a destination that I would love to share with my husband one day.  I know he's not a big fan of flying but I know he will enjoy a trip to New York.  As long as he has his pills and some in flight entertainment I'm sure that he will be fine.  I've shared with him all our photos of our city break, but it's not the same as enjoying the experience together is it?
Our visit to New York in February was also quite short.  Minus the travelling we had around 4 days to see the city.  We certainly covered a lot of ground in that time, but I also came away with some regrets.  There were some things that we didn't get chance to see, and until I've crossed them off my bucket list I won't feel entirely satisfied with my New York experience.
Visit Central Park
Can you believe that during our trip we didn't actually set foot in Central Park?  On day  two of our trip I had made a slight miscalculation about how to get to Sugar and Plumm for our brunch date.  It ate into our day a little bit and could have been time and energy we used to explore Central Park.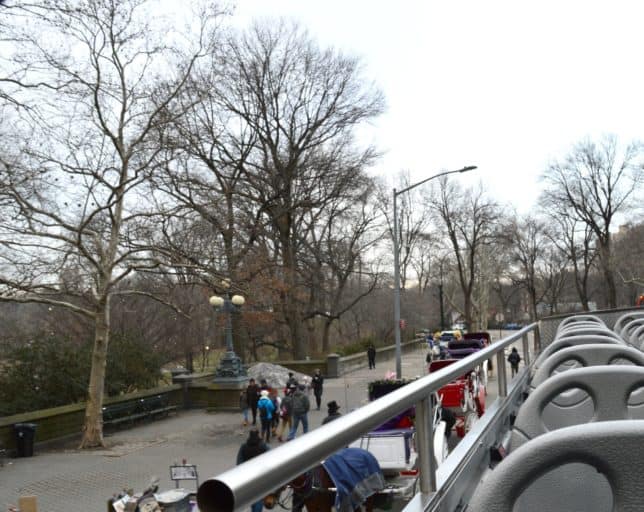 We saw it from the tour bus, we even sat on a park bench outside the park but we never actually ventured into it.  Now, in February I wouldn't say Central Park looks it's best.  There is a distinct lack of green, which added to a little chill in the air, doesn't make it the most inviting place to explore.  I think my next visit to New York will be at a different time of year so we can enjoy the park at it's best.
Go To The Guggenheim Museum
I also wanted to visit the Guggenheim Museum during our visit to New York.  I knew this would be a tall order as my son has little to no interest in art.  I wouldn't call myself an art love either, but I think that it does give us some insight into the culture of a location.  The Guggenheim building also looks amazing and I was as curious about seeing it from the inside.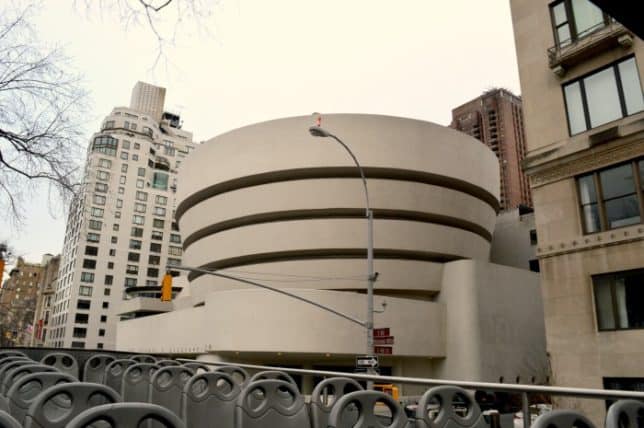 I got to see the interesting structure from the outside, but missed seeing how this interpreted to the inside of the building.  When I go back to New York this will be one of the first places I visit.  It might be something I have to do alone, but maybe it will be better that way.
Walk Over Brooklyn Bridge
I knew that walking over Brooklyn Bridge was going to be an ambitious activity for our visit to New York.  We just didn't have the time to dedicate to enjoying this on our whistle stop tour.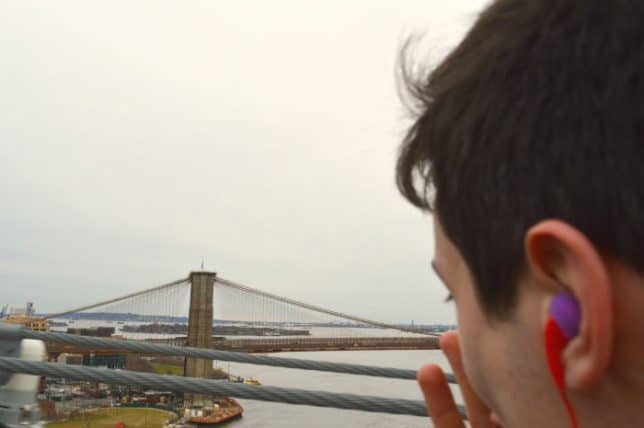 We made it into Brooklyn, which I think was a huge win, but we went over Manhattan Bridge.  We got a lovely view of Brooklyn Bridge, but it's not the same thing is it?  I would love more time to be able to stroll across this bridge and enjoy a real New York coffee from a cafe on the pier and soak up one of the most iconic views in the world.
One World Observatory Centre
When my son and I went to New York we were really keen to experience the views from the Empire State Building and the Rockerfella Centre.  Seeing the city at both day and night was a truly magical experience.  I think this is something I would love to share with my husband, but he is a little nervous when it comes to heights, well quite a lot actually!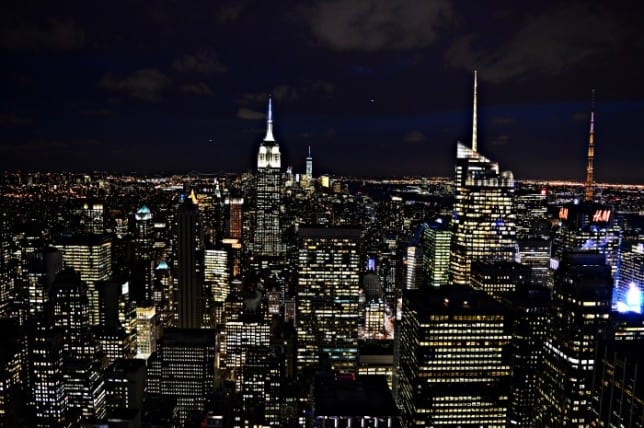 I hadn't realised that there was an observation deck at the One World Observatory Centre, and I think this might be a the perfect place to introduce my husband to one of the most amazing skyline's he will ever see.  We would start with a visit to the 9/11 Memorial and Museum, somewhere that I personally believe is very important to visit on any trip to New York.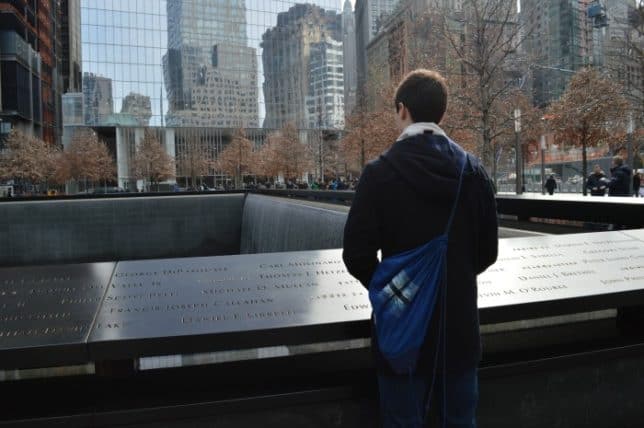 We would then take the breathtaking 60 second glass elevator ride to the top of the World Trade Centre.  I might have to hold his hand at this point!  The sky portal sounds amazing and a perfect experience for my husband.  Imagine walking over the city via real time footage of the streets below, that sounds pretty mind blowing to me.
I'm also kicking myself that I didn't try a New York cup cake or pizza.  These were two things I was really keen to tick of my list, but perhaps they will be worth waiting for as my husband is a huge fan of both of these foods, and where better to eat them together than New York City.
If you've been reading my blog for a while now you will know that I like a bargain when it comes to booking a holiday.  In order to get the best deals I start planning my trips well in advance.  This gives me a really good idea of when the best time to book a holiday is and what is good value for money.  Booking a cheap holiday to New York is completely possible if you do your research.  Sites like Holiday Genie have great deals on city breaks and some really lovely hotels too, so they are well worth checking out.
Collaborative Post