Jamie's Italian heard that Kaz and I were going to be staying in London for Britmums Live and very kindly invited us to the restaurant in Angel to try out the Super Lunch menu.  Kaz had never been to Jamie's Italian before so I was really looking forward to seeing what she thought of it.   I was also looking forward to the chance to catch up with her over a lovely meal before heading off to the Holiday Inn Fringe Party in Camden Town.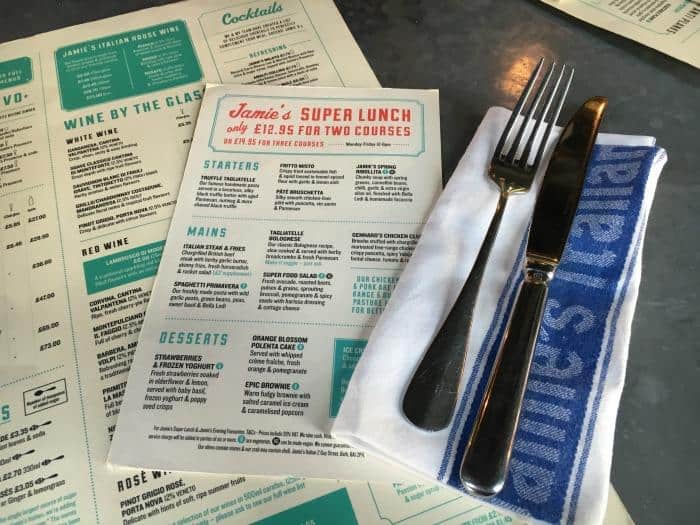 We were a little bit late for our table as we had got slightly lost looking for the London apartment we were going to be staying in.  We ended up lugging our suitcases around several blocks before getting to the flat, which was very unfortunate really.  To say we kicked our selves when we realised that if we had gone the other way we would have been at the door in literally a few minutes is an understatement.
When Is The Super Lunch Menu Available
We dropped off our bags and headed straight out so we could get to Jamie's Italian while they were still serving the Super Lunch menu.  It's a great deal with two courses costing £12.95 and three courses costing just £14.95 available Monday to Friday between 12pm and 6pm.
We found the restaurant much easier than we found our apartment, as it was just down the road from Angel Tube Station.  The restaurant had a modern feel to it and had plenty of seating.  It was light, clean and with friendly staff too, the restaurant made a great first impression on both of us.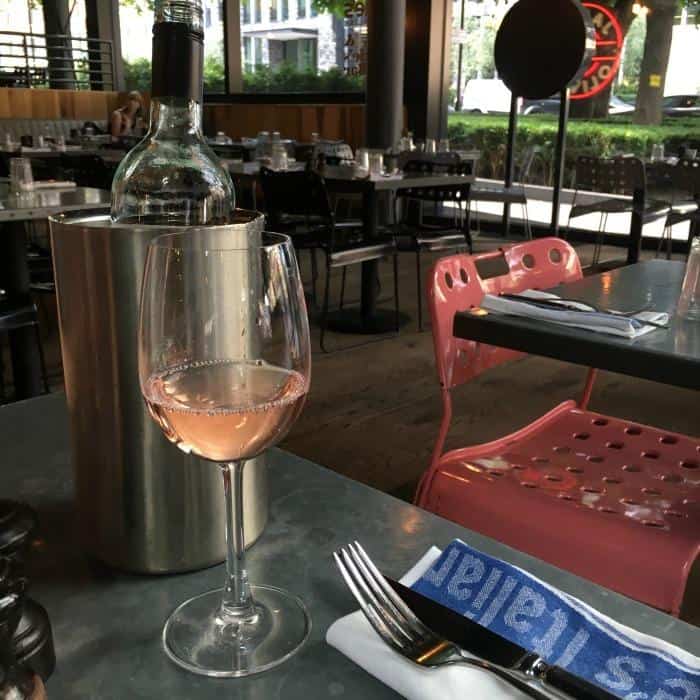 Kaz and I were very much in need of sitting down over a lovely meal and a good bottle of wine.  Even though we had been together a good few hours by the time we got to Jamie's Italian, we had very much been on the go from the minute we met.
What I Ate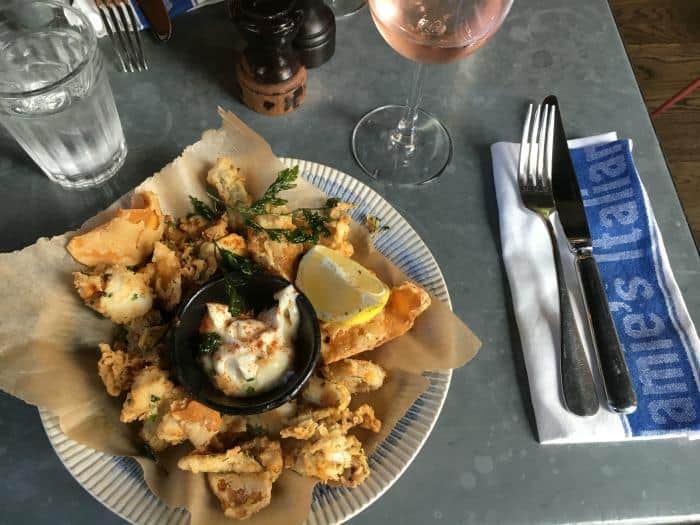 I kicked off with the Fritto Misto as I am a sucker for a bowl of fried fish and squid with a side of garlic and lemon aioli.  In my last review I thought the batter was a touch too crispy, but this time they had got it just right.  I loved every mouthful and was very impressed with the portion size.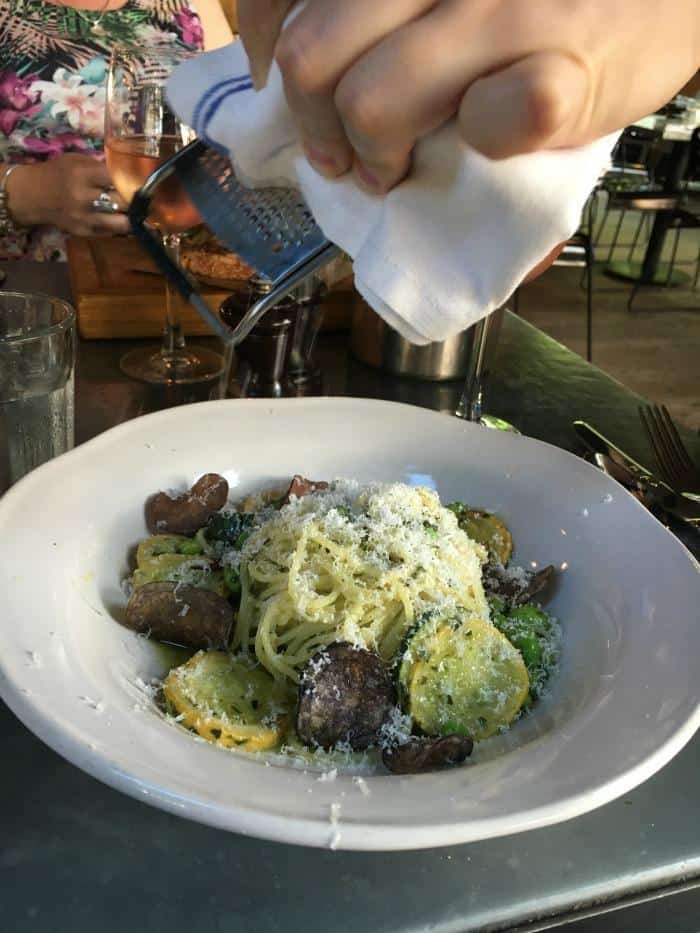 Next up was the Spaghetti Primavera, with freshly made pasta, wild garlic pesto, green beans, peas and sweet basil.  My dish also contained some lovely mushrooms but these weren't mentioned on the menu.  I am not complaining as they were delicious so I hope everyone gets them who orders this dish.  The main was delightful, with only one small criticism.  I think chef had been a touch heavy handed with the olive oil, but it didn't detract from how much I enjoyed the meal.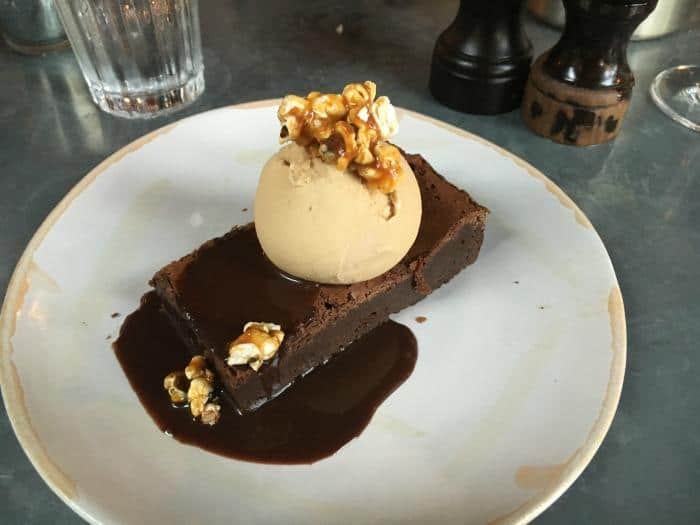 We both finished on the Epic Brownie for dessert.  With a name like that who wouldn't!  This warm, fudgey brownie served with salted caramel ice cream and caramelised popcorn was amazing or should I say Epic!  It was perfectly gooey in all the right places, and exquisitely rich.  It finished of the meal perfectly and left us feeling more than satisfied with our Jamie's Italian Super Lunch experience.
Kaz and I had the most lovely three course meal together at Jamie's Italian in Angel and thought the Super Lunch Menu was amazing quality and great value for money.  It's great that it is available until 6pm as it's a perfect early evening meal option as well as lunch.
Pin For Later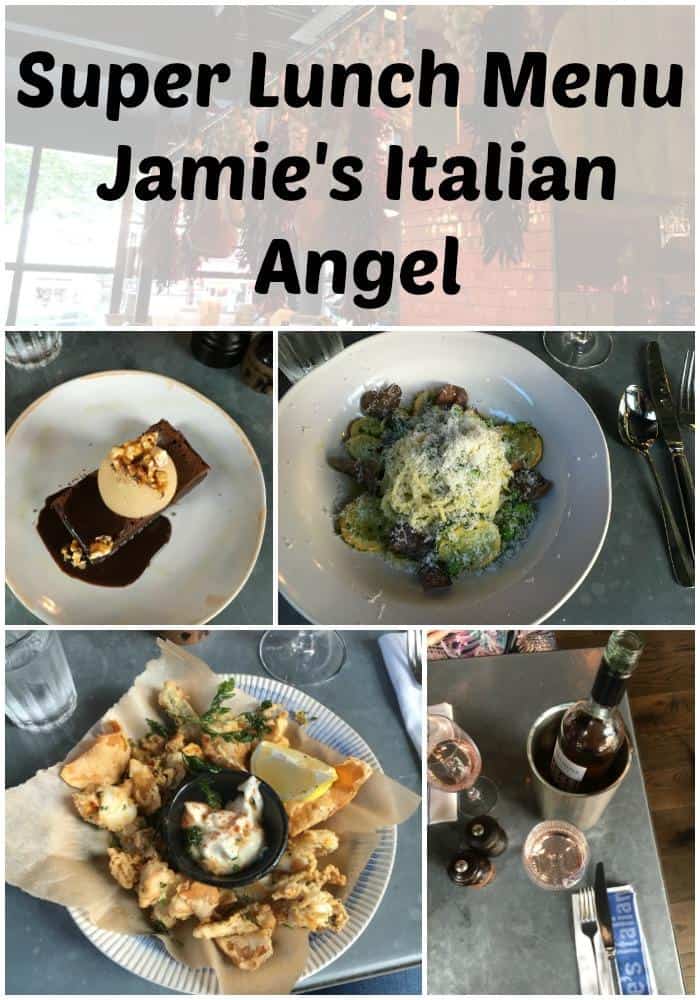 We were provided with a complimentary voucher towards the cost of our Super Lunch meal at Jamie's Italian in Angel but all thoughts and opinions are our own.