I can't believe it's a week ago now that we were singing 'Meet The Veggies' with Mr Bloom and dodging raving Grannies on shopping trolleys at Larmer Tree Festival.  It all seems quite surreal now.  We had been looking forward to going for weeks, with everything crossed for a dose of sunshine for our three day camping adventure.  We'd had a really good time the year before, but with the kids a year further on, we had really high hopes for our second visit to the family friendly festival in Cranbourne Chase.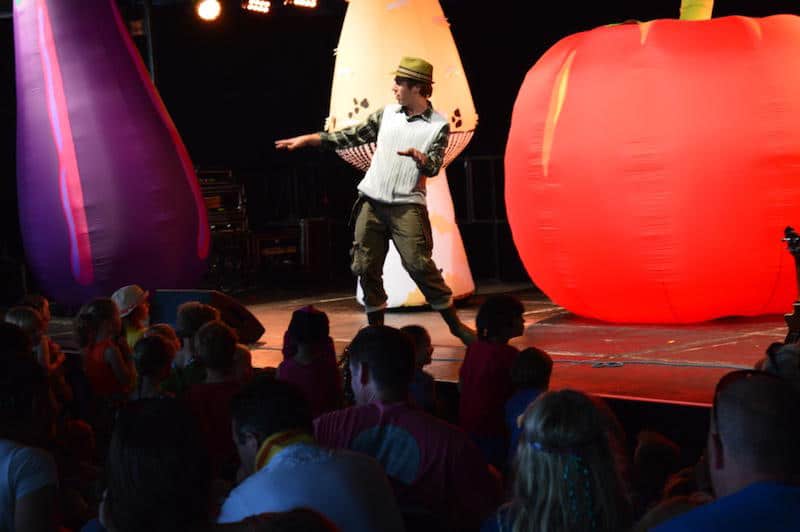 Larmer Tree Festival Family Camping
The camping experience was again, very well organised and had excellent facilities.  The toilets and showers were always clean and working, which is a huge win for families.  We camped in the family camping area this time, and it was great having kids around for the girls to play with.  It also meant we were slightly closer to the festival entrance, saving everyone's legs a little bit.  Reducing the amount of stuff we took really helped make our weekend go more smoothly, and so did investing in our own camping trolley to transport our stuff to the pitch and pull the kids around the site.  It was a festival game changer as far as Daddy was concerned.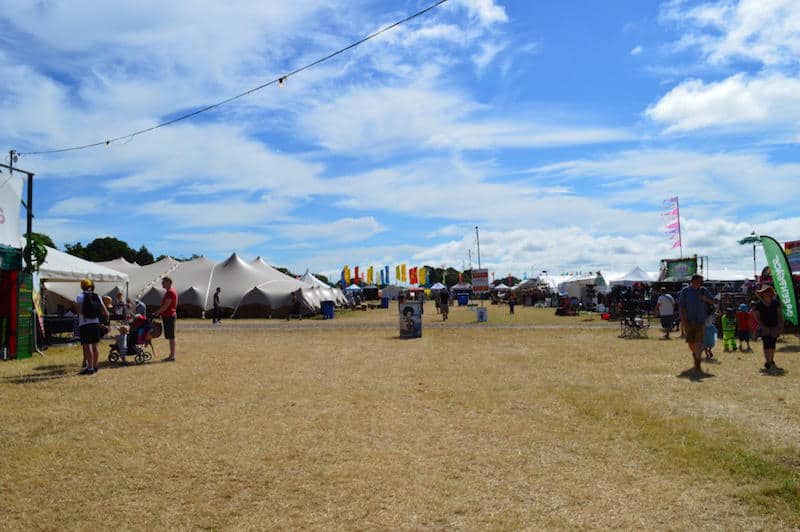 With tent erected and airbeds inflated it was time to go and explore Larmer Tree Festival.  The kids took up residence in their wagon and we headed down the track to see what was going on.  Once through the entrance, it was reassuring to see the Larmer Tree in the same spot, and the everything roughly in the same place it was the year before.  This sense of familiarity made us feel very happy to be back and we knew exactly where we would find The Knitted Pig cafe to get a reasonably priced bite of something to eat that would go down well with the kids.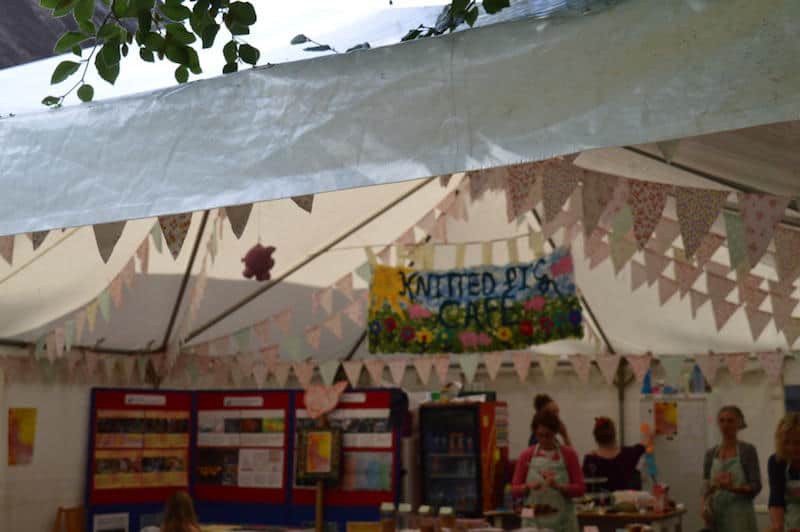 The Lostwood
Once refuelled, we took the girls on an adventure into the Lostwood.  Last year, we didn't even make it into this area because there was so much going on.  It was nice to have something new to discover at a festival that we felt familiar with.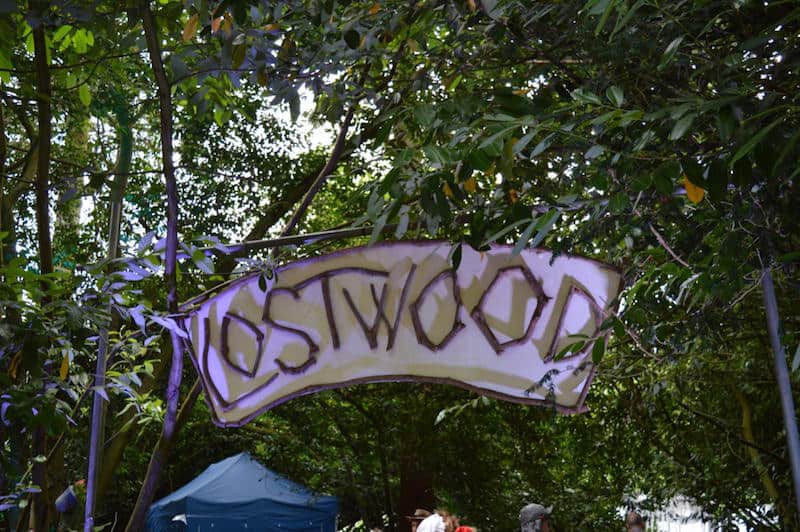 The girls loved it, and I have to say I was really impressed too.  We found different art displays, and we might have broken one by accident, but it's OK, the fairies came in the night and fixed it for us and no one was any the wiser 😉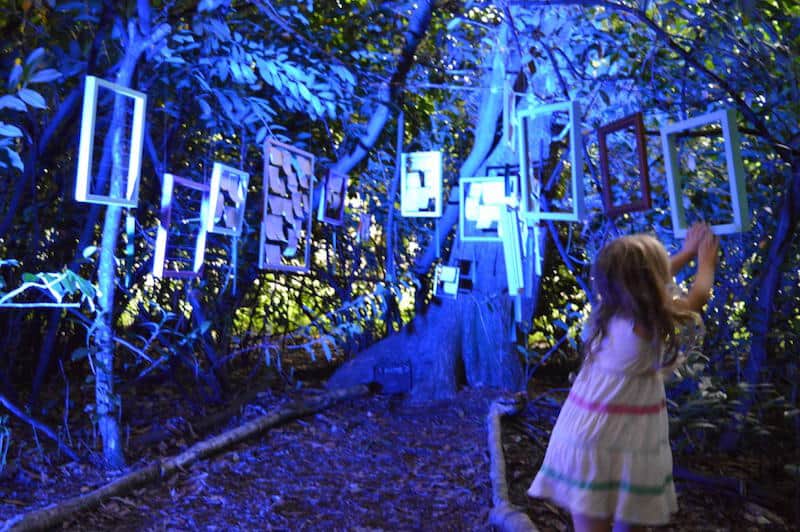 We passed the Kings of Ping who were very entertaining and found the machines that were used to light up the Lostwood at night.  The girls liked playing with them any time of day though.  It was a really magical space, with lots of shade from the trees, making it the perfect place to take a walk through for a reprieve from the sunshine.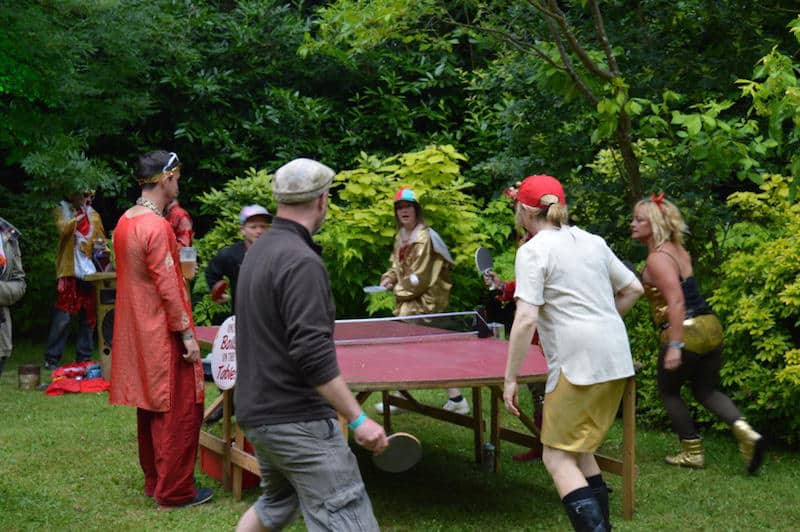 We had a pitstop in The Social over a game of musical bingo, but our children were a little on the feisty side.  Kids just don't want to sit still when you do, so seeing as we had already lost our toddler once (that's a whole other story that I won't go into now) we decided to take them back to the tent and see how the bedtime routine would pan out.  There was a big event happening in the morning, and rumour had it Mr Bloom was going to be in The Arc at 10.30 so we had to be there!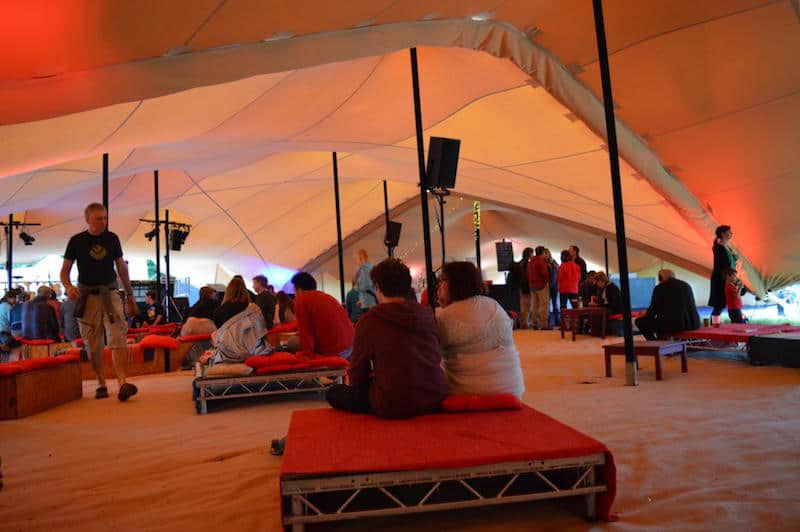 With the kids tucked up in bed, warn out with excitement, I headed back to the festival to see what was going on.  The music we got to see was amazing.  I'm far from down with the kids these days, but I do appreciate good music when I hear it.  The Stranglers headlined on Friday night, and they sounded awesome.  I was particularly impressed with Melt Yourself Down, who took to the stage later that night.  The pull of beer and a dance was pretty strong, until I remembered what a hangover was like with a 2 and 4 year old in tow, and skulked back to the tent in a rather sensible fashion.  Parenting really sucks sometimes.
Larmer Tree Festival Highlights including raving Grannies!
Fresh as a daisy we headed back to the festival at 9am to get breakfast before Mr Bloom hit the stage.  Mr Bloom was brilliant.  I'm so glad we got out of the tent early and got good seats for his show.  He was full of energy, and the kids loved him.  We were all singing along to his CBeebies hits and the kids were joining in at every opportunity.  At 11.30, the veggies fun came to an end, and it was time to find something else to do.  Lunchtime wasn't far away, so we went to the family lawns to play with the toys before grabbing some food at our favourite haunt.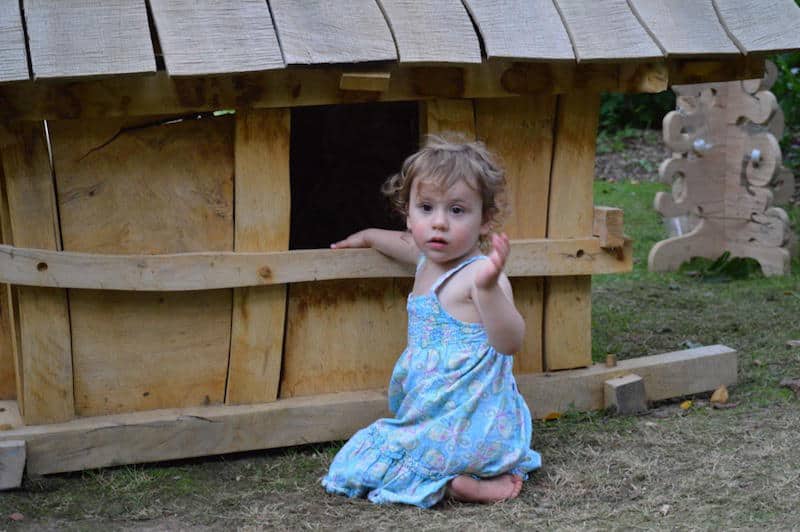 The toddler was desperate for a nap, so Daddy took her back to the tent while Princess and I went to look around the stalls.  There are a lot of stalls at Larmer Tree Festival, so if you fancy a bit of shopping, it's the place to be.  There are also a great deal of food stalls, but I'm always a little put off by the prices and favour The Knitted Pig for family friendly food every time.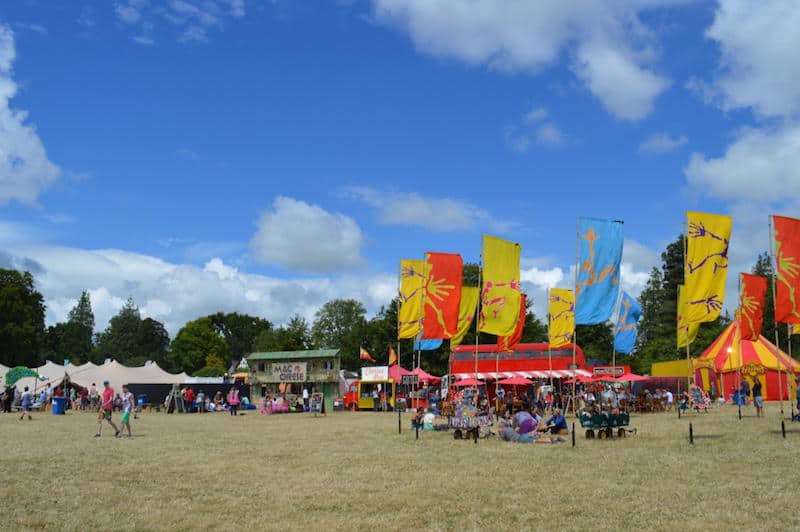 We strolled slowly past the main stage on Saturday to enjoy the beautiful voice of Gabrielle Alpin.  She was absolutely stunning, and I wish we could have sat and enjoyed more of her, but you remember what I was saying about our kids not being ever so fond of sitting still.  It's definitely a challenge when it comes to listening to music.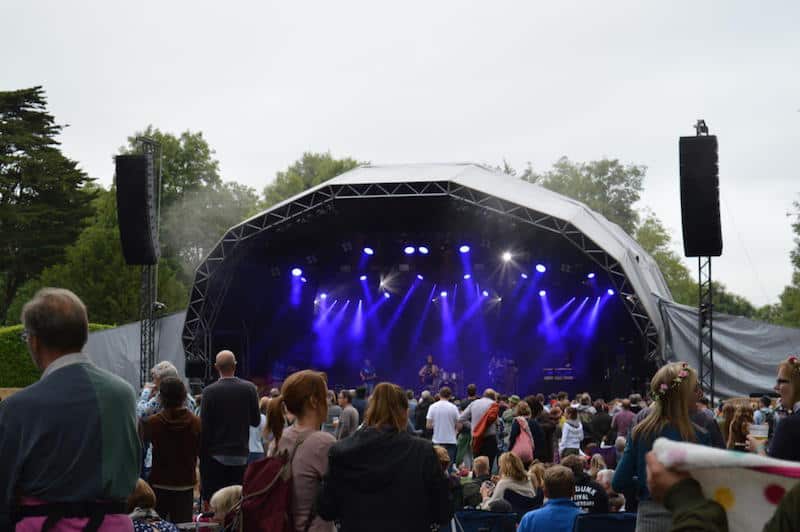 Instead, we meandered through the Lostwood to the soundtrack of her latest hits, and to be fair, it was a wonderful way to enjoy the space and the music.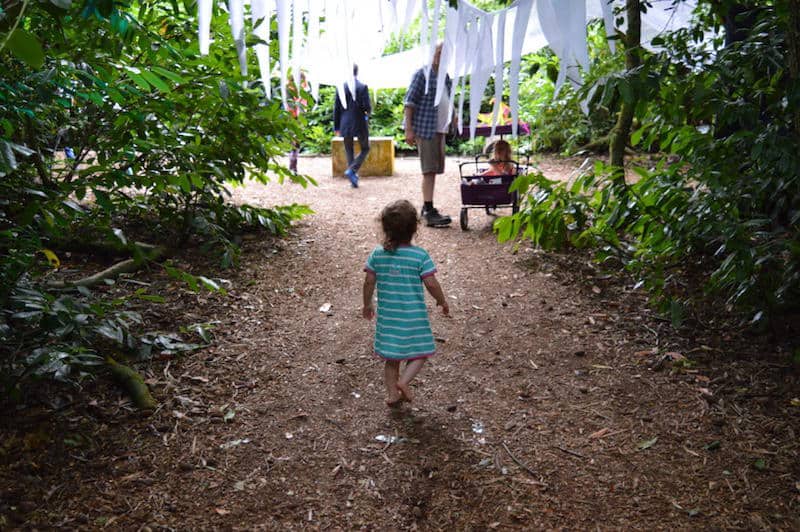 We all got stuck in at the carnival tent making fairy wings and willow orbs.  The girls loved it, and I think it was the first time we had enjoyed some crafting as a family.  Daddy isn't usually one for glitter and glue.  I can't think why!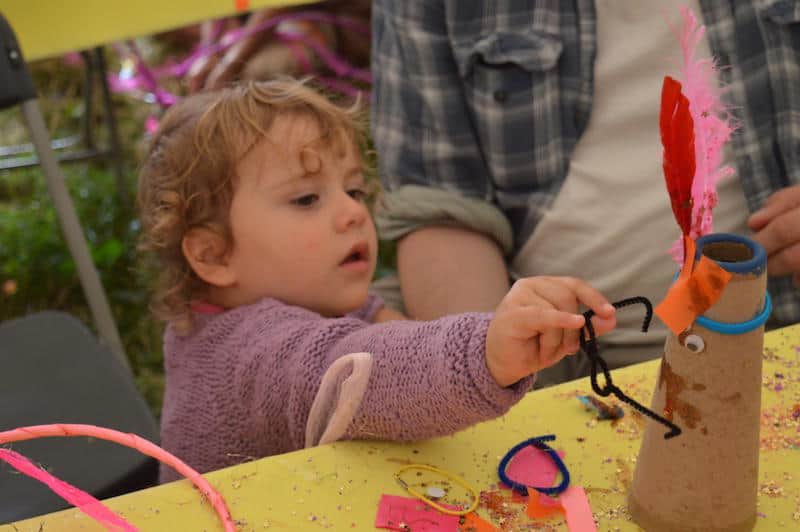 Everyone was busy making things for the carnival, but sadly we weren't going to be staying that long.  Our wings still came in handy for an impromptu game of bubble chasing on the family lawns, so they were definitely not wasted.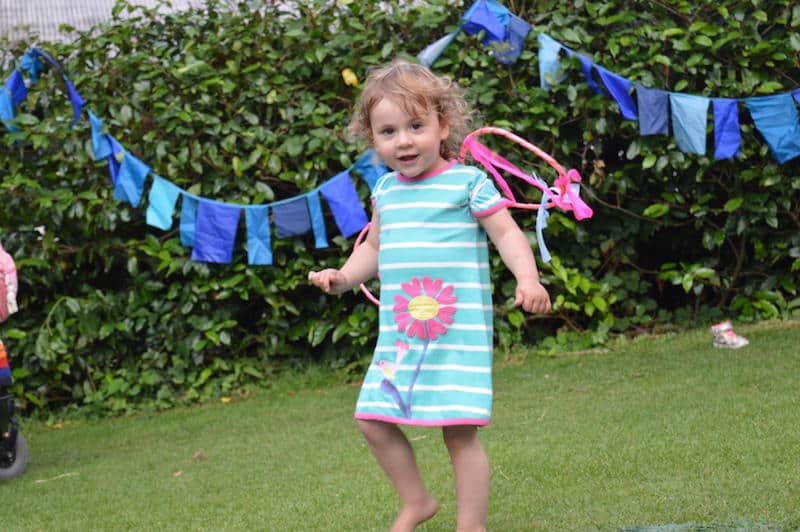 Saturday night was Daddy's turn to go off and explore what Larmer Tree Festival has to offer in the evening. I failed miserably at getting the kids to sleep, with the 2 year old not passing out until 10pm.  I couldn't blame her really, it was all so exciting and new for her.  She was just a baby the last time she was at Larmer Tree, and it was different seeing it through a toddlers eyes.  When Daddy returned, we enjoyed a few hours chatting under the stars with a box of red wine.  We were definitely getting into the festival spirit.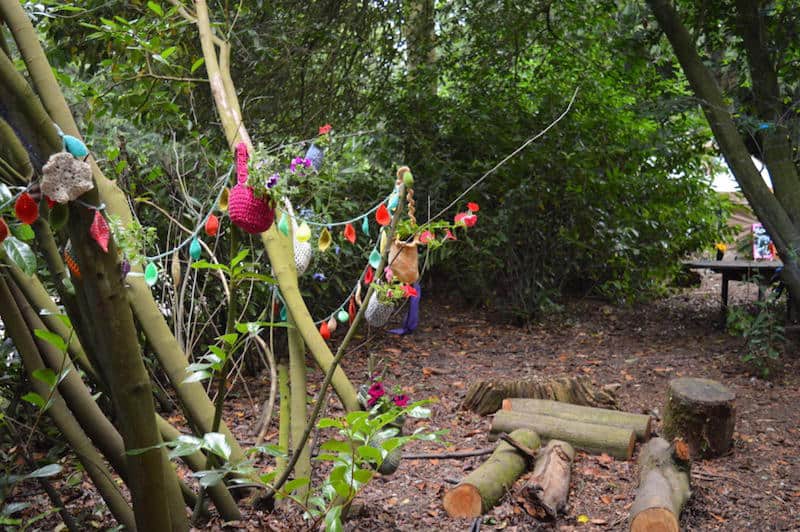 Sunday meant packing up and heading back home, so I took the kids to the family lawns (with my hangover) where they built dens with Kitcamp and enjoyed the sunshine one last time before having to go and load up the car and leave it all behind for another year.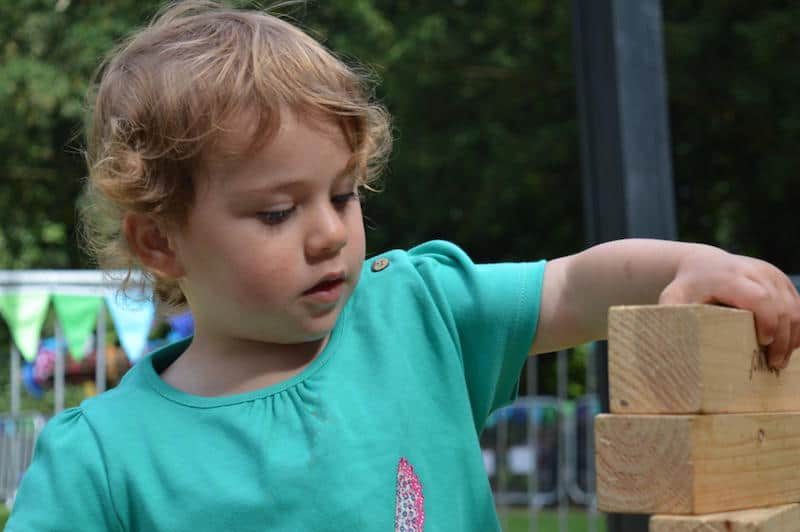 It was such a shame to be having to leave so early, and we would have stayed a lot longer is we lived nearer, but Nottingham is quite a drive from Wiltshire.
Final Thoughts on Larmer Tree Festival
We had a really lovely time at Larmer Tree Festival this year, but it did feel like something was missing.  Last year we had seen some amazing outdoor kids theatre and puppet shows, but this year it didn't feel as though there was as much variety for children.
We loved Mr Bloom, but I like to see new and quirky things at festivals and introduce my family to new experiences.  If someone had said to me, you can see Mr Bloom once or have lots of different acts to see over the entire weekend, I would definitely have gone for the latter.  I can see Mr Bloom anytime, in fact I probably see a little bit too much of him.  Sorry, Mr Bloom!
Pin For Later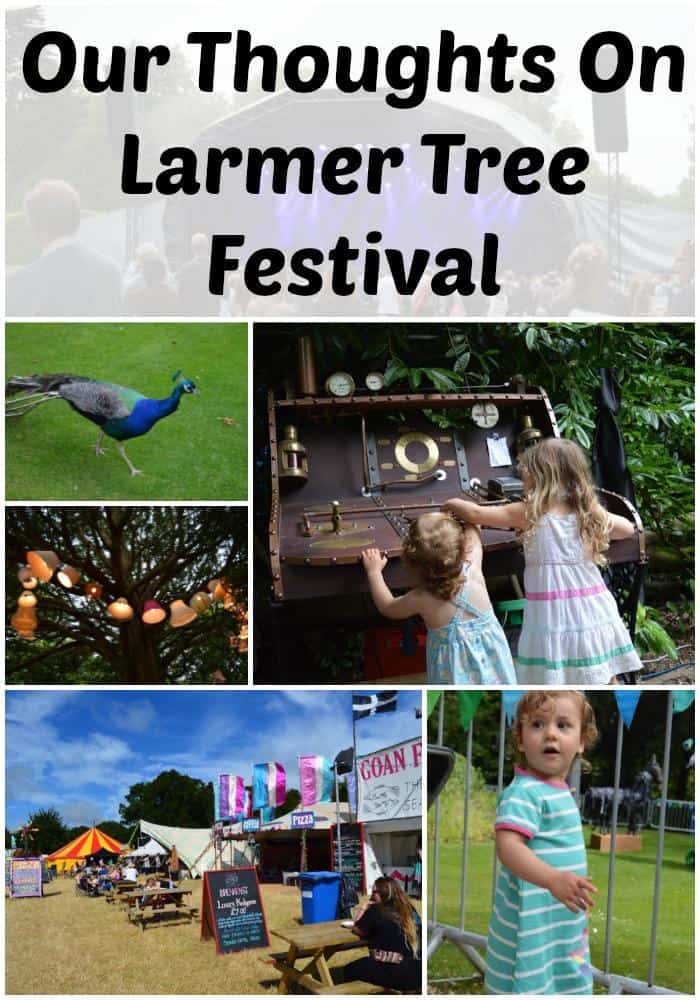 Thanks so much to Larmer Tree Festival for inviting us to enjoy the festival for 3 days in exchange for my honest review.