When Little Pudding turned two we made a really big mistake.  We bought her a balance bike, thinking it would be great for her to be able to practice on ready for a getting a big girls bike.  Well, unfortunately, she really didn't get on very well with it, and it became quite apparent she was't quite ready for that stage just yet.  Fortunately, shortly after, I was introduced to the Toddlebike, the pre balance bike for toddlers which sounded perfect for her and we've been very busy in the park trying it out.
The Toddlebike has 4 wheels instead of 2, so it's stable for her to ride.  It's a lightweight sturdy frame, so she  also doesn't have the issue of having to keep it upright.  We found one of the problems with the balance bike we had bought was it was too heavy for her to manage, so balancing on it was incredibly difficult for her.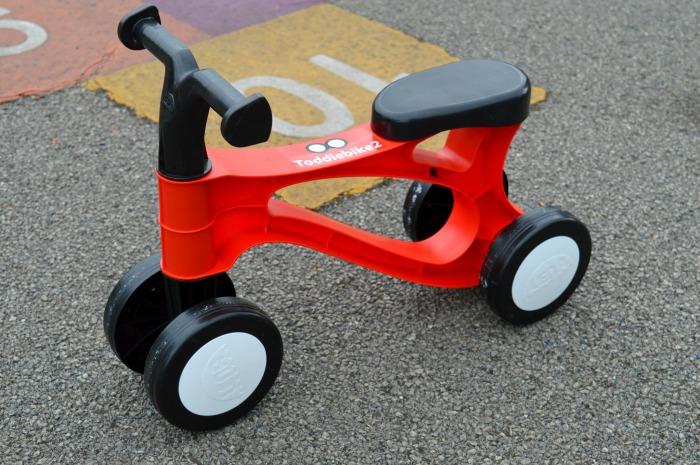 At first, Little Pudding's instinct was to use both feet at the same time to propel herself forward on the Toddlebike.  Because of it's sturdy frame and 4 wheels it didn't topple over when she tried to do this.
Once she felt confident on the Toddlebike, she realised that alternating her feet would propel her forward quicker so she could keep up with her sister.  It was lovely to see her bike riding skills progressing in a way that was manageable for her without all the frustration that falling off can bring.
Toddlebike Video Review
Do take a look at our video and see Little Pudding's confidence grow as she masters going faster on the Toddlebike without any problems.
The Toddlebike works like a normal bike in that the handlebars turn so you can change direction or go around corners, but this skill is something that Little Pudding is still working on.  Her instinct seems to be to come to a stop and then lift the bike and point it in the direction she wants it to go in.
The Toddlebike is giving her the confidence to master turning the corners properly and develop this new skill.  She is stopping less and less as she realises the handlebars will do the work for her.
I'm really impressed with the Toddlebike and wish we had heard about it sooner.  It's a great bike for toddlers and can be used from 18 months old so a perfect home play idea for 2 year olds.  It seems to really help them build the confidence and skills needed to go onto the next stage of riding a bike.
Pin For Later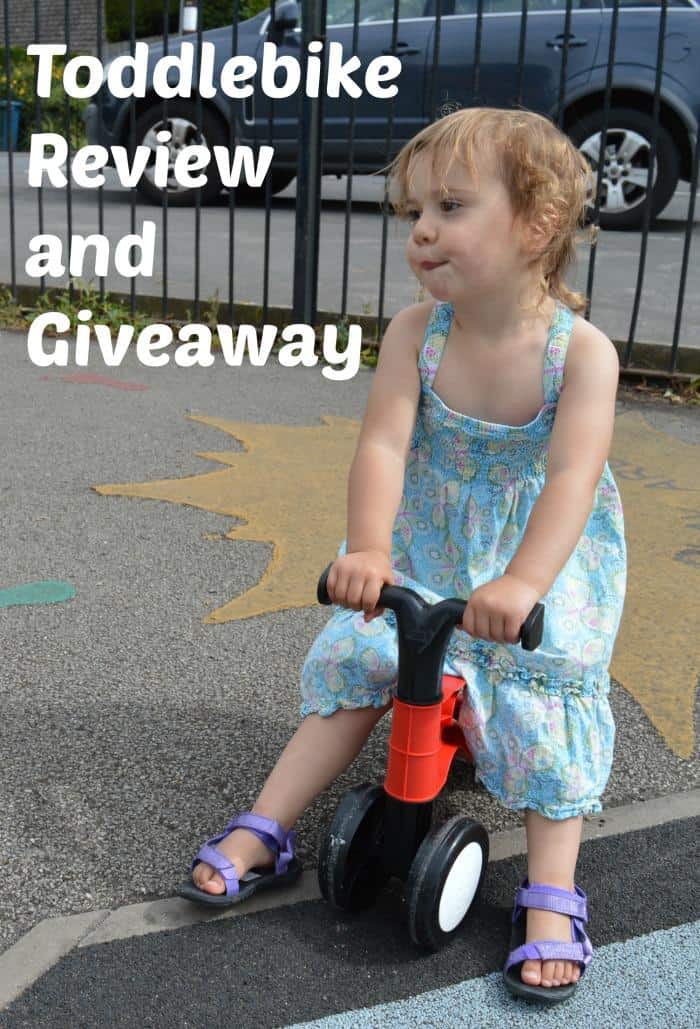 We were provided with the Toddlebike in exchange for our honest review, but all thoughts and opinions are our own.