Have you heard the latest?  The Trolls are back this October in a brand spanking new film by Dreamworks.  To celebrate their appearance on the big screen, Just Play have released a range of Troll toys and we have been lucky enough to take a sneak peek at the Poppy Styling Station before it hits the shelves.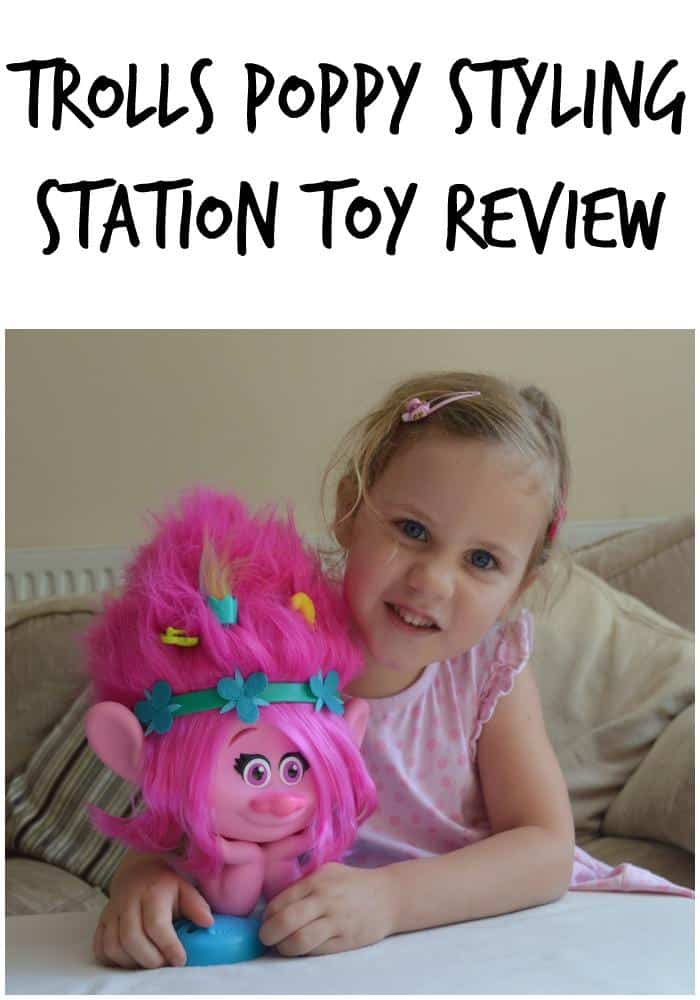 Poppy Style Station Review 
The Poppy Styling Station is awesome, and my daughters took to it straightaway.  We watched the trailer for the new film too, and they are so excited about going to see the movie next month.  I must admit, I think I am too.  I remember the Trolls first time around.
The Poppy Styling Head is super cool, super pink and super fun to play with.  She comes with a comb to tame her wild locks, lots of clips and some cute accessories.  Trolls are famous for their big hair, so this is a great toy for bringing Poppy to life and giving her a fun unique look.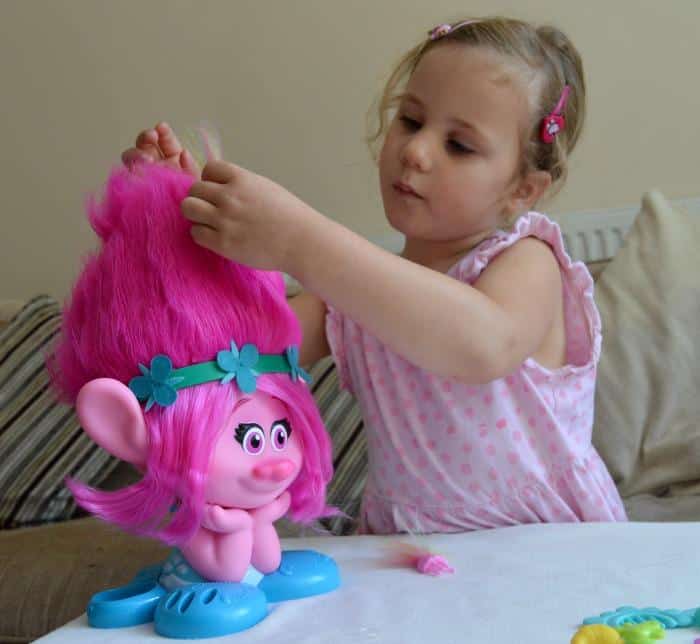 The comb and hair accessories stash neatly in the base of the station when the toy is not in use, and she looks awesome on the toy shelf with her amazing hair and big pink eyes.  The girls have really enjoyed playing with her troll hair and styling it, and they have loved how creative this toy is.
Our only negative with the toy, is we could do with a few more accessories.  Poppy has a lot of hair to style, and needs a lot of clips and combs.  Well, that's what 4 year old girls think any way!  If there were a few more hair slides and bobbles she would love it even more, and she would be a bit happier sharing them with her little sister.
Playing With The Poppy Styling Head on YouTube
We have also spotted a rather fabulous Poppy wig in the Dreamworks Trolls toy collection, that looks amazing.  It would be a great toy for the girls, and could even be used for an awesome halloween costume next month.
The Dreamworks Poppy Styling Station is available now in Argos priced at £29.99.  We were provided with the Poppy Styling Station in return for this review, but all thoughts and opinions are our own.