Venice has a lot of restaurants, some are good and some are not so good.  On our recent short break to Venice food was quite a big feature.  We were exploring the city a lot, so we welcomed the chance to sit down and enjoy a meal together.  I have very high expectations of food when I'm on holiday, as it's such a big part of the experience and local culture.  If the food is disappointing in some way, it effects my experience of the holiday all together.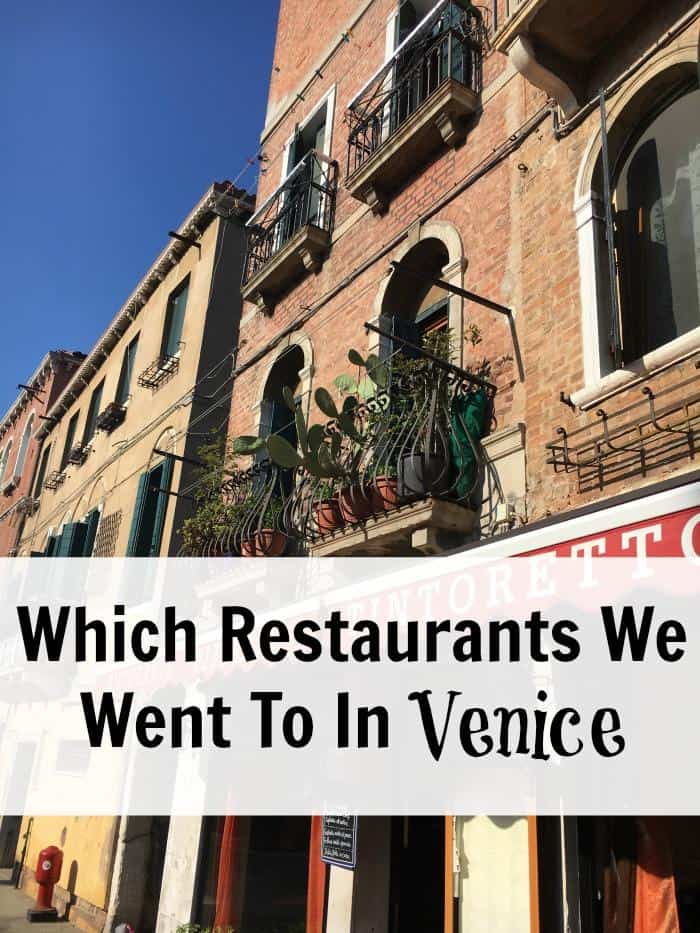 Don't Eat On Grand Canal
Venice is a very popular tourist destination, so choosing somewhere good to eat can start to feel like bit of a minefield.  My first word of advice to anyone visiting Venice looking for good places to eat is stay away from Grand Canal.  It is very touristy and the quality of food isn't great.  The other issue is there are a lot of pigeons that might like to join you when you are eating.
When we arrived in Venice, we had had a very long day already.  We left our airport hotel just after 4am, and I find that tiredness makes me want to eat to boost the energy levels.  I was very keen to eat, and felt that a pizza would be the most fitting meal to mark our arrival.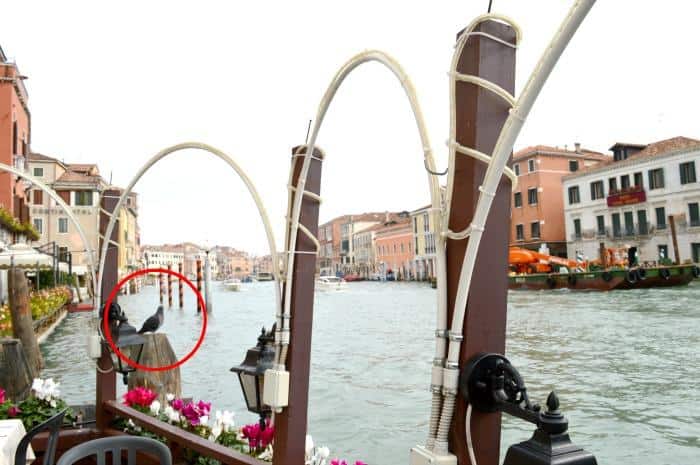 In haste, we stepped into a restaurant on Grand Canal, and took a seat on the terrace.  It was nice to just sit and catch our breath.  Watching the world go buy on the water was also lovely, but watching the pigeons walk over the bread, not so much.  Our food wasn't bad, but it wasn't great either.  Our starter was the Fried Delicious, which is a plate full of fried food.  The Italians seem to like this tapas approach to food and it appears on a lot of menus.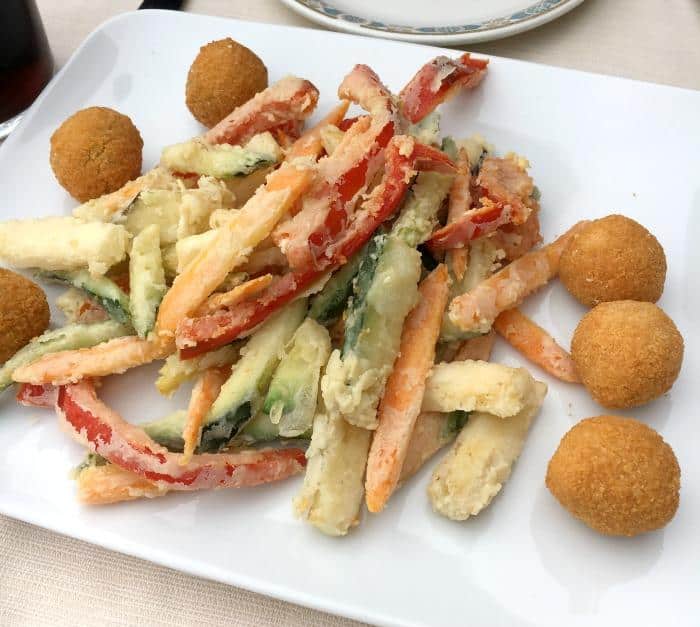 I went for the pepperoni pizza.  It definitely had a kick to it, as well as a huge chuck of pepperoni that someone couldn't be bothered to slice in the middle.  I've had worse, but as we were soon to find out we could have a lot better too.  I don't seem to have the name of this restaurant, but it was a short walk from the train station on the Cannaregio side of Grand Canal.
Marciana Restaurant
After our pitstop we headed to San Marco over the Degli Scalzi Bridge and down Clunga.  On this street there are a few family run restaurants and I kept them in mind for our evening meal.  My travel companion was keen to try restaurants from the Lonely Planet Guide, but after a long day I convinced her maybe we didn't need to spend time trying to locate somewhere to eat from the book.
We headed to Marciana, which turned out to be an excellent choice on my part if I do say so myself.  The food was delicious, even if the service was a little hap hazard.  We started with a perfectly cooked calamari and we both opted for pasta for our mains.  My friend was on a mission to find the best vongele in Venice, and I was happy to try the spinach and ricotta tortellini after finding out they didn't have my first choice from the menu.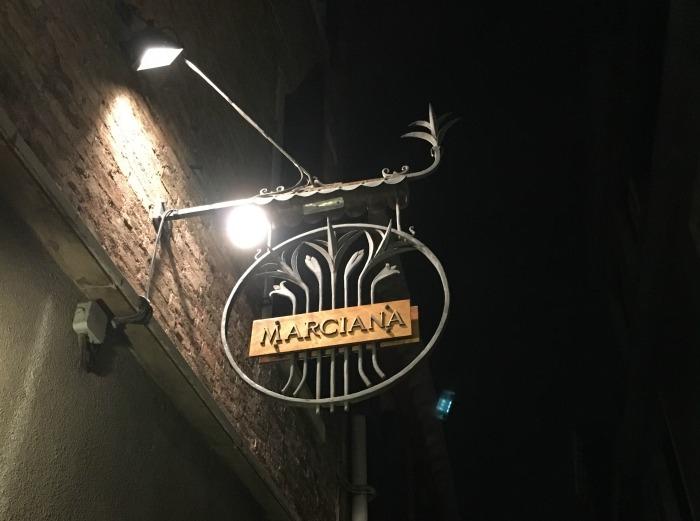 The pasta in this restaurant is homemade, and you could really taste the difference.  Add to it some good quality olive oil and a reasonably priced bottle of house wine and you have a lovely meal.  My only criticsm of Marciana was the tiramisu.  It was OK, but clearly not homemade, which was a touch disappointing but I'll let them off for ticking all the other boxes.
Osteria Al Mariner Restaurant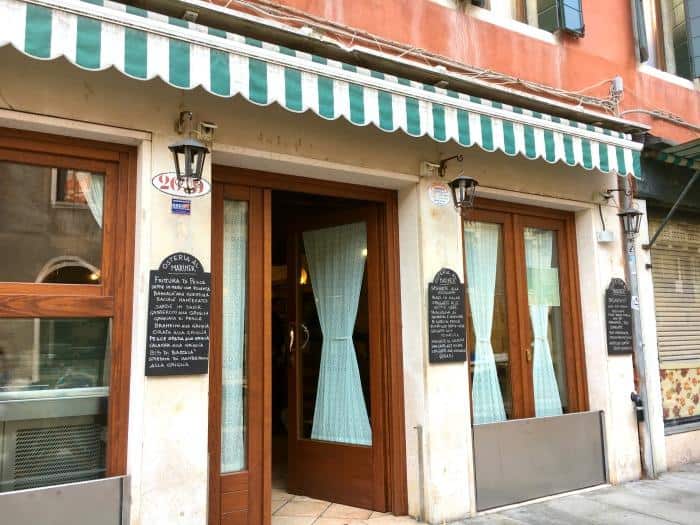 Day 2 was about exploring the Ghetto, and we found a rustic restaurant on Rio della Misericordia called Osteria Al Mariner.  We went for another plate of fried tapas to share, and this was far more exciting with courgette, white polenta, aubergine and these balls which are olives, stuffed with meat, coated in bread crumb.  There was also some kind of fried ham and cheese sandwich.  It might all sound a little odd, but it was done very well indeed.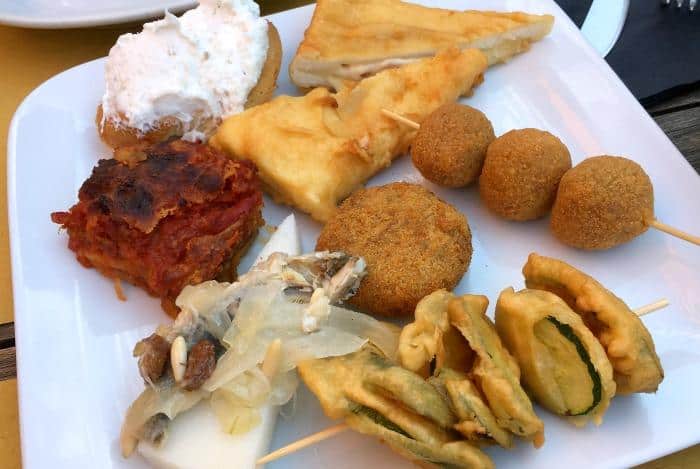 More pasta followed, with another vongele and a smoked salmon and spaghetti with a cream sauce for me.  Mine was delicious, and very generous too.  There was no room for pudding this time, just a small spritz to wash it all down with.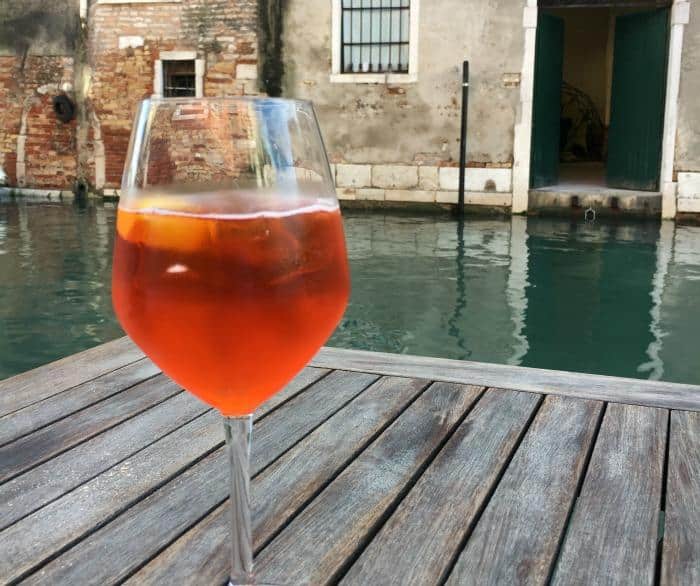 Pontini's Restaurant
We finished our day of exploring at Pontini's, which was a recommendation from the Lonely Planet.  This restaurant is very popular, and I would advise booking ahead.  If you don't, you have to join the queue, and we stood for 45 minutes before getting a table.  Had I have been travelling with anyone else, I probably would have left the queue and gone round the corner.  There are lots of restaurants in this area.
My friend was committed, so in turn I was committed too and we waited, perhaps not so patiently for a table to come free.  Now, this is a good restaurant but I'm not sure it's 45 minutes waiting good.   We started with a plate of cheese, which seemed like a good idea at the time, but at the end of the day it was a plate of cheese.  There's no skill in popping chunks of cheese on a plate with honey and balsamic vinegar.
I had a mushroom pasta dish to follow, and my friend went for the lasagne this time.  I didn't find the menu here particularly inspiring and I probably didn't pick my meal well.  Sadly, this meant I didn't enjoy it as much as I thought I would.
The highlight was definitely the Pontini tiramisu.  Now this was a homemade tiramisu at it's best, and made for sharing too.  Clearly made with the best ingredients, all of a sudden everything was forgiven for waiting for so long.  I went to bed happy that night after all.
Alla Maddalena Restaurant, Mazzorbo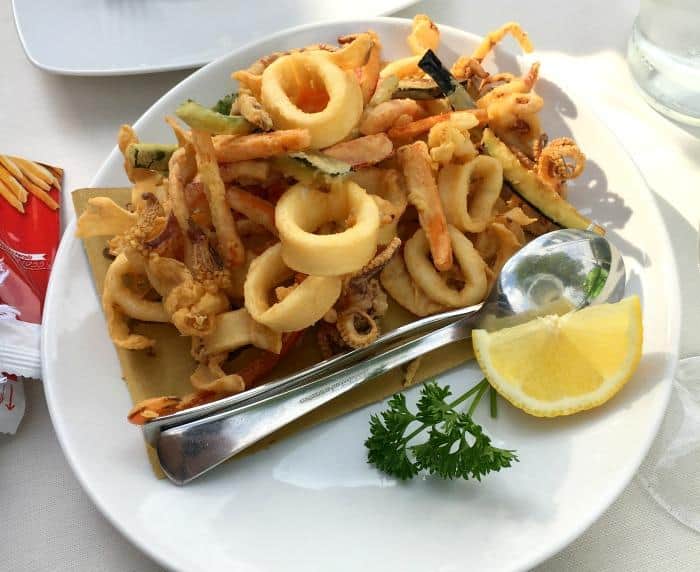 My favourite restaurant was the last place we visited, and was actually on the island of Mazzorbo.  Where you get off the ATVO boat, you will come straight to the Alla Maddalena.  It's not often that the first place you come to is good, but this place is really good and worth stopping at before taking the short walk to Burrano.
We shared a calamari to start, which had peppers and aubergine cooked with it too.  It was good, with perfectly cooked calamari and a light crispy batter coating. There was more vongele to be tasted by my friend, and I also got to sample this one.  It was good!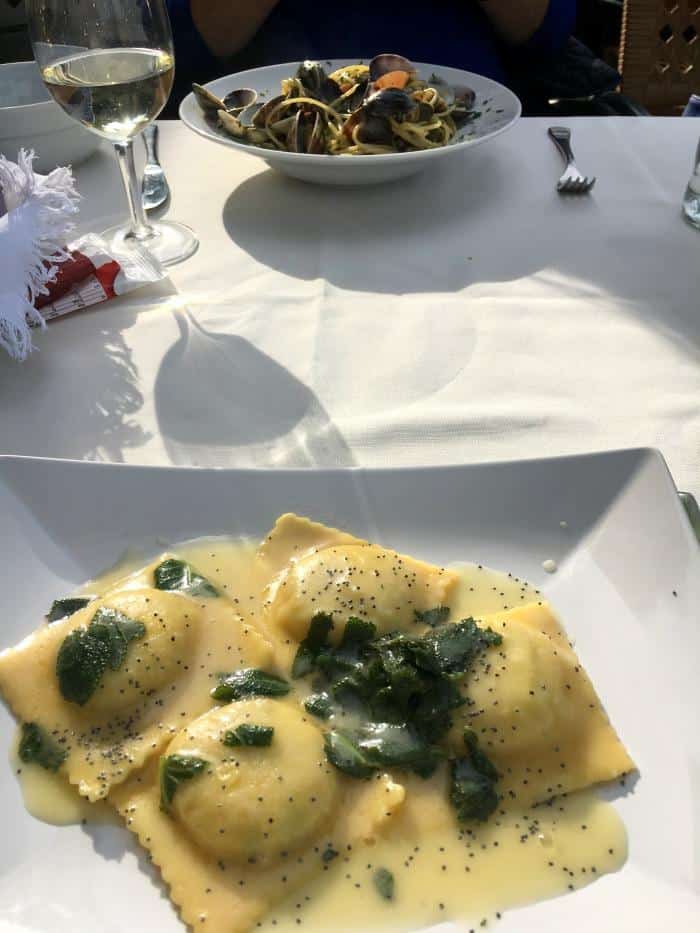 I went for the sea bass ravioli, a light beautiful dish, with the right amount of olive oil and an exceptionally good pasta.  The only issue I had with it, was there could have been a little more of it.  As this was our last meal in Venice, we share a reasonably priced bottle of prosecco and finished with the perfect italian coffee.  I had definitely become a fan of their coffee during the course of this trip.
So there you have it.  This was my experience of eating in Venice, and what I thought of the restaurants we visited. We were paying guests at all of these restaurants, and I would be happy to answer any questions about the meals.  Our bills came to between €40-€50 for the two of us, and we mainly shared a starter, had a few drinks, along with a main and maybe dessert.
I'd love to hear about your experiences of eating in Venice and if you have any restaurants you would recommend in the comments below.