Have you ever had breakfast with Santa?  It's not something we had done until very recently, but I think it's about to become one of our family Christmas traditions.  Wyevale Garden Centres invited us to join them and Santa for some festive fun at their Leicester branch one Saturday morning this December.  The girls were so excited at the thought of having breakfast with Santa, that they put on their favourite costumes for the occasion. You have to dress up for Santa, don't you?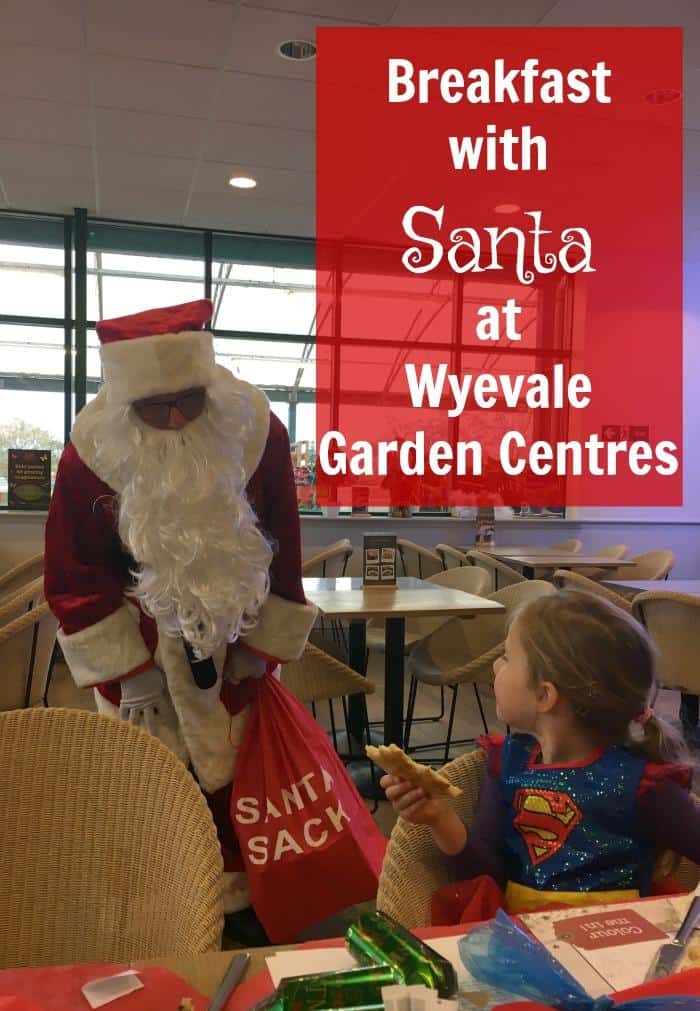 We were greeted by Santa's elves, who were in particularly good spirits for 8.30am in the morning.  They were definitely cheerier than Daddy, who had been to his Christmas party the night before.  He was feeling a little, shall we say, tired for this family outing.  The girls and I took our seats at the festive breakfast table that had been laid out for us.  Somehow, Daddy managed to get lost between the car and the restaurant, but he turned up eventually!  Silly Daddy!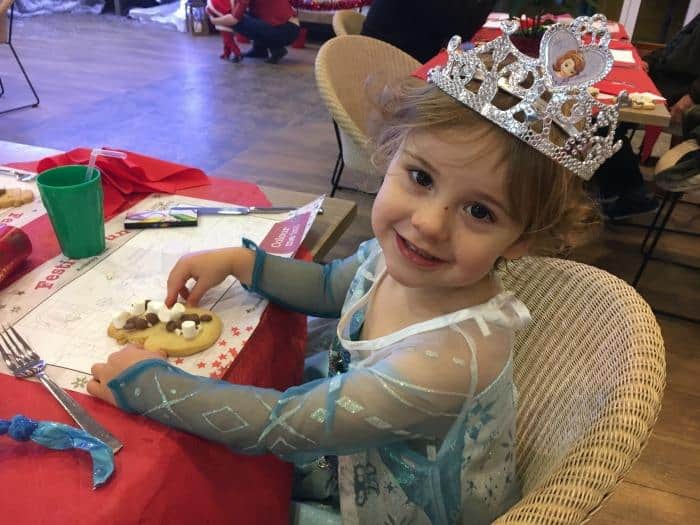 The girls didn't waste anytime starting the activities that were waiting for them on the table.  The decorated their Snowman cookies, and did some Christmas colouring too.  We all pulled a cracker while the breakfast drinks were being served, and there might have been a Christmas hat or two involved in proceedings.  The coffee was perfect, and exactly what Daddy needed to get him into the Christmas spirit.  It was good to see, what I would call, proper coffee, being served so this was a big box ticked for me.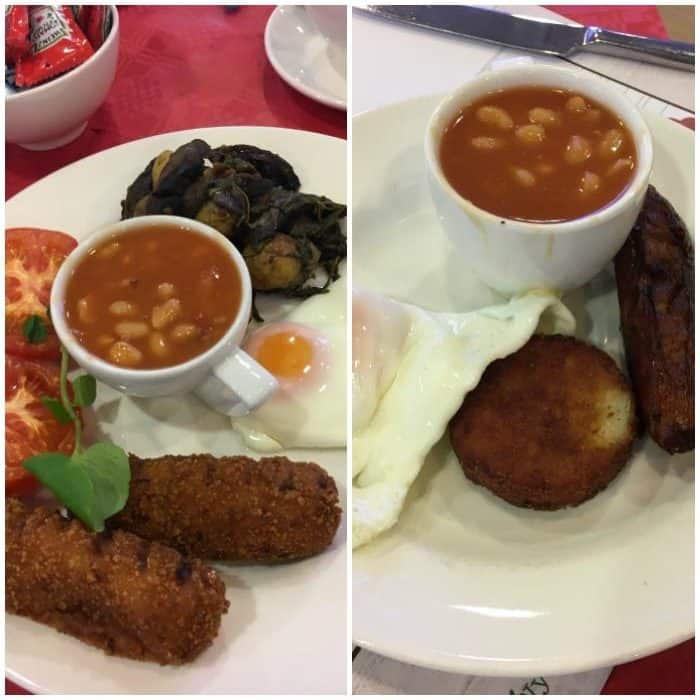 Breakfast was served by the elves a short while later, and I have to say I was really impressed with the quality of the food.  I went for the vegetarian breakfast, which included Glamorgan sausages, which were really tasty, potatoes with spinach, fried eggs, mushrooms and baked beans.  Daddy's breakfast was pork sausages, two bacon rashers, black pudding, fried egg, fried tomato, mushrooms and baked beans.  The children both had a small cooked breakfast too.
All the food was cooked perfectly and the very best ingredients were used.  It was a very satisfying and tasty start to the day, even for Daddy, who was still feeling a little worse for wear at this point.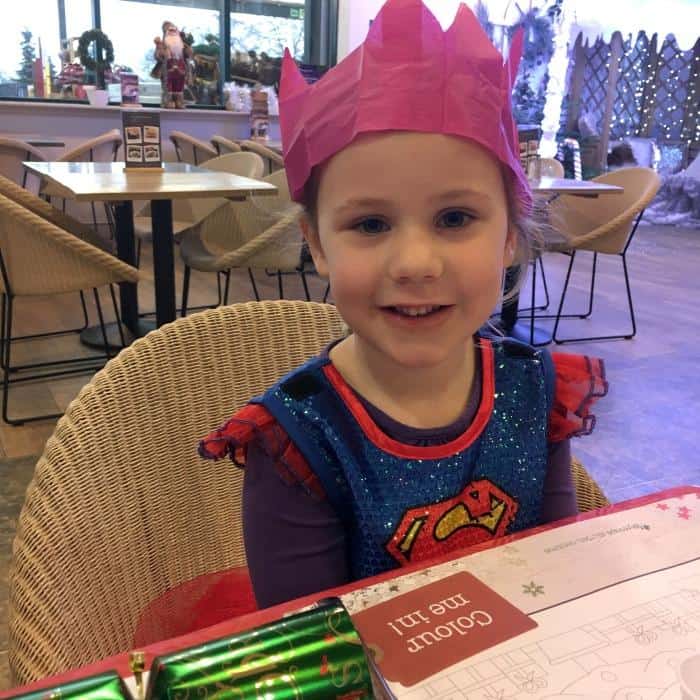 After a lovely breakfast, we all got in the festive mood with some Christmas singing.  Santa heard us and made his entrance into the garden centre.  The children were very excited to see Santa, and he was equally pleased to see them.  Whilst the children took it in turns to join Santa in his grotto, the elves painted some of the children's faces.  Sadly, our girls still can't be convinced that face paints are a good idea, so they got on with their Christmas colouring pages.
We went up to see Santa, and the children picked a toy from the display that they would like.  They both chose the mermaids, which was a relief.  One even went into school for show and tell this week so that our 4 year old could share with her friends what breakfast with Santa was like.  We liked that the children could pick what they would like, as it saves for a lot of arguments or unhappy faces. In our case, our children got to pick the same toy.  If they had of received something different, we would definitely of had issues.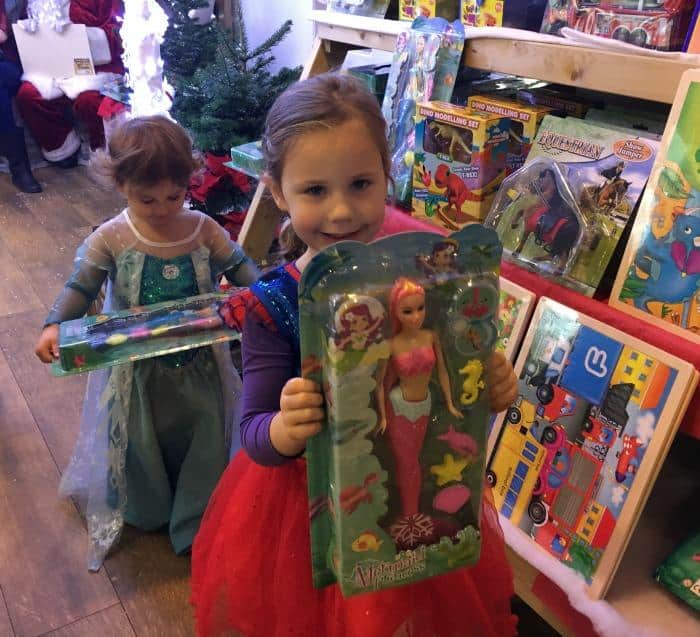 The breakfast with Santa experience lasts around 90 minutes, and is a perfect way to start your Christmas celebrations.  I find that going for breakfast as a family is the best meal to eat out, as you know they are going to be really hungry.  The staff elves were really welcoming and friendly, making an effort to talk to everyone and getting to know all the children that were there.  The food and coffee was excellent quality, and we thoroughly enjoyed our breakfast with Santa experience.
We were invited to breakfast with Santa at Wyevale Garden Centre in Leicester in exchange for this post, but all thoughts and opinions are our own.