I'm very lucky to be married to my husband, for lots and lots of reasons.  One of those reasons is that he is incredibly clever.  He's a very talented software developer and an exceptional problem solver.  He's very conscientious and takes a great deal of pride in what he does.  For his day job he is a Software Development Manager, and you'd think that after a hard day at the office, the last thing he'd want to do is come home and sit at the computer some more.  In fact, that's exactly what he does most nights, he literally lives and breathes software development.  He's a proper geek!  This will be part of the reason he's going to Arizona in the New Year to spend some time at the Go Daddy headquarters, but that's a whole other story.
The irony of being married to a software developer is that he doesn't actually give me that much help with my blog.  If I ask him a question, his response is more often than not, 'google it'.  Most of his software development skills are self taught and he believes that if you investigate a problem yourself you are more likely to learn from the process.  I do understand this approach, and now I do try and solve issues myself but sometimes the jargon is just to technical for me and I have to ask for some help.
When we were on our recent holiday to Bluestone Wales, we met with my lovely friend, Kaz from Ickle Pickle's Life and Travels.  During our conversation we were discussing blogger Facebook support groups, like the one I run called UK Awesome Bloggers.  Bloggers like myself and Kaz use these groups to help us to promote our blog posts to a wider audience and they are very supportive communities.  We will do things like RT each other's Tweets or comment on each other's blog posts.  It's a way of keeping in touch with your favourite blogs and supporting each other.
We were discussing how it would be great to have a tool that bloggers could use to help us with taking part in some of these groups.  Time is a precious thing to a blogger and anything that helps us save time is literally a godsend.  We wanted a Twitter tool that would help us to share each other's tweets quickly and simply.  When my husband and I got back from our holiday, he set to work on making Olicious – a simple tweet management tool for bloggers.  I could be accused of being a little bit bias, but it's awesome.  It makes a blogging task really simple and quick to perform and best of all it's free to use.  There is a similar version available, which doesn't have the same functionality and you are charged a fee to use.  Having used the both systems, Olicious is leaps and bounds ahead of it's competition.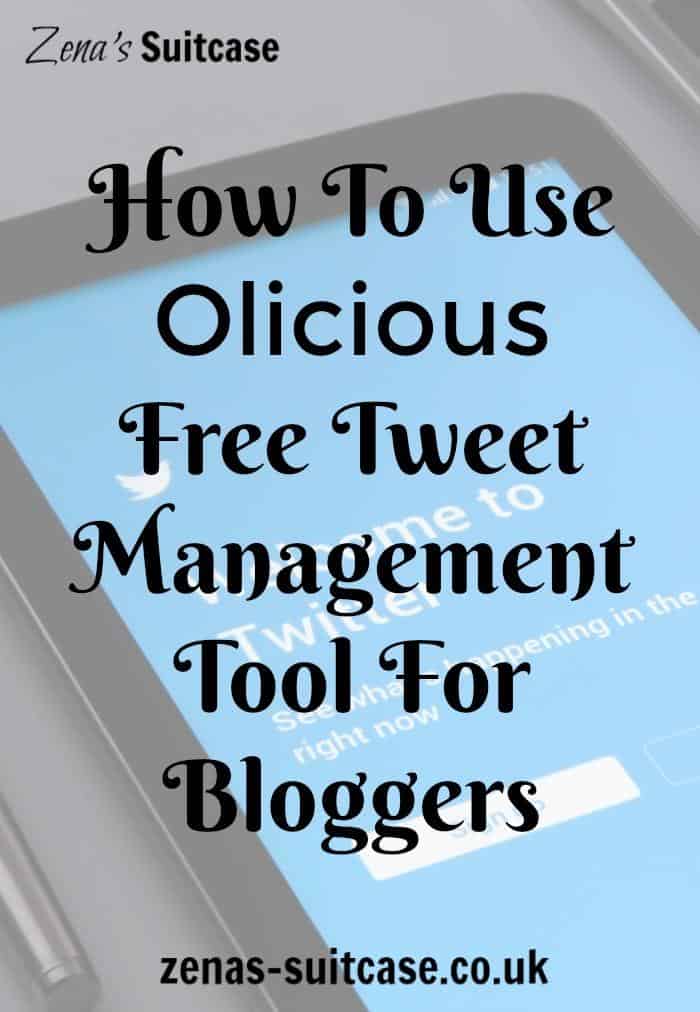 If you would like to join the Facebook group UK Awesome Bloggers, there is a set of instructions on how to use Olicious and you can also discuss any issues or feedback there.  I also thought it would be helpful to share a set of instructions on how to use it here, so here goes:
How To Use Olicious  – The Free Tweet Management Tool For Bloggers
How to schedule Retweets from blogging Facebook groups:
Go to Olicious.org
Sign in with Twitter and authorise your account.
From the dashboard select 'create new list'.
Give your list a unique name.
Select the type of list you are doing from the dropdown menu, 'Re-tweets' or 'Re-tweets and favourites'.
Copy and paste the list of comments as they look from the Facebook Twitter thread you joined. Copy & paste the WHOLE thing, names, likes, replies, everything. Olicious knows which are tweets because it's really clever! (see the screen shot example below)
You can add multiple Facebook threads to the same list if you like.
Once you have your list, click create at the bottom of the screen.
A list of the retweets will be generated. You can delete any you don't want to RT (like your own tweets for example)
Go back to the dashboard and your new list will now appear in the 'pending' section.
If you are happy to proceed, select schedule for your list (the green button).
Select the point in time you would like the list to start from the first drop down menu i.e now, in an hour etc
Select how long you would like to leave between each Retweet from the second drop down menu.
Click create and the list will move into the scheduled section and Olicious will send out the RT's for you.
Once the list is completed, your list will move down to the completed section.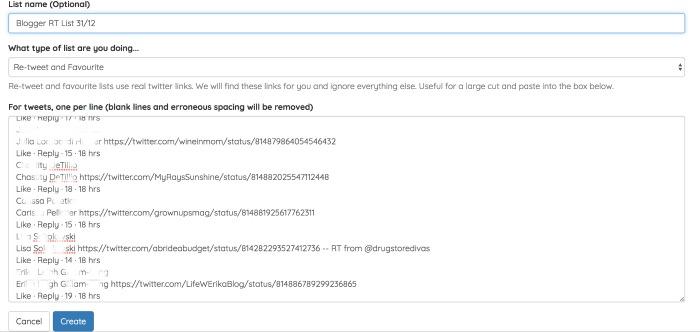 Frequently Asked Questions – FAQ's
Olicious is a free tool for bloggers to use to complete RT threads. You are welcome to share the tool with other bloggers or groups that might find it helpful.
You can run multiple lists at any given time using Olicious, up to a maximum of 10.
It's a time saving tool my husband put together in his spare time. There may be some bugs and things we can improve but if you let us know we will take a look.
There is a limit on the number of tweets (400) you can send per day and the number of lists you can have (10) per day. This will hopefully ensure that Twitter is happy with the level of activity on your Twitter Feeds and through Olicious.
This is a free tool, but if you love using it a donation would be gratefully received and go towards the time that has been spent on making this possible.
You can also use Olicious to schedule your own Tweets to Twitter.
Have you used Olicious yet?
Please follow and like us: