It's been nearly a month since my last Slimming World update and I thought I'd let you know how I've been getting on.  I have lost a total of 5 1/2 lbs in the last few weeks, and I'm really happy with the progress I've been making.  The total weight loss with Slimming World is now 1 stone and 5 1/2 lbs.  I think my Slimming World chocolate mug cake is saving me from my sweet tooth and falling off the wagon.  I've also been eating a lot more vegetables.  This spinach, mushroom and onion brunch is one of my favourites and goes very well with a poached egg.  The stir fry is always a favourite on nights when I don't have a lot of time or my husband is away and it really helps to boost my weight loss.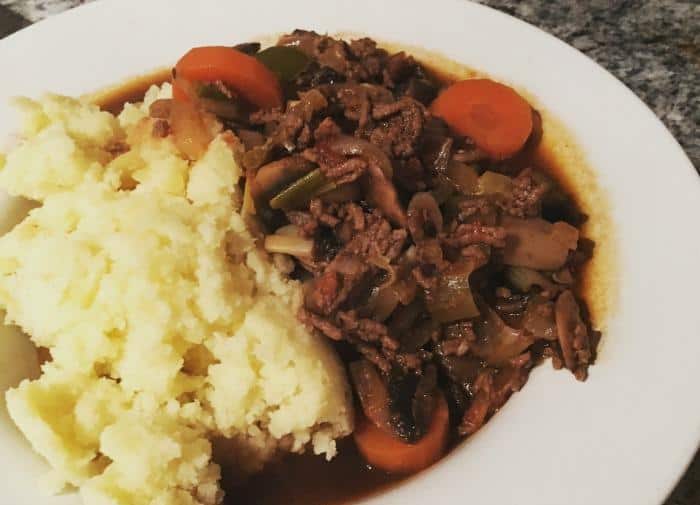 Slimming World family friendly meals are also really important and will really help your success.  I like to find things that are easy to cook that everyone will enjoy.  Mashed potato is a big hit in this house, and my family would literally revolt if I told them it wasn't going to be on the menu any more.
I was experimenting in the kitchen this week, and came up with this really tasty dish for a winter's evening.  The result was Minced Beef With Vegetables & Balsamic Vinegar which goes really well with mashed potato, or could even be made into a shepherds pie if you had more time.  Sadly, time is always something I seem to be lacking.
Here's the recipe if you fancy giving it a go.
Slimming World Minced Beef With Vegetables & Balsamic Vinegar Recipe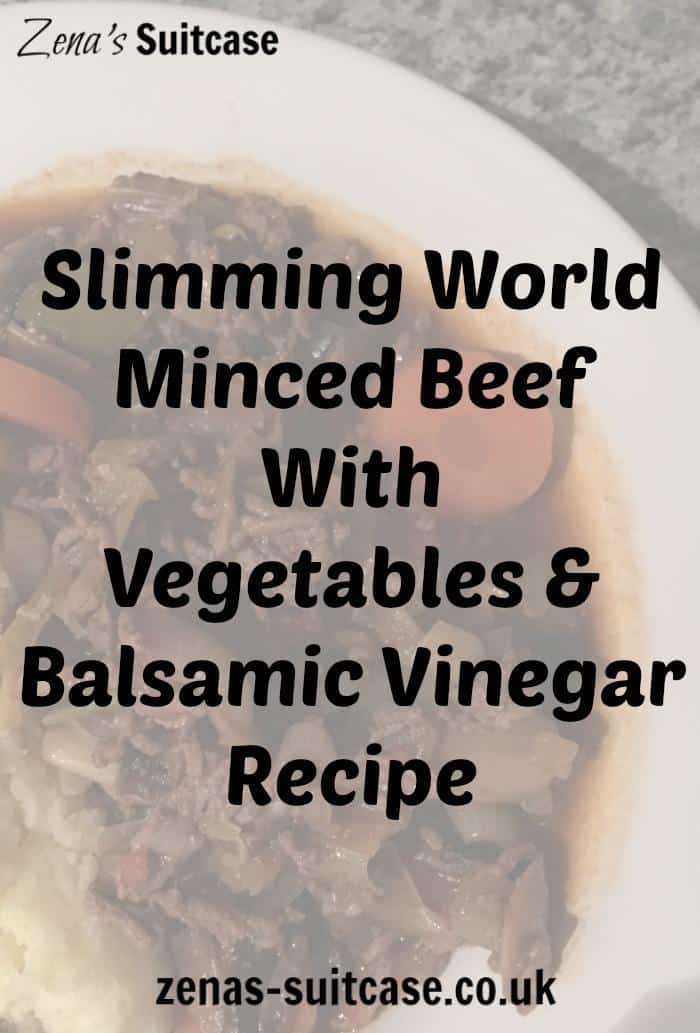 Ingredients
500g lean minced beef (less than 5% fat)
2 onions sliced
2 leeks sliced
2 carrots sliced
1 tin chopped tomatoes
2 cloves chopped garlic
sliced mushrooms
balsamic vinegar
1 litre of beef stock
salt & pepper to taste
Method
I always fry the mince beef in the pan first.  Once it's browned I drain off any excess water and fat, just to make sure it's Slimming World friendly.
Then add the the chopped garlic, sliced onions, leeks and mushrooms to the pan.  Stir the ingredients together and cook until the vegetables start to go soft.
The add the sliced carrots, litre of beef stock, tine of tomatoes, a couple of dashes of balsamic vinegar and the seasoning and stir well.  Bring the pan to the boil then simmer for around 20 minutes.  Once cooked, you may wish to add further balsamic vinegar or seasoning to add more flavour.
Serve with mashed potato.
These kind of meals are so easy to make, and mean that you can keep everyone happy on Slimming World.  Whatever it is that your family like to eat, I can guarantee you can find a few Slimming World versions that everyone can enjoy, whether they are joining you with the eating plan or not.
What have you been cooking this week?