Social media has been full of heart shaped cookies for Valentines Day, but there are some men who like their cookies a bit chunkier.  I really wanted to make my other half some cookies as a treat, but wanted something a more man sized, and a bit more rustic looking.  He likes big cookies, and is always buying those bags you can pick up in the bakery at the supermarket.  With that in mind, my easy triple chocolate chip cookie recipe was born.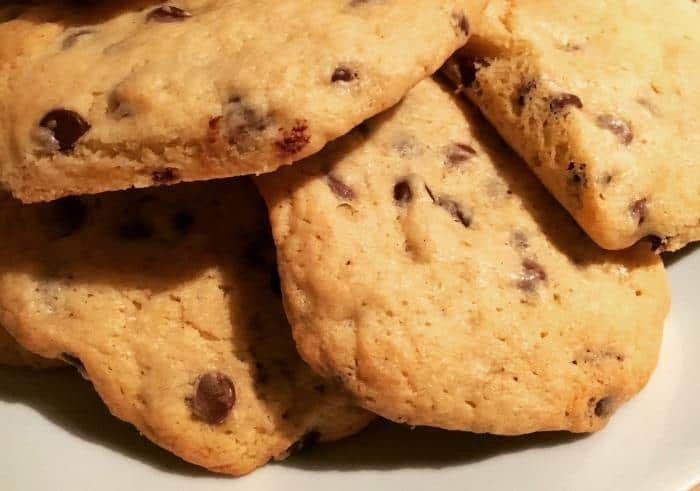 My husband really isn't the easiest man to buy a gift for, on any occasion.  When it comes to Christmas and birthdays I really struggle, so Valentines Day is even harder.  It's nice to be able to mark the occasion, but I wouldn't say either of us are overly romantic.  My ideal romantic treat would be to get away for the weekend without the kids, but when you have a young family, that isn't always possible.
I haven't baked anything for ages, so it had to be a simple recipe that delivered a tasty treat.  I've never baked cookies before either, but this recipe came out really well after just one attempt so I had to share it with you just in case you want to surprise your partner with some home baked treats.  You can have these cookies baked in around 40 minutes, so you won't be spending hours in the kitchen either.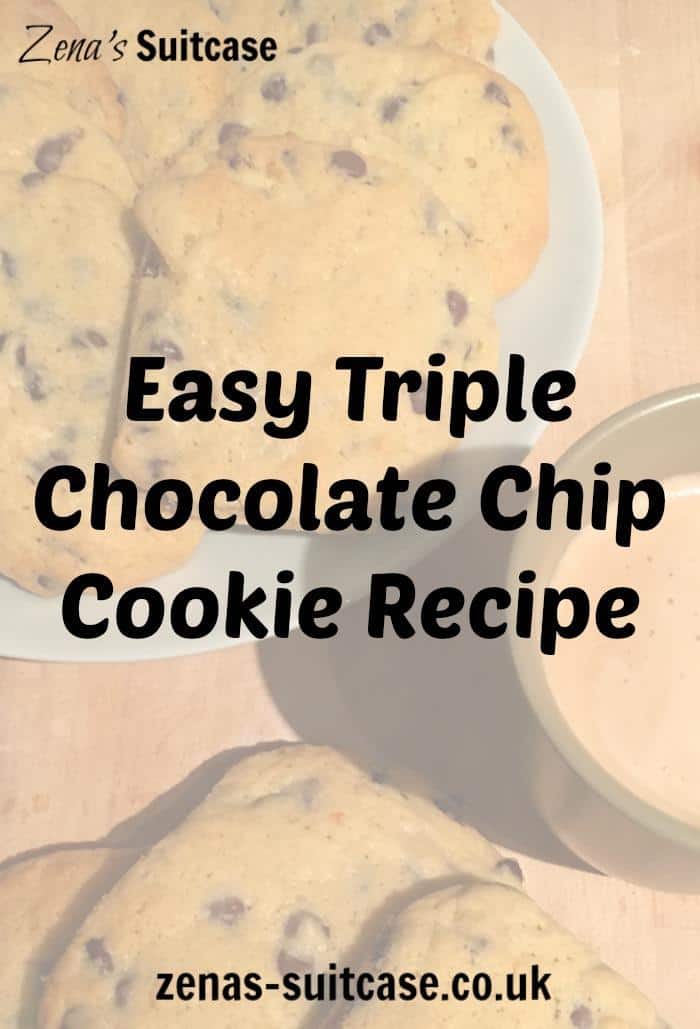 Easy Triple Chocolate Chip Cookie Recipe
Ingredients
Makes approx 14 cookies 
175 grams unsalted butter
125 grams golden caster sugar
100 grams caster sugar
2 tsp vanilla flavouring
2 eggs
325 grams flour
1/2 tsp baking powder
100g milk chocolate chips
100g dark chocolate chips
100g white chocolate chips
Method
Cut the butter into small cubes and place in a microwaveable bowl.  Pop the bowl in the microwave and melt the butter slowly.  Put the microwave on for 30 seconds to start with.  If the butter still requires melting after this, use smaller intervals like 10 seconds.  Leave the butter to one side to cool slightly.
Put the golden caster sugar and caster sugar into a mixing bowl, and pour the cooled melted butter over it.  Mix the butter and sugar together well.
Whisk the eggs together and then add it to the butter and sugar mixture along with the vanilla flavouring.
Add the flour, baking powder and all the chocolate chips to the bowl.  Fold all the ingredients together slowly until they become a cookie dough.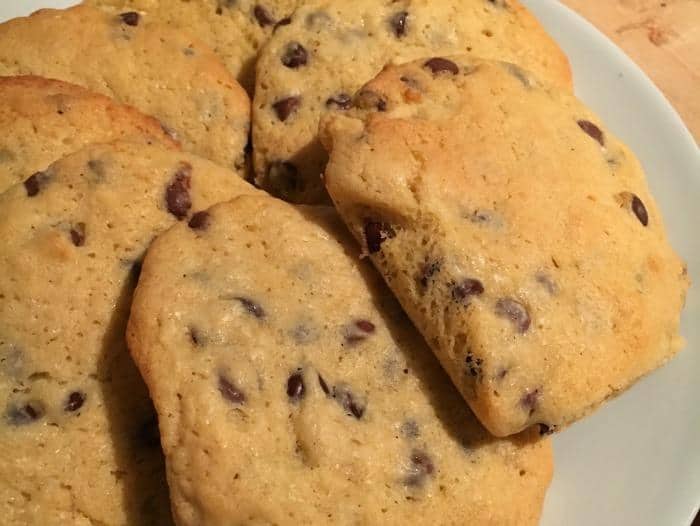 Heat the oven to 170C.
Place some greaseproof paper on your baking trays and use a large spoon or scoop to put your cookie dough on the trays.
The cookie mixture will spread out during cooking so make sure you leave plenty of space around each cookie.
Cook in the oven for about 15-17 minutes or until the edges of the cookies are golden brown.
Remove from the oven and leave to cool for a few minutes before transferring them to a wire rack.
Your man size easy triple chocolate chip cookie recipe is now ready to enjoy!