I'm going to Iceland in a few days, and I'm literally so excited.  I think the adventure and the landscape will absolutely blow us away.  We have hired a car, as I think this will be the best way to explore what the country has to offer in the short space of time we have there.  I'm feeling a little nervous about it, but when I saw some YouTube footage of driving from the Keflavik airport to Reykjavik it made me feel a lot better.  There was literally no cars on the road, so even I will struggle to hit something.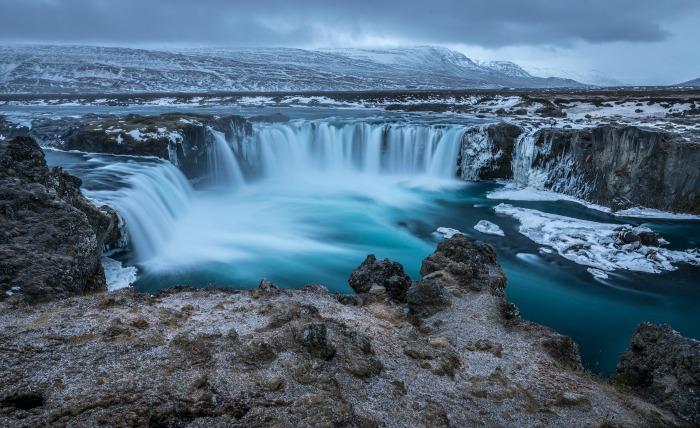 We are flying from Gatwick airport after a night at the Sofitel Hotel.  We fly early, so a good night's rest is essential.  I need to be fresh as a daisy for picking up the car and hitting the road when we arrive.  We are travelling with hand luggage only and being warm is at the top of my agenda.  It's going to be a squeeze, but this is my Iceland packing list for our 4 day trip.  I'm told that you don't have to worry too much about dressing up in Iceland at any time of day.  That suits me just fine as casual and comfortable work best for packed itineraries.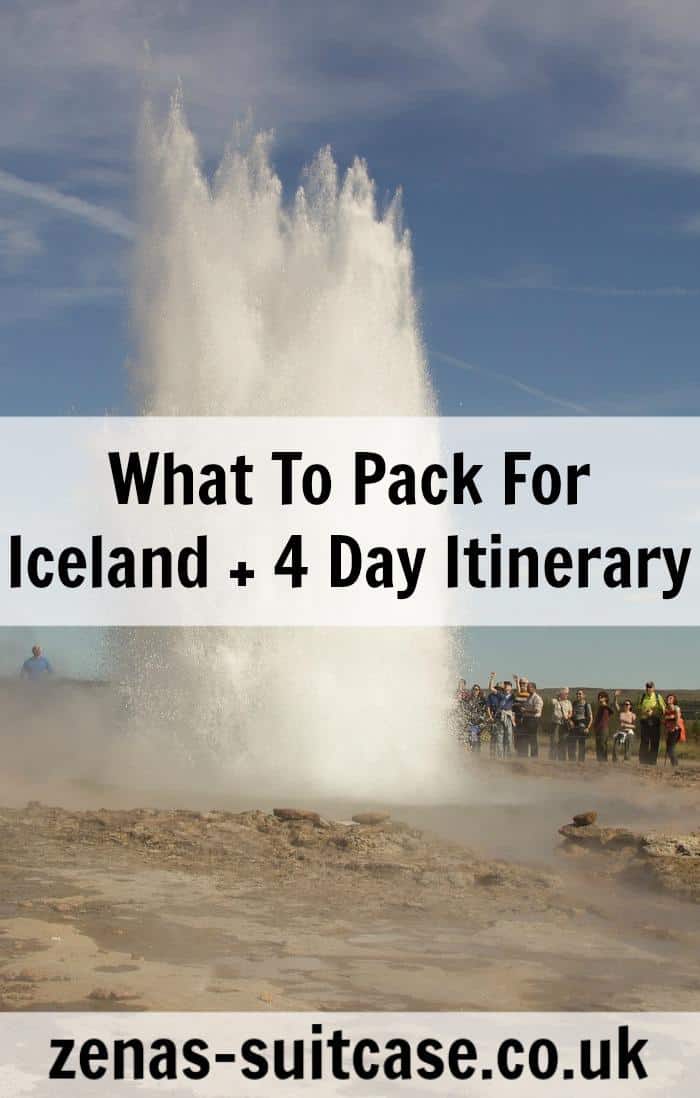 Iceland Packing List
Down Jacket
Fleece Jumpers/hoodies
T-Shirts
Thermal Socks
Thermal Vests
Thermal Leggings
Comfortable trousers
Snow boots
Leather gloves
Wooly Hat
Toiletries including a good moisturiser
Underwear & PJ's of course
Swimming costume (for Blue Lagoon)
Zip lock bags (for food or anything that gets wet)
Camera & Go Pro
Tripod (for taking pictures of Northern Lights)
Day One – South West Coast
We land in Iceland at 10.20am and the country is on the same timezone as the UK so we should be raring to go.  After picking up the car we will explore the wild South coast in search of waterfalls, black beaches and glaciers.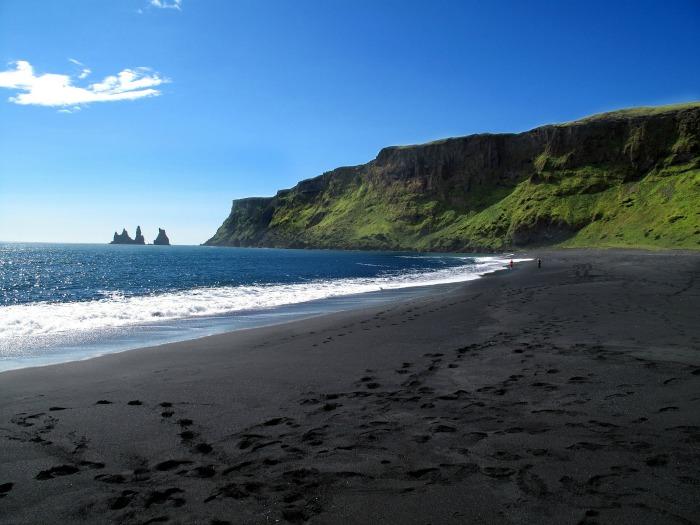 We'll head towards the fishing village of Grindavik passing the Hafnaberg Cliffs en route.  The end destination will be Vik, or as near to as we can get to it.  I'm more concerned about what we see along the way, and if we spot puffins, geysers and inspiring landscapes it's about stopping and taking them in as much as it is getting to the end destination.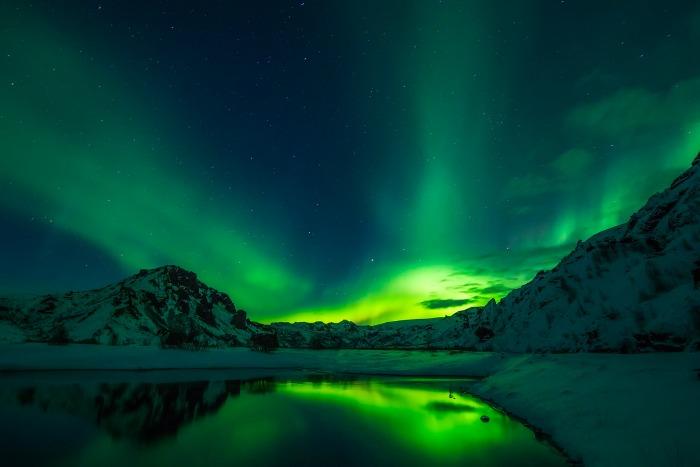 After our south Iceland road trip, we'll be heading back to Reykjavik for the evening, keeping one eye out for the Northern Lights along the way.  If you are a first time visitor to Iceland I highly recommend checking out this Northern Lights guide as you do not want to miss out on this experience!  Assuming we've survived the first day in one piece (I'm sure we will), I think a good night's sleep will be in order to recharge the batteries for day two.
Day Two – Reykjavik
This day is ear marked for exploring Reykjavik with first of all taking in Tjornin or Old Reykjavik.  We will then head to Hallgrímskirkja, Reykjavik's iconic and impressive church.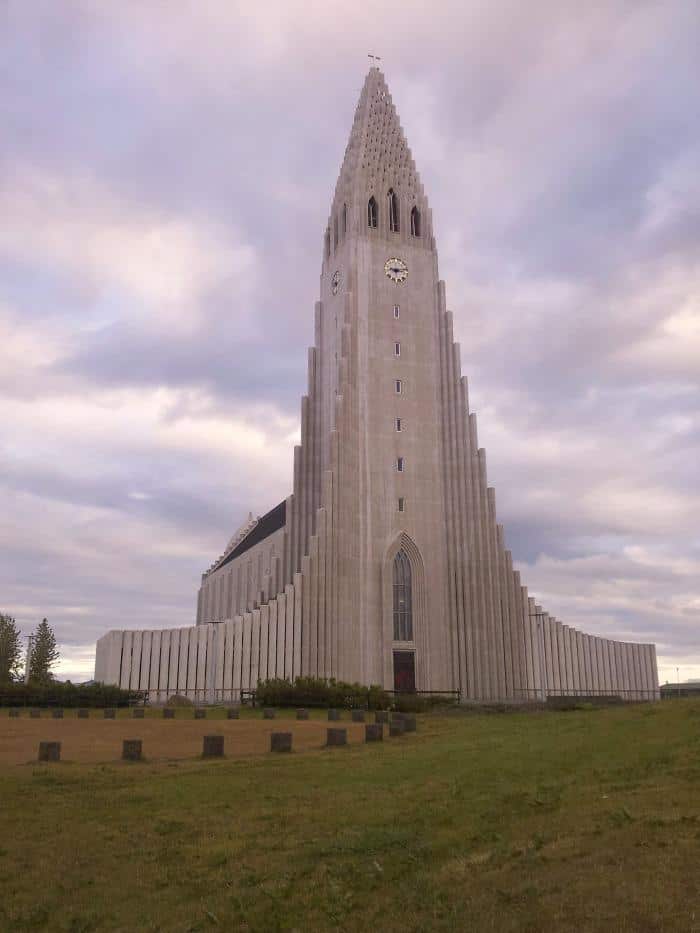 Hopefully the day will also allow time for a visit to one of Reykjavik's museums to learn more about the local history before heading down to the Old Harbour to take a classic whale spotting tour with Elding.  I really hope the whales are making an appearance that day as this is going to be a real highlight of the trip.  Seeing a whale in it's natural environment is the stuff bucket lists are made of.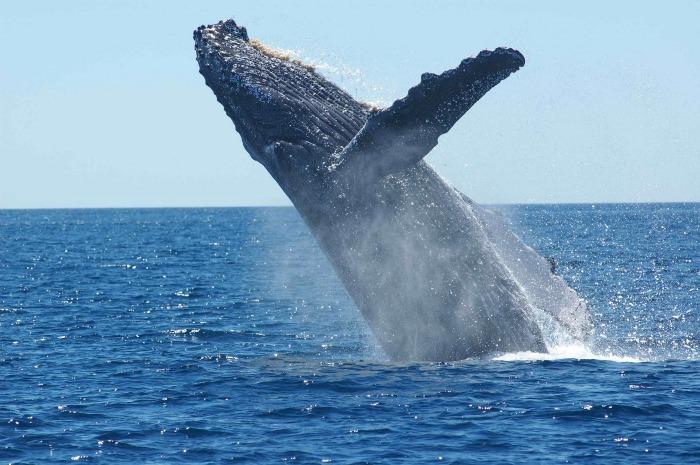 In the evening, we may head out of town to get another glimpse of the Northern Lights.  This may be a once in a lifetime experience so we need to make the most of it.
Day Three – The Golden Circle
Back in the car for another Iceland road trip, and on day three it's about the Golden Circle.  We know we don't have time to take on Iceland's famous ring road, but we hope the Golden Circle will showcase what Iceland has to offer in a more manageable time frame.
The Golden Circle features 3 main stops, including ÞINGVELLIR NATIONAL PARK, Iceland's national shrine and where the first parliament met back in 930 AD.  Next is Haukadalur Valley, home of the Great Geyser, which shots an impressive 40 metres high.  The last stop will be Hvítá glacial river, where the mighty  Gullfoss, the Golden Waterfall draws tourists from all over the world.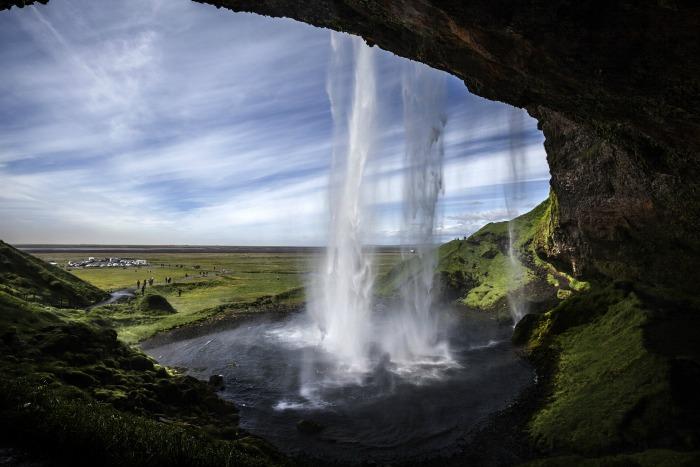 Day Four – The Blue Lagoon
There is no way two women could visit Iceland and not spend a good part of a day at the Blue Lagoon.  It's located about halfway between Reykjavik and Keflavik airport making it an ideal activity for the final day of our Iceland trip.
We will be taking a leisurely drive to the Blue Lagoon and spending the day there before heading back to the airport for the trip home.  Having soaked up all the healing properties of the mineral rich thermal waters we should feel suitably relaxed for the flight home.
What do you think of our 4 day Iceland itinerary?  Are there any places you think we should add during our road trip?