My first visit to Iceland taught me a few things about travelling to the country and I would definitely do a few things differently but there are also some things I would do the same.  If you are after some travel tips for visiting Iceland, then these are the things I learnt during my recent Icelandic road trip.
Hire a Car
If you are thinking about whether you should hire a car in Iceland, my advice to you is you should definitely do it.  I haven't driven on the right for years, so I was a little bit nervous before the trip.  I really shouldn't have been, as there are literally no cars on the road in Iceland.  When we were picked up to collect our hire car, four cars drove past our minibus.  At that point the driver said it was a busy road, which made me chuckle after being used to a city.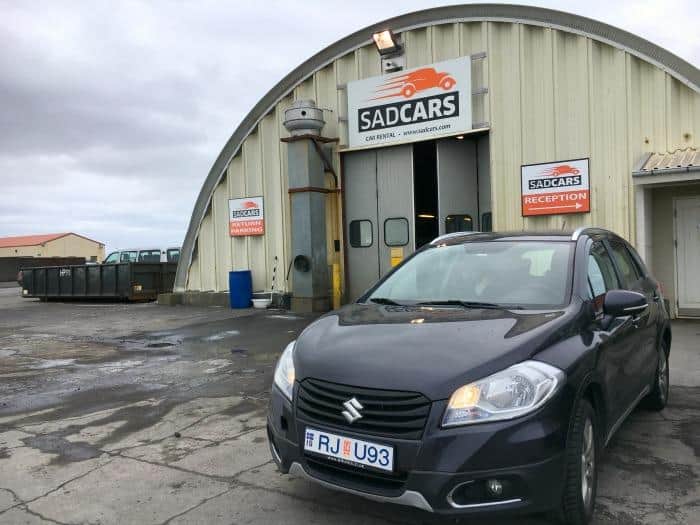 My advice would be to invest in a decent hire vehicle.  We had a 4WD and it came with snow tyres.  You don't need a sat nav.  We hired one, and only used it once.  We managed with the maps from our travel guide along with a bit of guess work the rest to the time.  It's not a difficult country to get around, even though they are a bit short on road signs. 
Also, I strongly recommend not driving into a snow drift unless you have hired a rope to get you out again.  I would have hated to be this old couple stuck on the Golden Circle route.  Fortunately we saw them again later on, so I guess someone pulled them out.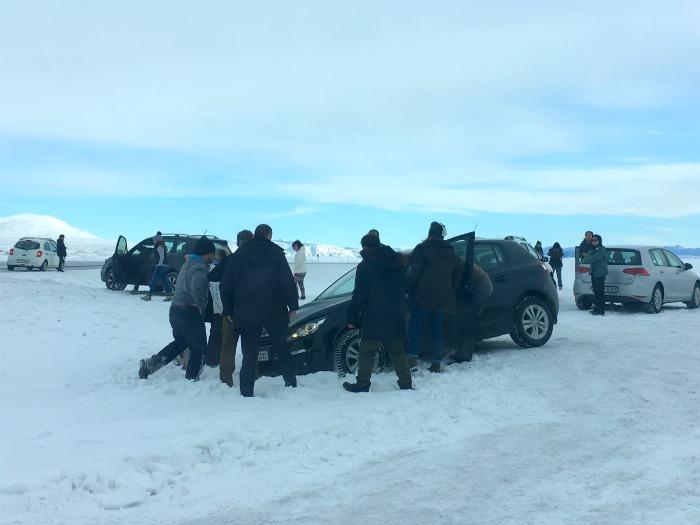 Stay in Different Places
When I go back to Iceland I will definitely plan a route and stay at different places along it.  We stayed in Reykjavik for four days which did limit how much of the country we could explore as we were always starting from the same point everyday.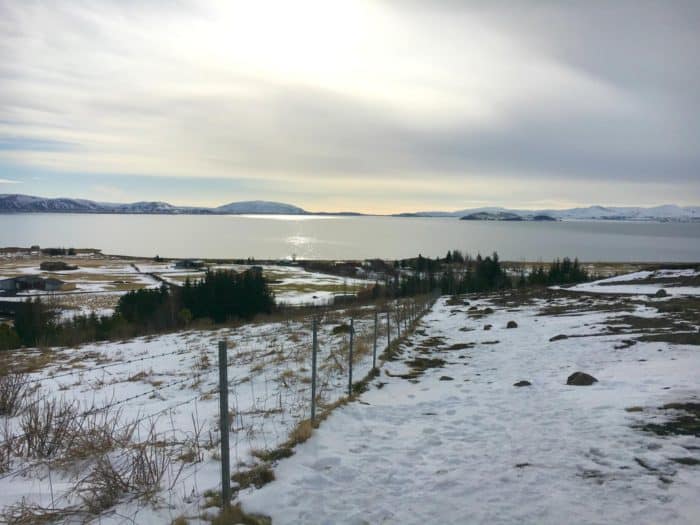 Even with just a 4 day road trip I think we could have covered a significant part of the South of Iceland.  By staying in Reykjavik we were able to cover the majority of the South West of the country.
Seeing the Northern Lights
Unfortunately we didn't manage to see the Northern Lights.  We thought having a car would really help us, but it wasn't as easy as that.  Staying in Reykjavik meant we always had to think about driving out of the city to see them.  The best time to see the Northern Lights, according the forecasts for March, was midnight.  After we had been travelling all day the last thing we wanted to do is go out for a midnight drive.
We found a spot on the edge of Reykjavik, near the lighthouse, where there was very little light pollution to try and see them.  We did manage to get there at midnight one evening, but then it boiled down to how long we were prepared to wait in the cold.  We managed about half an hour at most.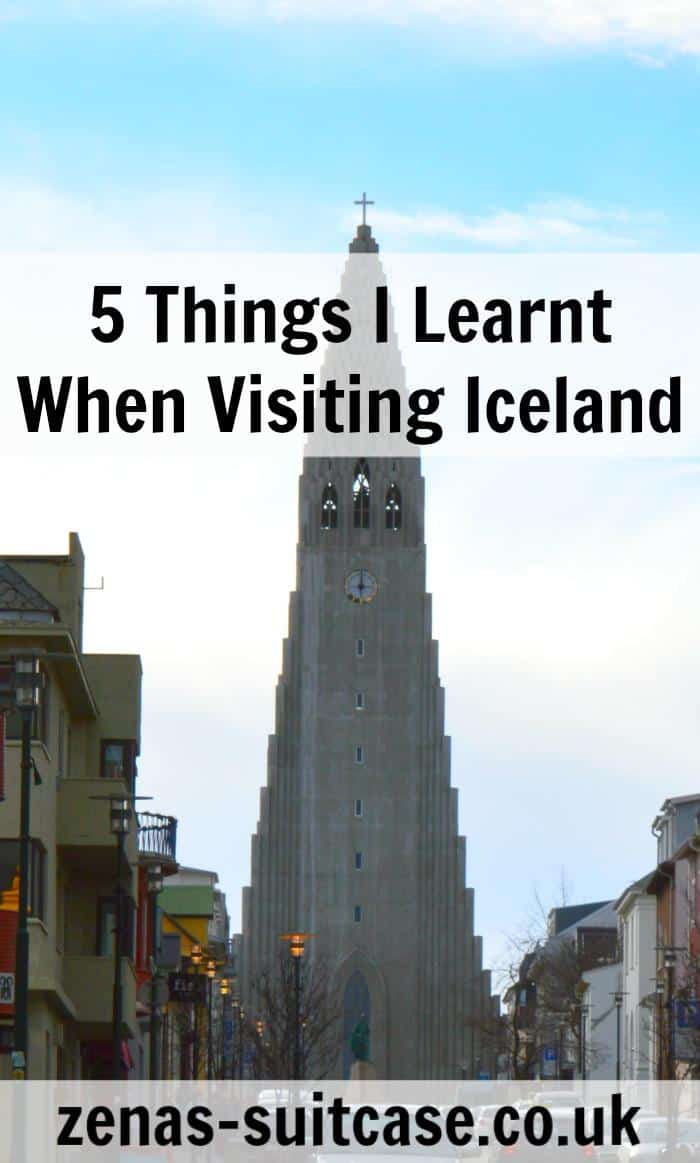 On my next visit to Iceland I would either book a Northern Lights tour or try and stay in a remote log cabin where the chance of seeing them was high, cloud cover allowing.  The bonus of going on a Northern Lights tour is they know where to take you and whether there is a good chance of seeing them at all.  Also, after a busy day sightseeing, sitting on a bus  and letting someone else do the work actually seems like a good idea.
Iceland is Expensive
I think that most people who have visited Iceland will tell you that it's expensive and they are right.  I spoke to my friend Mel from Fly Drive Explore who gave me the excellent tip of buying alcohol at Duty Free as drinks in Iceland are very expensive.  We also picked up some sandwiches and snacks at the airport to make a picnic for the first leg of our road trip.
I would also suggest that as soon as you see a supermarket, pop in and grab enough food for the duration of your trip.  Our biggest mistake was not doing this when we first saw a Bonus store.  We were so keen to start our road trip that we didn't pop into the supermarket next to  the petrol station, but we never seemed to time it right after that.  We did pop into a 10-11 store, but to be honest they are quite expensive and the food didn't look particularly appealing.  We left with a packet of Pringles and a box of Chocolate biscuits to get us round the Golden Circle.
I was really impressed with the quality of the tap water in Iceland and filled my bottle every day for my main drink.  To be honest it was better than a lot of bottled water I've tried so definitely make the most of this free drink supply.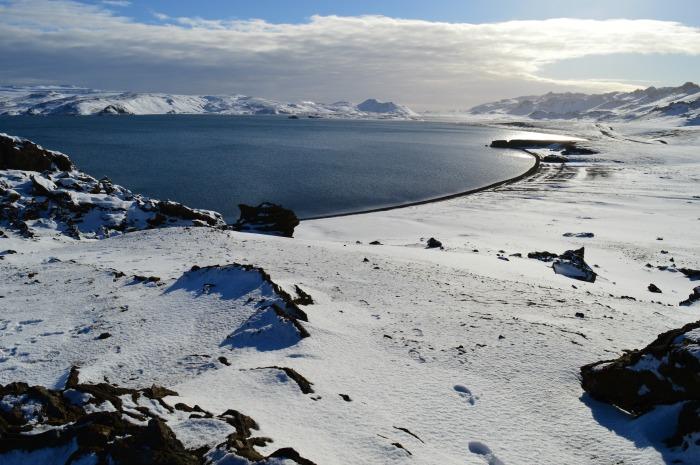 We did eat out at some very nice and reasonably priced restaurants and if you need some ideas of where to eat in Reykjavik I would happily recommend these places.  The first restaurant we went to was Ban Thai, a real favourite with the locals, and I'm inclined to agree with them.  We had 2 starters, 2 mains with rice and 2 cokes and it came to £70.  Not necessarily cheap, but the food was delicious.
Our next stop for food was after we went on the whale and dolphin tour with Elding.  After you've spent 3 hours sailing around the North Atlantic you start to feel a little bit hungry.  We spotted a burger bar on the Old Harbour, and it turned out to be Tommi's Burger Joint which is making a big hit in London.  We had 2 double cheeseburgers, double fries and 2 drinks and it came to £30.  The burgers were awesome!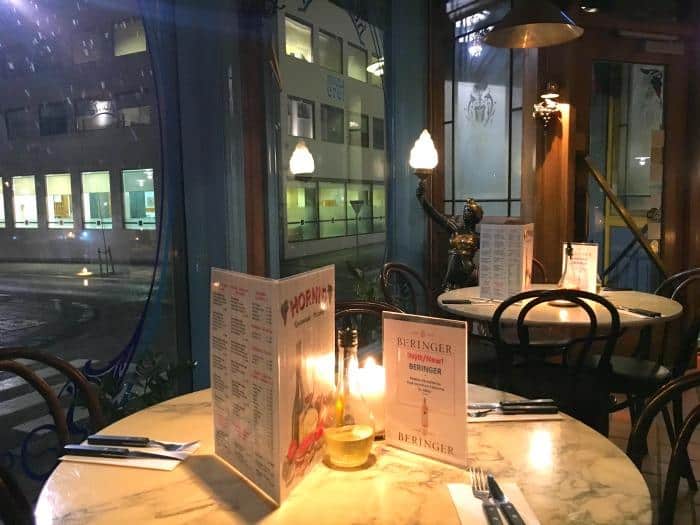 On the final night, we went to an Italian restaurant called Horni∂.  The food was delicious, kicking off with a very tasty garlic bread.  I went for a meatballs and pasta and my friend enjoyed a freshly cooked pizza.  We finished off with tiramisu and coffee and the total cost of the meal was around £70.
The most expensive thing we had, relatively speaking, was coffee and cake.  We stopped in a cafe just near the Old Harbour before our whale watching trip and 2 drinks with a cake each came to £20.  We made sure we sat there a while and made the most of the wifi so we felt like we had got our money's worth.
Iceland is Everything You Think It's Going to Be And More
If going to Iceland is on your bucket list, my advice to you is tick it off sooner rather than later.  My first visit to the country completely blew me away and I cannot wait to go back and explore more of what Iceland has to offer.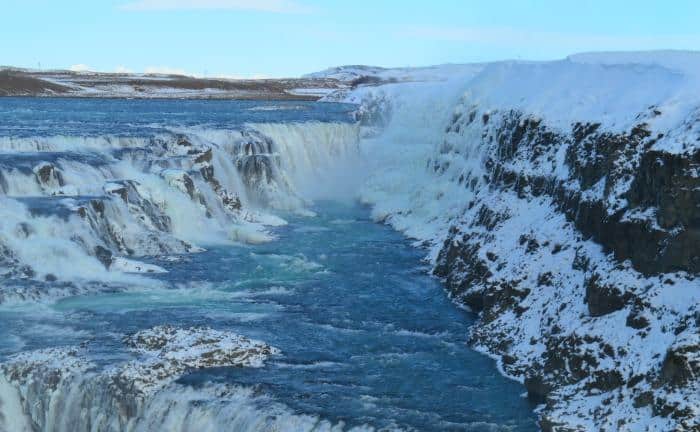 You can look at pictures and watch programs about it, but it's still not the same as being there and seeing it for yourself.  When I saw Gullfoss waterfall for the first time, my brain thought it was looking at some kind of CGI.  The landscape was made all the more dramatic with the recent snowfall and the icicles that framed the waterfall were spectacular. Add to that the power of rushing water and seeing rainbows in the mist and you have a once in a lifetime experience right there.
If you'd like to see more pictures and read more about my experience in Iceland, then pop over to my Instagram feed and follow me there too.