Since we visited Amsterdam, so many people have said to me they had not thought of taking their children to the city, which I think is a real shame.  In the UK, Amsterdam still seems to have a reputation for being an adult destination and a particularly  big hit with Stag and Hen do's.  This is such a shame as Amsterdam has lots of activities for families with children, and can be a great introduction to travelling for younger explorers.
My daughter picked all the places we visited in Amsterdam, so I can assure you that all these ideas are child friendly and would make a great addition to your travel itinerary.  If you are looking for things to do with kids in Amsterdam, these are the places we visited.
Artis Zoo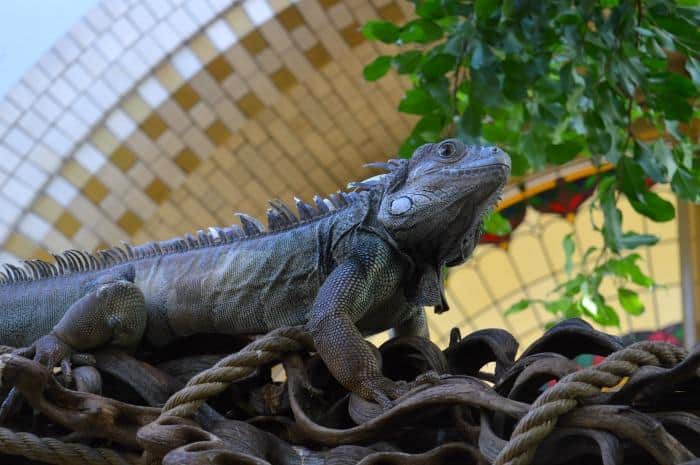 Our first stop was Artis Zoo, which was just a few tram stops away from our hotel.  Our visit to the zoo was included with the i amsterdam card, but we still had to queue to to collect our entrance tickets.  The zoo is very open and gives a sense of space for the animals.  Our favourite exhibit was the reptile house where you walked through the enclosure are were constantly spotting the different creatures around you.   There were also giraffes and penguins amongst many more interesting animals.
Canal Cruise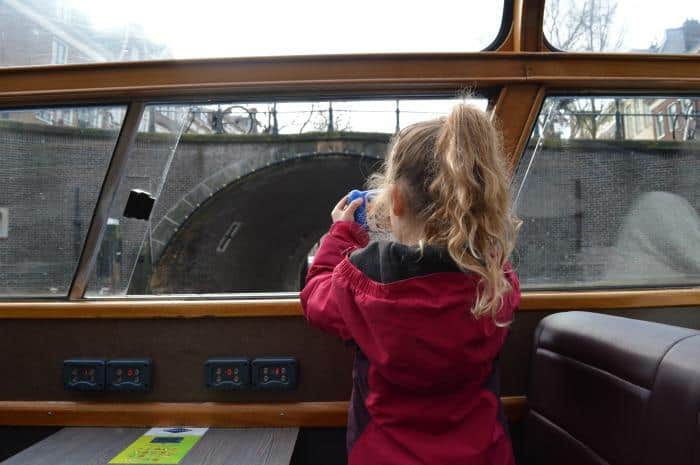 A canal cruise is an interesting way to see the city, and also gives tired legs a well earned break.  If you go to Central Station there are lots of canal cruise stops.  A standard canal cruise takes about an hour to complete and are all fairly similar in duration and route.  The boats are covered in case of rain, but they are also see through and have plenty of windows that can be opened on dry days.   In the height of the season they can get busy, so you may want to be strategic about when you take your canal cruise and when to start queuing.
NEMO Science Museum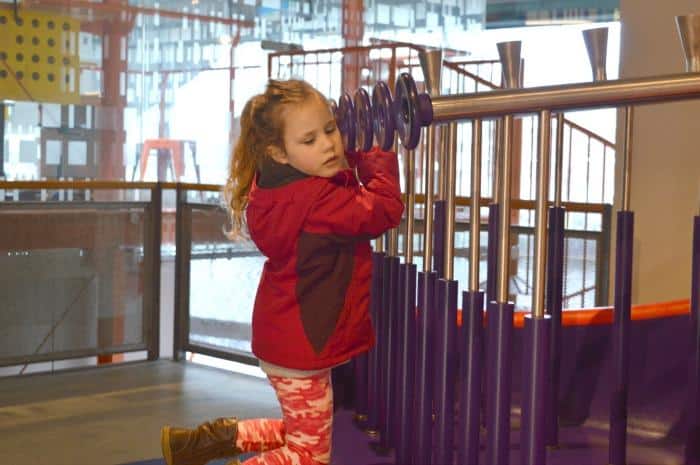 The NEMO Science Museum is quite possibly on of my favourite places to visit with children in Amsterdam.  The building itself is pretty unique but inside is where it really comes to life.  It's a scientific interactive playground for children of all ages spread over 5 floors.  Give yourself plenty of time to visit properly as I suspect that your children will not want to leave.
Visit The Cat Boat
I didn't even know that such a thing existed in Amsterdam until I visited with my daughter, but a visit to the cat boat was something she was desperate to to.  I have to admit I was kind of curious too.  On Singel, there is a cat boat sanctuary called Poezenboot.  It provides a shelter for stray cats found in Amsterdam, and is worth a visit by any animal lover.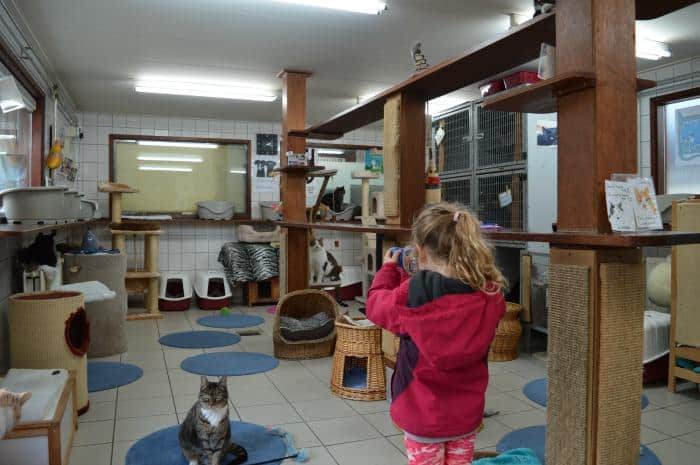 It opens for a few hours a day and we visited between 1pm and 3pm.  It relies on donations so pop a few Euros in the box when you go in.  You can take photos, but don't use a flash.  Some of the cats are friendlier than others so take a look at the pictures of who likes to be stroked and who isn't quite so keen.
The Royal Palace
Another favourite place to visit for my daughter was The Royal Palace.  It was 10 Euros to enter the attraction for the both of us as it's not included with the i amsterdam card.  They had a fantastic children's tour guide and a puzzle to go with it.  As we went round the Palace, we answered the questions and popped stickers on our medal when we found the answer.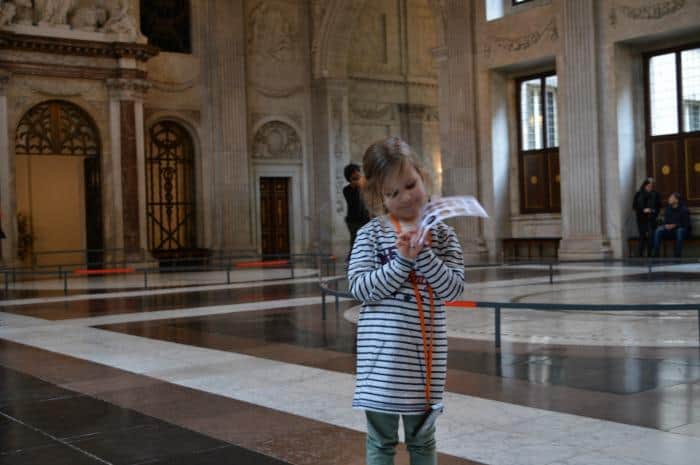 We both used the same guide so that I could help my daughter if she got stuck.  My daughter loved this activity and it was a fun way of exploring the Royal Palace and finding out more about it's history.
The Flower Market
It surprised me when my daughter asked to go to the Flower Market but she had seen it in books and really wanted to take a look. Colourful floating flower stalls surrounded by Dutch cheese shops are going to be a hit with most people I think. If you talk to your children about where they want to visit and get them interested before hand you might be surprised about what they add to the itinerary.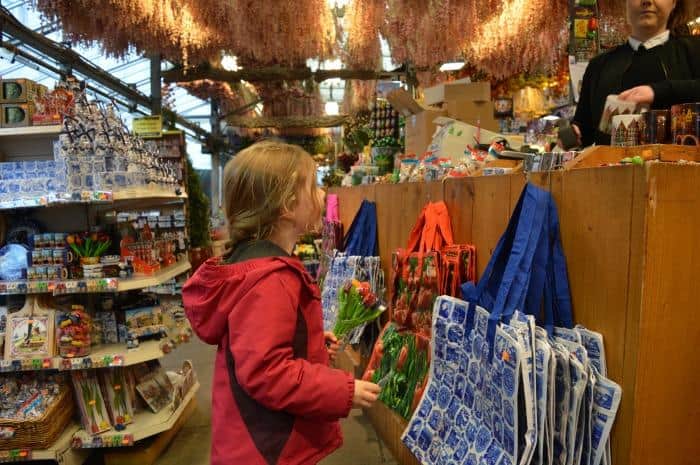 Tropenmuseum
On our last day we visited the Tropenmuseum.  It's Amsterdam's museum dedicated to people and culture from all around the world.  Amsterdam is an incredibly welcoming and tolerant city so it makes sense that they have a museum that celebrates all that the world has to offer.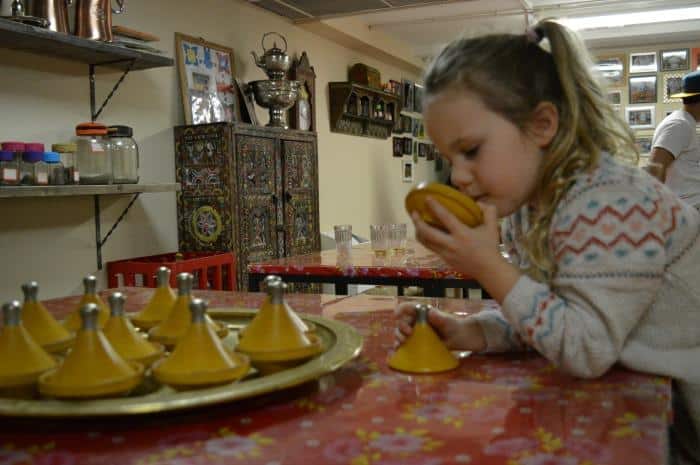 We loved the children's museum and ended up taking an unexpected flight to Morocco to explore a traditional medina.  We also made an African pendant as a lovely keepsake before heading home.   It was a lovely end to our trip.
This list is by no means exhaustive and there are plenty of other parks, museums and activities in Amsterdam that children will find interesting. My daughter is 5 years old and in my opinion these activities were perfect for her age group.
If you had not considered Amsterdam for a family break, I really hope this list has changed your mind and you'll be off exploring the city sometime soon.