Since coming back from Iceland, I've been reflecting a lot on my experience of visiting the Golden Circle.  Did I enjoy visiting the Golden Circle?  Well the answer is both yes and no.  Yes, I did see some really spectacular things but I didn't enjoy this part of the road trip as much as I thought I would.  There were definitely some highlights, but we covered a lot of ground to see them as well. If I was to go back I'd follow a route like the Game of Thrones Iceland road trip.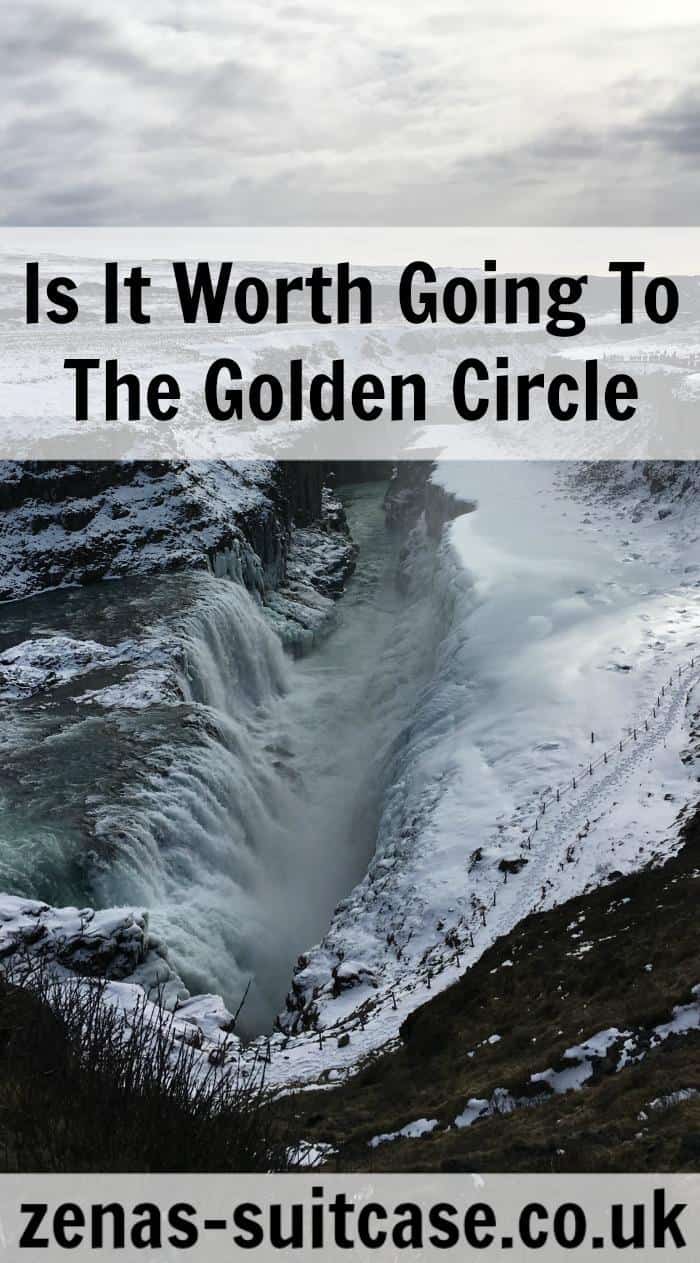 Our first day in Iceland set the bar very high in terms of the number of different things we got to see, in a relatively short space of time.  The things I was looking forward to the most in Iceland where seeing it's natural wonders.  I planned our road trip around seeing waterfalls, cliffs and geysers.  Iceland does have a fascinating history along side it's natural beauty, but I'm more about seeing what a place has to offer.
The Golden Circle – Iceland
We set off on day 3 of our Iceland road trip to take on the Golden Circle, and we were brimming with anticipation for what the day had in store.  I was the designated driver, while my travel companion took charge of the map reading.  We did have a sat nav in the car, but we decided to use the old fashioned method of navigation.  It seemed to add to the fun.
Pingvellir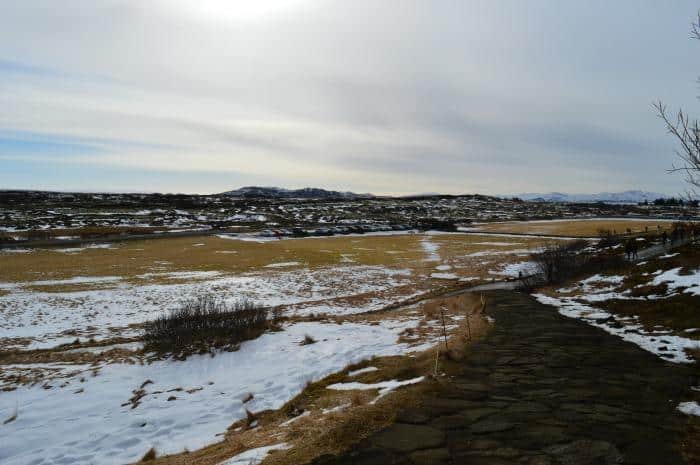 We headed in the direction of Pingvellir, Iceland's first national park.  The route was certainly beautiful, and there were places along the way where we jumped out of the car for a quick photo.  The mountains had been covered in snow, which made for a pretty incredible setting.
We saw a waterfall from the road, and decided to go and explore some more.  After following the path, we came to a relative small waterfall by Iceland's standards.  It was still beautiful, but my travel partner was clearly unimpressed.  We got some photos, but decided against playing stepping stones across the water like some of the braver tourists.  What some people will do for a perfect shot is interesting.  I enjoyed scrolling through Instagram later and spotting their photographs.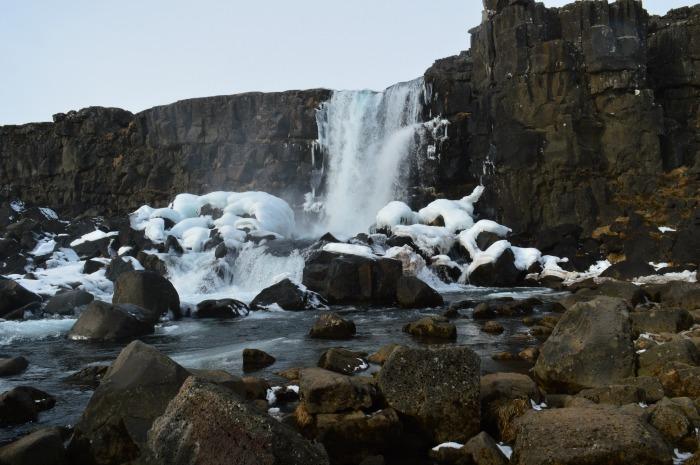 Geysir and Stokkur
There were a few other places in this area, but as there was quite a bit of driving involved on this route, we decided to get back in the car and carry on to the next stop.  There is no mistaking arriving at the Great Geysir, as it's one of Iceland's most popular tourist destinations.  It was really busy, but still worth visiting.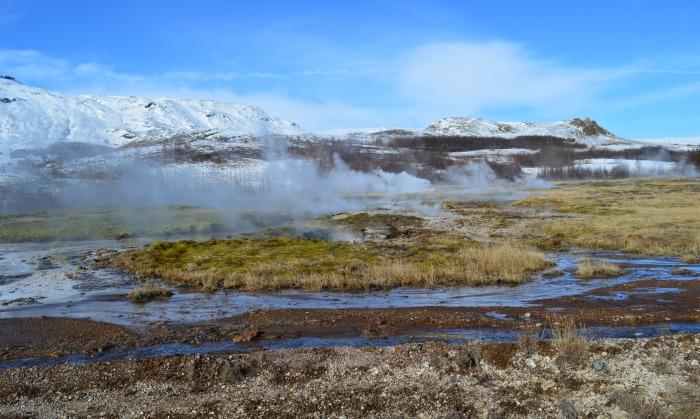 The landscape around the Great Geysir is incredibly active, and steam is constantly rising from the ground.  Now, I hadn't realised the difference between the Great Geysir and Stokkur until it came to writing this post.  The Great Geysir was the original water spout after which all others were named.  It had been known to shot up to 80m in the air until around the 1950's.  It's thought that the rocks etc that had been thrown down it over the years to set it off had caused a blockage, and now the Great Geysir is pretty much in active.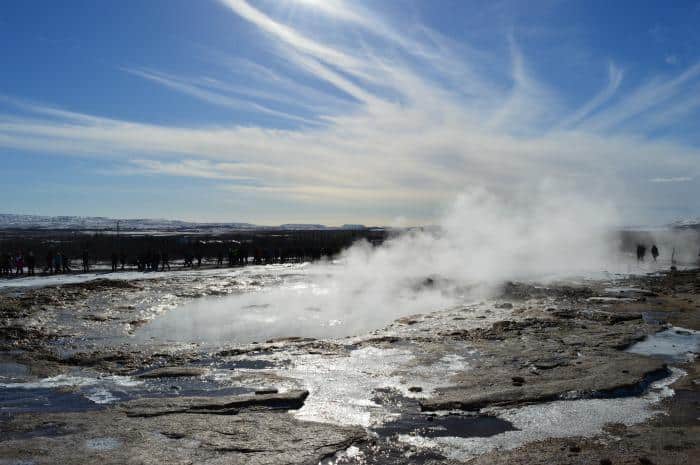 It's Stokkur that everyone now sees firing water up to around 30m in the air.  It might be a bit smaller but it's still pretty impressive.  During our visit, the water was shooting up between every 5 and 10 minutes.  We were close enough to watch it erupt into the air with a very impressive wall of steam.  Even though I knew it was coming, it still made me jump every time.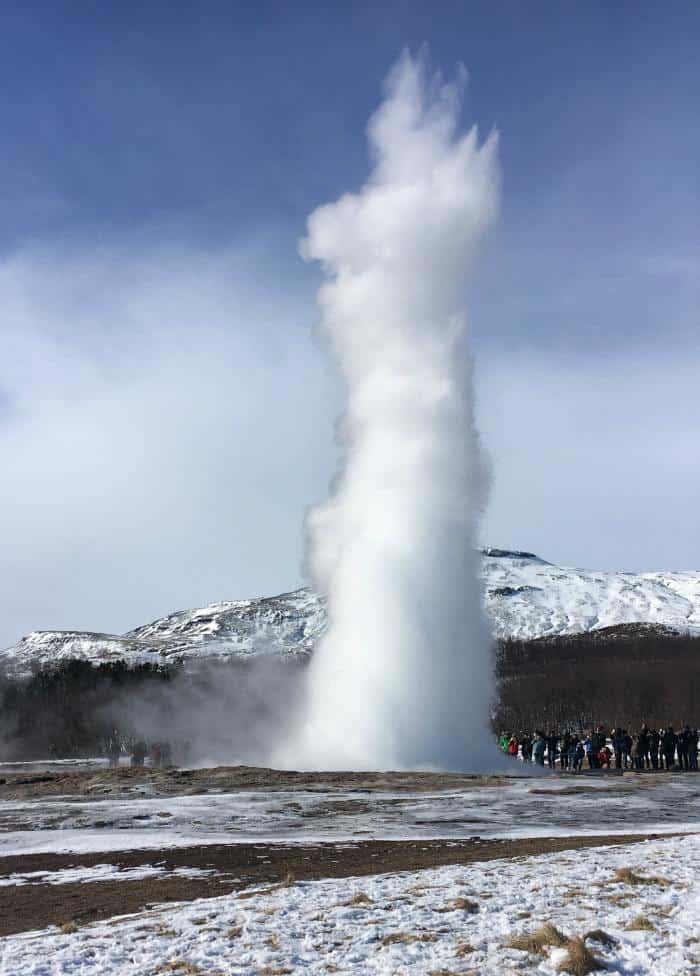 We decided it was time for some hot food, as our stash of Pringles and chocolate biscuits weren't cutting it anymore and we popped into the cafe.  We were prepared for the fact it was going to be expensive, but were happy to bite the bullet (that was a really bad pun wasn't it!).  We found a rather tasty traditional Icelandic lamb soup that we could help ourselves to.  The soup turned into more of a stew as we filled our tubs with as much of the meat and vegetables as we could!  It definitely hit the spot, and so it should at around £10 per bowl!
Gullfoss
We left the Geysir behind in search of Gullfoss.  This is Iceland's most famous waterfall, and it is incredibly spectacular to see.  I've shared a few photos of Gullfoss on my Instagram feed, but very few pictures will actually do it justice.
As you walk the paths towards Gullfoss, the first thing you notice is the noise.  The sound of the water alone is incredible, and then when you see it in action it completely blows you away.  I think the snow and ice on the landscape really adding something to it's beauty, making the greens of the water even more spectacular.  It certainly made the first waterfall we saw look like a baby in comparison.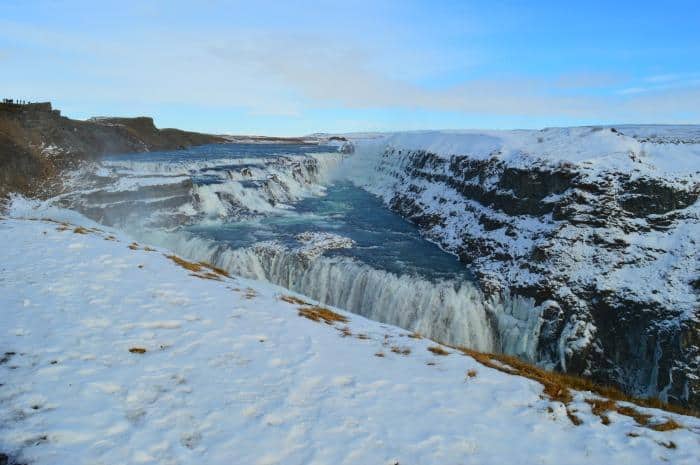 Back To Reykjavik
Once we had seen and heard Gullfoss from every possible angle, we jumped back in the car to finish off the Golden Circle.  We had wanted to head into the Highlands, but the road was blocked and we probably didn't have the car for it anyway.  Instead we drove towards Selfoss, which was an area we had touched on during our impromptu road trip on day 2.  We joined route 1 and headed back towards Reykjavik as the weather was turning a little bit bleak.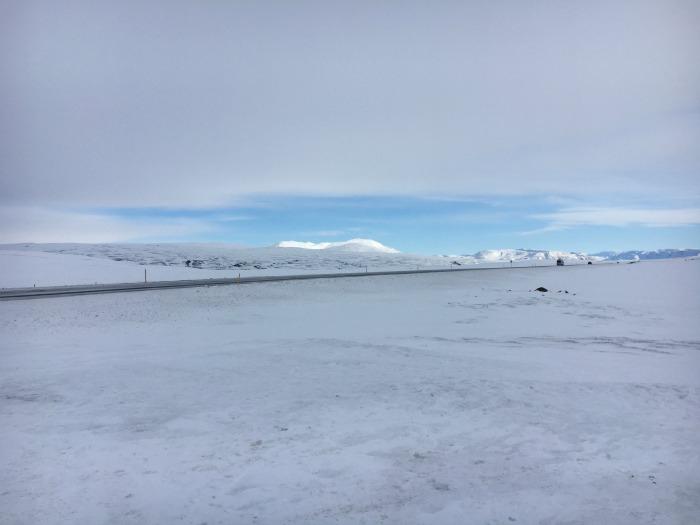 There were no more spectacular sights for the rest of the trip, and when you are driving, you only get to glance occasionally at the landscape around you.  It's not really conducive to taking it all in.  I really did enjoy what we saw along the Golden Circle, but we spent a lot of time in the car, relative speaking, to see them.  If I was to visit again, I might consider taking a bus tour so I can gaze out of the window and watch the world go by a bit more.
Things I Learnt About The Golden Circle
It takes all day to cover the main sights.
There's a fair amount of distance between each stop.
Pingvellir is beautiful and you will find a small waterfall in this area
Geysir and Stokkur are very busy, but well worth seeing.
Stokkur erupts around every 10 minutes so you don't have to wait long.
Gullfoss is really amazing.
There are towns and other places of interest to visit along the Golden Circle.
If you are the only driver, this route can be quite tiring.
Did you like this post? You might also enjoy reading about our experience at the Blue Lagoon.