I would go back to New York in a heartbeat, as it is such an awesome city, and it's only 7 hours by plane from the UK. Compared to some parts of the USA that isn't bad at all.  As first time visitors in NYC last year, we were literally blown away by it.  There are very few cities in the world that are on the same scale as New York, and it leaves you aghast from the minute you arrive to the minute you leave.  It's not called the 'city that never sleeps' for nothing!
Just to give you an idea of the scale this city operates on Netflights found out what happens in a typical New York minute.  If you need to know how many cups of coffee are drunk, how much money is traded on Wall Street or how many Instagram photos are taken every minute in New York City, then the answers are right here.  When you visit New York City for the first time, it's energy is completely infectious, and you become apart of this insane whirlwind of activity.  We drank strong coffee every day from the kiosk on the corner of our street.  My son never drinks coffee, but he liked New York coffee! We took so many pictures, it was crazy, but we also have some great memories to look back on.
Visiting Times Square, New York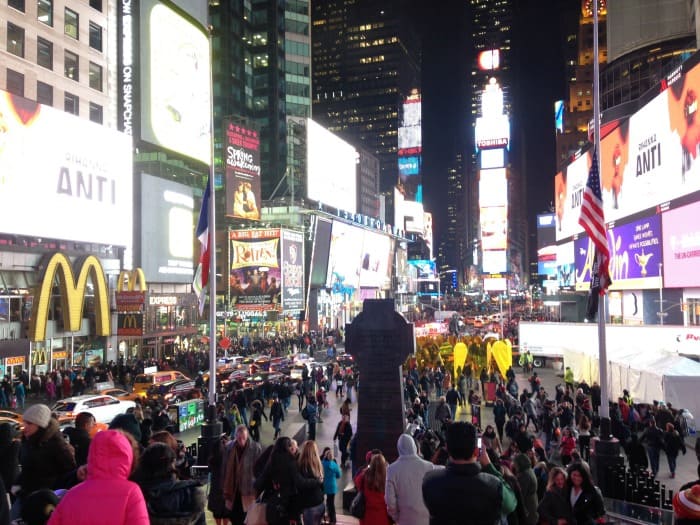 There is something happening in Times Square no matter what time of day or night you visit.  Pop by early in the morning and you can catch a glimpse of Good Morning America being filmed, and maybe become apart of the show.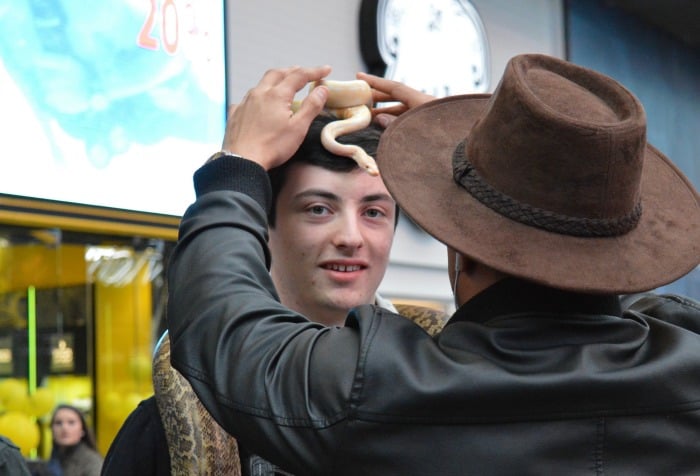 During the day crowds of tourists descend on Times Square from all over the world to capture a glimpse of the famous landmark, as do the street entertainers who try to capture your attention.  You are never far away from a spot of break dancing or someone trying to put a snake on your head if you stand still to long.  Visit Times Square at night and see all the billboards come to life and watch everyone try and snap the perfect selfie from the observation steps.
Top of the Rock Observatory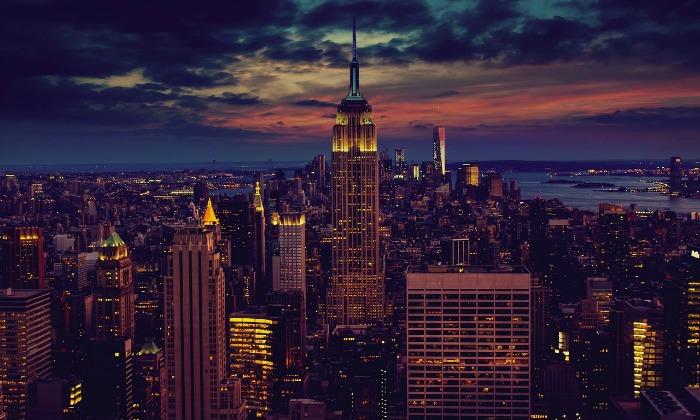 The New York skyline is iconic, and for those that have seen it on TV shows and films for many years, one of the best places to get your first glimpse of is at the Rockerfellar Centre.  Head there for sunset, if you can, and be transported up 67 floors in around 50 seconds in their uber fast elevator.  Once you are there you can enjoy a breathtaking 360 view of the city including the famous Empire State Building.  Seeing the city lights was definitely one of my favourite moments in New York City.
9/11 Memorial Site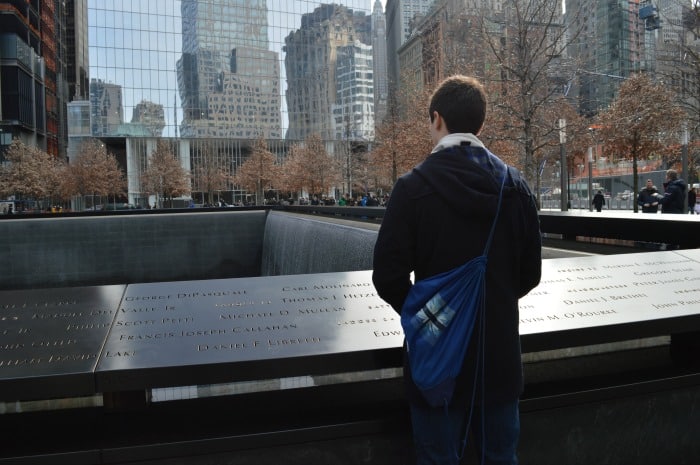 I felt that visiting the 9/11 memorial site was essential during our first visit to NYC.  I can remember watching the footage of the Twin Towers coming down as if it were yesterday.  It's worth catching the ferry down the Hudson River to the Financial District to enjoy a different view of New York before arriving in the city's Financial District.  Visiting the 9/11 Memorial site is one incredibly powerful experience as you feel connected to those people who lost their lives and their families.  It adds a real sense of appreciation to your experience of being in New York and a stark reminder that it's not all about the big lights and fun tourist spots.
The Statue of Liberty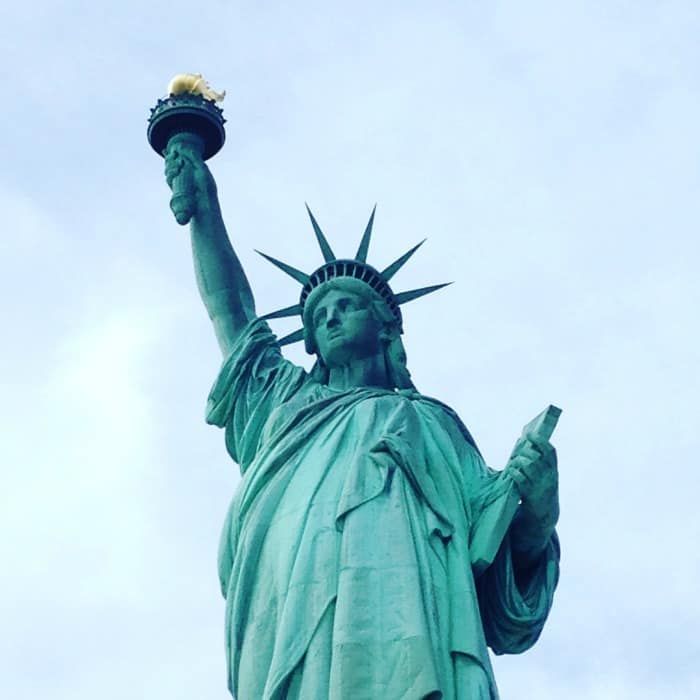 Having seen the Statue of Liberty so many times in the media, it also seemed fitting to head out to the island where she bears her golden torch for all visitors to see.  She is a familiar symbol of freedom, and was a gift from the people of France in around 1886 to commemorate US independence.   As a first time visitor, grab your strong coffee and get here early to beat the crowds as it's a popular tourist spot but one that can't be missed.
Juniors Cheesecake Shop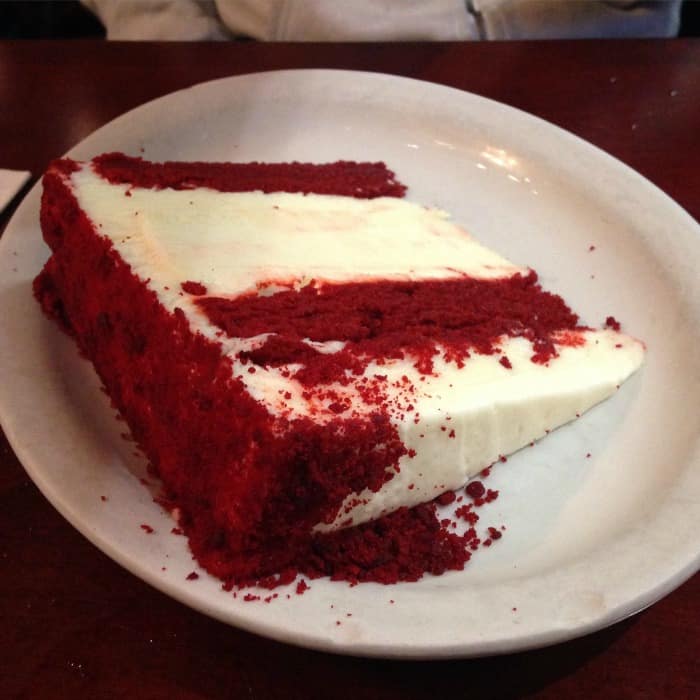 My son still talks about the cheesecake from Juniors now, he actually mentioned it when he was back from university recently which really made me smile.  Juniors cheesecake definitely leaves an impression on you as it's just so delicious.  What's not to love about a slab of red velvet cheesecake!  It makes for a great pitstop when visiting New York and you can find Juniors just off Times Square.
Empire State Building
Another favourite moment of mine was our visit to the Empire State Building.  We visited here first thing on Sunday morning, with a coffee from our favourite kiosk in hand.  We beat all the queues and got straight through security to go up to the 86th floor and see New York City in the daytime.  I strongly recommend that if you are planning on going to a few observations decks in New York, go to one in daylight and one at night to get that contrasting view.  They are both moments you are unlikely to forget in a hurry.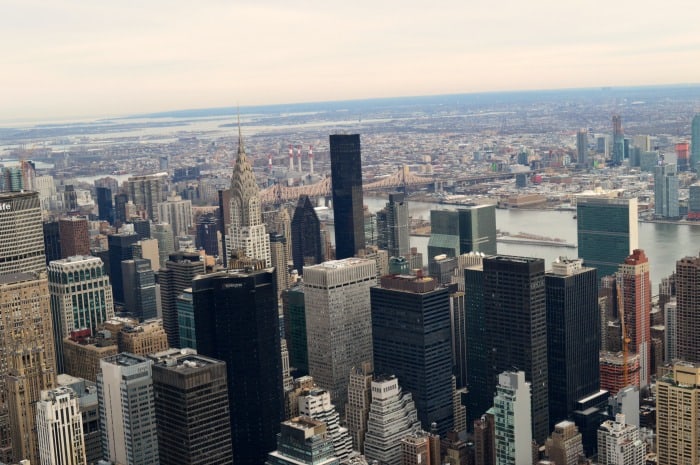 Go To Brooklyn
When you arrive in Manhattan its easy to forget that New York is actually made up of 5 boroughs, and if you want to say you've seen New York, then don't just restrict yourself to the island.  Plenty of the tour buses offer routes around Brooklyn, and even if you don't manage to get off, you will see a complete contrast to Manhattan as you leave the high rise buildings and sea of yellow taxis behind.  If you get chance to hop off even better, as there are lots of places to explore and you could even walk back over Brooklyn Bridge.  That's always something worth ticking off the bucket list now isn't it?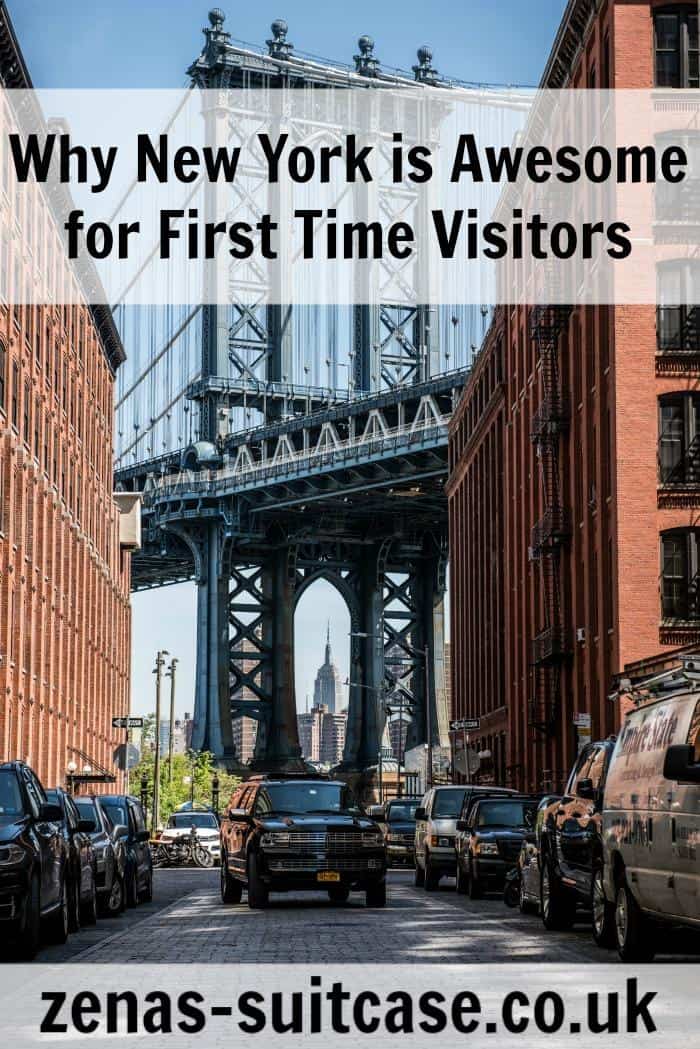 This post was written in collaboration with Netflights.com