It's no secret that this summer has been a complete washout and our My Little Pony Muck Boots have literally been a god send.  As soon as the school holidays started so did the rain. It just puts a dampener on things doesn't it?  For a family, things just become more hard work.
Going on days out doesn't have quite the shine it should and festivals can turn into a complete mud bath.  Fortunately our My Little Pony wellies came to the rescue on more than one occasion. I want to share with you why we love these kids boots from The Original Muck Boot Company even more given the weather.
When I was younger things like the rain didn't bother me so much, but these days bad weather really grates on me and makes me feel a bit slouchy if you know what I mean.  As a parent, getting the kids to appreciate the need to wear warm clothes and appropriate footwear is another conversation I'd be quite happy to give a miss if I'm honest.  They like to choose there own clothes and shoes, but they haven't quite grasped the need to factor in the weather yet.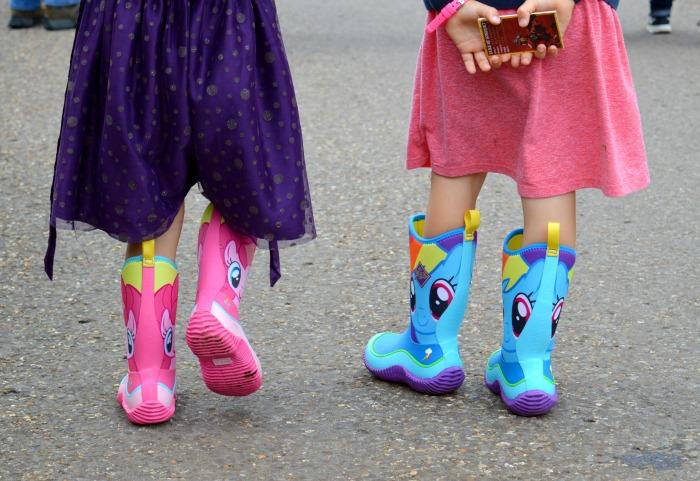 This is why our girls Muck Boots from The Original Muck Boot Company have been awesome for us this summer.  As you might remember, we reviewed the My Little Pony Muck Boots last year and we thought they were great then.  This year we have really put them through their paces, and we are even more impressed with the quality and design.
Great Features With My Little Pony Muck Boots
The girls choose different designs this time, going for the Rainbow Dash Muck Boots and the Pinkie Pie Muck Boots.  The way these kids Muck Boots are made is just fantastic.  They look amazing and have some super cool features as well.
If your child is a My Little Pony fan then they will love the My Little Pony face that appears on the girls Muck Boots.  The rest of the My Little Pony wellies feature the colours from the My Little Pony character and there is even the all important cutie mark on the heel of the boot.  No one will mistake that these are official My Little Pony Muck boots given these features and they are bound to get a lot of comments from other My Little Pony fans as we experienced at Camp Bestival.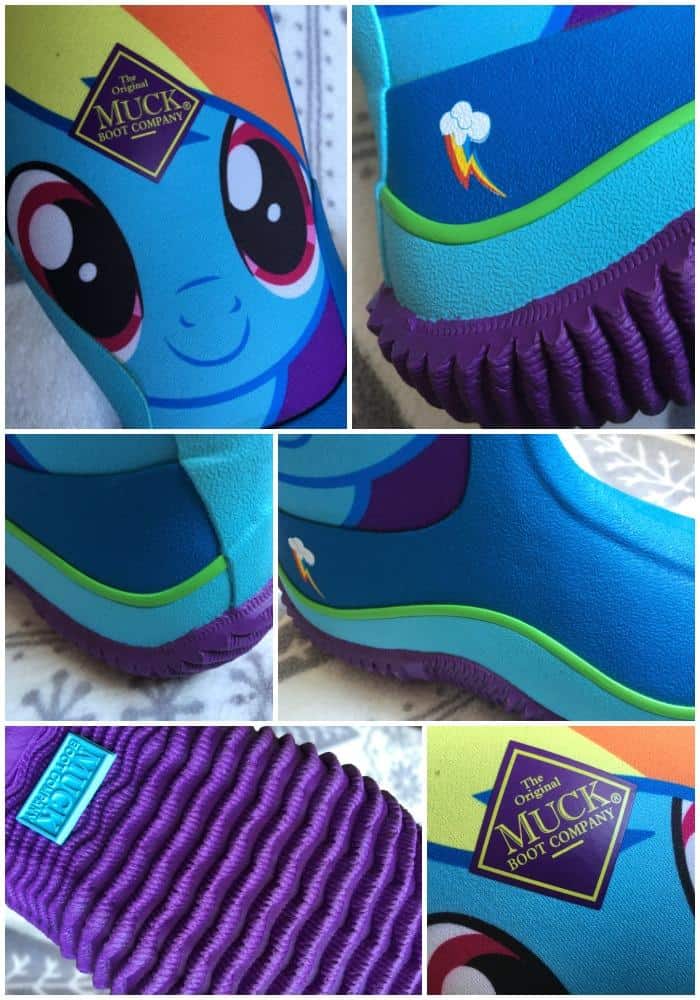 The cool design means that both the girls loved wearing their new girls Muck Boots from The Original Muck Boot Company without any arguments at all.  What they didn't realise was that these boots took a huge weight of Mummy's mind too.  Having good kids wellies when the weather is plotting against you is so important.  There is nothing worse than cold wet feat when you are meant to be enjoying a lovely day out or you are trekking around a festival.
Firstly the top of the kids Muck boots is soft and flexible making them extremely comfortable to wear, so the girls were happy to keep their boots on all day if needs be.  The inner sole of the boot is super comfortable as well which I think is rare for kids wellies.  The ankle of the girls Muck boots is fitted making for a really secure feel  which makes a big difference when you are walking around all day, especially when you have little legs.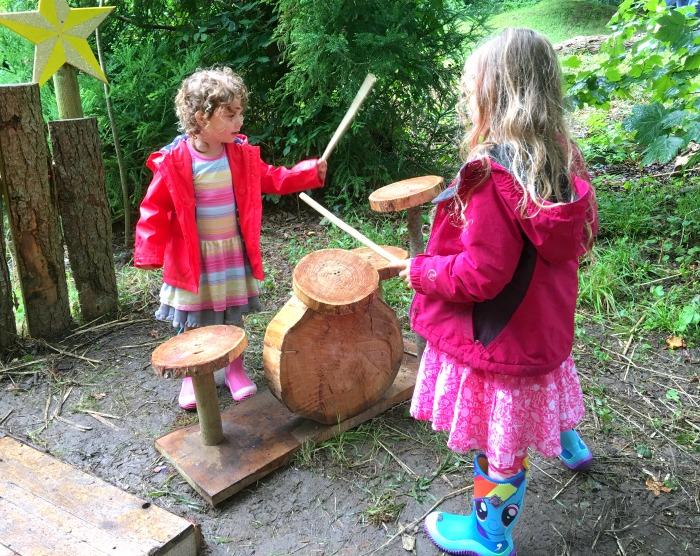 Where the kids Muck® Boots really come into their own is with the super tread they have on the bottom of the boot.  This is the best tread I've seen on a kids wellies and I have to admit it's worth every penny.  The girls wore their My Little Pony Muck Boots to Warwick Castle for the day and it had rained so the ground was a bit on the slippy side.  We also saw showers that day too.  With the My Little Pony Muck  Boots they could run and play without fear of slipping or sliding on the grass.  It might as well have been a dry summer's day for all they knew.
The test really came at Camp Bestival and we weren't sure how the boots would cope with the mud and the slopes we were faced with.  One of my worst fears was having one of the girls slip over in the mud and having to deal with the fall out from that given the severe lack of hot showers and having a very grumpy child on my hands.  Kids love mud, but they hate being dirty in the next breath.
Well, our girls Muck® Boots really came through for us to be honest and neither of the girls fell over at any point.  My daughter and I took on a rather steep hill that I can only describe as a mud slide.  We were heading down it into the festival and she didn't fall or slip once.  At that point I was so jealous of her boots and wish I'd had a pair of the gorgeous women's Muck Boots to get me through this rather sticky situation.
When it really counted the girls My Little Pony Muck® Boots really came through for keeping their feet warm and dry but also keeping them safe in a very muddy situation.  I cannot speak highly enough of the kids Muck® Boots range, and think they are a great investment if you are planning on taking the family to days out which are mainly outdoors or are going to be visiting a festival this summer.
We were sent two pairs of My Little Pony Muck Boots from The Original Muck Boot Company for the purposes of this review but all thoughts and opinions are our own.  
If you enjoyed this review, it would make my day if you would save it to your Pinterest board or share it on your favourite social media channel. Thanks so much 🙂