We had been looking forward to arriving at the Bedford Hotel in Tavistock for a few days by the time we checked in.  We had been camping at a festival over the weekend, and the lack of hot showers and mud had finally got to us.  We began to fill with excitement as sat nav announced we had arrived at the Bedford Hotel in Devon and got parked in the hotel carpark as quickly as we could.  A car has never been unpacked quite so quickly, and my daughter and I headed to the reception to make our arrival known.
Bedford Hotel Review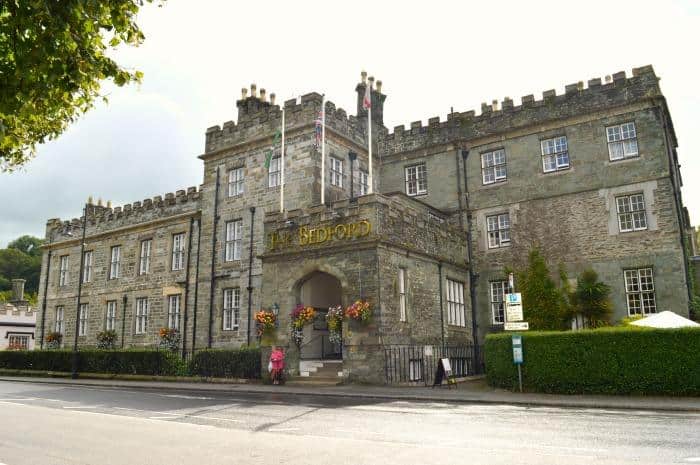 I was very aware that we were looking more than a little disheveled at this point, so we checked in quickly and headed straight to our hotel room.  The lovely receptionist kindly helped us out with our luggage and showed us the way.  I was falling in love with the traditional interiors of the hotel already and was getting more and more excited about seeing our room.
Family Room at the Bedford Hotel
It was amazing to be surrounded by creature comforts again, and we were really impressed with the family room we were going to be staying in that night.  The size of the accommodation was the first thing that struck us.  The ceilings were high and there was two bedrooms separated by a corridor.  It was a lovely space and I think a family of four or even five would be very comfortable staying at the Bedford Hotel in this room.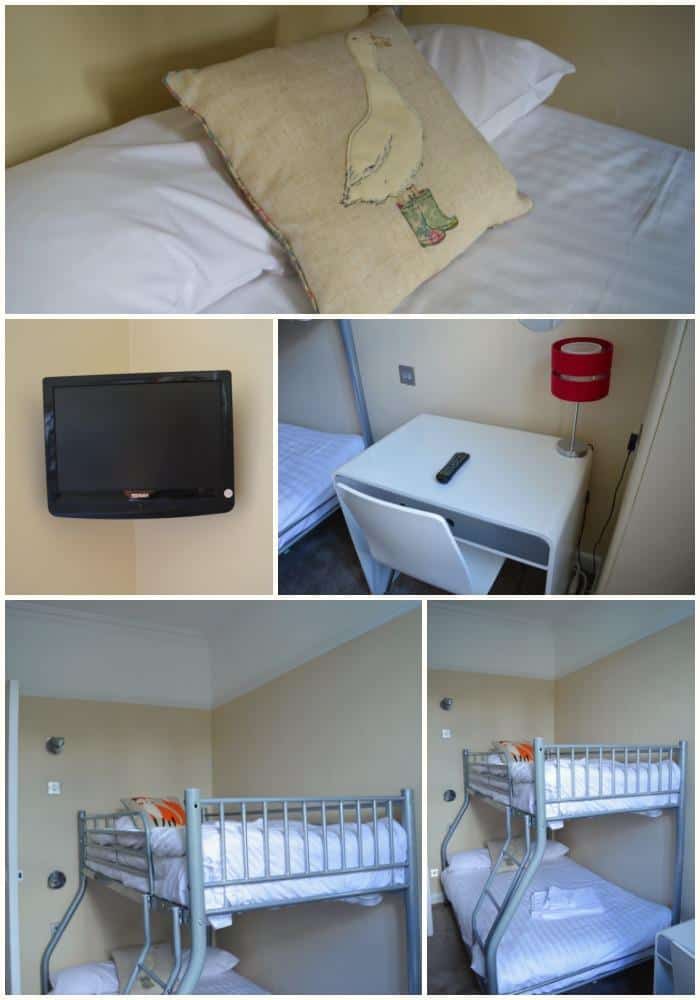 The children's bedroom would have easily slept three small people, with a bunk bed that had a double on the bottom and a single bunk on the top.  There was also a desk, wardrobe and TV to keep everyone entertained.  It was light and spacious, and when my daughter saw it she declared she would be taking the top bunk that night.  As well as having great facilities it was very clean and beautifully presented.
King Sized Bedroom
Down the corridor we found the large bedroom, complete with king sized bed, leather sofa, desk and occasional table.  It was gorgeous and immediately I was looking forward to spending the night there knowing there was plenty of room for us to make ourselves comfortable during our stay.  The traditional soft furnishings fitted perfectly with the look at feel of the hotel, and added a very welcome touch of luxury to our experience.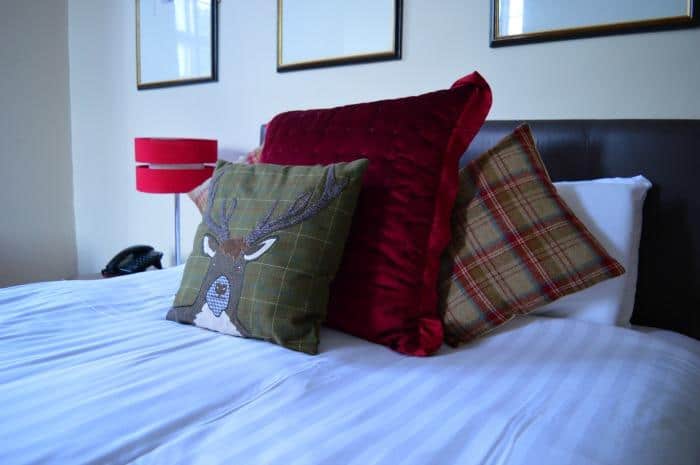 Round the corner we found the tea and coffee making facilities as well as complimentary sparkling water. The first thing I did was pop the kettle on to make a much needed cup of coffee.  It's the simple pleasures sometimes, that make all the difference, especially when you have been travelling with kids most of the day.
Bathroom
The family bathroom was just perfect, filled with fresh white towels, much needed toiletries and more importantly a full sized bath with overhead shower.  It was a good size, especially for a hotel, and the look and feel was very much in the traditional style the Bedford Hotel prides itself on.
I ran a hot bath immediately looking forward to getting both my daughter and I ready for dinner downstairs in the bar.  We could literally feel ourselves unwinding from our trip as we settled into our room and got ready for the evening ahead.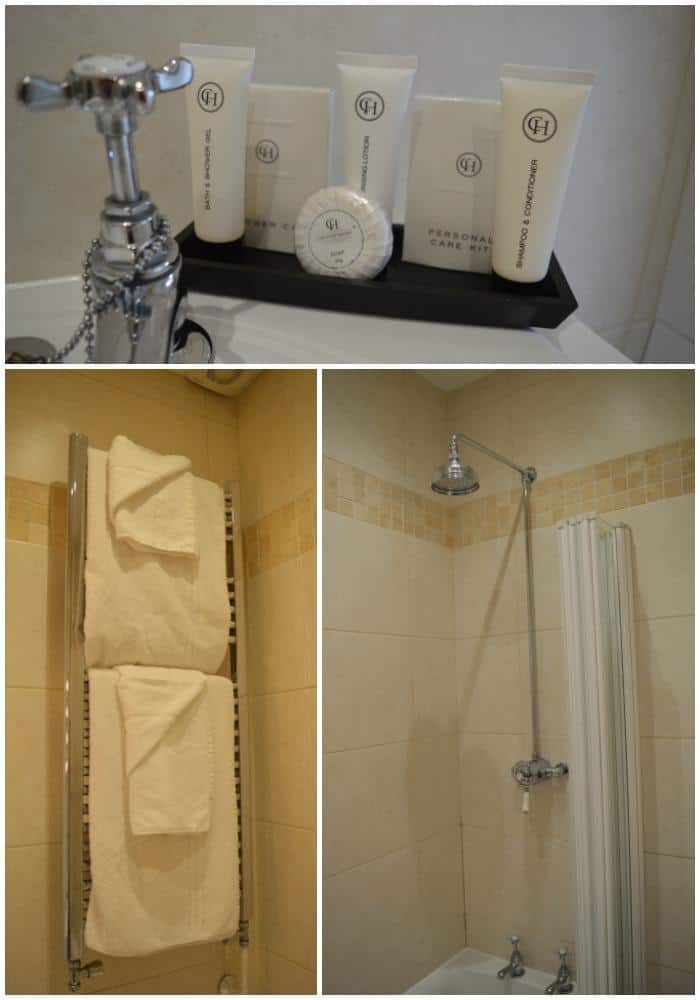 Bedford Hotel Restaurant
Once we felt a little more human and relaxed, and my daughter had caught up with a few of her favourite cartoons on the TV, we headed downstairs for dinner.  We had heard great things about the menu, and were really looking forward to enjoying some of the locally sourced dishes.
Well, I can certainly tell you that our evening meal didn't disappoint.  The starters definitely set the scene with a gorgeous tomato and basil soup for my daughter and the Bedford 'mushrooms on toast', which was beyond exquisite with Jale ale focaccia and Okehampton cheddar rarebit.
My daughter's bowl was practically licked clean and I can most certainly recommend the mushroom starter any day of the week.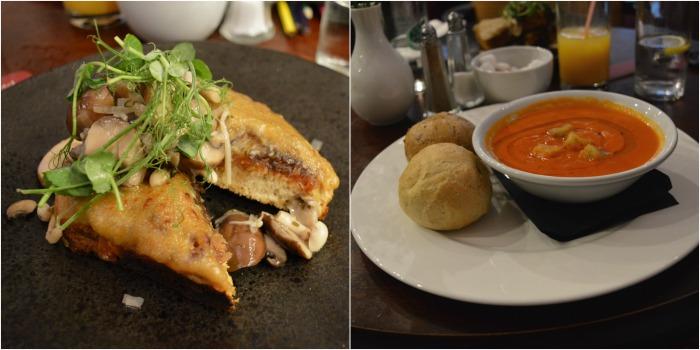 The mains followed at just the right moment, and my daughter loved the presentation of her locally caught fish and chips.  I went with fish of a different kid from the specials menu that showcased the local catch perfectly and was beyond delicious and incredibly light.  Just what I needed following a weekend of camping food and catering vans.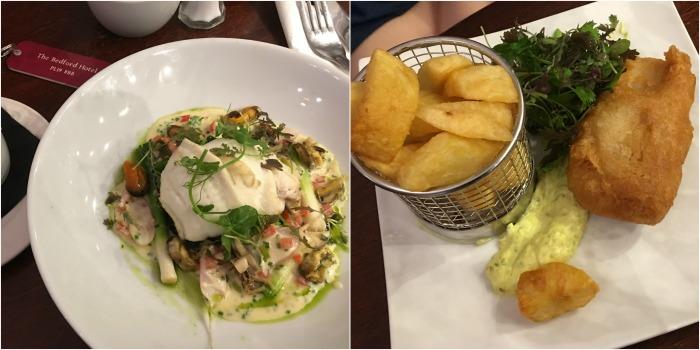 Dessert was something else entirely.  My daughter enjoyed a bowl of vanilla ice-cream, with chocolate sauce and a honey comb topping.  What more could a 5 year old want!
You might have already seen my Bedford Jaffa Cake when I posted it on Instagram.  This interpretation of the classic little cake we are all familiar with was rich and delicious.  Decorated with candied orange, a beautifully smooth and subtle chocolate nemesis and a light layer of orange sponge, it ticked so many boxes in terms of flavour and texture.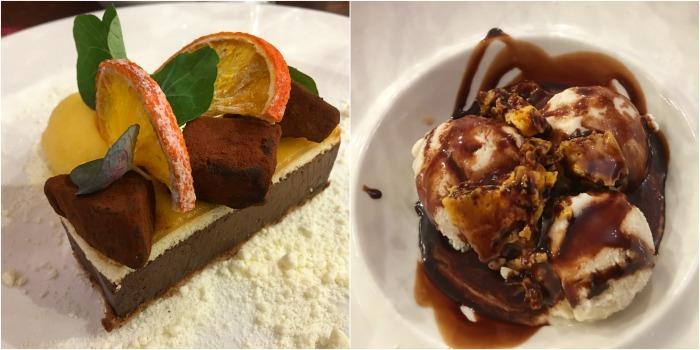 It's safe to say we went to bed very happy hotel customers that night and had a wonderful night's sleep in  our family room at the Bedford Hotel.
We were also lucky enough to be asked to sample the breakfast in The Woburn Restaurant at the Bedford Hotel the next morning.  The first thing to say is that I loved the classic surroundings and presentation for the morning meal.
My daughter enjoyed the fresh and flaky croissants with strawberry jam and I ordered the Full Devon Breakfast, which was cooked perfectly to order.  Brimming with locally sourced produce, it was just the set up I needed for a day exploring Tavistock and looking for moor otters in Dartmoor National Park.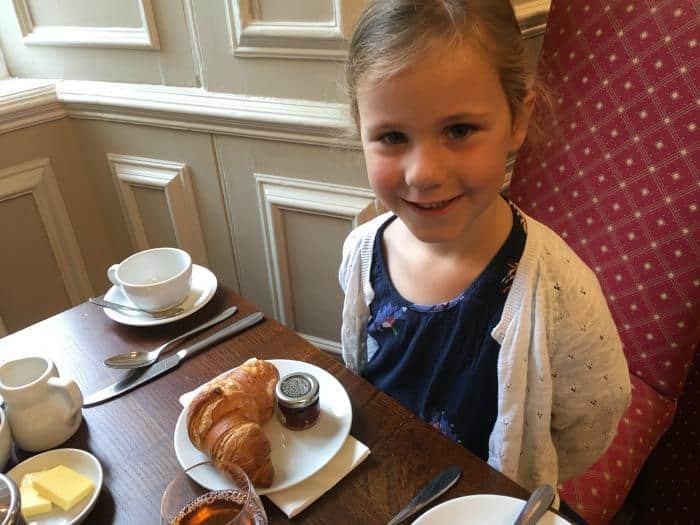 Before heading off to Dartmoor, we took the opportunity to explore the hotel grounds, including their well kept walled garden, and of course see the moor otter that was currently in residence there.
What a delightful spot this would make on a warm summer's day enjoying afternoon tea, right?  I hear the Bedford Hotel makes a rather amazing Devon cream tea.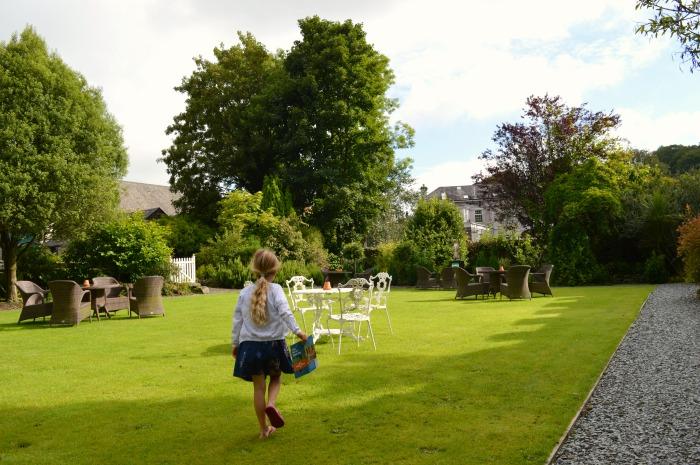 I think you might have already guessed that we really enjoyed our stay at the Bedford Hotel in Tavistock.  My daughter said it was like staying in a castle, and I have to agree with her that the turrets and rustic nature of the building lend itself well to a luxury hotel experience.  The hotel is also perfectly placed for exploring the award winning market town of Tavistock in Devon, as well as Dartmoor National Park and Devon.
Stayed tuned to find out about how we got on at the Two Bridges Hotel and Moorland Garden Hotel during our Devon road trip.
Places to Visit near Bedford Hotel, Tavistock, Devon
Dartmoor National Park 1.5 miles
Pennywell Farm 23 Miles
Buckland Abbey 7 Miles
Cotehele Tudor House 8.5 miles
Dartmoor Zoo 16 miles
Useful Hotel Information
Address & Postcode
The Bedford Hotel
1 Plymouth Road
Tavistock
Devon
PL19 8BB
Tel: 01822-613221
Email: [email protected]
To Book Online: Hotel Booking Form
We were guests of The Bedford Hotel, Tavistock, Devon in exchange for this hotel review but all thoughts and opinions are our own. 
Pin for Later