The kids will be back to school in a few weeks, and we've been topping up with some essential items before we start back in September.  Debenhams is a great department store offering a great range and quality in it's back to school range.  One investment I needed to make this year was to buy my 5 year old daughter a new school coat as well as some new dresses and other school uniform uniform items.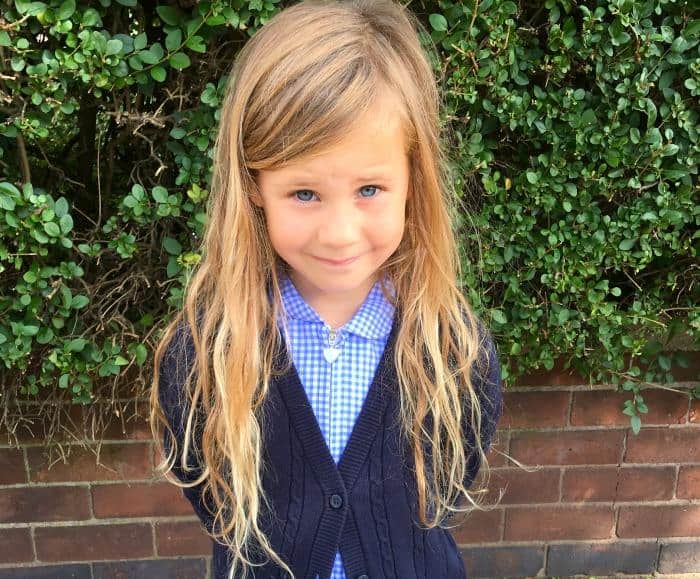 I like to make sure we get a school coat my daughter will actually wear so I asked her to look at Debenhams online with me before I went into town to buy one.  She picked out a few school coats that caught her eye, so I knew what she would like.  I could have gone to Debenhams and bought a coat I thought she would like, but there's always a danger I will get it wrong.  If that happens, I'm either having to go back to the store to return it or I'm left with a coat that she isn't happy to wear.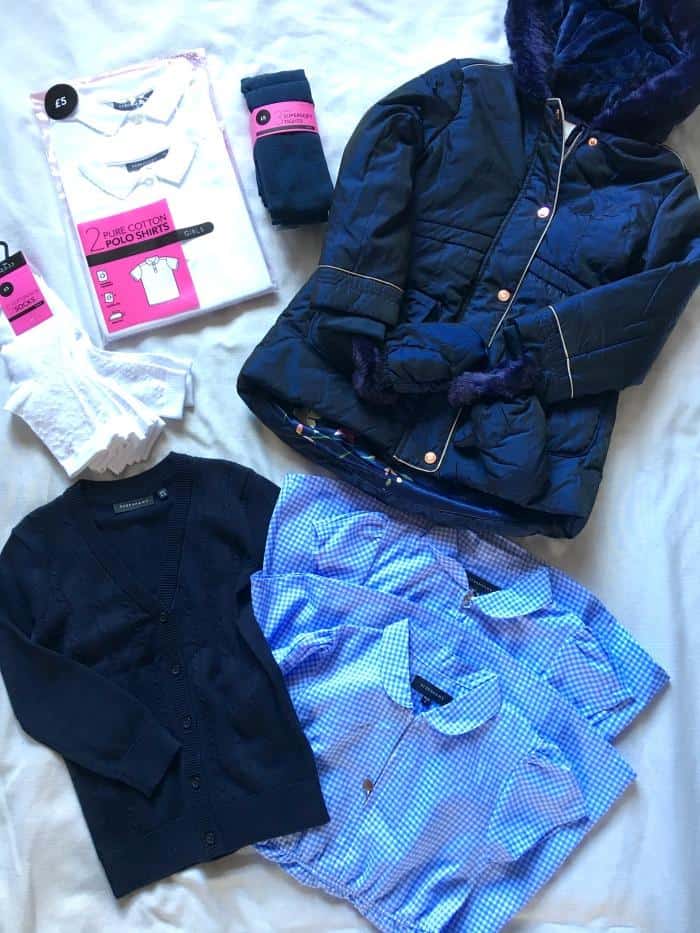 I want her to be warm and comfortable when she is playing outside with her friends.  It's an important break from class room time and I want her to be able to make the most of it.  The weather hasn't exactly been great either, so who knows what autumn and winter are going to have in store for us.  I feel like we need to be prepared for a really cold spell.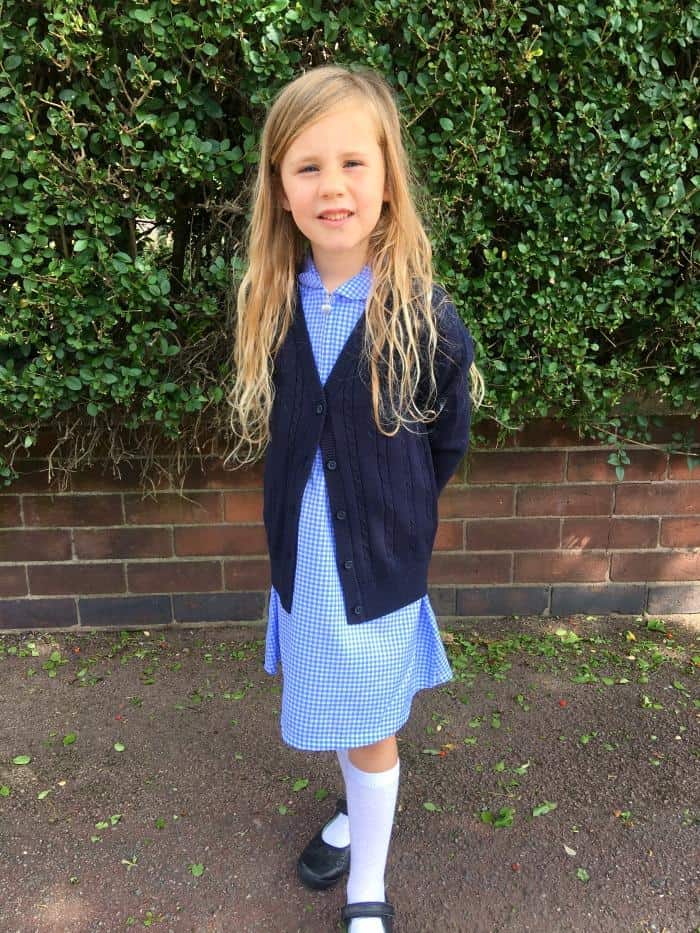 My daughter also likes to wear dresses, all year round, so things like a good school coat, tights and warm cardigans are super important for us to have.  The quality also makes a huge difference, and Debenhams school wear always washes well and retains it's colour.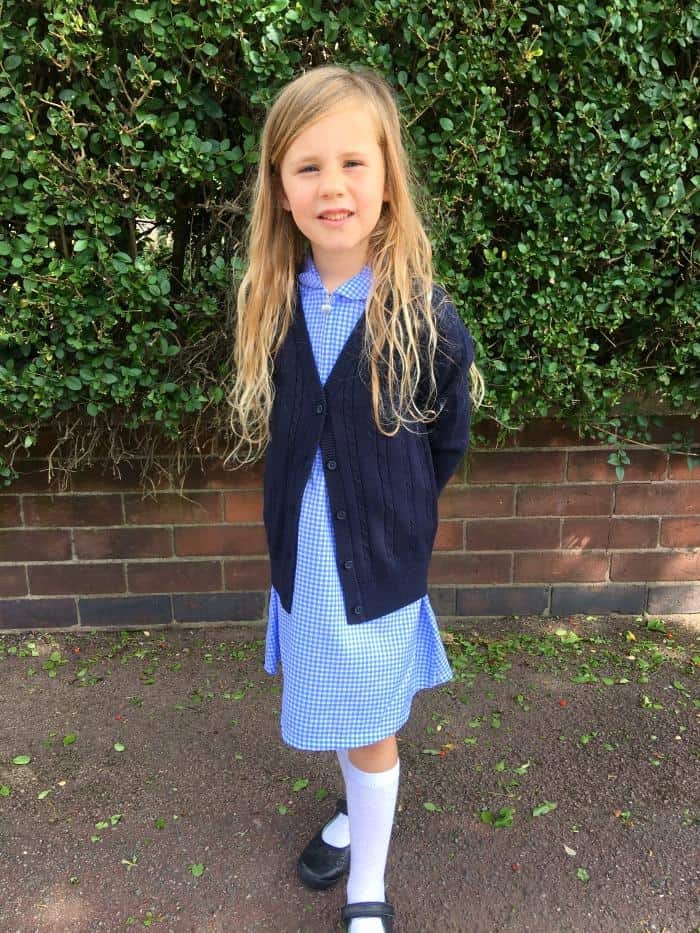 As well as this gorgeous Ted Baker Navy Parker, we also bought new some blue gingham dresses, white socks and navy tights.  We added a navy cardigan to our school wardrobe as well, and some new white polo shirts.  If you don't have to buy your school uniform from the school outfitters, I would always recommend visiting a store like Debenhams or shopping online with them for new school uniform supplies.  You will always get more value for money buying in store.
Our new school items came to less than £100 thanks to the 20% discount Debenhams are currently offering on their school range.  When I went to the till to pay for the school coat and other items my daughter needed, I was convinced it would be more than that, and felt that I had got great value for money.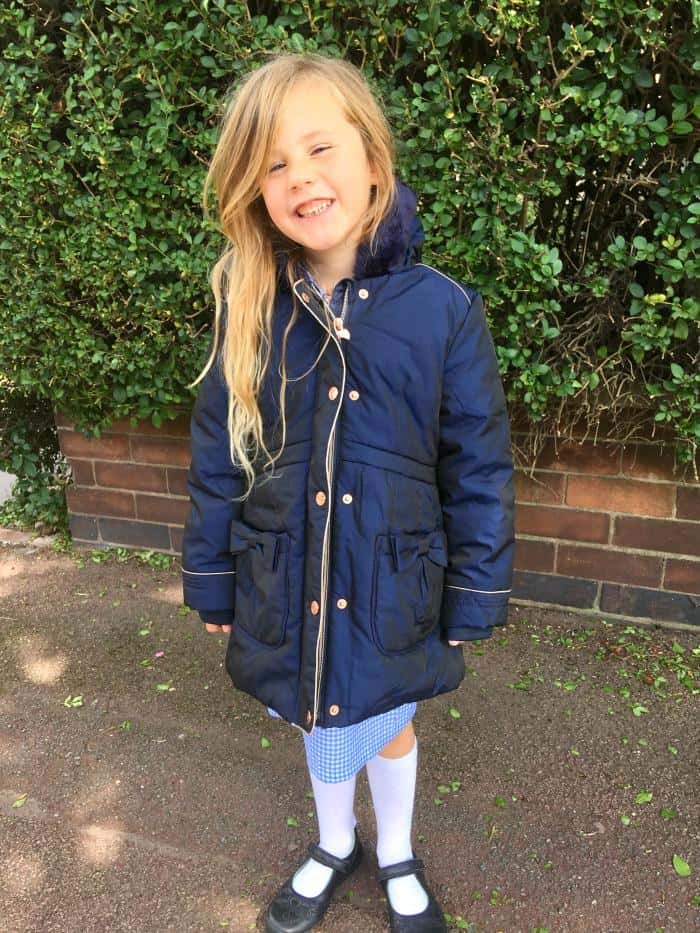 The coat was of course the most expensive item, but it has some lovely features.  The zip is super easy for her to fasten and unfasten.  The lining includes super soft fur and a beautiful bird print she loves.  The hood is also fur lined, as are the mittens that can be attached to the coat.  Inside the pockets are lined as well, and the Ted Baker bow is a feature on the zip, pockets and back of the coat.  We also love the length and fit of the coat.  I know she will be warm, even when she is wearing a blue gingham dress on a cold day.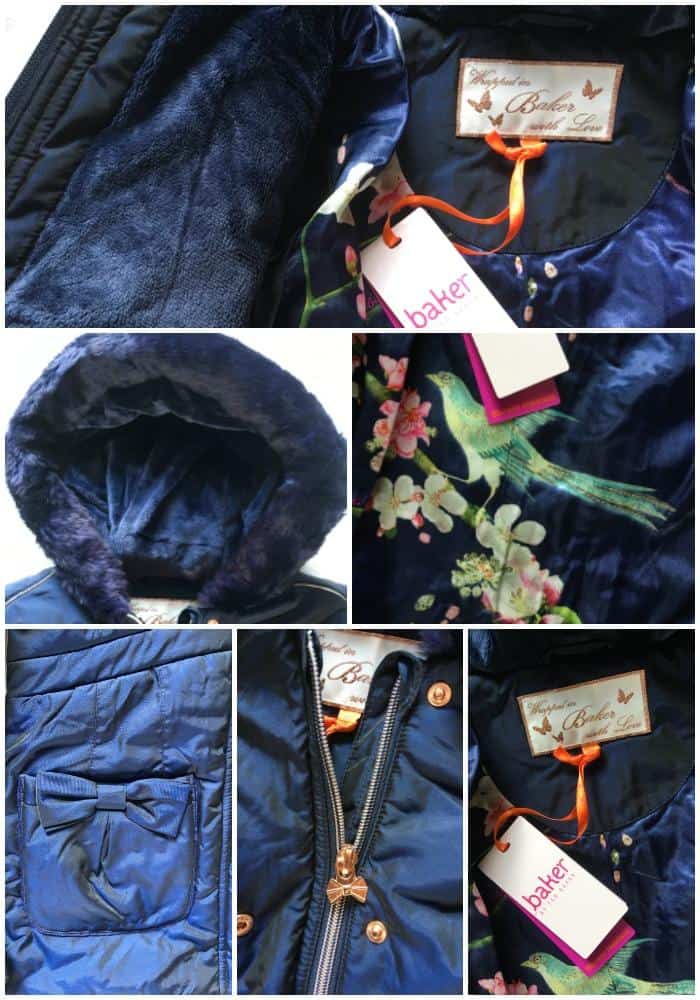 The school uniform has been such a hit with my daughter, I'm struggling to convince her not to wear it until she starts school.  As I type this post she is wearing her white socks, gingham dress and navy cardigan.  I have a feeling she will get some funny looks when we go to the park today.
If you still need to stock up on school uniform, or need to invest in a new school coat this year, make sure you take a look at the Debenhams for great quality clothes and the latest offers.
School Uniform From Debenhams
Baker by Ted Baker – Girls' Navy Parka Jacket £68.00
Pack of Two Girls' Blue Gingham Print Dress £9.10
Girls' Navy Cable Knit Cardigan £7.20
Girl's Pack of Five White Textured Socks £4.00
Pack of Three Girls' Navy Tights £6.40
Girls' Pack of Two White School Polo Shirts £4.00
Total £98.70
We were provided with a voucher from Debenhams to purchase new school uniform for the purposes of this post.  If you make a purchase from the website, I might receive a few extra pennies as well. 
PIN FOR LATER