We reached the Moorland Garden Hotel in Devon on a complete high.  It was the final hotel on our moor otter spotting tour and we had just come from the nearby town of Yelverton.  Our excitement stemmed from our visit to The Rock Inn.  During our otter spotting escapades we would try and guess which otter we were going to find next.  My daughter thought this was so much fun and it added a little more excitement to our endeavours.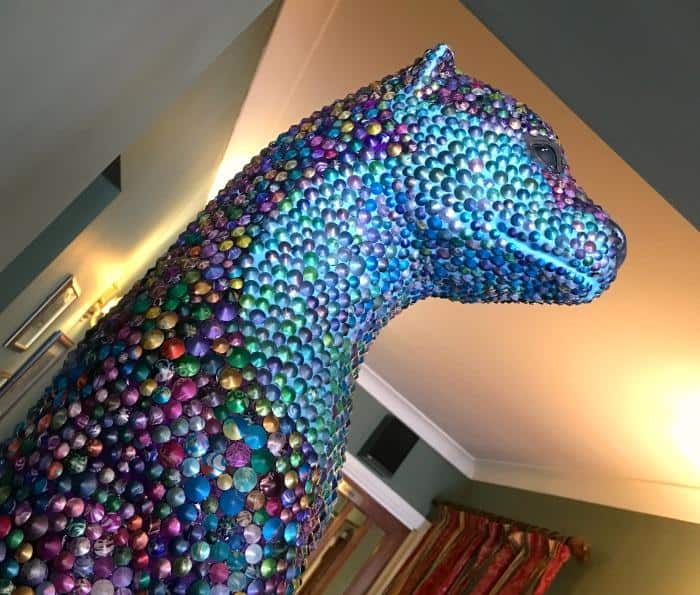 As we entered the car park for The Rock Inn she guessed that we would see Caesar the Otter.  Low and behold she was right and she was buzzing from her excellent otter guess work.  When I told her she was going to be meeting another very special otter at the Moorland Garden Hotel, she could barely contain herself.  The next otter on our list was the famous Potter Otter, and he has been a particularly popular attraction on the moor otters trail.
Moorland Garden Hotel Review
Arriving at Moorland Garden Hotel
We could not check in quick enough for my daughters' liking and we rushed to our hotel room to familiarise ourselves our new surroundings.  The room was just stunning, and fortunately my daughter was happy to take a moment to explore the layout and pick her favourite bed for the stay.  The size of our twin room was impressive to say the least, and we both adored the stylish contemporary decor we were presented with.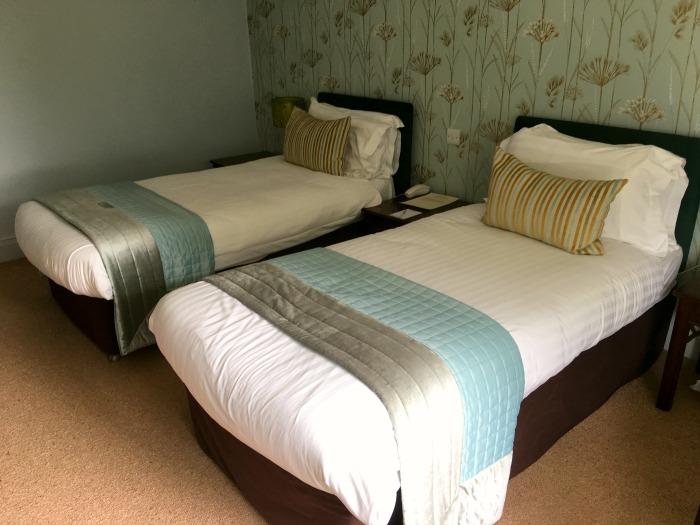 I was immediately drawn to the window, and spent a few moments looking out over the beautiful garden in front of the hotel.  Whilst my back was turned my daughter realised there was enough space to practise her cartwheels across the floor.  This ticked a lot of boxes for my little gymnast.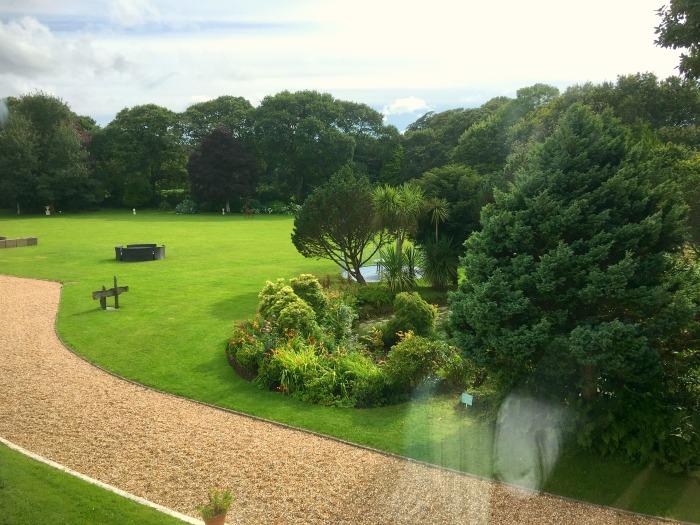 Once we felt accustomed to our new surroundings, we headed back downstairs to take a look around.  We spotted the Potter Otter in the bar, and soon realised he was up for some fun and games.  Who could resist putting on a witches hat, Harry Potter glasses and waving a wand around!  Well my little explorer certainly couldn't that's for sure and I suspect a lot of other visitors have done the same.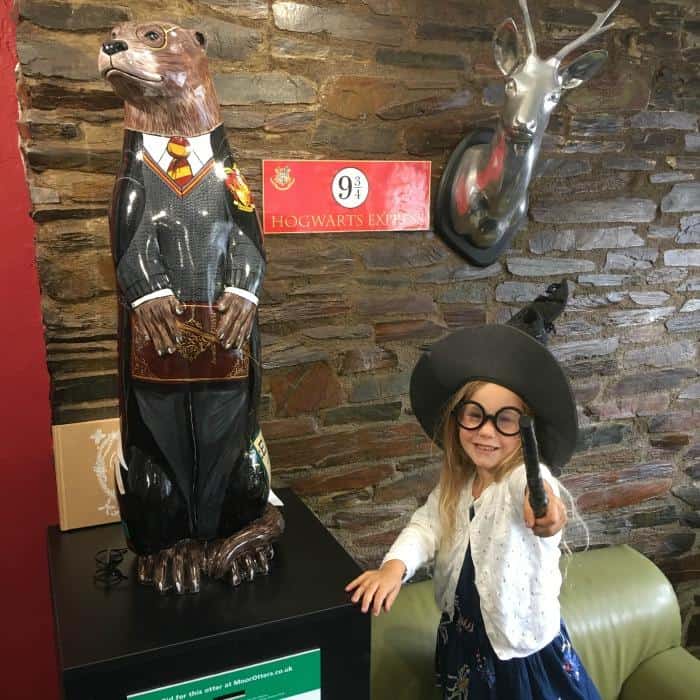 Moorland Garden Hotel Restaurant
After our magical Potter Otter fun, it was time for dinner.  We took up residence in the bar near our new otter friend and waited in anticipation for our meals to arrive.  My daughter was more than ready for her bolognese pasta, and tucked into her tea without any fuss at all.  I ordered a side of chips for her, just incase she had some objections about her mains, but there really wasn't any need at all.
This was good news all round as it meant I was able to enjoy my South West lamb rump without interruption. It was beautifully presented being served with boulangére potato, wilted greens and a rosemary jus.  Every aspect of the meal was perfectly cooked and the flavours were delightful.  I suspect this is a popular dish at the Moorland Garden Hotel.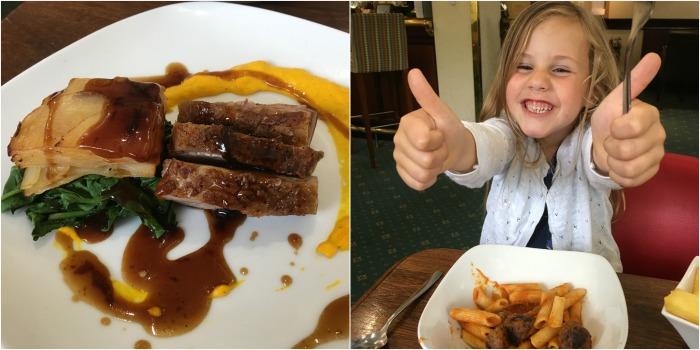 I was struggling to make a decision when it came to the dessert menu, so I asked the waitress for a little help.  She was quick to recommend the olive oil and pistachio cake with raspberry sorbet.  Given her commitment, I decided to order it and I can see why she was so enthusiastic.  It was an exceptional dessert and one I would happily order again.
We headed back to our room more than satisfied with the days events and settled down for our regular bedtime story.  My daughter was soon off to sleep in her comfortable bed and it gave me chance to catch up on a little work.  The wifi connection at The Moorland Garden Hotel was exceptionally fast, and I was able to plough through emails and catch up on what was happening on social media without any trouble at all.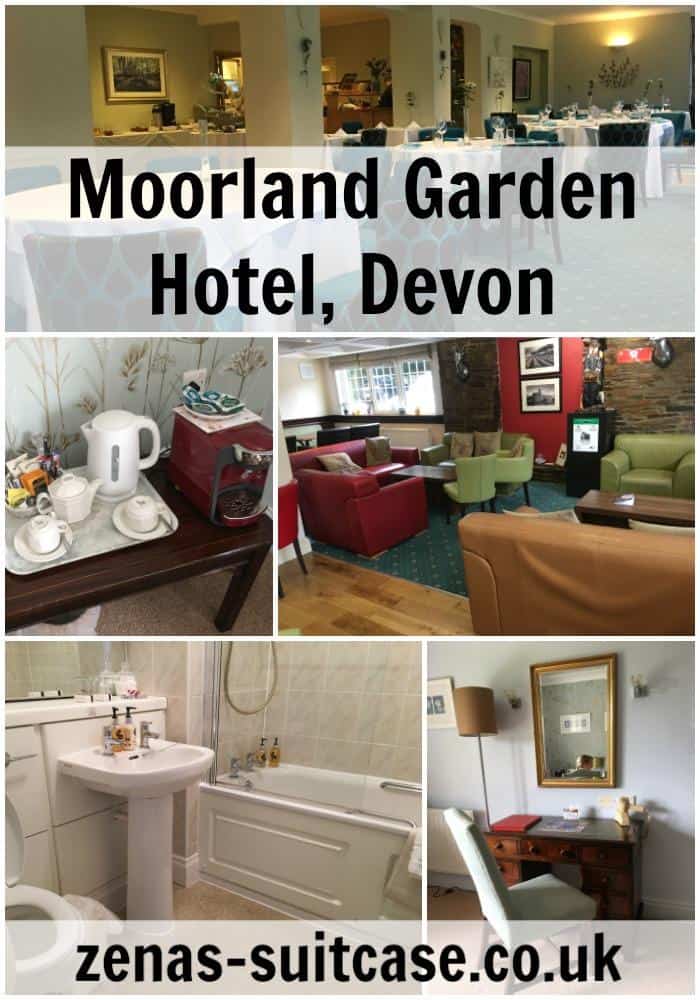 We woke up the next day to the kind of rain that you only see near the coast.  Sheets of it were blowing across the gardens and it didn't bode well for our planned visit to Buckland Abbey.  We went to breakfast to mull things over, and our spirits were lifted by the full English breakfast buffet and fresh coffee.  My daughter had to try the croissants of course, with a side of orange juice, and they both got a big thumbs up from her.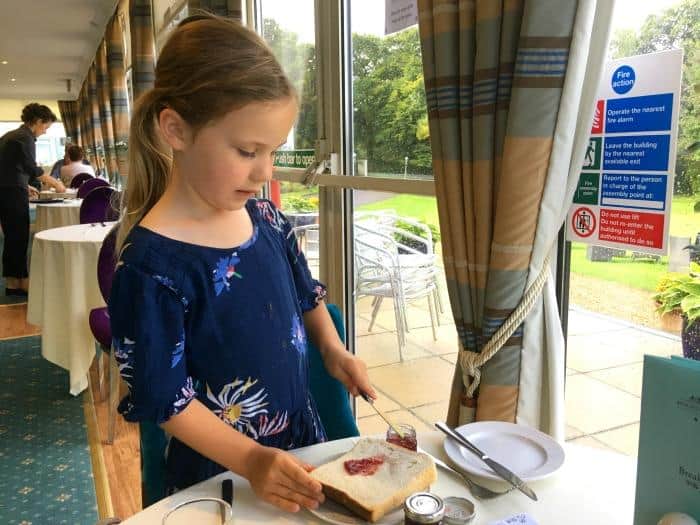 We decided to postpone our visit to Buckland Abbey, and as we were feeling at home at the Moorland Garden Hotel.  The thought of relaxing in our room and just catching our breath during our busy Devon road trip really appealed at this point.  Given the fast wifi connection as well, it meant I could make some headway with some blog posts.  Staying in at the Moorland Garden Hotel was the new going out for our Devon holiday.
We popped down to the bar and to catch up with our friend Potter Otter around lunch time.  It was fish goujons for the young lady, and my favourite soup, carrot and coriander, for me.  We watched the rain some more, hoping to grab a break to head out and spot some nearby otters.  There wasn't really a break, but we braved the rain anyway.  However, our mission was short lived as the cheeky moor otters had headed into Tavistock for a tea party with their friends.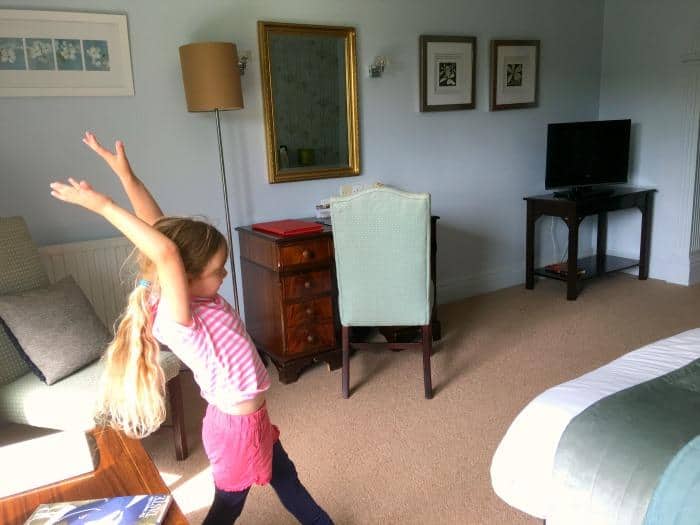 Despite the lack of moor otter spotting, we couldn't have been happier to head back to the comfort of the Moorland Garden Hotel and a spot more cartwheeling.  We would tick more otters off our list before leaving Devon and get to explore the beautiful Buckland Abbey in brighter weather, but for now we would enjoy the rest  and relaxation before hitting the road again.
We throughly enjoyed our short break at The Moorland Garden Hotel and were lucky enough to be stay for 2 nights at this wonderful hotel on the edge of Dartmoor.  The room, the service and the food were all exceptional and we would happily recommend a stay here to anyone that enjoys modern luxury and beautiful surroundings.
Things to do near Moorland Garden Hotel
Dartmoor National Park
Buckland Abbey 2 miles
Dartmoor Zoo 10 miles
National Marine Aquarium, Plymouth 10 miles
Pennywell Farm 24 miles
Riverford Field Kitchen 25 miles
Useful Hotel Information
Address & Postcode
Moorland Garden Hotel
Yelverton,
Near Plymouth,
South Devon,
PL20 6DA
Tel: 01822 852 245
Email: [email protected]
We were provided with a complimentary stay at The Moorland Garden Hotel in return for this hotel review but all thoughts and opinions are our own.