I personally love Wagamama, and I really want my kids to love it too.  The food is always fresh, healthy and super tasty and I think it's a great place for kids to experience Japanese food.  Wagamama is a great restaurant for kids with it's bench style eating experience and child friendly chop sticks, but what did my daughter make of it all on our recent visit to Wagamama in Bath.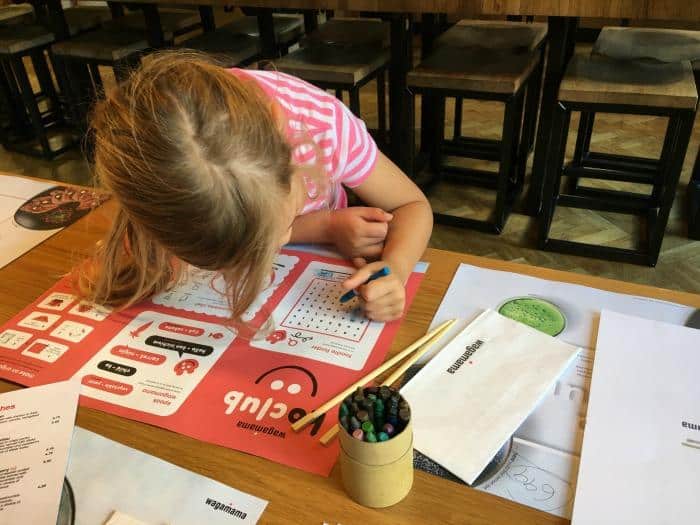 We were both very hungry when we arrived at Wagamama after our day exploring the city of Bath together, so it was great to be seated quickly.  It's a really big restaurant, but it's split into different rooms, so it never feels overwhelming even when it starts to fill up.  We could see the chefs preparing the food in the kitchen from where we sat which is something I really enjoy about visiting this restaurant and is fun for kids too.
What to order at Wagamama – Kids Menu
The waiter came over and talked to us about the menu.  If you've not been to Wagamama before, get some insider tips from the staff.  They are always really knowledgeable and can guide you towards dishes that you will enjoy if you tell them the kinds of things that you like.
I talked to the waiter about what my daughter might like to try, and I was keen that she had a dish where the food was presented separately.  She's still at that stage where she likes to see what she's eating.  She'll probably mix it up herself when it arrives, but to start with she needs to see the noodles,  sweetcorn and chicken.  Fortunately Wagamama understand this and have a couple of dishes on the kids menu that tick this box.  I ordered the mini grilled chicken noodles feeling confident that my daughter would not only eat it, but also love it!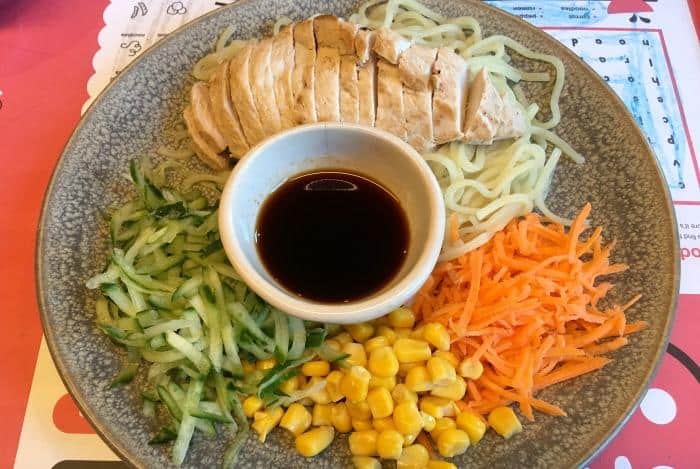 I wanted ramen as I think it's a dish Wagamama does particularly well, and I ordered the chilli sirloin steak version.  I hadn't tried this version of my favourite dish before, and I think Wagamama is a great restaurant for trying new dishes and flavours in.
Their food is always so reliably good, sticking to one dish all the time really would do them a disservice. We added a few side dishes to try as well.  My go to dish is the prawn gyoza, which are prawn dumplings served with a dipping sauce.  In the name of trying a few new things, we also added the bang bang cauliflower, chicken steamed gyoza and the chilli squid.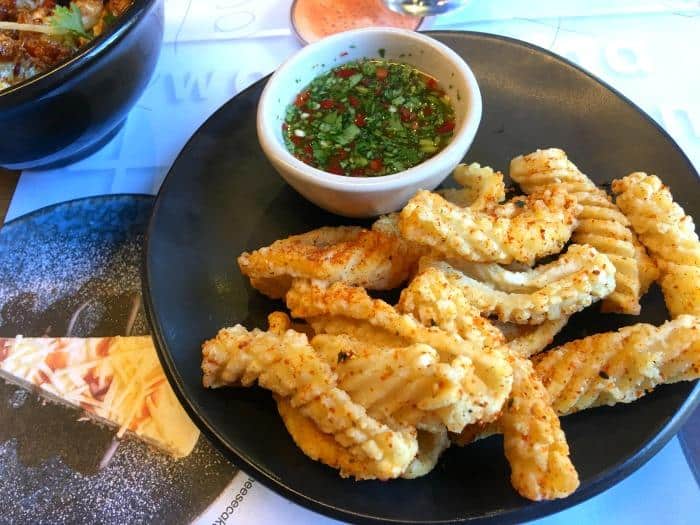 The food can arrive at the table at different times which can throw you on your first visit to Wagamama's.  It reaches the table when it's ready, so your mains might be with you before your sides.  First and second courses are out of the window in favour of a feast style approach to receiving the food.  The table can soon fill up if you've ordered a few dishes so don't hang around, get stuck in!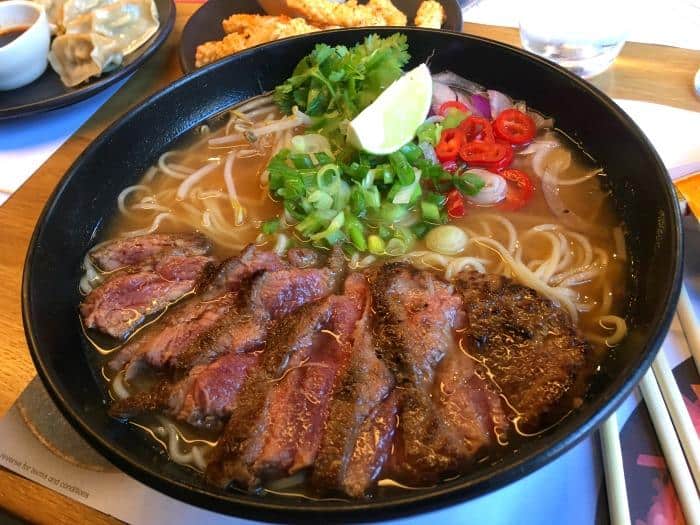 When my daughter's meal arrived, there was a moment of panic as she declared she didn't want it!  I was shocked after all the effort I had put into getting the order just right for her.  Thank goodness the Wagamama kids chopsticks came to the rescue!
It was time to see how she fared with her new eating utensils, and we quickly made it a game to see if she could pick up her chicken with the chopsticks.  Soon, she had forgotten whether she did or did not want the noodles, and she was tucking in faster than you can say chicken ramen!  I breathed a huge sigh of relief as it wouldn't have made for a very good restaurant review if she didn't eat the food!  I think her initial response was down to tiredness after a busy day exploring Bath.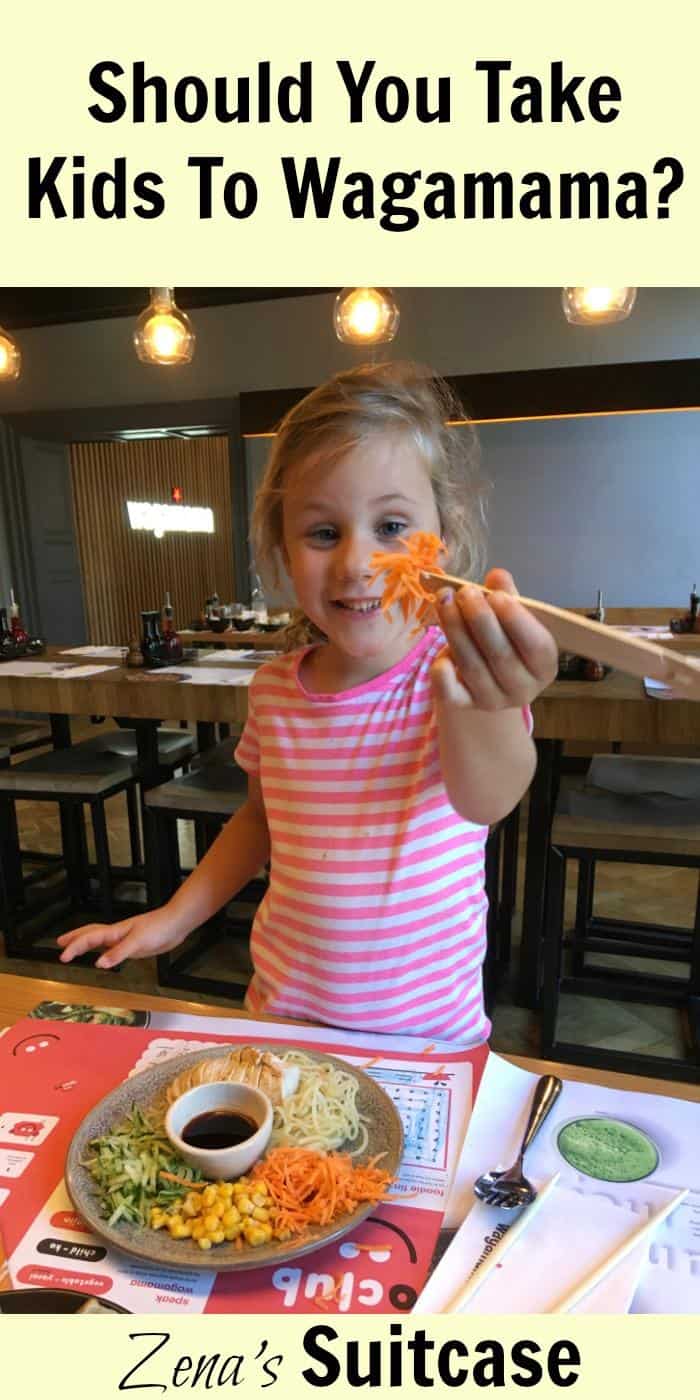 Wagamama Dessert Time!
With a delicious meal well and truly under our belt, it felt time for some dessert talk.  I was definitely feeling torn between the white chocolate ginger cheesecake and the chocolate layer cake.  I was told that the cheesecake has always been on the Wagamama menu, and there is a pretty good reason for that.
We ended up trying both desserts and the cheesecake won hands down, well for me anyway.  It was far more interesting in terms of flavours, and will be my first choice from here on in.  Don't get me wrong, the chocolate layer cake was good, and if that's what you fancy, go for it.  Personally I think the cheesecake has a lot more going for it.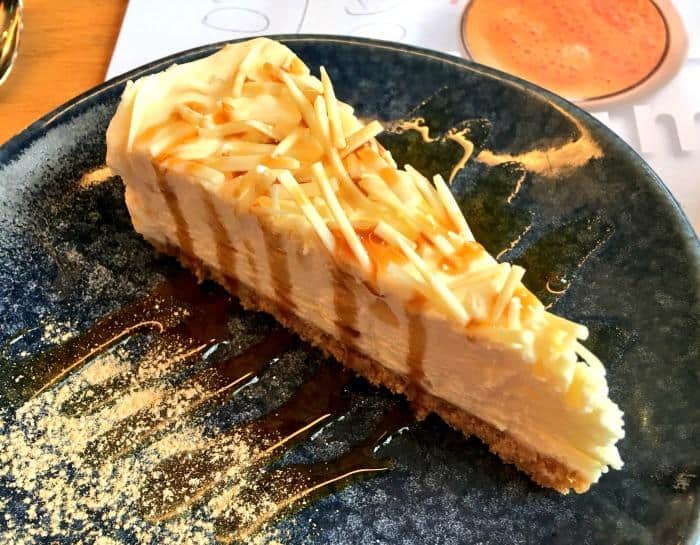 My daughter helped out with the dessert taste test, and she put the chocolate layer cake in front.  She also tried the fruit and berry ice pop.  This looked amazing and she certainly seemed to enjoy it.  It was packed with real fruits, fresh juice and had no added sugar. I love how Wagamama put good healthy food at the heart of what they do.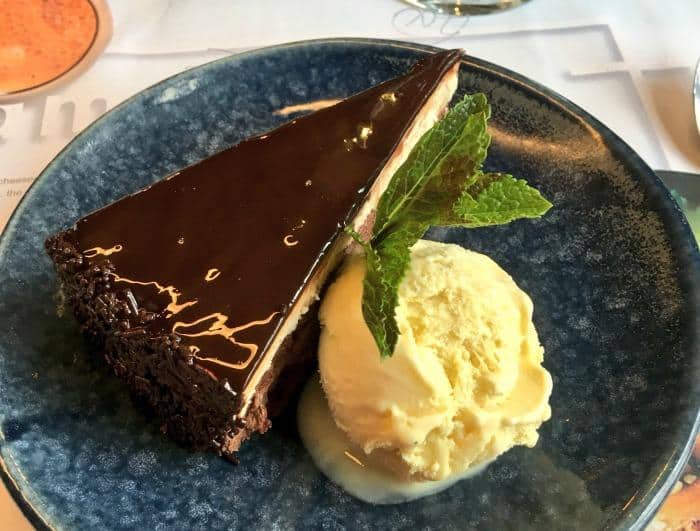 Wagamama's also offer a wide range of fresh juices made to order, which you can add to your meal or pop in for and order as a takeout boost if you've had a busy day or been for a workout.  These are packed with goodies to give your system the reboot it needs and they taste great too.
So, in answer to the question, should you take kids to Wagamama, the answer is most definitely yes!  The atmosphere is perfect for kids dining and they are incredibly family friendly restaurants.  Kids are given activities to enjoy while they wait for their food, and we just love the child friendly chopsticks.
We are huge fans of the Wagamama kids menu, and I think you will come away feeling that your child has eaten a healthy meal after their visit.  There's lots of opportunity to make the dining experience fun for kids, and everyone should have a go with chopsticks at least once.  If you are completely hopeless, don't worry as they do provide knives and forks too.
We were provided with a complimentary meal at Wagamama in Bath in exchange for this review but all thoughts and opinions are our own.