So your going on a cruise! Congratulations! A cruise holiday is absolutely my favourite type of getaway and I am feeling totally jealous right now. You will get to visit and explore so many different places.  There's going to be plenty of time for chilling out by the pool with your favourite cocktail too.  You can also be out every night painting the town or should I say cruise ship red if you fancy.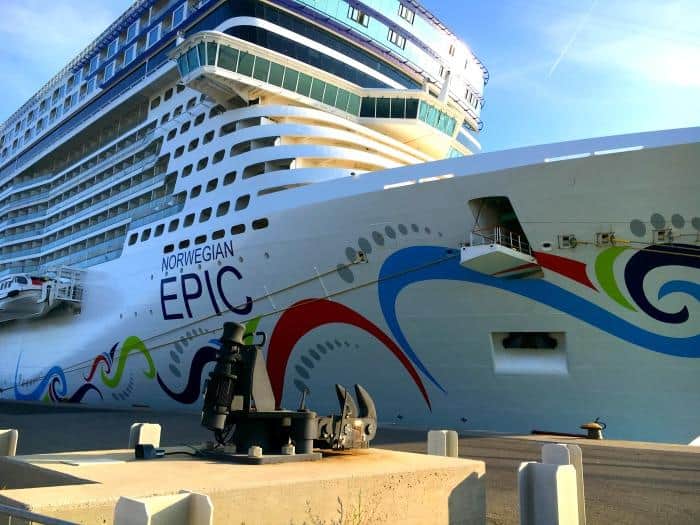 A cruise holiday is back to back fun, activities and entertainment but what on earth do you pack in your suitcase to ensure you have everything you need.  There are so many different elements to a cruise holiday, getting what you pack right will ensure you are prepared for the all the fun and activities in store.
Your cruise holiday provider will have some advice and maybe even policies on dress codes for your holiday so this is a great place to start before writing your packing list. Before you book your cruise, I would definitely recommend making sure your happy with the dress code in place.  It's your cruise, so you want to be comfortable with any rules the cruise ship has in place.  Not all cruise holidays are formal these days, so if you want something more relaxed speak to your travel agent or search online.
Next, think about what you are likely to be doing when you visit each port. If you opt for cruise excursions they will have helpful information about activity levels etc.  Also think about whether you will be inside or outside. Will you be exposed to the sun a lot or will your day trip be a little more on the chilly side. Even if you plan to do your own thing, thinking about these things is still going to help with your cruise packing list.
What to Pack for a Cruise Holiday
Clothes for Day Trips
Good walking shoes and/or sandals
Light trousers
Shorts
T shirts
Skirts
Dresses
Jacket
Cardigan
Sunglasses
Sun hat
Travel rucksack or shoulder bag
Night wear/pyjamas
By The Pool/Day at Sea
Flip flops
Swimming suits/ bikinis Sarong or similar
Bag for the pool
Evening Wardrobe
Evening wear (dresses, tuxedo etc )
Smart shoes
Evening bag
Jewellery
Toiletries
Sun cream
Shower gel
Shampoo
Conditioner
Hand sanitizer
Hairbrush
Straighteners
Moisturiser
Perfume Body spray/deodorant
Day and evening make up
Technology & Entertainment
Camera
Selfie stick
Phone
Chargers
Tablet
Adaptors (check the socket type with your cruise holiday company)
Books/Kindle
Travel Items & Accessories
Earplugs
Travel documents and tickets
Travel wash
Especially For kids
Favourite toys
Books
Colouring books & pens
Comforter
Nappies/wipes if required
Sun cream SPF 50
Sun hats
Sun glasses
There's no denying that you can start to feel like your packing everything but the kitchen sink when you're preparing for a cruise.  It's so easy to go over board (such a bad pun!) on what you need, but you don't want to get caught short either.
As well as day trips and excursions, you need to think about what you will do when your on the ship.  There will be at least one day at sea if not more, so think about how will you be spending your time. Look at what is available on the ship like is there a spa, what about sports and activities.  Often they provide a running track and sports courts if you want to make use of those.  These days there are climbing walls, water parks and extreme activities that you might want to prepare for.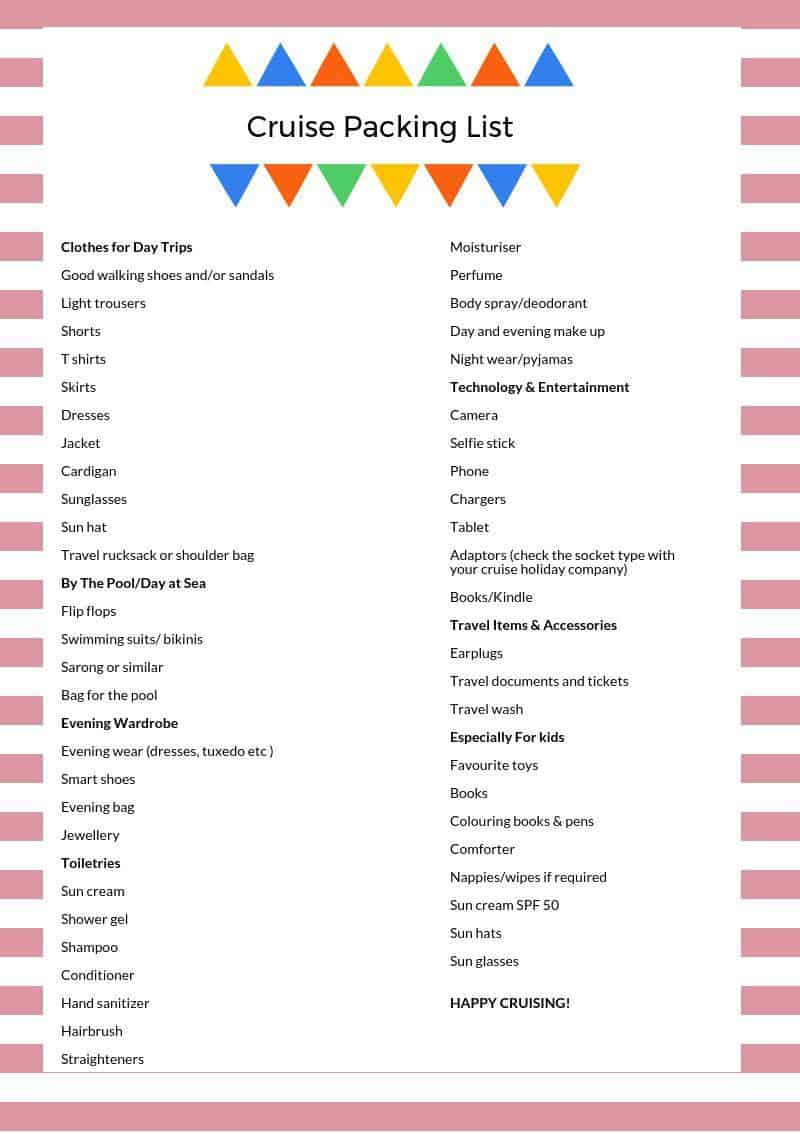 During the evening will formal dress be required or will you have a few relaxed nights on board the ship. Look at the dining options and evening activities that you might enjoy.  There will be plenty of opportunities to enjoy fine dining and a show, but some nights you might enjoy the themed buffet and a quiz night.
You will probably need your biggest suitcase for a cruise holiday, and I've seen some people embark their cruise ship with several pieces of luggage for what looks like a relatively small travel party.  I guess they might be thinking, what if I need this dress or that dress and have packed every pair of shoes they own just in case.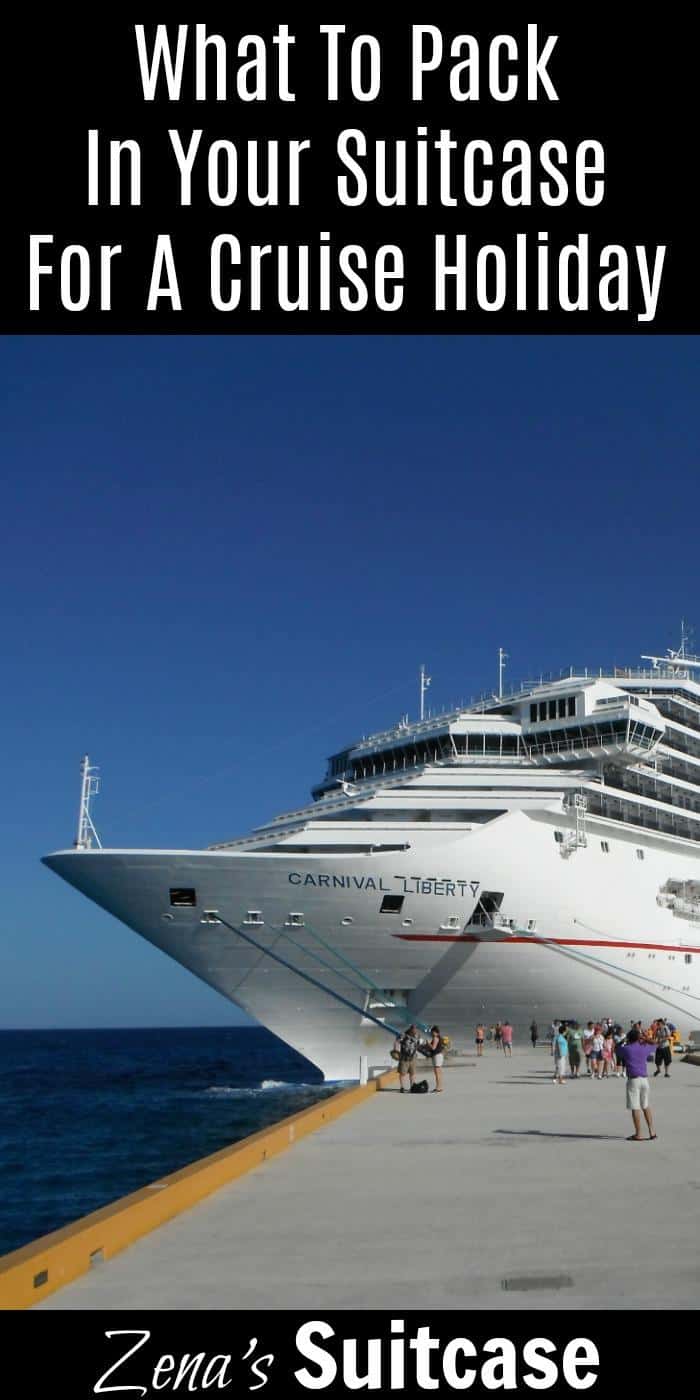 Personally, I prefer to keep my packing in check with a well thought our packing list for a cruise holiday. And lets not forget there's all that washing to think about when you come home.  If you really can't face the thought of it, send your dirty washing to the ship's laundry before you come home, and save yourself a mammoth job.  It's a holiday after all!
You can download the cruise packing list here!
If your still planning your cruise here's some posts you might enjoy:
6 Reasons Going On A Cruise Is A Great Holiday For Busy Families
Things To Do For Kids On Norwegian Cruises