When ever I write a new packing list, it doesn't matter what kind of holiday we are going on, kids toys will always appear on there somewhere.  No matter how exciting going on holiday is, my children still like to have something familiar with them while they adjust to their new environment.
I was recently introduced to a travel accessory brand called Go Travel, and I just loved the cute kids range they had on offer.  They have some great comfort toys and practical travel accessories for kids and they are excellent value for money too.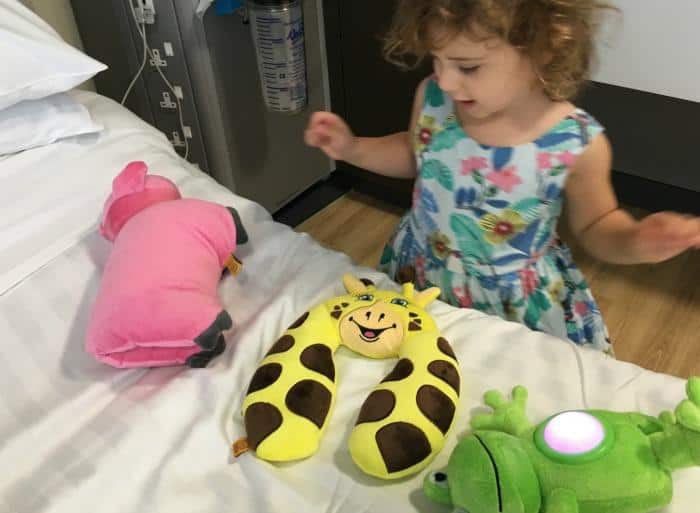 Before I share the new kids travel accessories we've been testing out, I just wanted to share with you a bit of background about the Go Travel brand.  Go Travel was established in 1978, and is still a UK family run business to this day.  They started out with just 10 products, and now have a range of around 300 travel accessories that they distribute to 70 countries around the world.  That's pretty impressive isn't it?
We were lucky enough to receive the Piggy Folding Pillow, the Giraffe Neck Pillow and the Night Glow Froggy to try out recently, and we decided to throw them right in at the deep end to see how they faired at comforting children in a strange and stressful environment.  You might have even caught sight of these cute toys in our recent post about going to hospital for my daughter's operation.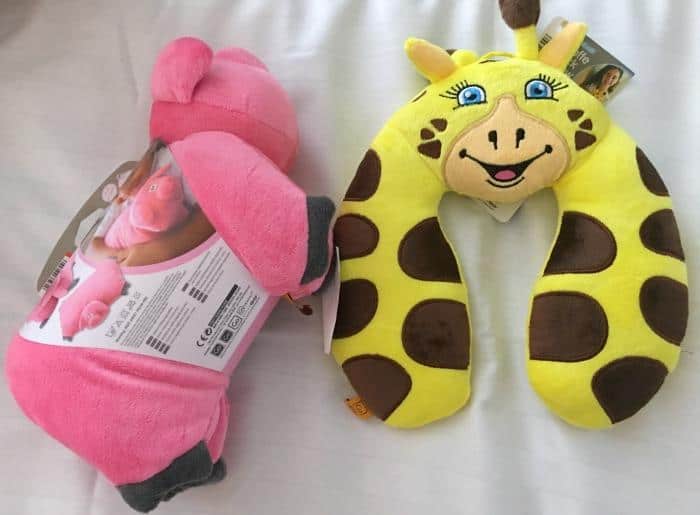 Brook took to Piggy, Giraffe and Froggy straight away and I could tell they were going to be a great help during our hospital stay.  When the consultant came into see us, Brook was immediately concerned.  Was this strange man about to take her toys?  She scooped up her new fluffy friends straight away and made it very clear that he wasn't getting his hands on them.
When the nurse came to take us down to the operating theatre, Brook scooped up her toys without prompting, as there was no way she was leaving them behind.  She marched down the corridor with her toys and they were allowed to go in the operating theatre with her.  I'm so glad she thought to take them with her and she had them when she woke up as the whole experience was incredibly stressful for her.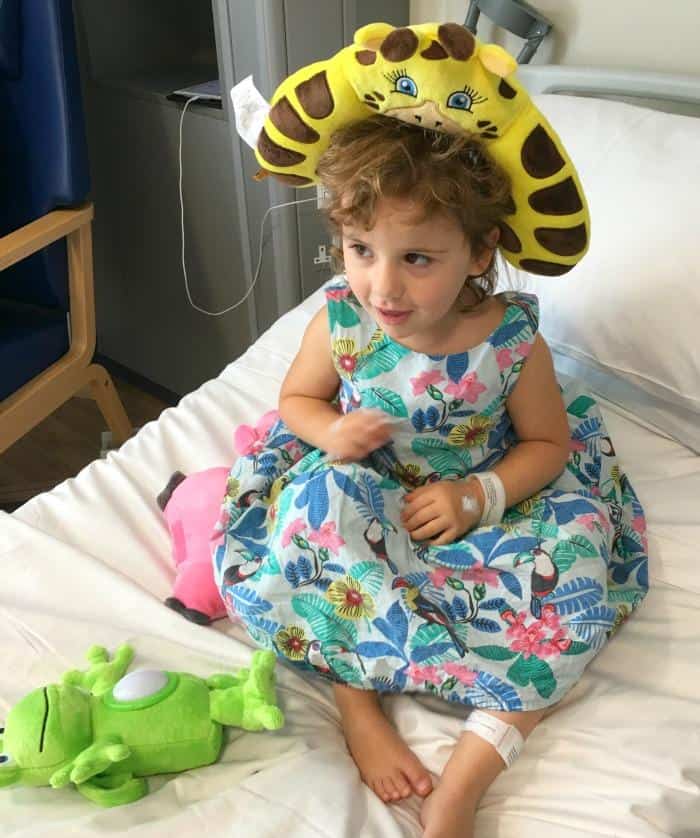 Since she has been home, her Piggly, Giraffe and Froggy have been her new best friends.  They are super soft and cuddly, very well made and great for taking on holiday or to places like hospitals when kids need some extra comfort.  The fact that the Night Glow Froggy can be hung up and came with batteries included and was ready to use was a huge plus point too.
We also mentioned the travel accessories were great value for money.  Piggy Folding Pillow is £9.99, Giraffe Neck Pillow is £8.99 and the Night Glow Froggy is £17.99.  You can also find more of the Go Travel kids range here.
Win This Collection of Kids Travel Accessories
I know how much my readers like to travel with their kids so I'm delighted to announce that Go Travel have also provided the Piggy Folding Pillow, the Giraffe Neck Pillow and the Night Glow Froggy as a giveaway prize for one lucky Zena's Suitcase reader.  I think they are going to make a mini explorer out there very happy indeed.
All you guys need to do to enter is complete the rafflecopter below.  The more you complete the greater your chances of winning this super cute prize.  Competition ends 31.10.17 at midnight.  Other T & C's apply.
Feeling lucky?  Check out my other giveaways here.