We decided it would be a great idea to begin our Hamburg city break adventure with a London Stansted Hotel.  We are huge fans of Holiday Inn Express and with such an early flight planned, staying in an airport hotel with kids always makes things go a little bit smoother.
We arrived at tea time and we were able to leave the car in the car park straight outside the hotel entrance.  We unpacked, but of course it didn't matter if we forgot something in the first run or decided to leave something behind before heading to Hamburg. Having this extra time to prepare for our trip definitely made for a more relaxing start to our family city break.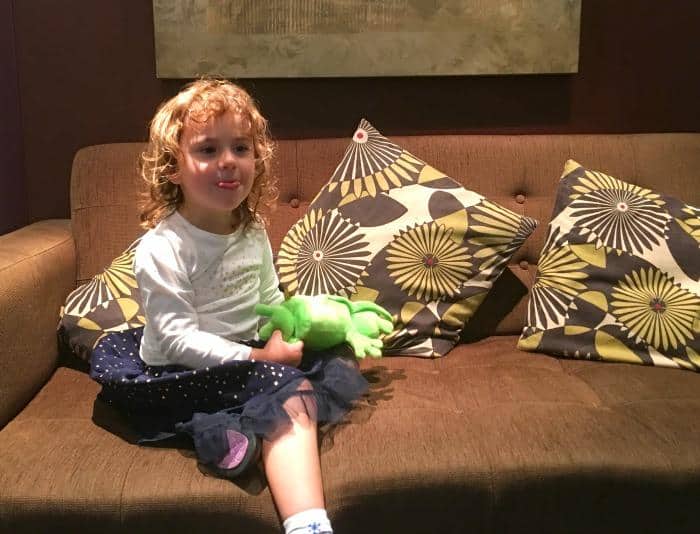 Check in at Holiday Inn Express is always really quick and we headed up to our room to unload our luggage before the restaurant opened. I was in two minds whether to eat in the Holiday Inn restaurant or visit the M&S food store across the road. In the end, we decided it would be nice to sit and eat together. There had been a lot of talk of pizza on the way to our London Stansted Hotel and we spotted one on the children's menu that would be perfect for my daughter.
I loved chatting with my daughter over dinner and making plans for our trip. There were two things on the top of Brook's must see in Hamburg list, firstly taking a boat trip from Hamburg harbour and secondly she was really excited about visiting the Chocoversum.  I couldn't complain about either of those choices now could I.
With a very early start ahead of us, we decided to go and get ready for bed straight after dinner. I wasn't sure how Brook would cope with getting up at 3.30am but we were going to be finding out.  We picked our favourite pillows from the soft and firm options and snuggled down in the super comfortable bed to watch How To Train Your Dragon on the TV before nodding off to sleep.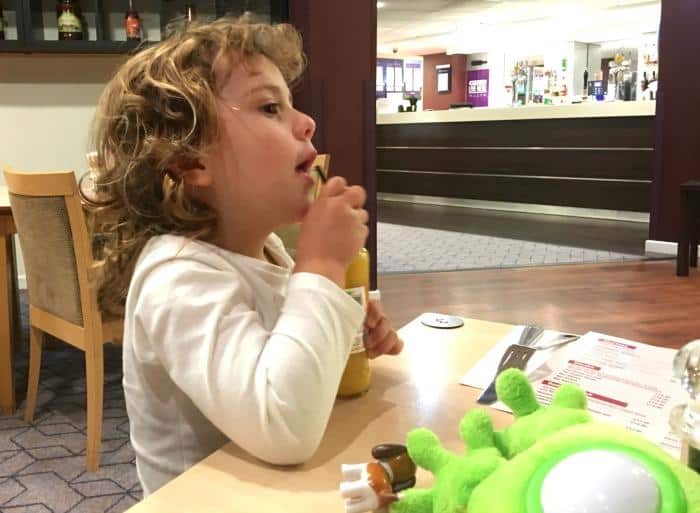 When the alarm went off, Brook was straight up as she knew something exciting was about to happen.  We gathered our hand luggage and went down for breakfast.  The continental buffet was perfect for grabbing a coffee and croissant before getting on the airport bus to take us to the terminal.  Holiday Inn Express even provide bags so you can 'Grab and Go' with your breakfast before your flight.  This is perfect for travelling with kids on very early flights.
We said goodbye to our London Stansted Hotel for a few days while we went off to explore the city of Hamburg together, but we were planning to stay again on the way back.  Our flight didn't land at London Stansted Airport until around midnight, so we wanted a good night's sleep before driving back home.
We were very tired when we arrived back in the UK, as we had spent the whole day in Hamburg sightseeing before catching our flight back to London Stansted.  Brook had managed to nap in her pushchair during the day, but Mummy wasn't quite so lucky.
Fortunately it's really easy to catch the airport shuttle to your London Stansted Hotel, and the bus trip only takes 5 minutes.  The bus drops you right outside of the door as well.  Everyone is checked in really quickly, so even if there is a queue, you won't be waiting long at all.  We headed straight to our family room, and the comfy bed was a very welcome sight indeed.  We were asleep in minutes to be honest.
I was hoping Brook would lie in a little bit in the morning, but it doesn't matter what time she goes to sleep, she's always awake around 6am and asking if it's 'morning time'.  She took a look out of the window and as far as she was concerned it was time to get up!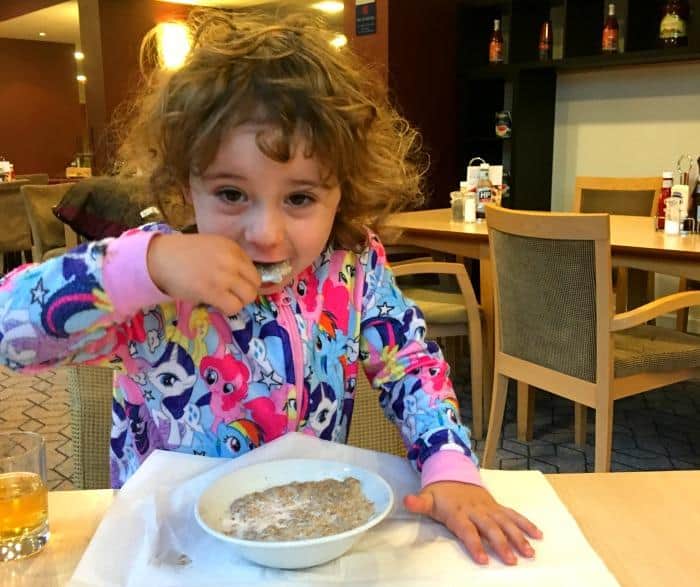 I was desperate for a little more sleep before driving us home, so I popped some cartoons on the TV and she was happy watching them and playing with her toys until she decided she was 'a little bit hungry'.  I was keen for her to eat a good breakfast and get her off to a good start before the drive home.  I know that the Holiday Inn Express breakfast offer lots of things she loves too.
It was so relaxing to be able to take our time getting ready before leaving Stansted.  We chatted about all the things we had loved about our visit to Hamburg over a very leisurely breakfast.  Brook enjoys cereal and muffins while I can never say know to a cooked breakfast with a good cup of coffee.
Once we had filled our boots, we got ready to pack the car and check out of our London Stansted Hotel with Holiday Inn Express.  The staff had been really helpful and efficient during our stay, and the room on both occasions was both clean and comfortable.
Key Information
Shuttle service every 30 mins between hotel and Stansted Airport costs £3, under 17's travel free.
Continental breakfast served from 4am
Cooked breakfast served from 6am
There are 254 air conditioned rooms at the hotel
Hotel includes a bar, games area and restaurant
Free wifi
Best Price Guarantee
Stay, Park and Fly packages available with convenient car parking options.
Family friendly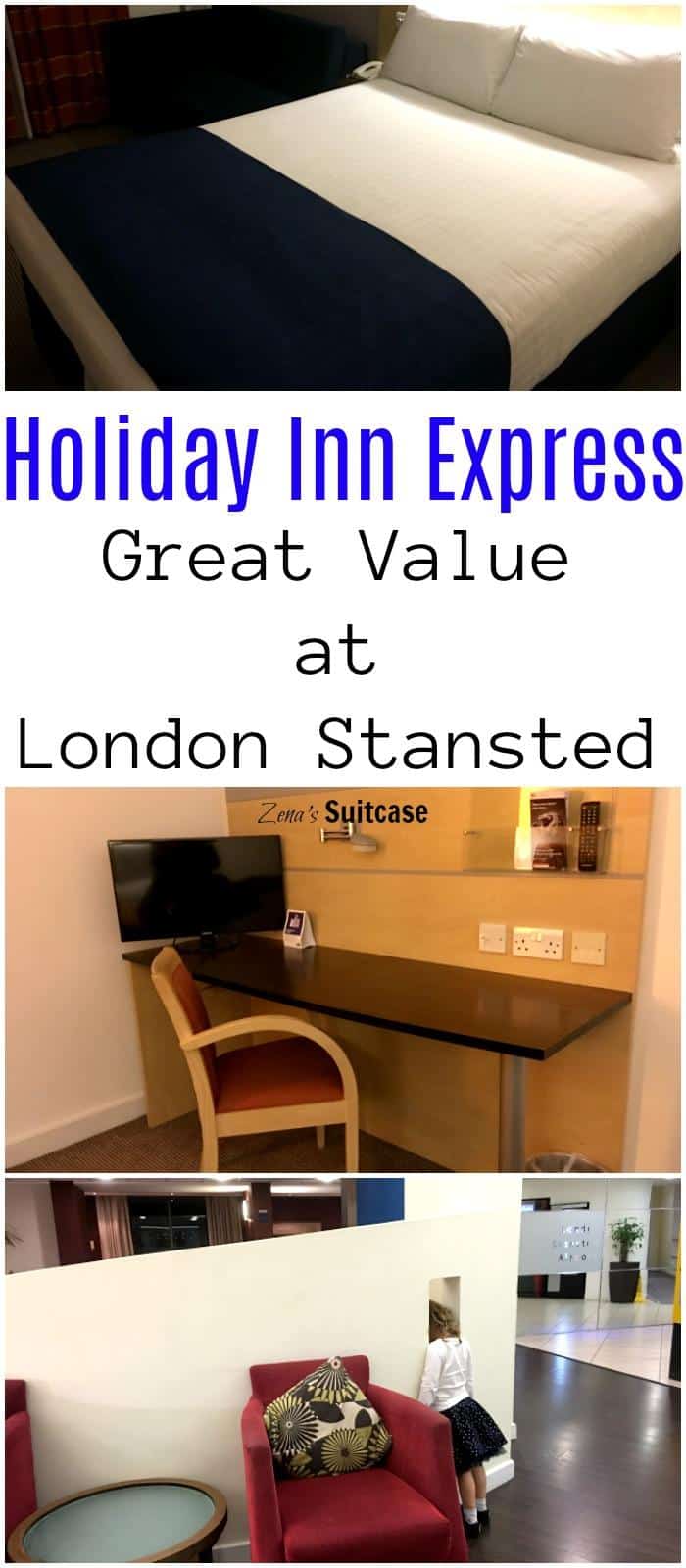 We were provided provided with a complimentary stay at Holiday Inn Express London Stansted Hotel with car parking in exchange for this review, but all thoughts and opinions are our own.