I've wanted to visit the city of Edinburgh for as long as I can remember.  When the opportunity arose to spend 2 days in Edinburgh I couldn't say no to a quick city break.  I was searching on Expedia for flights and hotels for trips to Edinburgh and I found some great deals.  I found some lovely Edinburgh hotels with a large discounts because they had been newly listed. The flight times were great too, perfect for an Edinburgh solo travel adventure.
There's so much choice for things to do in Edinburgh and my dream itinerary was coming together perfectly.  I literally thought, if I don't book this city break now, I never will, so my decision was made and I was looking forward to exploring Edinburgh in 2 days before I knew it!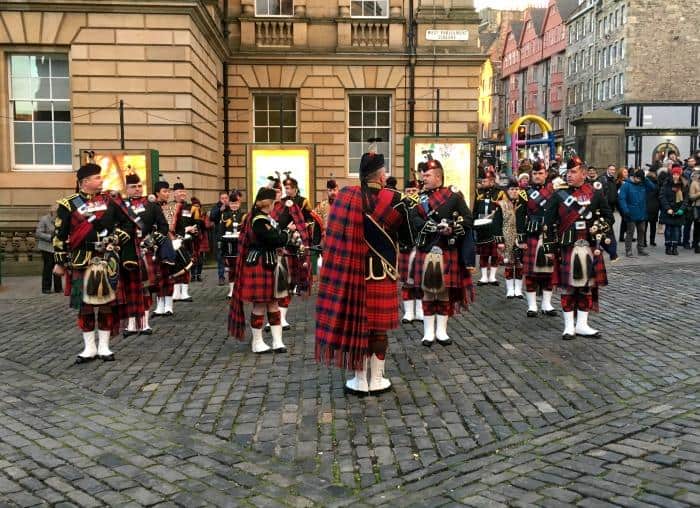 When the day came around for my 2 day Edinburgh weekend break, I was feeling really excited.   There's something about getting on a plane, even for a domestic flight, that makes me really happy.  As the plane left East Midlands airport for Edinburgh I was wondering what the city would be like. Would I like it as much as I thought? Would I get through all the things I had planned to do on my Edinburgh itinerary.  I love how visiting a new place answers all these questions and finding out the answers is always so much fun.  Without further ado lets crack on with what to see in Edinburgh in 2 days.
2 Days in Edinburgh
Edinburgh Itinerary Day 1
I took the tram into Edinburgh and throughly enjoyed the views of open fields and blue skies along the way.  It looked like the weather was going to be on my side and I couldn't wait to get started exploring the city.  I got off the tram in Edinburgh's West End and went in search of the National Galleries of Scotland.  It was about a 15 minute walk but it was well worth it.  I stumbled across some amazing architecture and it gave me a real feel for the city as day 1 got under way.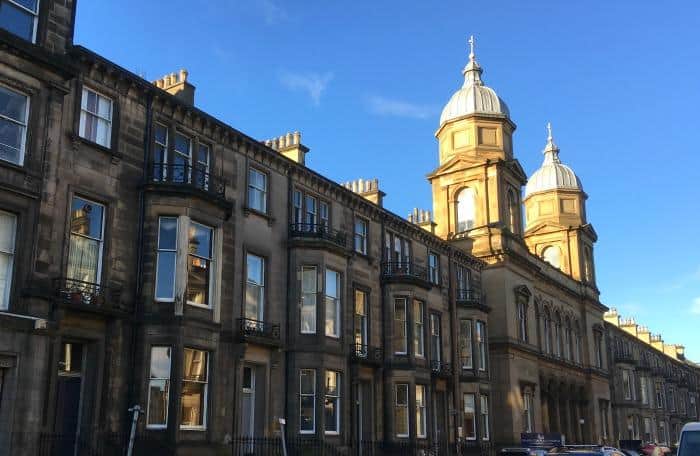 Modern One – National Galleries of Scotland
I love to understand the culture of a city when I visit, and Edinburgh definitely has a lot to offer in this area.  A visit to a local art gallery really helps with this so I added it to the list of things to do. The Modern One really celebrates how the city of Edinburgh supports local art culture and up and coming talented artists.  It's a really feel good place and well worth a visit.
The building and gardens are stunning, and really set the scene for what I was about to find inside.  I really enjoyed seeing the exhibitions here and the cafe was also the perfect place to stop for lunch. It proved popular with locals and visitors alike.
When you are looking up what's on in Edinburgh make sure you check out the latest exhibitions and activities at the National Galleries of Scotland for a modern yet grounded take on new art.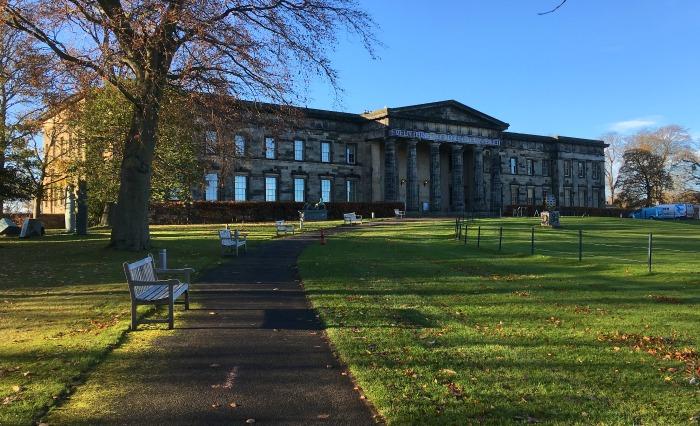 After a lovely visit to the National Galleries of Scotland I ventured into central Edinburgh on foot.  One thing that really struck me was how friendly the people were.  Everyone had a smile on their face and people were more than happy to help if I needed directions or help in anyway.  You couldn't ask for a better welcome if you ask me.
The Scotch Whisky Experience
After a little more exploring in the city and enjoying the views over Princes Street Gardens I decided it was time to tick that whisky box at one of Edinburgh's best visitor attractions.  I didn't know what to expect from The Scotch Whisky Experience, but when it comes to things to do in Edinburgh I can strongly recommend this attraction.  It all started with me sitting inside a whisky barrel and going on an interactive journey with the ghost of Douglas McIntyre. Sounds fun already doesn't it?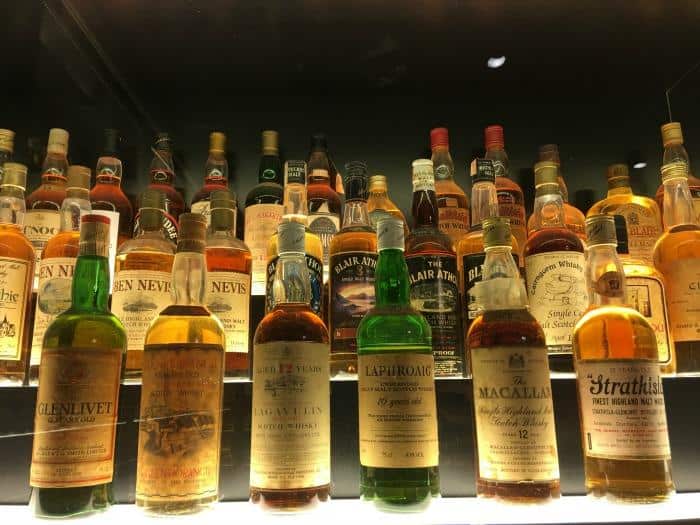 I learned lots about making whisky and how the taste and colour varies depending on the region it comes from.  When I left the exhibition I really felt like I had had fun and I learned lots of new things.  If you were visiting Edinburgh with kids you could still visit here, but maybe not let them taste the samples!
Whether you are spending 1 day or 2 days in Edinburgh, I'd strongly recommend that a visit to The Scotch Whisky Experience makes it onto your list of things to do.
Camera Obscura
I was keen to fit in one more visitor attraction before heading to the hotel that evening.  I was delighted when I realised that Camera Obscura was open until 7pm and it was just across the road from The Scotch Whisky Experience.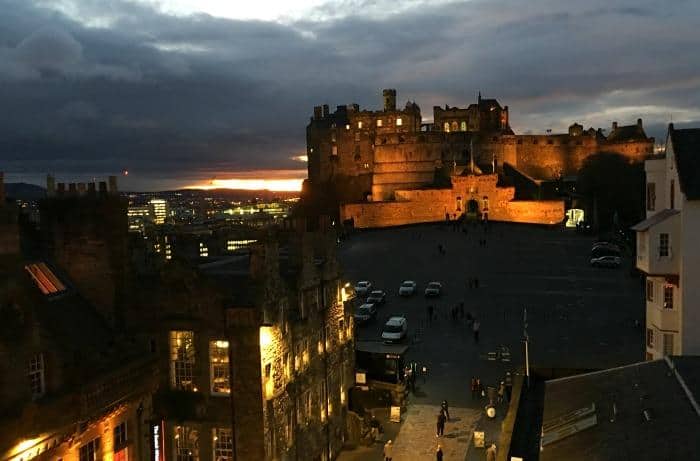 I started at the top, and thoroughly enjoyed taking a step out onto the roof tops to see the views of Edinburgh Castle and the surrounding area.  Each floor is packed with interactive experiences including a mirrored maze and a spinning light tunnel.  There are 150 hands on experiences inside Camera Obscura, making it a fun attraction in Edinburgh whether you are travelling solo, as a couple or with family.
Take a look at my YouTube video about visiting Edinburgh.  You'll love the mirrored maze, I'm sure!
Heading to the Edinburgh Hotel
After a very fun packed day 1 in Edinburgh I decided it was time to head to the hotel, and rest my tired feet for the night.  I was looking forward to a quiet night after a very busy day, and the Hampton by Hilton was the perfect place to recharge my batteries before day 2 in Edinburgh commenced.  The check in was super quick and I was in my room within minutes.
My hotel room for the night was very modern and clean and it was lovely to have lots of space.  It had lots of sockets and USB ports so I could charge my phone and laptop ready for the next day. The bed was so comfy for both watching TV and sleeping.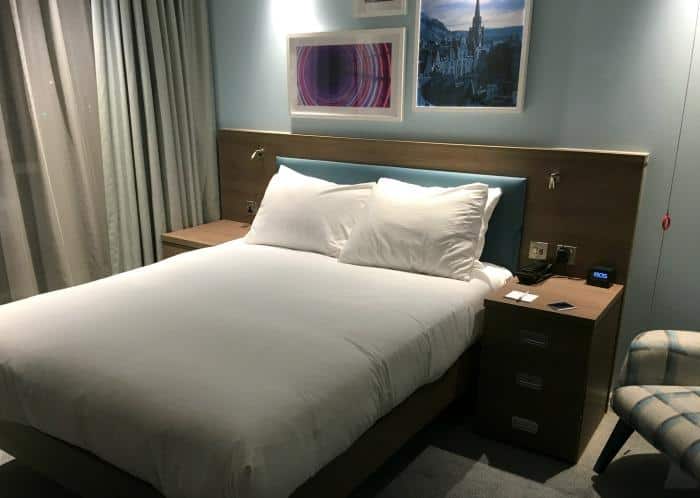 Breakfast was included in my Expedia booking at the Hampton by Hilton in Edinburgh and it turned out to be the perfect start to my day.  I sat in a booth and fuelled up on fresh coffee and orange juice along side my buffet English breakfast.  I was impressed that there were waffle machines to use, but sadly I couldn't fit in another morsel.  Next time I'll remember to try them first or save room!
Day 2 Edinburgh Itinerary
I checked out of the hotel feeling fully prepared for the second leg of my weekend in Edinburgh itinerary  with Expedia.  I headed towards the famous Royal Mile in search of more sight seeing and to check out the Edinburgh guided tours.  The buildings in Edinburgh are just beautiful and I strongly suggest you give yourself plenty of time to appreciate them.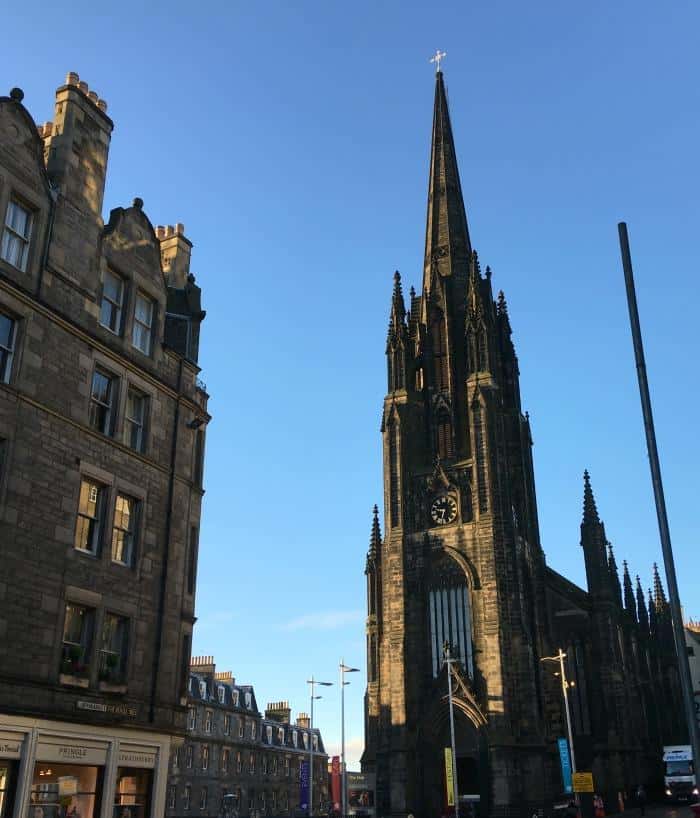 I found the Edinburgh Festival Centre along my route and stopped to view it from every angle I could.  It certainly makes an impression on Edinburgh's skyline as it towers above the Old Town.  They were just opening when I arrived, so I was able to take a quick peak inside as well.  If the cafe had of been open, I think I would have had to stop for coffee whether I had of needed one or not.
Royal Mile, Edinburgh
If you visit Edinburgh for a 2 day trip, I strongly recommend making ample time to explore the Royal Mile.  It's the perfect place to find the best Edinburgh tour guides for a start.  It runs downhill between Edinburgh Castle and Holyrood Palace and is literally a fascinating place.  There are lots of nooks and crannies to explore from either side, and you find yourself needing to go and take a little peek down most of them.
St Giles Cathedral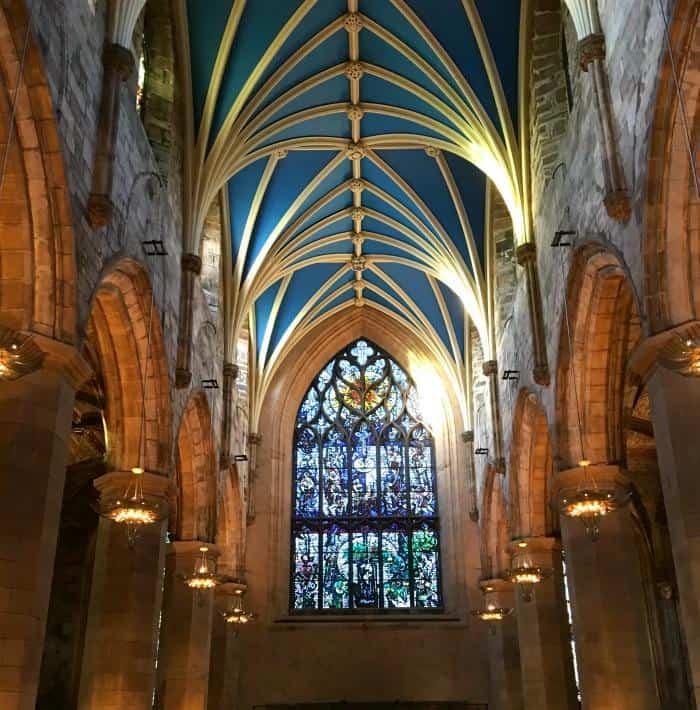 I am far from a religious person, but I do like visiting churches and cathedrals.  When I spotted St Giles Cathedral I couldn't wait to see inside.  Its free to enter, but if you want to take photos you need to pay £2.  I'm pretty sure you will want to take photos as the inside of this cathedral is just beautiful with a stunning ceiling and ornate stained glass windows.  There is also a cafe with toilets downstairs which I used for a quick pitstop.
Royal Mile Market & Tron Kirk
I spotted what looked like another church a little way down the Royal Mile and decided to investigate further.  When I got closer, I realised that there was a market inside.  I love a market, and popped in for a browse and found some beautiful locally made crafts, clothes and gifts.  If you enjoy locally handmade items, this is certainly a good place to visit in Edinburgh for shopping.
Edinburgh Royal Walking Tour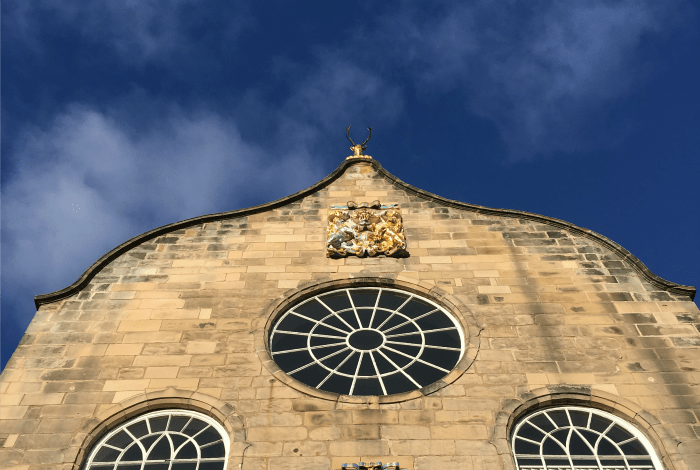 I was very keen to learn more about the city, and I joined the Mercat Royal Walking Tour to find out more about the history of the Royal Mile.  This was a great city tour as it was packed with lots of information about all the people who had made an impact on Edinburgh's rich and sometimes colourful history.  The Edinburgh sightseeing tour ended at Holyrood Palace, which sits at the bottom of the Royal Mile and makes for another interesting and historical place to visit in Edinburgh.
Holyrood Palace
Holyrood Palace is the Queen's official residence in Scotland and she stays here every summer.  Whilst she's not in residence, you can go inside and explore the Royal Palace with an audio tour.  The building and it's contents are fascinating, and as I moved from room to room I learned lots about the people that have stayed here including the ill fated Mary Queen of Scots.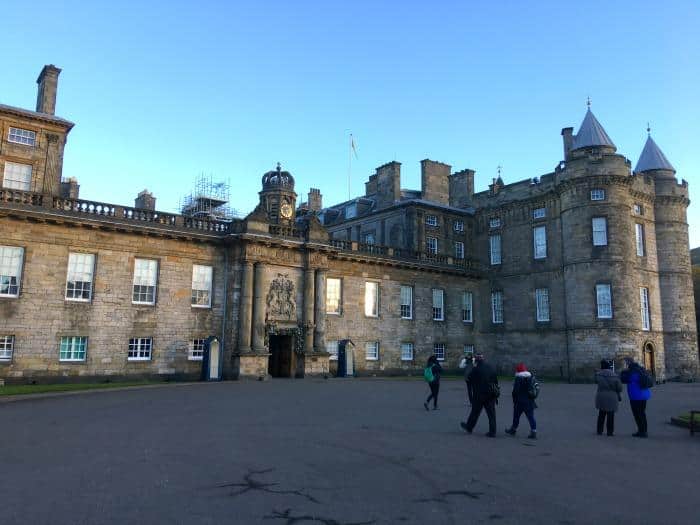 The People's Story
Having seen Edinburgh from the Royal's perspective, I decided to visit The People's Story on my way back up the Royal Mile.  This is an interesting museum which recreates day to day life of the people who lived in the area between the 18th and 20th century.  There is definitely a sense of riches in the city when you see the elaborate buildings, but working class people across the same period experienced a great deal of poverty and over crowding was a real issue for them.  Seeing this contrast gives you a more balanced sense of Edinburgh's history.
Edinburgh Castle
I don't think any Edinburgh itinerary would be complete without a visit to Edinburgh Castle and I'm so pleased I was able to tick it off my list.  The views over the centre of Edinburgh are absolutely stunning and the castle is a very interesting place to explore as well.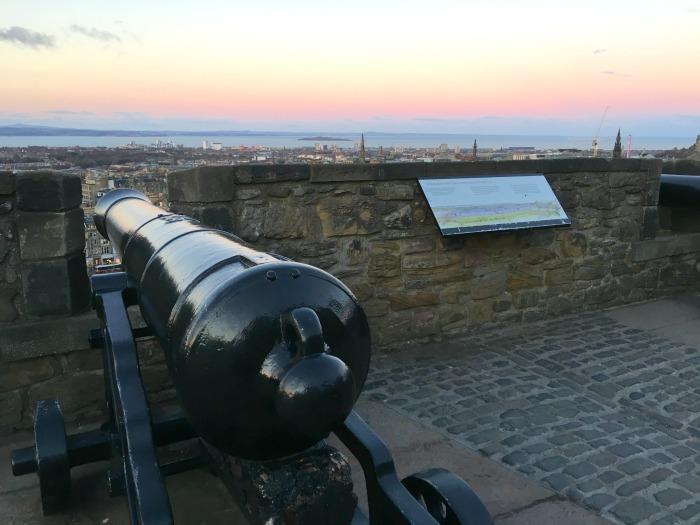 The exhibitions include a display of the oldest crown jewels in the British Isles as well the Scottish National Memorial of War.  There is clearly a strong military connection at the castle but one of the most interesting exhibits is about the prisoners of war that were held here from all over the world, in pretty squalid conditions by anyones standards.
Edinburgh's Christmas Market
If you are looking for things to do in Edinburgh in December, then visiting the famous Christmas market has to be on your best Edinburgh itinerary.  It's spectacularly huge, and sadly I didn't have enough time to see it all as there are rows upon rows of stalls, rides and things to see.  I could have spent hours here, and a serious amount of money if I hadn't of had to catch the plane back to East Midlands that evening.  I can certainly see why Edinburgh is a popular destination in the winter!
Edinburgh Itinerary 1 day
I know that some of you who are planning to visit Edinburgh may only have one day to explore the city.  If you are struggling which of these places to pick to add to your Edinburgh itinerary for 1 day, these would be my top picks based on location and experience.
Begin your day at Edinburgh Castle
Either visit Camera Obscura or The Scotch Whisky Experience
Walk down the Royal Mile
Stop at St Giles Cathedral
Visit the Royal Market
People's Story Museum
Audio our at Holyrood Palace
If you are looking to book a city break, then make sure you visit Expedia to check out there latest deals and discounts.  It's a great one stop shop that lets you find the perfect hotel, travel and transfer arrangements all from one travel website.
Know someone who would enjoy this post?  Please do share it with your friends and followers, as it would literally make my day.
For the latest blog posts, offers and giveaways don't forget to subscribe to Zena's Suitcase. You can also follow the latest updates on Twitter, Facebook, Instagram and Pinterest.
I was invited to spend 2 days in Edinburgh with Expedia as apart of their #expediacitybreak & #expediastaycation campaign. 
Pin for later