Are you one of those parents that secretly dreads Easter because of the mountain of Easter Eggs that's about to arrive in the house?  Are you keen to encourage friends and relatives to buy alternative Easter gifts for your child that do not involve chocolate?  Well look no further as I'm right here to help you out with that!
I don't know about you but I'm becoming increasing aware of the amount of sugar my children consume and Easter is a time of the year when it sky rockets.  Those gold foil coloured eggs that appear on the shelves not long after Christmas are so tempting but Easter Egg or not, they are still chocolate and too much of it isn't healthy for anyone.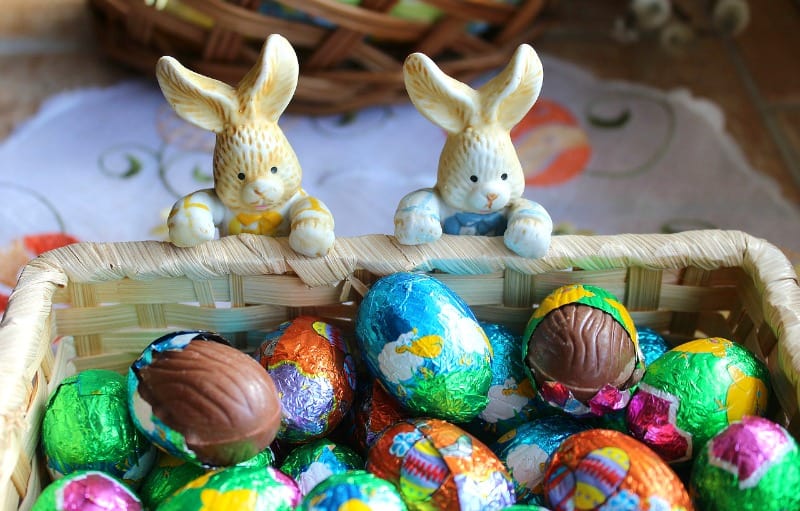 I'm happy for my children to have one Easter Egg and no more.  It will be rationed over the Easter holiday as a treat but if anyone else wants to buy them a present it really needs to be a non-chocolate Easter gift.  I'm already armed with lots of ideas for when they ask, so I thought you might like a few suggestions as we get closer to Easter weekend.
Personalised Notebook and Pencils from GiftPup 
GiftPup are an online gift website that specialise in personalised gifts for the whole family.  You can rest assured that a gift bought for Easter from GiftPup will be excellent quality and very well received.  We are huge fans of the 'Born To Ride Unicorns' notebook and hand engraved colouring pencils to go with them.  These are the perfect Easter gift for a child who is learning to write, keen to keep a diary or just enjoys having a place to doddle.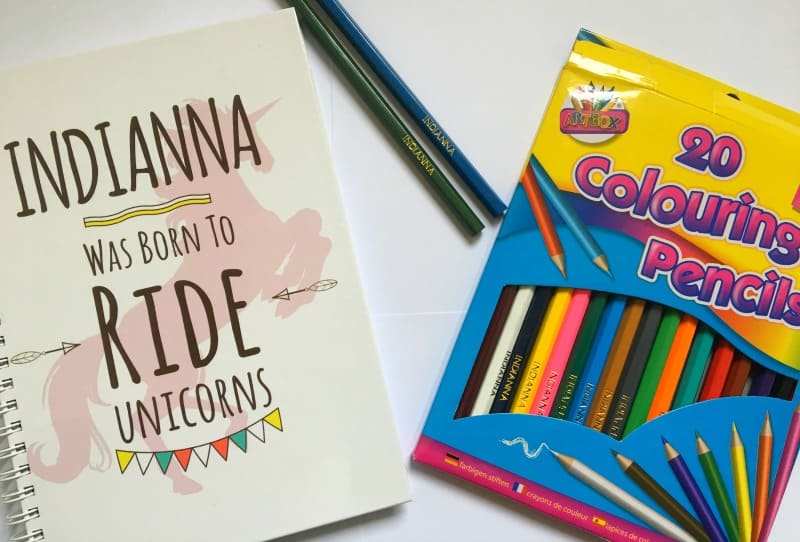 You can purchase these Easter gifts from giftpup.com.
Snuggly Rascals Comfortable Headphones for Kids
You might remember that we are already huge fans of Snuggly Rascals Comfortable Headphones for Kids from our last review, so we were super excited to find out that they have released an Easter Special Edition Bunny Design making for a perfect alternative gift to chocolate this spring.  The cute bunny design is bound to be a big hit with little animal fans, and they are also the perfect travel companion for family road trips.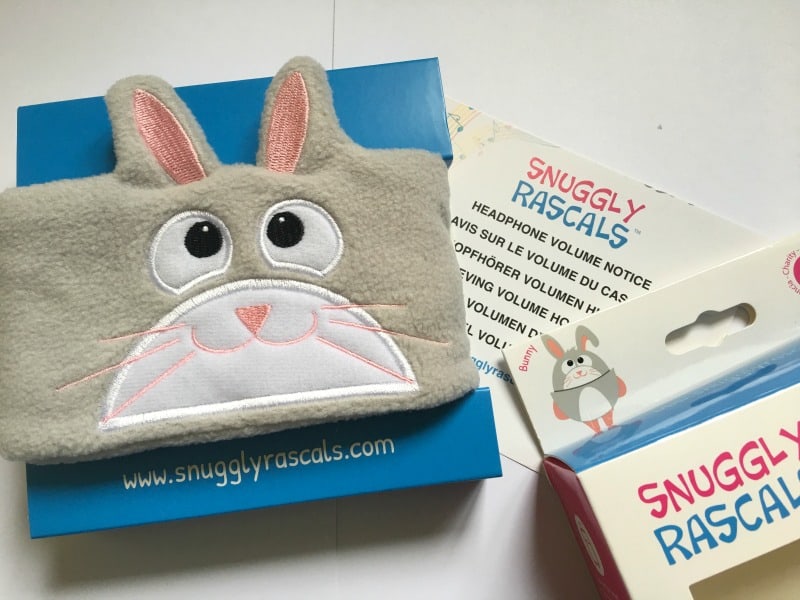 You can purchase Snuggly Rascals Comfortable Headphones for Kids from Amazon.
Jumbo's Peter Rabbit 4 in 1 Jigsaw Puzzle
If your little one is a Peter Rabbit fan, you might already know that the Peter Rabbit movie is going to be released in cinemas on March 16th.  As well as the film, some great Peter Rabbit merchandise is going to be available including Jumbo's 4 in 1 jigsaw puzzle.
This Peter Rabbit jigsaw is perfect for children who love puzzles as there are 4 fab designs from the movie.  The puzzles have a different number of pieces starting at 12 and going up to 36, becoming more difficult as your child masters them.  The pieces also get smaller if they are ready for more of a challenge.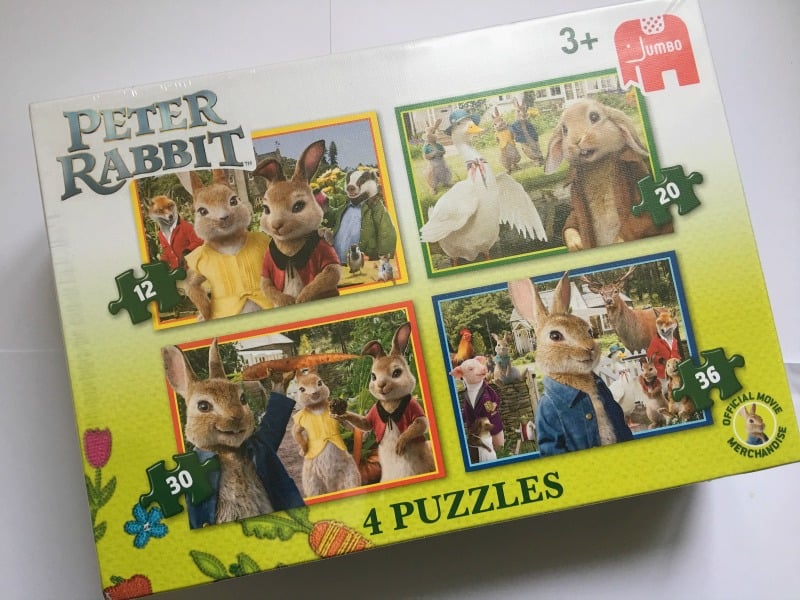 Jumbo's 4 in 1 Peter Rabbit jigsaw puzzle will be available from March from all good toy retailers.
Betsy from Club Petz
An interactive bunny rabbit appeared at nursery one day and Brook literally became obsessed with it.  It was super cute and she loved that it hoped when she played with it.  I don't know if it was Betsy from Club Petz but this is a version that has caught my eye and is a toy that is very much on our list this Easter. She hops, makes bunny noises and her cute bunny ears wiggle too.  This is going to be a popular choice with rabbit fans.  Maybe you might want to buy Betsy to avoid conversations about a real rabbit moving in over Easter.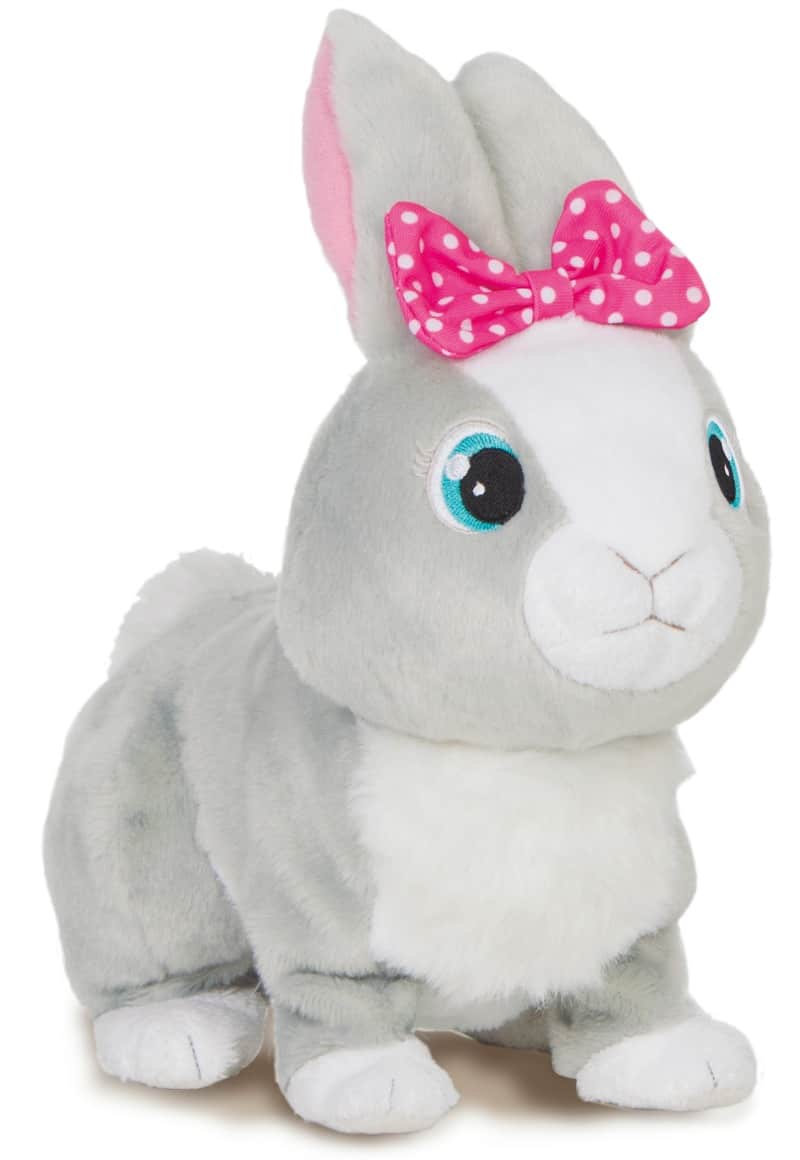 Betsy from Club Petz is available from Smyths Toy Store and Argos.
Molang Plush Toys from TOMY 
Molang is a cute and eccentric little rabbit who is causing a real storm over on Boomerang, Cartoonito and YouTube. Molang and her friend Piu Piu are fun little characters who celebrate the importance of happiness, friendship, solidarity and mutual respect.  These are perfect messages at any time of year, let alone as a present for Easter.  The range of plush toys allows young fans to bring their favourite stories to life and continue the fun in their own home.

Molang Plush Toys from TOMY are available from a range of good toy retailers.
I hope I've helped you out with your hunt for alternative Easter gifts this year?  I'm sure these present ideas will reduce the piles of Easter Eggs that arrive in your home and you will have a much healthier holiday this spring.
Looking for more Easter inspiration?  Take a look at me easy Easter crafts ideas or why not make this stained glass Easter egg with the kids?
Know someone who would enjoy this post?  Please do share it with your friends and followers, as it would literally make my day.  
For the latest blog posts, offers and giveaways don't forget to subscribe to Zena's Suitcase.  You can also follow the latest updates on Twitter, Facebook, Instagram and Pinterest.
Pin these ideas for later 

This post contains PR samples.