Everyone in the family was super excited about visiting the Eden Project during our Cornwall road trip. For many years I've wanted to tick Eden Project, Cornwall's most famous and iconic attraction, off my UK bucket list.  During our Cornwall holiday I found out my husband felt the same way.  The kids asked 'what is the Eden Project', and seeing as I'd found the best explanation on the Eden Project website, I told them 'it's the largest rainforest in captivity', as well as some other interesting botanical components of course!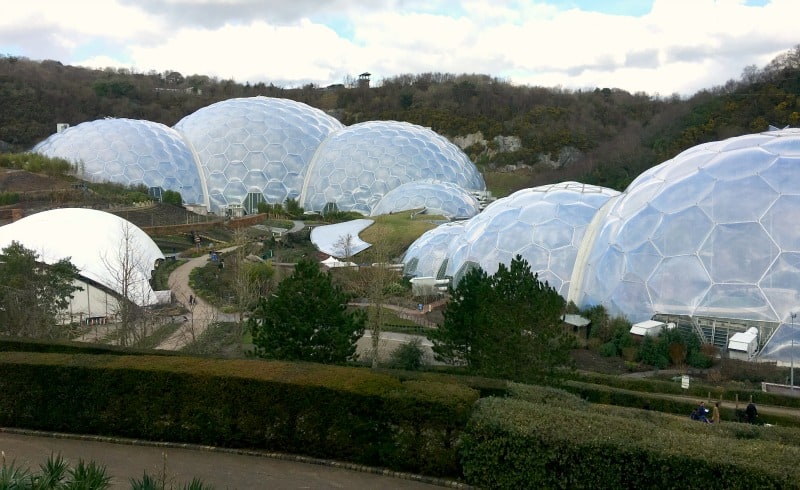 My husband looked at me quite perplexed, as if I'd just plucked a random explanation out of thin air. When I assured him my explanation came from a very reliable source, he seemed to relax and we continued our conversation with the girls about what a rainforest was and why we were so lucky to be able to visit one at Eden Project Cornwall.
The Eden Project is a real testament to how local people are inspired by the landscape and making the most of the opportunities it presents them with. Originally a clay quarry reaching the end of it's useful life, the Eden Project has been growing since 1995 into the phenomenal Cornwall attraction it is today.
Tips for Visiting The Eden Project Cornwall
If you are planning a visit to the Eden Project with kids, allow for a whole day so you can enjoy the biomes and gardens at a leisurely pace. Take plenty of drinking water as the EdenProject is very exposed and it is incredibly warm inside the biomes.  On that note, there is a cloakroom where you can store your coats in the link between the biomes.  I would recommend hanging them up as you will be stripping off within a few minutes of being inside the rainforest biome due to the humidity.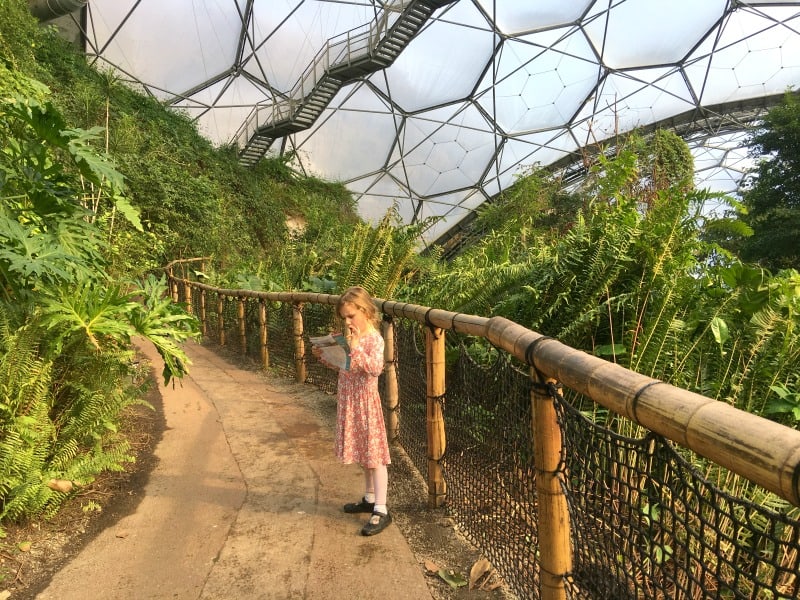 If you are worried about little legs walking around Eden Project there is a land train that takes you around the site and there are lifts available for anyone with accessibility issues.  With all those tips for visiting the Eden Project out the way, it's worth mentioning that our 3 and 5 year old girls walked around the whole project without a problem. Taking it at a leisurely pace certainly helped.
About The Eden Project
The Eden Project is breathtaking beautiful from every angle and it's such a great place to visit in Cornwall.  I'd also say you don't need to be a keen gardener to enjoy it.  The Eden Project is more about understanding and appreciating the world we live in, and how we can create a better future for us and our planet.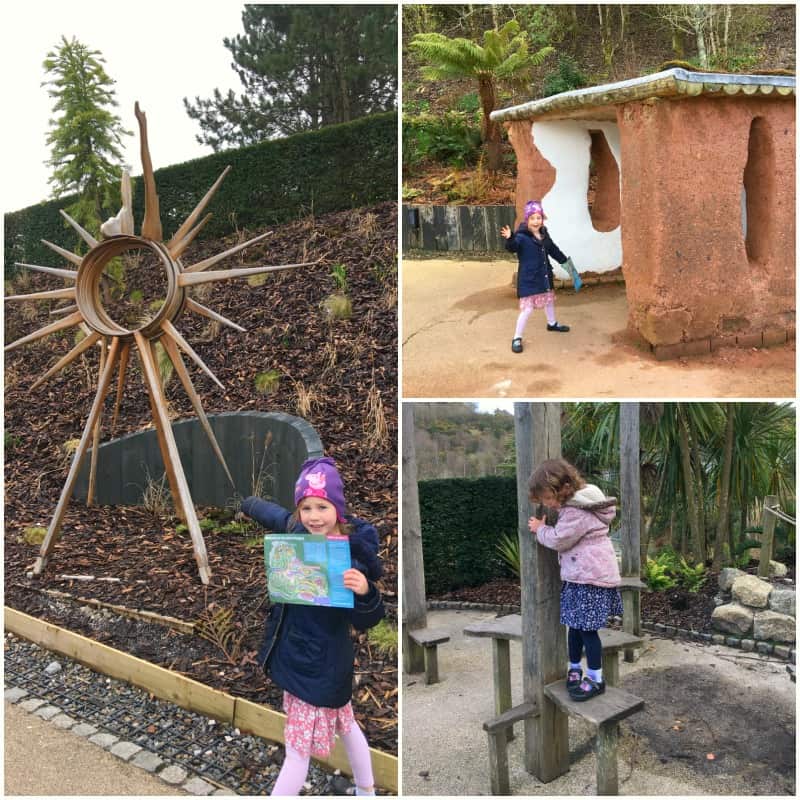 We ambled down the Eden Project gardens gentle slopes known as the Zigzag Through Time stopping along the way to discuss the interesting facts about the plants growing there and to let the kids explore the various play zones.
I was really looking forward to seeing the bee sculpture at the Eden Project, but it's safe to say Indie had very mixed feelings about this. She was stung by a bee last year, and sadly that memory still makes her feel a little nervous.  When she saw the amazing bee sculpture she realised that there was nothing to worry about and we were able to have a good discussion about why bees are such an important part of our natural habitat thanks to our visit to the Eden Project.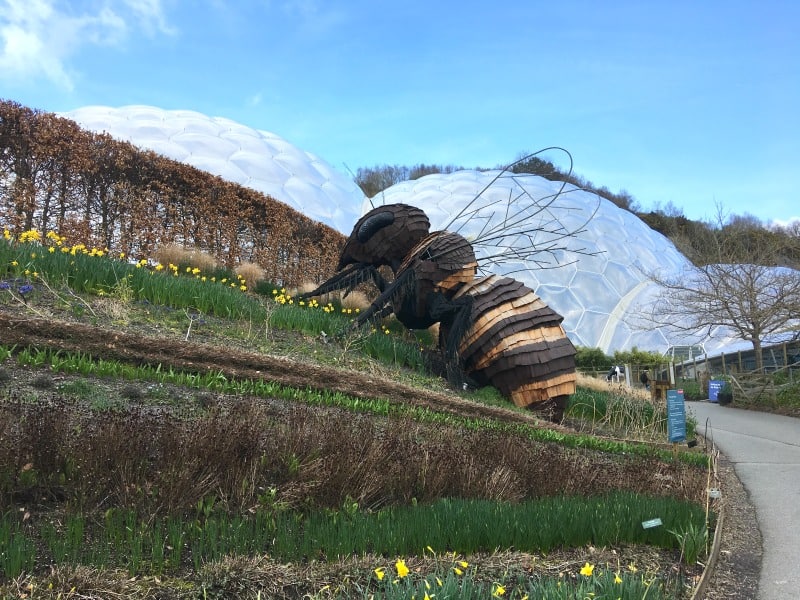 The next stop was the Rainforest Biome and I have to admit, this is a very impressive aspect of the Project Eden. From the outside, the structure blends with the landscape more like an artistic sculpture than a technically engineered greenhouse. In contrast, when you step inside you feel like you have been transported to a rainforest in either Southeast Asia or West Africa.
As well as creating the sensation of being in a far off tropical jungle, the experience really comes to life when you start looking for the birds and animals that live inside the biome. I knew we'd see many plants and trees, but I had no idea we were going to come into contact with some of the creatures that live in the rainforest too.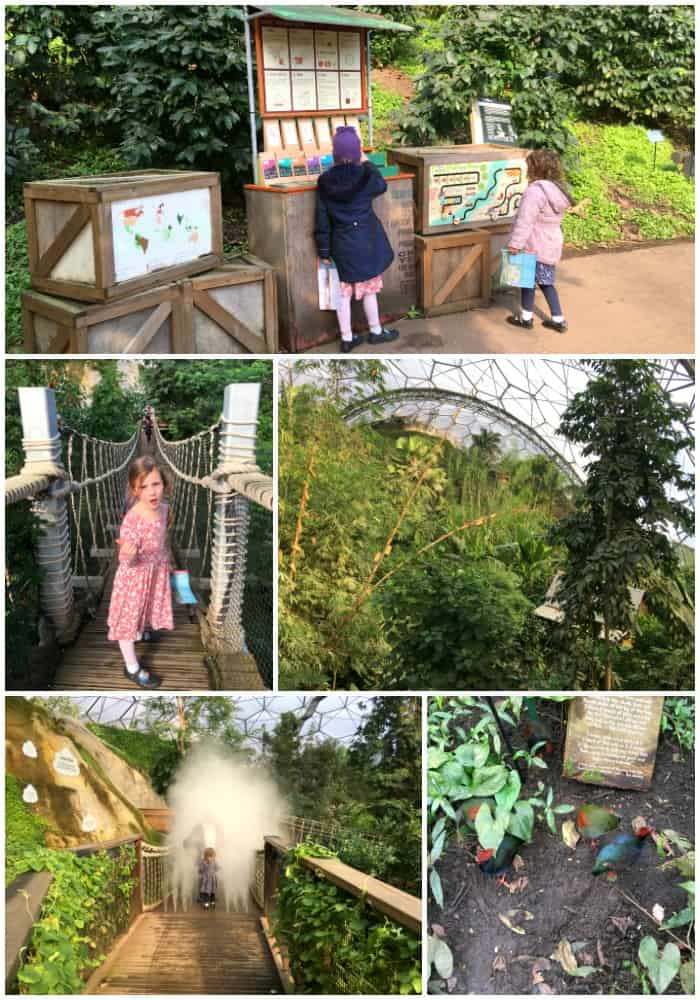 For the girls, this experience really was like being able to explore another world. They took some keeping up with as they ran from place to place, desperate to see what was next inside the tropical biome. They particularly loved the rain shack where you got to experience what it might be like being caught in a tropical storm. My personal favourite was the suspension bridge where you got a sense of what it might be like amongst the tree tops and clouds in the forest at the very top of the Eden Project biome.
Next stop was the Mediterranean biome across the link. Being able to experience the difference between the climate of the rainforest, the Mediterranean and of course the UK on the same day was such an eye opening experience for all of us.  The second biome featured the white walls and ornate gardens you often find in Spanish courtyards, and the girls didn't take long at all to make themselves at home.  It reminded me of many a Spanish holiday and conjured up so many memories that I almost forgot I was standing in a huge dome in the Eden Project Cornwall.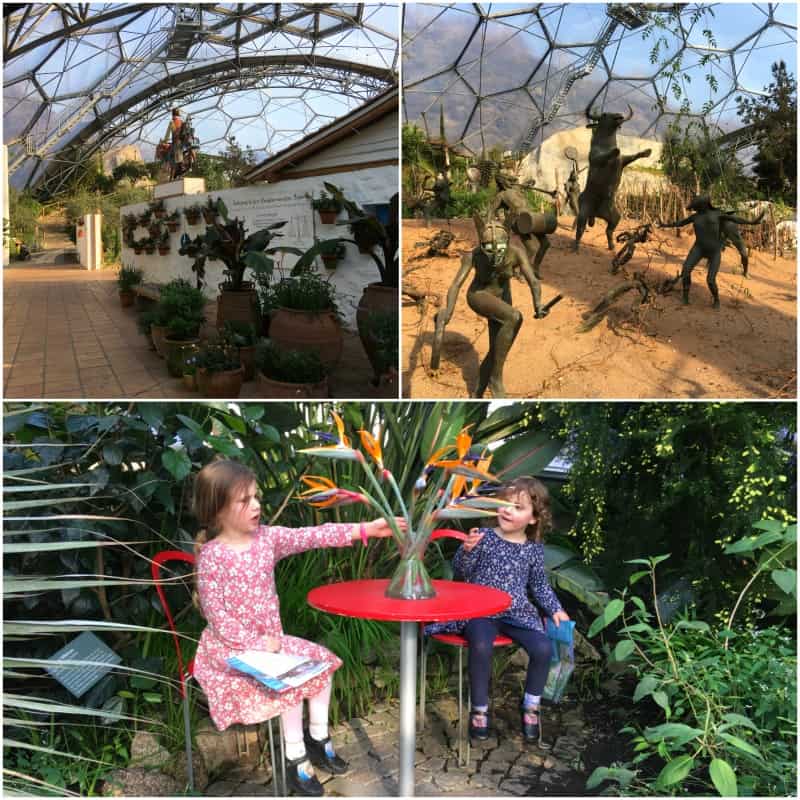 After exploring the gardens and sculptures indside the Eden Project biome we headed outside to make our way back to the visitors centre via the Outdoor Gardens. It's hard to believe that once these were a grey and desolate landscape as today they are beautiful and flourishing gardens bought to life by the vision of Tim Smit, who had previously restored the Lost Gardens of Heligan.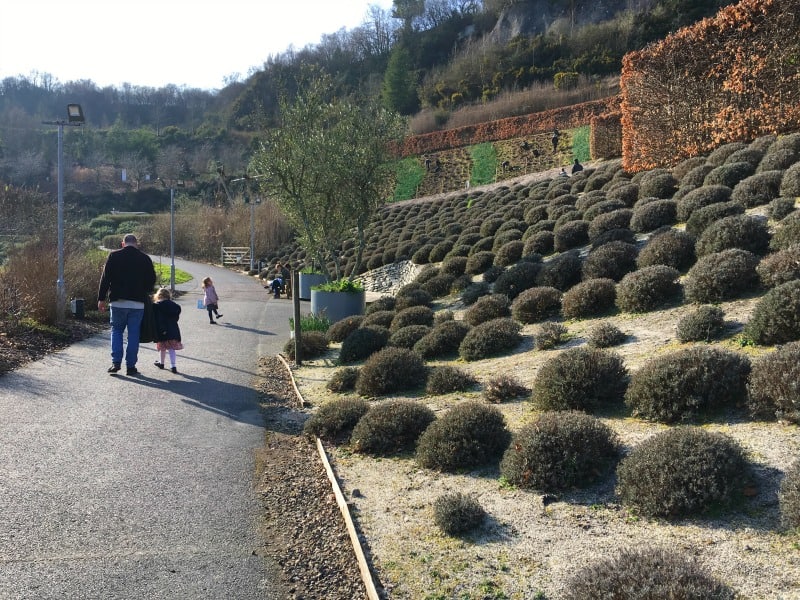 We thoroughly enjoyed our visit to the Eden Project as a family, and it's a complete joy to see how the landscape can be transformed when people work together.  It was a lovely day out, thoroughly enjoyed by all of us.  If we were visiting Cornwall again, we would certainly stop by the Eden Project Cornwall for another visit, and we would be happy to recommend this attraction to friends, family and anyone looking for Eden Project reviews.
Spending time in Cornwall? You might also enjoy reading our other day out reviews:
Going to Pirates Quest in Newquay, Cornwall with Young Kids
Breakfast with the Seals at the Cornish Seal Sanctuary
Why You Should Visit The National Maritime Museum in Falmouth with Kids
Newquay Zoo Review – Family Day Out In Cornwall
Useful Information
Where is the Eden Project (including Eden Project postcode)
Eden Project
Bodelva
Cornwall
PL24 2SG
UK
Eden Project Offers
Buy tickets online and get 10% Eden Project discount: http://www.edenproject.com/visit/buy-tickets
Eden Project Tickets
Eden Project prices (before the discount)
Adults £27.50
Students £22.50
Children aged 5–16 £14
Children aged 0–4 Free
Family ticket (two adults and two children) £71
Eden project parking is free
If you are looking for a place to eat near to the Eden Project would would happily recommend the Sharksfin Bar & Restaurant on the beautiful harbour of Megavissey.
Pin for later

We were provided with a complimentary family tickets for this Cornwall attraction in exchange for this Eden Project review, but all thoughts and opinions are our own.