The memories we made together as a family on our Cornwall holiday are going to stay with us all for a very long time. This is why I wanted to share with you the full Cornwall family break and what made it such a success, just incase you were looking for inspiration for planning your own child friendly Cornwall holiday.
One of the reasons this family holiday worked so well was because it featured a series of 2 night breaks in Cornwall and we made it our mission to explore as much of the county as possible during our stay.  It's a long way to travel from Nottingham, so we wanted to make sure we made the most of it.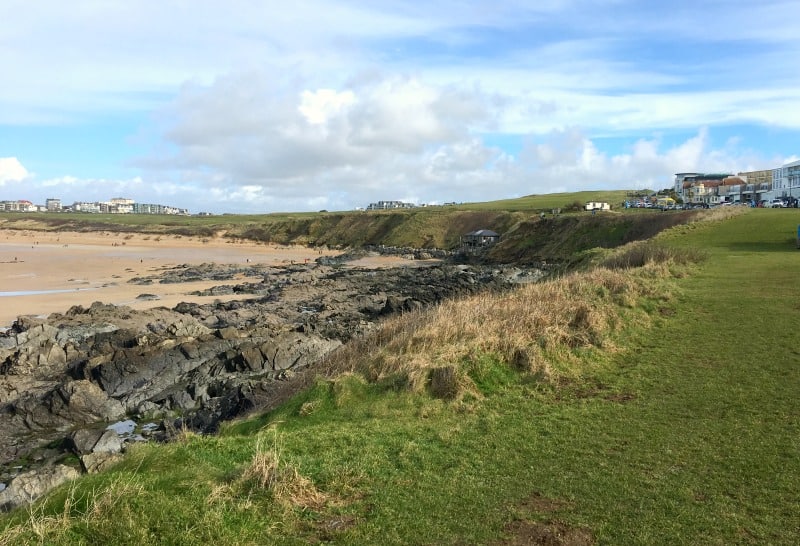 If you have ever taken a cruise holiday before, you will know that one of the huge benefits is waking up in a different port almost every day.  This keeps the holiday excitement going and you just don't have time to think about the going home part.
Now, we didn't stay in a new place every night, but we did move every two nights.  All it took on my part was packing the clothes into smaller cases, but essentially we took the same things that we would take on any other kind of holiday.  If you are thinking it would be hard work, honestly it really isn't and the benefits to your Cornwall holiday will be huge.
Cornwall Holiday Itinerary
Our Cornwall holiday lasted about a week, well 8 days to be precise, and we made the most of every minute of it.    If you are interested in doing a similar Cornwall break with your family, here are the child friendly holiday plans you will need:
Day 1 – Esplanade Hotel, Fistral Beach
We arrived in Newquay around lunch time and headed straight to our sea view hotel at Fistral beach.  We were keen to start relaxing, so we opted for lunch at The Esplanade, where we were due to be staying for a 2 night hotel break.  This child friendly hotel in Cornwall has great facilities and activities for kids so we felt like we were on holiday from the off.
The girls loved burning off some steam in the play area and thoroughly enjoyed the build a bear party.  We also spent some time exploring Fistral beach before our delicious family dinner.  It was a lovely start to our Cornwall trip and is worth checking out if you are looking for child friendly hotels in Cornwall or Newquay.
Some people prefer to stay in self catering accommodation and one thing Cornwall has plenty of is holiday parks.  I found this great review of Trevella caravan park by Practically Perfect Mums that you might also like to check out before planning your trip.
Day 2 – Pirates Quest and Charlestown Harbour
With our batteries fully recharged it was time to start exploring things to do in Cornwall.  Our first visit was to Pirates Quest in Newquay,  which was a lot of fun.  This is a theatrical experience about pirates and their lives in Cornwall and beyond.  It's perfect for pirate fans!
We really enjoyed this attraction, and it was a very big hit with Daddy, even though he ended up in the stocks!  It's an indoor activity in Newquay, so if the weather is against you, it's perfect.  It's also worth mentioning that it's only 1 hour long so you will have the rest of the day at your disposal.
We found lots of ideas for things to do in our Cornwall Find and Seek guide and decided to head over to Charlestown Harbour for the afternoon.  If you are a Poldark fan, you might already be familiar with this part of Cornwall, as this is where the TV show was filmed.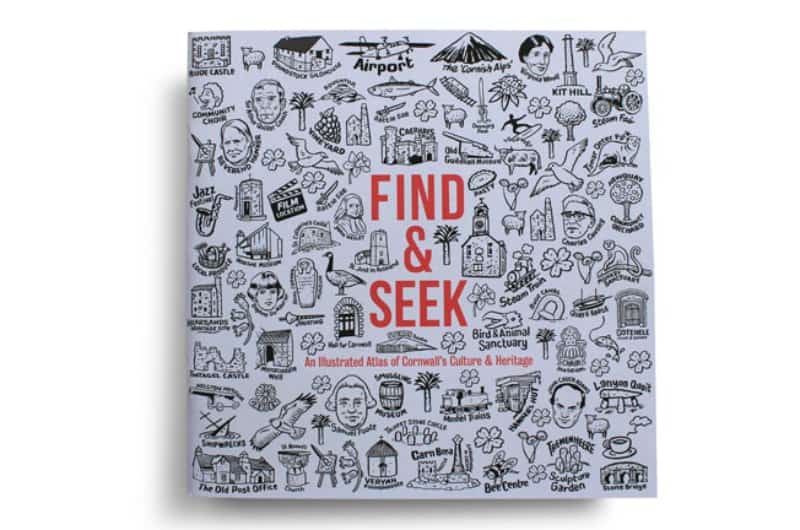 Charleston Harbour is really is a lovely place to visit, so I strongly advise you to add it to your Cornwall holiday, regardless of where you are staying.  As we walked towards the harbour we were greeted by the tall ships and it seemed quite fitting after a pirate inspired activity in the morning.
The tide was out so we headed down to the beach, after Daddy retrieved the girls outdoor boots from the car.  It was the perfect beach for them to play on with lots of rock pools and climbing to be done.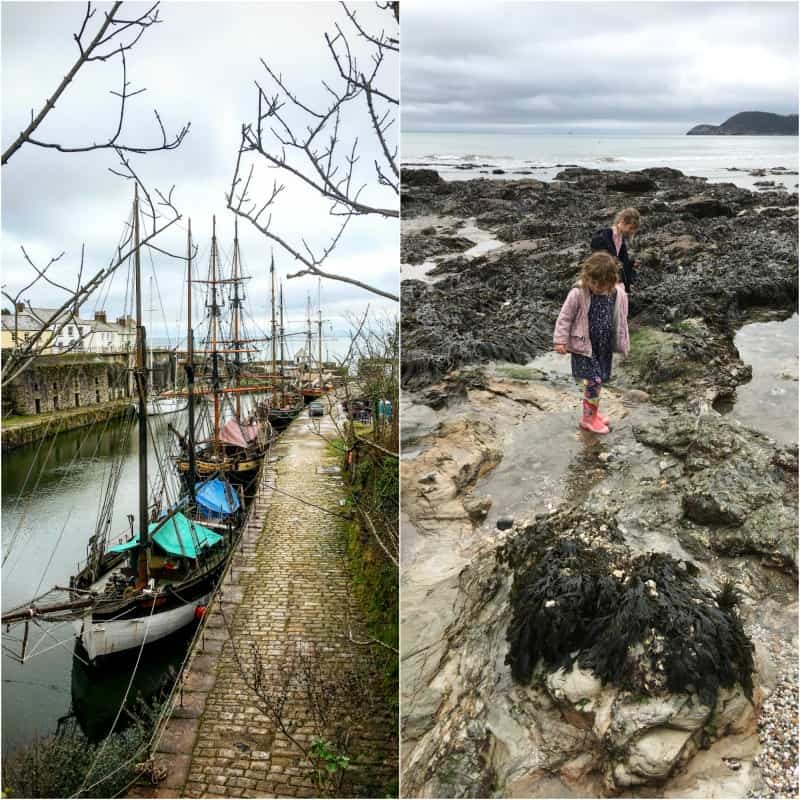 There are plenty of independent cafe's and restaurants in Charlestown Harbour if you are looking for a place to eat during your visit.  There is also the Shipwreck Museum, which I suspect is worth a visit, but unfortunately for us it hadn't opened for the season when we arrived.  A day out to Charleston harbour will be a big hit with the family, and it's a lovely place to visit if you are conscious of your holiday budget going a bit further while in Cornwall.
Day 3 – Porth Beach
Before leaving The Esplanade hotel, we decided to make the most of the hotel indoor pool and spa.  If you are looking for a hotel in Cornwall with a pool, theirs is perfect for families and there is also a jacuzzi and sauna for guests to use as well.
Shortly after some family fun in the pool, it was time to check out and make our way to the other side of Newquay.  It was a beautiful blue sky day so we decided to go and explore Porth beach on the way.  The tide was completely out, so there was lots of room to explore.  There are also some stunning walks nearby if you can drag the kids away from building sandcastles that is.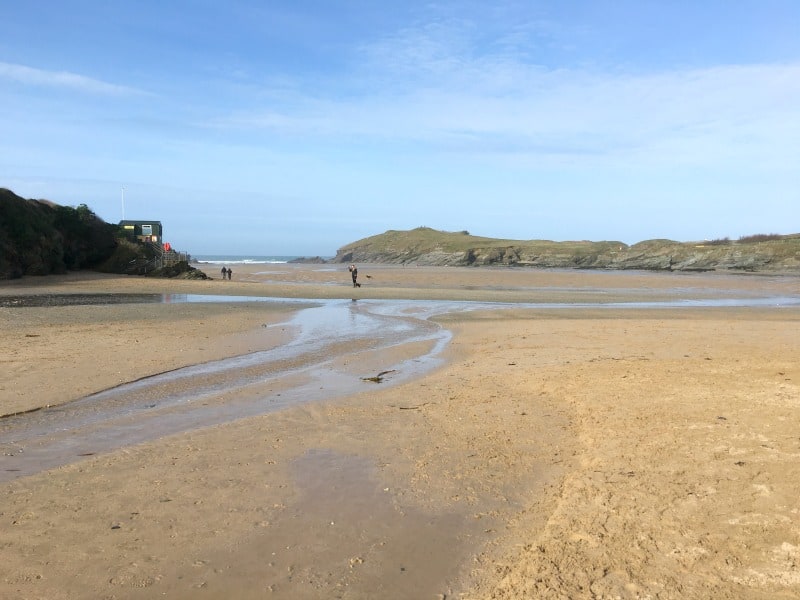 This is where we learned all about Newquay Rocks, a local tradition that became a huge part of our Cornwall family break.  If you haven't caught up with this idea yet, people paint rocks and hide them in the local area.
It happens in Newquay, but it is happening all over the place.  Some of you may know them as Kindness Rocks, but the principal is pretty much the same. Looking for rocks took a whole new turn after we discovered the Facebook group and community spirit behind this feel good project.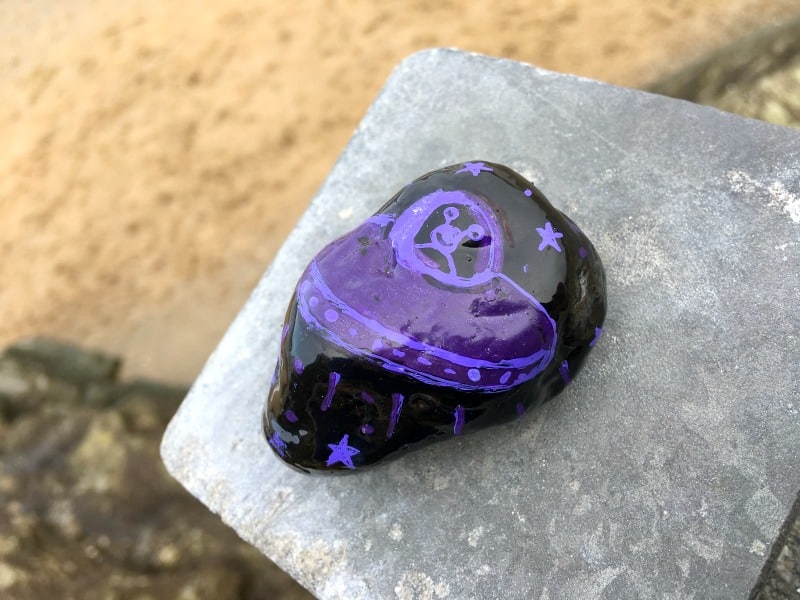 Sands Hotel Resort & Spa
Later that afternoon, we headed up to the second of our luxury hotel breaks in Cornwall, to stay at the very popular Sands Hotel Resort & Spa.  Getting settled into our sea view hotel suite took no time at all, and the girls made themselves very comfortable in their own room with flatscreen tv.  Daddy and I took a moment to enjoy the stunning coastal views while the kids caught up with the latest episode of My Little Pony.
We enjoyed a family supper in the child friendly hotel just as the sun was setting across the sea, and it would have been all most perfect but for Indie deciding this was going to be the time to have a little strop.  She was getting to the point where she needed a little time out and we all knew it.
Day 4 – Watergate Bay
One of the amazing things about Sands Hotel Resort & Spa is their childcare facility and kids club, and both the girls were booked in for the morning session the next day.  There were so many toys and activities for them to play with, and they literally had a ball while Daddy and I enjoyed some child free time to explore the costal walks near the hotel.  I think we all needed to have a little break to recharge the batteries and what better place to do it.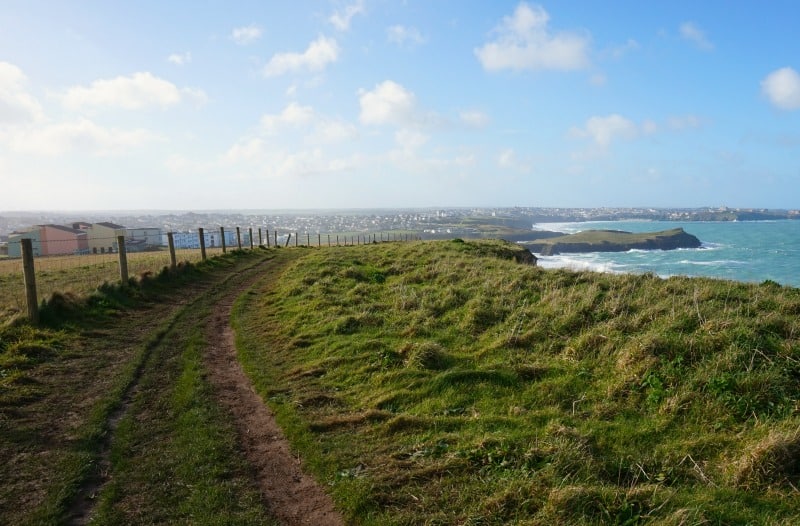 With Watergate Bay very near to the hotel, we borrowed some buckets and spades from Sands Resort and headed to the beach for the afternoon.  More digging and sand castle building took place while Daddy and I took turns to take a stroll along the beach.  Being by the sea is so good for the soul don't you think?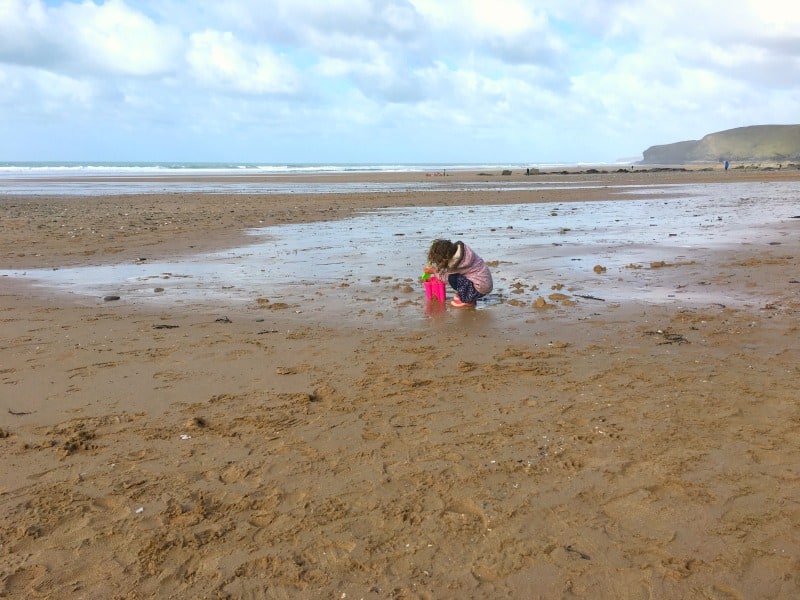 Dinner at Lewinnick Lodge
We were all very excited about dinner that evening, and we headed up to Lewinnick Lodge early to enjoy the dramatic sea views.  This was a very special family treat, and I am pleased to say we throughly enjoyed the location and the wonderful food.  It is certainly the top of my list for best restaurants in Newquay and maybe even Cornwall.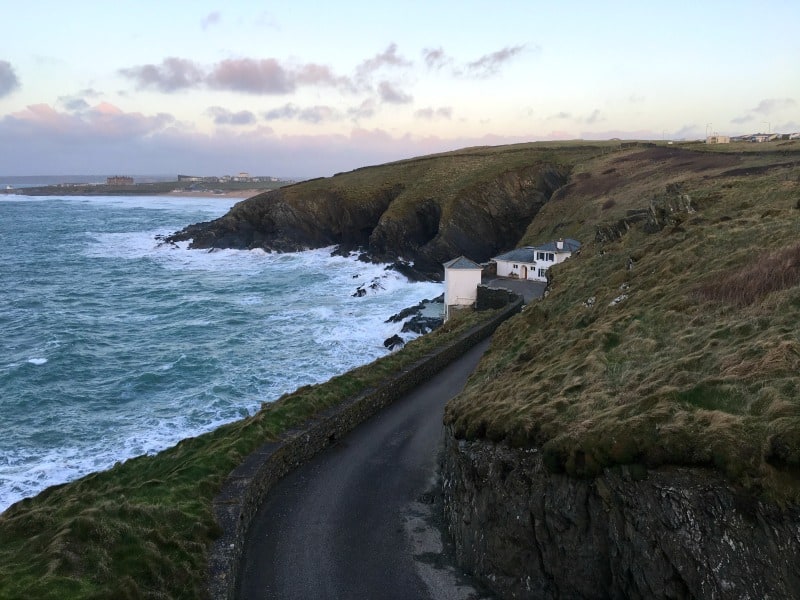 Day 5  – The Eden Project & Megavissey
Considering that we took this Cornwall holiday during February half term, the weather was incredibly good to us all week.  We had perfect beach days and could enjoy being outdoors with the kids.  At Sands Resort Hotel & Spa they have some excellent outdoor facilities including a maze, bouncy castles and play area.  In the summer months there is also an outdoor pool at this hotel too.
The girls very much enjoyed exploring the maze and play area before we hit the road to visit The Eden Project.  If you haven't visited The Eden Project before, or even if you have, I think going here is a must for any Cornwall holiday with kids.  The Eden Project is such a beautiful place with lots to explore for families.
You might also be surprised to learn that dogs are allowed to visit The Eden Project.  We thought that Cornwall was a really dog friendly destination, and if you need ideas for where you can take your four legged friend, Tin Box Traveller shares some great dog friendly days out in Cornwall in her blog post.
Megavissey
If you want to tick some beautiful places in Cornwall off your list, then I can strongly recommend a visit to Megavissey.  It's a small and unique harbour, and we decided to stop by the Sharksfin for a family dinner after our visit to The Eden Project.  Please do check out our restaurant review for hints and tips for visiting Megavissey, as driving around the harbour is nail biting stuff.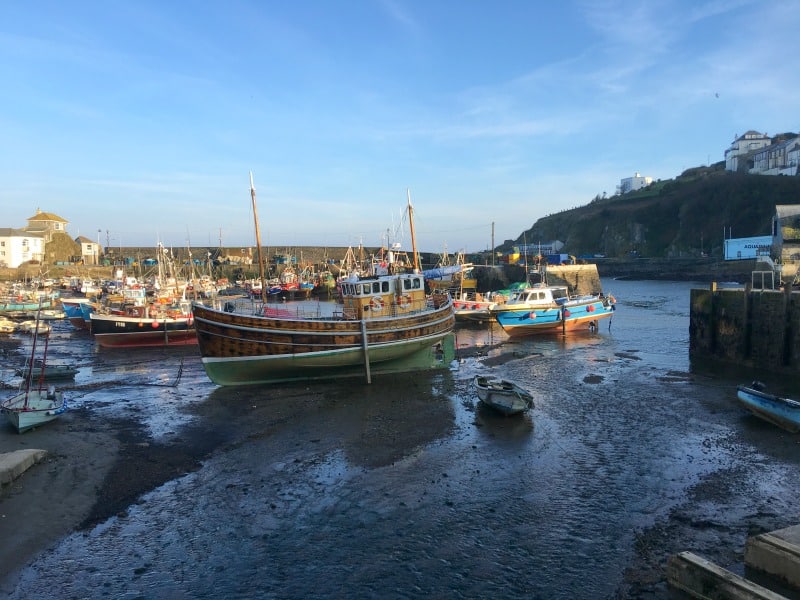 After a lovely dinner and wonderful view of the boats we headed to Porthleven Holiday Cottages to sample what their holiday cottages in Cornwall by the sea are like.  This self catering holiday cottage to rent in Cornwall by the sea was in a great location complete with the best harbour views we had seen the entire holiday, and that's saying something.  We also enjoyed having a bit of extra space now that we were over half way through our Cornwall family break.
Day 6 – Cornish Seal Sanctuary
We enjoyed waking up to see the fishing boats returning to Porthleven harbour from their time at sea while we enjoyed croissants from the local bakery and a cup of fresh local coffee left on our hospitality tray.  It was pretty easy getting everyone washed and dressed when they knew they had an important date with the local seals to be ready for.
We headed over to Gweek to find the Cornish Seal Sanctuary for our Breakfast with the Seals experience.  It's about a 30 minute drive from Porthleven, so it's the perfect day trip for a family visiting Porthleven.  We enjoyed a private tour of the seal sanctuary before getting the opportunity to feed the seals ourselves, which was such a huge hit with the girls.  Then we got to refuel ourselves in the cafe before exploring the rest of the park including the otter trail and nature walk.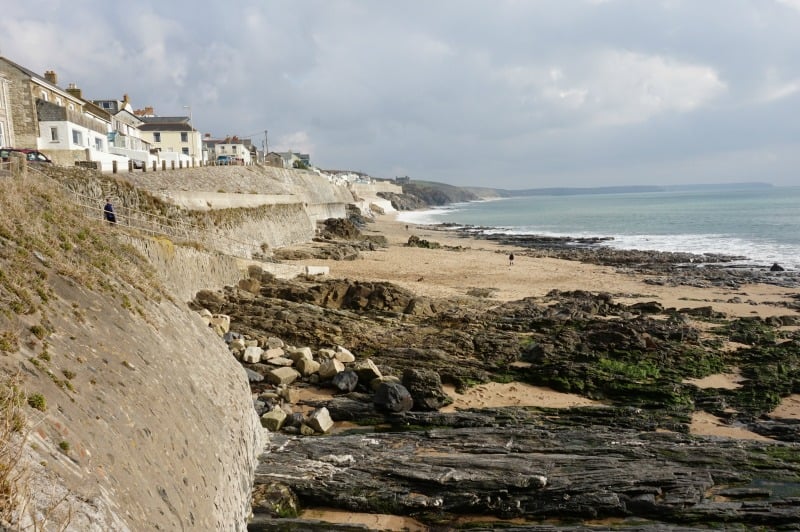 After a busy day out, we headed back to Porthleven to see what was on offer near our luxury self catering cottage in Cornwall.  This fishing harbour is packed with cafe's and restaurants and has an excellent beach perfect for curious little people to explore.
Day 7 – Falmouth
Check out from our self catering cottage in Cornwall was at 10am, so we got straight on the road and headed over to Falmouth to explore this popular Cornish town.
The obvious place to visit in Falmouth is the National Maritime Museum, and if you are on holiday in Cornwall with kids I don't think you will be disappointed.  This museum is so hands on, that the kids will love it.  I also think you will all enjoy the stunning views over Falmouth Harbour from the Lookout Tower.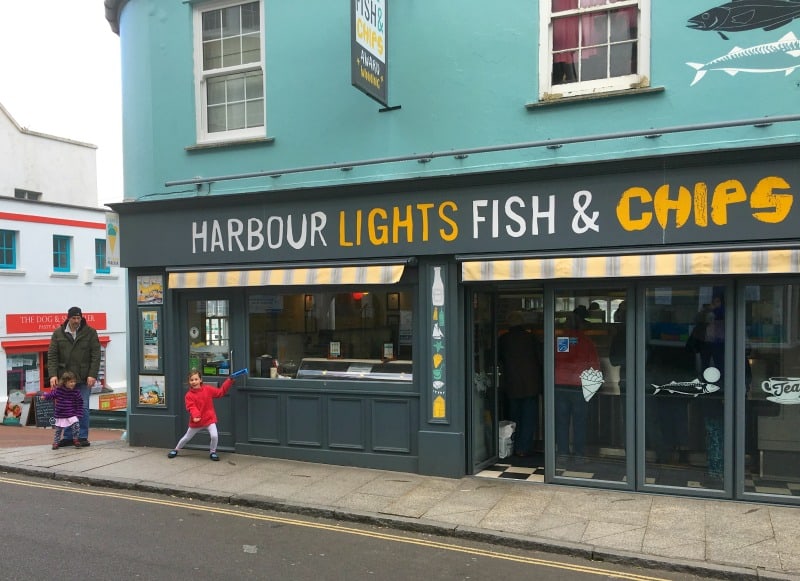 After a busy morning exploring the museum, we had worked up quite an appetite, so we headed in search of the best fish and chip shop in Cornwall.  Actually scrub that, Harbour Lights was awarded best independent fish and chip shop in the UK, and they certainly live up to that title very well.  If you want great food, with amazing sea views, then this is a great place to eat for families visiting Falmouth.
The Olde House
With happy kids and full tummies we left Falmouth to head to the final stop of our Cornwall holiday.  The girls were super excited about the lambing weekend at The Olde House, and we were all really looking forward to staying on a working farm for the final part of our Cornwall trip.
The Olde House had everything we needed for the final 2 nights of our Cornwall break, with excellent indoor and outdoor play facilities and a wonderful new indoor pool and spa.  The best part was being able to see the lambs being born, and the girls loved being able to visit the sheds to feed and cuddle them whenever they wanted.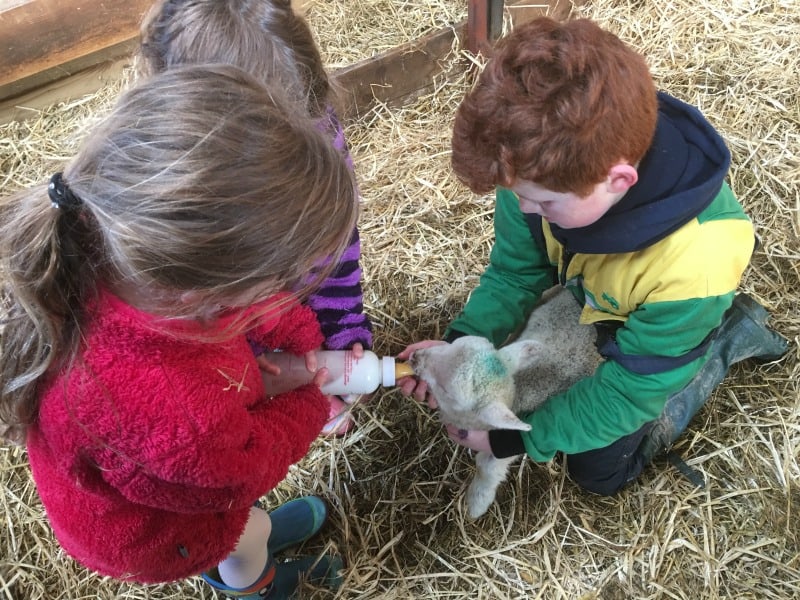 Our self catering farm stay was a real high to end our Cornwall holiday on, and we came away with so many happy memories to look back on.  I think what made this Cornwall holiday such a success was how we got to explore the area.
Moving around meant we always had something new to look forward to.  There was never a point where we felt we had seen and done everything, which I think really made our holiday.  I can strongly recommend choosing a few places to stay if you are planning a Cornwall holiday, so that you can truly explore what this beautiful county has to offer.  If you need some more ideas for places to stay in Cornwall for your next road trip, we really enjoyed Actually Mummy's review of Piran Meadows Resort in Newquay.
For more information to help you plan your Cornwall holiday you might find the following websites and resources helpful:

Visit Cornwall
Harbour Lights Fish and Chip Take Away & Restaurant
We would like to thank all the partners who helped us to make this UK travel post possible and for contributing to help with planning the perfect Cornwall holiday.  If you decide to follow this itinerary or visit any of the places mentioned in this post, please do let us know in the comments below.
Know someone who would enjoy this post?  Please do share it with your friends and followers, as it would literally make my day.  
For the latest blog posts, offers and giveaways don't forget to subscribe to Zena's Suitcase.  You can also follow the latest updates on Twitter, Facebook, Instagram and Pinterest.
This post was created after an arranged press trip to Cornwall and features partners who provided complimentary accommodation, attractions and restaurant reviews to be featured.