Do you think about how secure your travel bag is when you are travelling?  Do you look for the best anti theft backpack to take with you on your next adventure or are you still looking for a secure handbag to take on your city break? Finding the best anti theft bags and backpacks can be a challenge so I wanted to share with you two anti theft travel bags I used for my recent trip to Berlin.
You might recognise the RIUT backpack from my February Travel and Lifestyle roundup and if you follow my Twitter account you will have seen me talk about the gorgeous Loveday multi use belt bag from Lisa Lemon before my visit to Berlin.  These are great anti theft bags for travel in my opinion so read on to find out why.
Just had a lovely meeting with @LisaLemonBags to find out some more about their great product. I've definitely found my new favourite #travel bag. Looks pretty good doesn't it? It's so versatile too. Really looking forward to taking it to Berlin in a few weeks ? pic.twitter.com/4nE35gnF6M

— Zena's Suitcase (@zenas_suitcase) 9 March 2018
As a woman who travels frequently I am very conscious of feeling safe and secure when I'm visiting a new location.  I'm very much an explorer traveller which means that I could be visiting the sights in a new city or taking the children to visit various attractions to help them enjoy the country they are in.  I often carry money, cards, a mobile phone and a camera at the very least and I probably look like a tourist where ever I go.  It's an unavoidable hazard of writing a travel blog unfortunately.
Perfect Anti Theft Travel Bags for Women
Loveday Multi Use Bag
Lets take a look at the Loveday belt bag first.  This bag can be used in three different ways making it a great anti theft cross body purse or secure belt bag.  It can also be used as a clutch bag if that best suits the setting you are in.  Having a multi use bag for travel ticks so many boxes for me as it can be used both during the day or at night.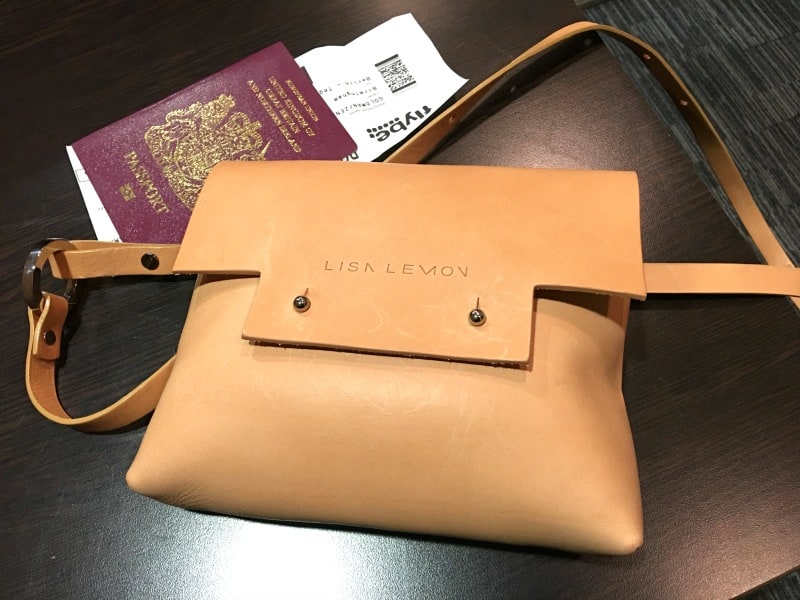 The first thing I want to say about this anti theft handbag is it looks great.  This may or may not be your prime concern, but to have a beautiful leather handbag with good anti theft features is certainly important to some.  I fell in love with the bag as soon as I saw it, and during my press trip in Berlin, it certainly caught the eye of the other travel bloggers I was with as they all complimented my new travel accessory.
Anti Theft Belt Bag
My favourite use for this handbag was as a belt bag when I was out and about exploring Berlin.  The Loveday was the perfect size for keeping my phone, important documents, money, cards and hotel keycard in.  Wearing it as a belt meant it was secured to by body the whole time.  I didn't need to remove it when I sat down in a cafe or similar.
I was worried about how secure I would feel about wearing it, but the answer to that is it felt very secure to wear.  The belt is incredibly secure and at no point did it feel like it would come off or get lost.  The metal poppers that fix the belt or cross body strap to the correct size and secure the bag are very secure indeed.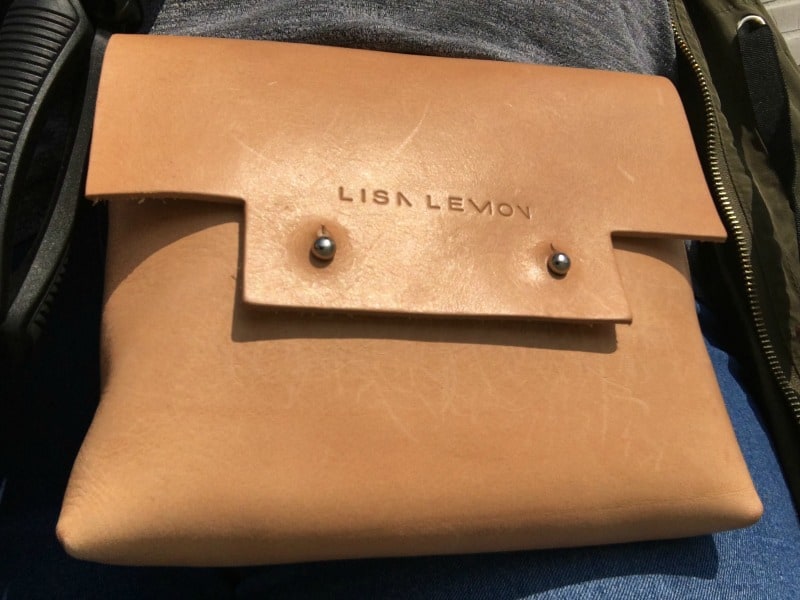 As a travel blogger I nearly always wear a camera around my neck on a strap.  If I wear a bag that hangs around my neck as well I can soon get in a tangle if I'm trying to use the camera or the bag.  Also, it can just get very uncomfortable having too many things hanging around my neck.  Wearing the Loveday belt bag made me much more comfortable while exploring the streets of Berlin, and made taking photos a whole lot easier too.
The quality of the Loveday bag also really stands out.  It's made in England from Italian vegetable tanned leather.  No seams are exposed giving it a clean fashionable look, but also the quality of the leather and the bag means it could not be slashed with a knife.  Many travellers are robbed because their bag is cut with a knife and the contents slip onto the floor allowing the items to be stolen.  I'm pretty sure that this would not be able to happen with a Loveday bag no matter how you were using it.
The secure metal buttons which fasten the handbag also mean that the bag could not be opened by someone who was trying to steal your personal possessions unnoticed, making it one of the best anti theft travel bags for women.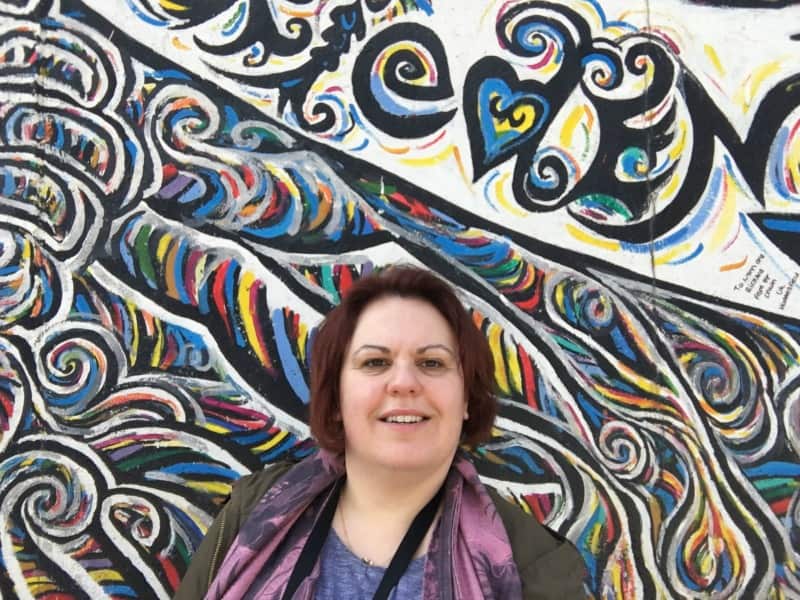 Overall I was very impressed with the Loveday bag on lots of levels.  The biggest win for me was how secure it felt to wear and the freedom it gave me to take photos and go about my business while exploring Berlin. I love how the bag looks as well and it's certainly an accessory that will be coming with me on lots of other trips.
Key Features of the Loveday Belt Bag
secure belt
internal clip for keys or purse
can be used as a cross body bag, belt bag or clutch
internal pocket feature for phone
bag size 18 * 14 cm
belt fits hips 68 – 91 cm (27 – 36")
Where to Buy and Discount Code
If you love the look of this bag, you will be wanting to know where to buy one.  You can buy the loveday multi use bag directly from the Lisa Lemon website and you can also browse the other styles they have available in the range.  I would also recommend following Lisa Lemon on social media for the latest products and offers.  You will find them here:
If you are ready to buy your fabulous new handbag, I have a Lisa Lemon discount code exclusively for Zena's Suitcase readers.  All you need to do is select the gorgeous loveday bag from the website and enter the voucher code ZENA10% when you reach the check out and wait for your new gorgeous new handbag to arrive.
Riut Anti Theft Backpack
When I first introduced you to the Riut backpack back in February, it hadn't actually been on a trip with me yet.  I wanted to come back to the rucksack as it also joined me on my press trip to Berlin, and I was really impressed with it from the outset.
It's my first #solotravel adventure with my @_riut #rucksack and so far I'm very impressed. Not only is it really secure but it's also super comfortable too! Such a great #carryon bag for #travel

##TTOT #travelmum #TravelTuesday #TravelThursday #TravelBlogger #FamilyTravel pic.twitter.com/FKeYK2Djsy

— Zena's Suitcase (@zenas_suitcase) 24 March 2018
When it comes to packing the Riut Backpack it's super easy to keep everything organised as there are compartments for your laptop, clothes and any other personal item you might need for your trip.
The other noticeable thing about the backpack is it is made for comfort and while I was travelling and exploring Berlin I found it really easy to wear and adjust for carrying on my back.
What makes this one of the best anti theft backpacks you can buy is that there are no access points or zips on the outside of the bag.  All the access points to the Riut bag are concealed against your back which makes it really secure and safe for women who travel.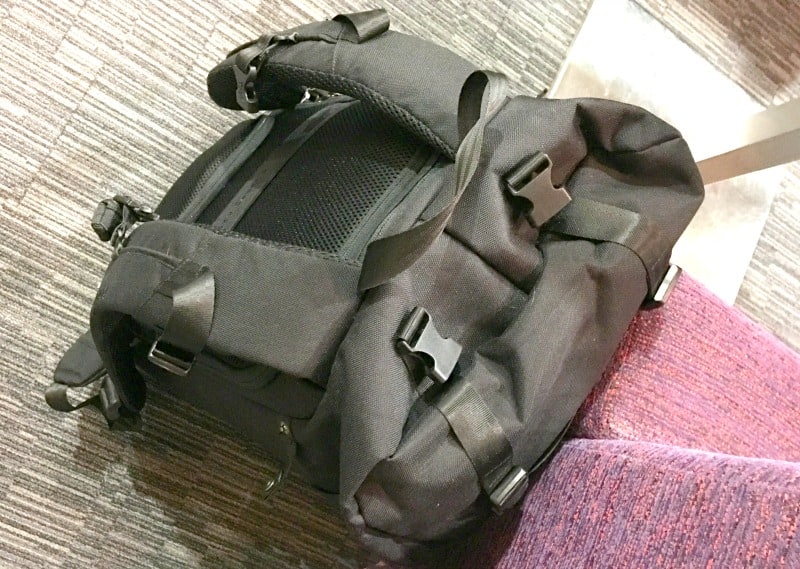 Even though the zips are concealed against your back, when you need to access your personal items, getting into the bag is actually really easy.  There is a spacious top compartment where you can store items you need access to during travel, so you do not need to reveal the contents of your entire bag when you need them.  It's perfect for things like storing toiletries and phones that you might need to take out during your trip.
I'm a huge fan of this travel backpack due to the anti theft features, comfort while travelling and carry on size for city breaks.  The quality of the material and padding is also great for protecting laptops and cameras during travel.
You can buy the Riut Backpack online here.

I was provided with the Loveday multi use bag and Riut Backpack to be featured in this review of anti theft bags but all thoughts and opinions are my own.  If you are looking for anti theft travel bags for your next trip I would have no hesitation in recommending either of these products to friends, family or readers of my blog.